Georgia Gov. Nathan Deal aims to avoid repeat of snowy nightmare
updated 4:58 PM EST, Mon February 3, 2014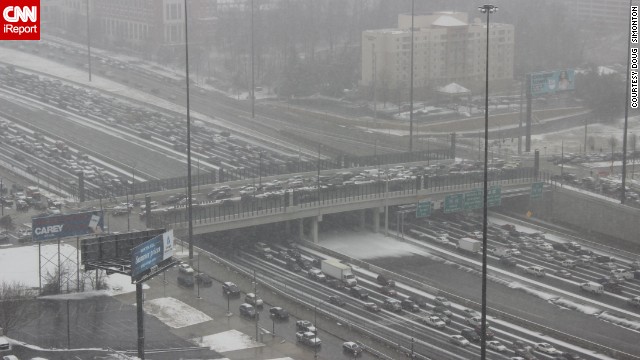 A rare snowstorm left thousands of motorists trapped on Atlanta interstates overnight. "Thank God I walk to work everyday," said
Doug Simonton
, who snapped this photo Tuesday afternoon.
Monica Cantwell
spent Tuesday night in her office at the University of Alabama at Birmingham. Her 13-year-old daughter stayed overnight at her middle school in nearby Hoover, Alabama. " Everyone I spoke with is very angry about the lack of foresight, including myself as a parent," she said.
Christopher Brady
shot this photo Tuesday evening. "At first we were excited, but then we panicked a bit," he said.
The severe weather forced 4,500 students to spend the night in various school buildings in Hoover, Alabama. High school student
Jay Hayes
shot this photo of I-285 around 5 p.m. Tuesday. "I've lived in Atlanta since 2001, and I have never come across a situation where the city was so unprepared," he said.
Officials said that 1,254 accidents were reported in Georgia's snowstorm.
Dylan Wintersteen
. "It's bizarre to see all the cars people abandoned and just left last night," he said.
As of Wednesday afternoon, hundreds of cars were still stranded on Atlanta's interstates, as seen in this photo taken on a GA 400 exit by iReporter
Jo Parker
slept alongside other female staffers in the basement of the Omni Hotel in Atlanta, where all rooms were booked. Male CNN staffers had less luxurious accommodations in the employee gym.
CNN Video Producer
an entire highway of abandoned vehicles
. "Most cars couldn't drive up the exit ramp because of the ice," he said.
While walking to the grocery store in Roswell, Georgia, Smith Culberson came across
Marcy Heinz
left work in Johns Creek, Georgia, at 1:15 p.m. and spent 8 hours on streets and back roads trying to get home. "The gridlock was absolutely unbelievable," she said. "I have 14 and a half years experience driving in Atlanta and this is the worst I've ever seen it." She eventually gave up and wound up spending the night at Milton High School, where students were safely sheltered in one part of the school, separated from stranded motorists also seeking shelter.
Ian Walters
says it took about an hour to make the five-mile drive to his Roswell, Georgia, home on Tuesday afternoon. He says the car he was riding in hit a patch of ice on the way up this hill and got stuck for about 10 minutes. Walters was one of the lucky ones, though -- many Atlanta residents reported commutes that took several hours longer than usual.
Keshia Owen
camped out at HYATT house Atlanta/Cobb Galleria after she could not make it home Tuesday. "I left work at 12:45 yesterday and haven't seen home yet," said Owen.
Stranded in the snow: Scenes from the South
Stranded in the snow: Scenes from Atlanta
Stranded in the snow: Scenes from Atlanta
Stranded in the snow: Scenes from the South
Stranded in the snow: Scenes from the South
Stranded in the snow: Scenes from Atlanta
Stranded in the snow: Scenes from the South
Stranded in the snow: Scenes from the South
Stranded in the snow: Scenes from the South
Stranded in the snow: Scenes from the South
STORY HIGHLIGHTS
NEW: Georgia Gov. Nathan Deal names "severe weather warning and preparedness task force"
NEW: Georgia is making immediate changes in technology for storm response
NEW: The public was infuriated by the government's slow response
NEW: Thousands of students were stranded in school by January 28 storm
(CNN) -- Georgia Gov. Nathan Deal has named a 32-member "severe weather warning and preparedness task force" that will recommend how the state can better respond to storms like the one that paralyzed Atlanta last week.
Deal came under fire for his slow reaction to the storm that dropped 2.6 inches of snow on the Atlanta area that seemed to catch authorities off guard. The exodus of drivers from Atlanta clogged the highways, stranding thousands of students in schools and forcing numerous commuters to spend extra hours inside their cars on icy roads.
The governor apologized to the public and promised to handle things differently next time. "I'm the governor, the buck stops with me," he said.
The task force, composed of four local television meteorologists, other experts and school and state agency leaders, will meet in public and report to the governor 60 days after its first meeting, which has yet to be scheduled. State agency heads are scheduled to deliver an internal report to Deal in 10 days, the governor's office said.
Other changes will happen right away.
"Effective immediately, a storm warning will trigger a message to cell phones in targeted areas, as in the Amber Alert system, and advise against road travel," Deal said Monday. "We will go one step further with school superintendents by emailing them weather condition updates, so that they have the most up-to-date information when determining whether to close schools."
The state also will overhaul its "state emergency app," which will now include information such as alternative traffic routes and shelter locations, he said.
On January 28, as the storm approached, people working in Atlanta started driving home to the suburbs. A massive traffic jam gripped the city, leading to commutes of more than 20 hours for countless motorists.
More than 2,000 cars were abandoned on roadsides. Some employees spent the night at their workplaces, and commuters gave up trying to get home and slept in emergency shelters or even on the floors of roadside businesses. Students who weren't picked up by buses or their parents slept in their schools.
Reaction was swift. The public lashed out at Deal and Atlanta Mayor Kasim Reed for not acting quickly enough. Journalists sharply questioned Deal and Reed. "Saturday Night Live" and "The Daily Show With Jon Stewart" mocked Georgia and Atlanta.
Reed, who works closely with Deal, also said he'll respond more aggressively when bad weather strikes.
"We're going to be as prepared as we can to be ready for the next storm," Deal told reporters.
Timeline: 2 inches of chaos in Atlanta