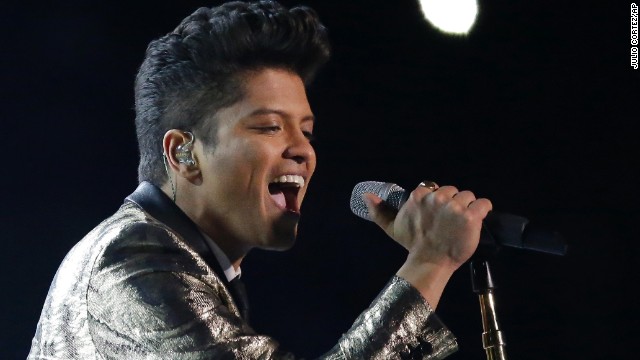 Bruno Mars performs during the halftime show of Super Bowl XLVIII on Sunday, February 2, in East Rutherford, New Jersey.
The stage is bathed in light as Mars starts his performance.
Fans surround Mars as he performs a drum solo to start the show.
After a children's choir opened the show, Mars and his band perform the smash hit "Locked Out of Heaven."
The Red Hot Chili Peppers join Mars on stage for a rendition of "Give It Away."
Anthony Kiedis of the Red Hot Chili Peppers performs.
Mars closed out the show with "Just the Way You Are."
Fireworks go off over the stadium at the end of the halftime show.
Bruno Mars performs at Super Bowl halftime
Bruno Mars performs at Super Bowl halftime
Bruno Mars performs at Super Bowl halftime
Bruno Mars performs at Super Bowl halftime
Bruno Mars performs at Super Bowl halftime
Bruno Mars performs at Super Bowl halftime
Bruno Mars performs at Super Bowl halftime
Bruno Mars performs at Super Bowl halftime
STORY HIGHLIGHTS
Bruno Mars rocked out during the Super Bowl halftime show
As a child he was an Elvis impersonator
His sisters have a singing group
(CNN) -- Rooting for the Seahawks or rooting for the Broncos in the Super Bowl? Heck, we were rooting for Bruno Mars.
The Grammy-winning artist had a tough act to follow this year with his halftime show, given that last year's star performer was Beyonce. And let's be honest -- no one wants to have to follow Beyonce.
But we have to admit, Mars rocked the house (or rather stadium) and his obvious joy at performing for what was basically almost the entire world was pretty infectious.
For those not familiar with Mars, he's pretty awesome. Here are just a few things to love about the guy:
1) He was a baby Elvis
As a child growing up in Hawaii, Mars performed with his family in a Vegas-style show. Born Peter Gene Hernandez, he was only 4 years old when his family heard him belting out some Motown tunes and added him to the act, which included his father, Pete, a percussionist, and his mother, Bernadette, a singer who passed away in 2013.
According to Mars, when he was a baby his dad wanted to call him Elvis, so at age 6 the tiny singer became one of the youngest Elvis impersonators in the world. Baby Bruno said he loved everything about his idol, including "his lip." Too cute.
2) He's a return to the singer-songwriter
Mars doesn't just belt out the tunes, Mars also writes them. While struggling to be discovered as a singer, he got his start in the industry writing and producing hit songs for other artists, including Travie McCoy's "Billionaire," Flo Rida's hit "Right Round," and K'Naan's "Wavin' Flag," which became the theme song for the 2010 FIFA World Cup.
3) He's really good at impressions
His turn on "Saturday Night Live" may not have gotten as much attention as, say, Justin Timberlake's, but there was no denying Mars was out of this world when he portrayed an intern at Pandora who has to imitate several artists -- including Green Day, Michael Jackson, Steven Tyler and Justin Bieber -- when the power goes out.
Not only was it hilarious, but his version of Bieber's "Boyfriend" was quite possibly better than the original.
4) He represents for the vertically challenged guys
He's a whole lot of talent packed into a little frame. Mars is reportedly 5-foot-5.
5) He can always find the bright spot -- even when being arrested
How can we forget that famous mug shot with him grinning when he was arrested for alleged drug possession? Mars later explained the smile by laughingly saying "I have no idea (why he smiled). It was a picture."
6) He really is as cute as a Monchhichi
We hooted when fans started pointing out the cropped-haired resemblance to the Monchhichi doll, made popular in the 1980s. But there is no denying either the similarity or the utter cuteness of both.
7) He's a supportive brother
While his star has ascended, there are others in his family who are waiting in the wings to find fame. Four of his sisters have formed a singing group called The Lylas, and last year they launched a reality show on the WE network. While he didn't appear in the first season, his sisters said he offers plenty of advice -- even though when he does, "We pretty much ignore it," they have said.
They may want to start listening.