STORY HIGHLIGHTS
The book, by Guardian reporter Luke Harding, will be released in the UK this week
It details the unlikely journey of intelligence leaker Edward Snowden
Harding on Snowden: "He's achieved far more than he could have possibly imagined"
(CNN) -- The "world's most wanted man" may be holed up in Russia, but Edward Snowden's story will soon be available -- as they say -- everywhere books are sold.
"The Snowden Files: The Inside Story Of The World's Most Wanted Man," by reporter Luke Harding, from the British newspaper The Guardian, comes out in the UK this week, with a U.S. release date of February 11.
The Guardian is a key player in the Snowden saga, having provided an outlet for the former NSA contractor-turned-whistle-blower to expose what he knew about the U.S. government's mass surveillance programs. Harding accessed a wealth of inside information, such as this story about how Snowden first connected via e-mail with Guardian journalist Glenn Greenwald.
Harding writes in the book: "This mystery correspondent asked Greenwald to install PGP encryption software on his laptop. Once up and running, it guarantees privacy (the initials stand for Pretty Good Privacy) for an online chat. Greenwald had no objections. But there were two problems. 'I'm basically technically illiterate,' he admits. Greenwald also had a lingering sense that the kind of person who insisted on encryption might turn out to be slightly crazy."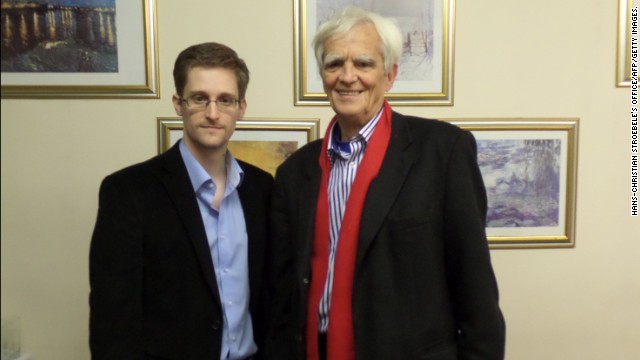 National Security Agency leaker Edward Snowden poses with German Green party parliamentarian Hans-Christian Stroebele in Moscow on October 31. Stroebele returned from the meeting with a letter from Snowden to German authorities, which was distributed to the media. In it, Snowden said he is confident that with international support, the United States would abandon its efforts to "treat dissent as defection" and "criminalize political speech with felony charges."
Snowden's refugee document granted by Russia is seen during a news conference in Moscow on August 1. Snowden slipped quietly out of the airport after securing temporary asylum in Russia, ending more than a month in limbo.
Sen. Charles Schumer, D-New York, leaves a last-minute news conference at the U.S. Capitol after Russia announced that it would grant Snowden temporary asylum on August 1. "Russia has stabbed us in the back, and each day that Mr. Snowden is allowed to roam free is another twist of the knife," he said.
Snowden's father, Lon Snowden, who has adamantly supported his son, talks to reporters in Washington on Tuesday, July 30. He has urged his son to remain in Russia "until we have assurances that he would receive a fair trial."
Demonstrators in Berlin hold a protest march on Saturday, July 27, in support of Snowden and WikiLeaks document provider Bradley Manning. Both men have been portrayed as traitors and whistle-blowers. Manning was acquitted on July 30 on the most serious charge of aiding the enemy, but he was convicted on several other counts and likely faces a lengthy term in a military prison.
Russian lawyer Anatoly Kucherena, center, speaks with journalists at the Sheremetyevo International Airport in Moscow after meeting with Snowden on Wednesday, July 24. Kucherena said he was in daily contact with Russian authorities about securing permission for Snowden to leave the airport.
Snowden meets with human rights activists and lawyers on July 12 in a transit zone of the Russian airport. It was his first public appearance since he left Hong Kong on June 23. He announced that he was seeking refuge Russia while awaiting safe passage to Latin America, where he has been offered asylum.
Russian President Vladimir Putin attends a meeting in Prokhorovka on July 12. Russian officials said Snowden abandoned his effort to seek asylum in the country after Putin warned that he would have to stop leaking information about U.S. surveillance programs if he wanted to stay.
A woman burns American flags during a protest in support of Bolivian President Evo Morales in front of the U.S. embassy in Mexico City on July 4. Leftist Latin American leaders and activists were fuming after some European nations temporarily refused Morales' plane access to their airspace amid suspicions Snowden was aboard.
Bolivian President Evo Morales holds a news conference at the Vienna International Airport on July 3. He angrily denied any wrongdoing after his plane was diverted to Vienna and said that Bolivia is willing to give asylum to Snowden, as "fair protest" after four European countries restricted his plane from flying back from Moscow to La Paz.
Umbrellas with slogans are lined up before a protest march to the U.S. consulate in Hong Kong on June 15. Snowden was hiding in Hong Kong, where he arrived on May 20 before blowing the lid off the NSA surveillance operation.
Protesters in Hong Kong shout slogans in support of Snowden on June 13. The NSA leaker vowed to fight any bid to extradite him from Hong Kong.
Graffiti sympathetic to Snowden is stenciled on the sidewalk in San Francisco on June 11.
An American flag flutters in front of the U.S. consulate in Hong Kong on June 10.
Snowden outs himself on June 9 in the British newspaper The Guardian, which published details of his revelations about the NSA electronic surveillance programs. "I have no intention of hiding who I am because I know I have done nothing wrong," he said in a video interview.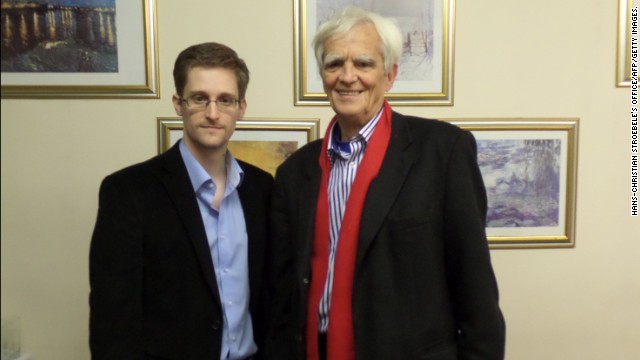 Photos: NSA leaker Edward Snowden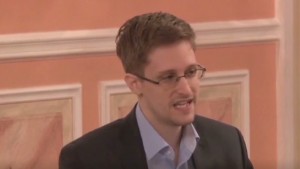 Atty Gen. Holder discusses Snowden case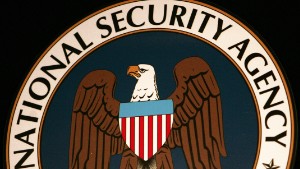 Review Board: NSA program is illegal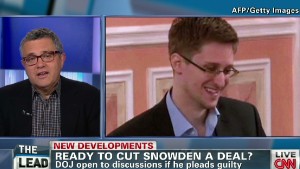 A DOJ deal for Edward Snowden?
Greenwald and Snowden eventually built a mutual trust, and the former IT contractor divulged many of the top secret documents in his possession.
At that point, The Guardian's U.S. Editor Janine Gibson drew up plan before publishing, including seeking legal advice and working out a strategy for approaching the White House. She had some tough decisions to make.
Harding wrote: "Gibson decided to give the NSA a four-hour window to comment, so the agency had an opportunity to disavow the story. By British standards, the deadline was fair: long enough to make a few calls, agree a line. But for Washington, where journalist-administration relations sometimes resemble a country club, this was nothing short of outrageous."
Harding said Gibson's tough decisions meant she'd have to face down some tough people, including FBI deputy director Sean M. Joyce, NSA deputy director Chris Inglis, and Robert S. Litt, general counsel for the Office of the Director of National Intelligence.
The author writes: "By fielding heavyweights, the White House had perhaps reckoned it could flatter, and if necessary bully, the Guardian into delaying publication. Gibson explained that the editor-in-chief -- in the air halfway across the Atlantic -- was unavailable. She said: 'I'm the final decision-maker.' After 20 minutes, the White House was frustrated. The conversation was going in circles. Finally, one of the team could take no more. Losing his temper, he shouted, 'You don't need to publish this! No serious news organisation would publish this!' Gibson replied, 'With the greatest respect, we will take the decisions about what we publish.'"
The newspaper ran the story and, soon thereafter, Snowden disappeared. He's currently in Russia, where he has asylum.
"I think ... he's achieved far more than he could have possibly imagined when he was sitting in Hawaii planning this leak," Harding told CNN on Sunday.
He described Snowden's transformation from contractor to leaker.
"He got hardened. In other words, the more information he saw about what he viewed as ... mass surveillance, the more disillusioned he became. He says quite explicitly that he thought that (President Barack) Obama would roll back some of these programs when he came into the White House, and when this didn't happen, essentially Snowden decided he would take things into his own hands, and become a whistle-blower," he author said.
"There's no doubt that he's changed history by what he's done."
READ: Norwegian lawmakers nominate Edward Snowden for Nobel Peace Prize
READ: NSA leaker Edward Snowden says U.S. return 'not possible' given current laws
READ: Edward Snowden won't be pressured to end asylum, Russia says