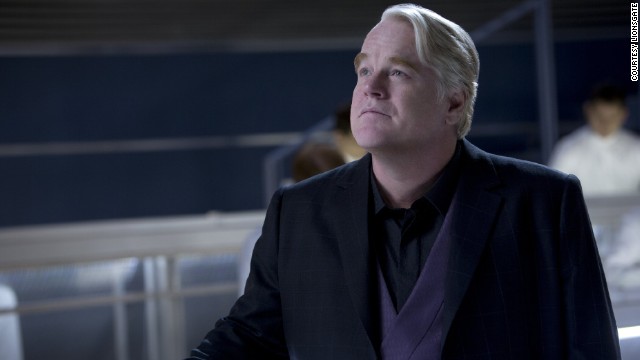 Philip Seymour Hoffman appears in 2013's "The Hunger Games: Catching Fire." Hoffman played the role of Plutarch Heavensbee, the head gamemaker in the film. He was expected to appear in more films of the "Hunger Games" franchise, but he was found dead in his Manhattan apartment on February 2. Hoffman died of
acute mixed drug intoxication
, the New York medical examiner's office said. Click through the gallery for more highlights of his career.
He told the Huffington Post
that "I really got into the violin thing, because it's not acting, and I got off on that."
Hoffman appears in 2012's "A Late Quartet." He reportedly learned how to play the violin during his role as a member of a string quartet.
Hoffman appears with Joaquin Phoenix in "The Master" (2012). He received Oscar and Golden Globe nominations in the supporting actor category for his work in the film.
told TMZ Sports
he didn't blame Hoffman. "He was just playing the part he was given," Howe said.
Hoffman plays manager Art Howe in the 2011 hit "Moneyball." The real Art Howe was reportedly not pleased with how he was portrayed in the film but
Hoffman plays a DJ known as The Count in 2009's "Pirate Radio."
In 2008's "Doubt," Hoffman plays Father Brendan Flynn, a Catholic priest accused of having an inappropriate relationship with a male student. This was yet another film that got Hoffman supporting actor nominations for the Oscars and the Golden Globes.
actor told AOL
at the time that while an action film was not usually his type of role, "it was just one of those things where all the ingredients seemed right."
Hoffman plays Owen Davian in 2006's "Mission: Impossible III." The
Hoffman plays the title role in 2005's "Capote." He won the Oscar for best actor in a leading role for his performance as Truman Capote, who wrote "In Cold Blood." Hoffman also won a Golden Globe for the role.
Hoffman plays a phone sex-line supervisor and mattress store owner in 2002's "Punch-Drunk Love."
Hoffman plays Lester Bangs in 2000's "Almost Famous." He delivers one of the film's most memorable scenes when he advises Patrick Fugit's character, William Miller, that "the only true currency in this bankrupt world is what we share with someone else when we're uncool."
Hoffman appears with Rebecca Pidgeon in 2000's "State and Main." He plays a screenwriter suffering from writer's block.
Jude Law and Hoffman share a scene in 1999's "The Talented Mr. Ripley." Hoffman was hailed as a scene stealer in the psychological thriller set in Italy.
Hoffman in 1998's comedy-drama "Happiness."
Hoffman plays Brandt, Mr. Lebowski's personal assistant, in the 1998 cult comedy hit "The Big Lebowski."
Hoffman played the slightly creepy production assistant Scotty in 1997's "Boogie Nights," with Mark Wahlberg and John C. Reilly.
Hoffman plays George Willis Jr. in 1992's "Scent of a Woman." He is credited as Philip S. Hoffman in the movie.
Philip Seymour Hoffman: Master of film
Philip Seymour Hoffman: Master of film
Philip Seymour Hoffman: Master of film
Philip Seymour Hoffman: Master of film
Philip Seymour Hoffman: Master of film
Philip Seymour Hoffman: Master of film
Philip Seymour Hoffman: Master of film
Philip Seymour Hoffman: Master of film
Philip Seymour Hoffman: Master of film
Philip Seymour Hoffman: Master of film
Philip Seymour Hoffman: Master of film
Philip Seymour Hoffman: Master of film
Philip Seymour Hoffman: Master of film
Philip Seymour Hoffman: Master of film
Philip Seymour Hoffman: Master of film
Philip Seymour Hoffman: Master of film
STORY HIGHLIGHTS
NEW: "This just shouldn't be," actor Robert DeNiro says
Philip Seymour Hoffman described his struggles with addiction in 2011 "60 Minutes" interview
Police are investigating the scene; an autopsy is scheduled for Monday
Law enforcement sources tell CNN that a needle was found in Hoffman's arm
For an in-depth look at the life and death of Philip Seymour Hoffman, watch CNN at 10 p.m. ET.
(CNN) -- Oscar-winning actor Philip Seymour Hoffman was found dead in his Manhattan apartment Sunday of an apparent drug overdose, law enforcement sources said.
Police said Hoffman, 46, was found on the bathroom floor and pronounced dead at the scene. Investigators found two bags of what is believed to be heroin inside the fourth-floor apartment, law enforcement officials said.
"We are devastated by the loss of our beloved Phil and appreciate the outpouring of love and support we have received from everyone. This is a tragic and sudden loss and we ask that you respect our privacy during this time of grieving," Hoffman's family said in a statement. "Please keep Phil in your thoughts and prayers."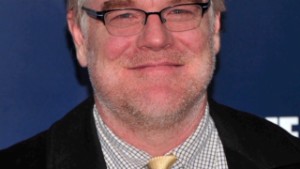 Movie star Philip Seymour Hoffman dies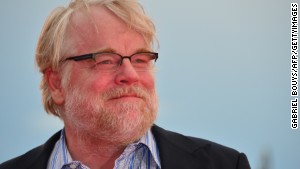 See one of Hoffman's last interviews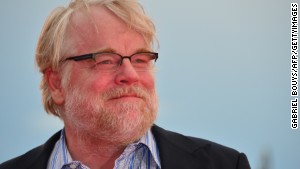 See one of Hoffman's last interviews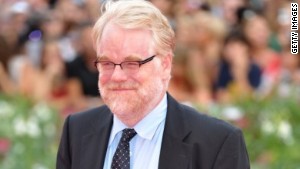 Writer: Hoffman got under your skin
Hoffman was last seen alive at 8 p.m. Saturday, a law enforcement official said. He was expected to get his children on Sunday, but didn't show up, the official said. Playwright David Katz and another person went to the apartment and found him dead, the official said.
A needle was in the actor's left arm, and eight empty glassine-type bags that usually contain heroin were found in the apartment, law enforcement sources told CNN.
The bags were stamped with "Ace of Hearts" and "Ace of Spades" -- street names for the heroin, the sources said.
Hoffman loved 'deep, dense characters'
Hoffman won an Academy Award for best actor for the 2005 biopic "Capote" and drew critical acclaim for his roles in a wide variety of films.
He was a beefy 5-foot-10-inch man, but was convincing as the slight, 5-foot-3-inch Truman Capote. He had a booming voice like a deity's but often played shlubby, conflicted characters.
"He just loved those deep, dense characters. That's where I think he found his true calling," said Bradley Jacobs, a senior editor of Us Weekly.
In Hollywood, Hoffman's big break came with a small role as Chris O'Donnell's classmate in the 1992 film "Scent of a Woman."
For years, Hoffman was the kind of anonymous character actor who earned critical raves but was often unnoticed by the general public. He used his abilities to take chances with such directors as a then-unknown Paul Thomas Anderson, with whom he worked in "Hard Eight" (and several ensuing films, as both became better known) and Todd Solondz ("Happiness").
"I think about that a lot," he told Esquire in 2012 of his anonymity. "I feel it cracking lately, the older I'm getting. I think I'm less anonymous than I was."
As an actor, Hoffman could be heartfelt and giving, as with his male nurse in "Magnolia" or rock critic in "Almost Famous," or creepily Machiavellian, like the gamemaster in the latest "Hunger Games" movie or a "Mission: Impossible" movie villain.
He also appeared in "Charlie Wilson's War," "Doubt," and "The Master," for which he was nominated as best supporting actor.
He appeared last month at the Sundance Film Festival, where a movie he starred in, "God's Pocket," premiered.
"He seemed really in good spirits, and it's just so shocking," said CNN Entertainment Commentator Krista Smith, who interviewed Hoffman at the festival. "Because, just looking at his body of work and knowing how many actors revered him and how they look up to him. ... The one thing that was so special about him is that he crossed all platforms ... Every genre, he managed to fit in and just be brilliant at whatever he was doing."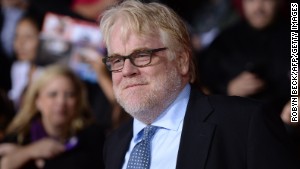 Philip Seymour Hoffman arrives for the Los Angeles premiere of 'The Hunger Games: Catching Fire' at the Nokia Theatre LA Live in Los Angeles, California, on November 18.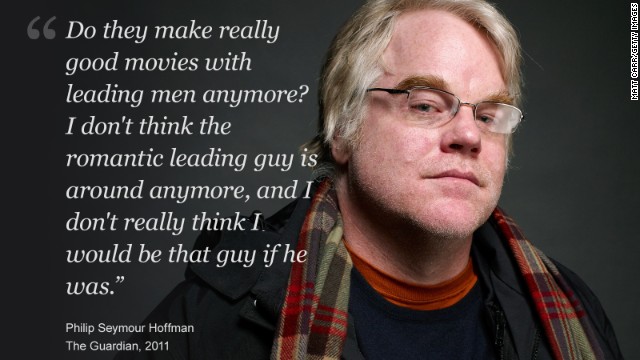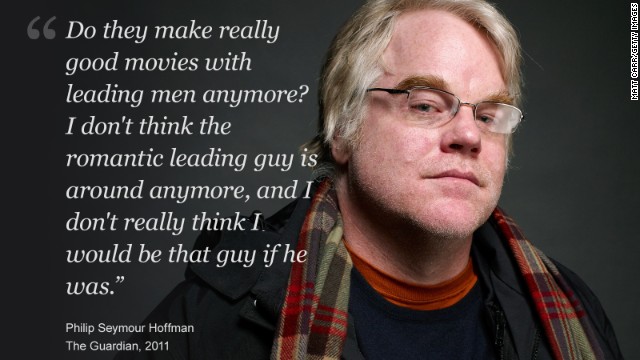 Philip Seymour Hoffman in his own words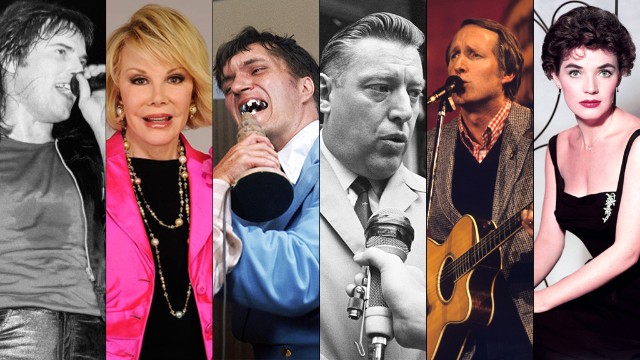 Click through to see people who passed away in 2014.
Emmy-winning actress Polly Bergen, whose TV and movie career spanned more than six decades, died on September 20, according to her publicist. She was 84, according to IMDb.com.
Singer George Hamilton IV, known as the "International Ambassador of Country Music," died at a Nashville hospital on September 17 following a heart attack, the Grand Ole Opry said in a press release. He was 77.
Northern Ireland's former first minister and former Democratic Unionist Party leader Ian Paisley has died, his wife, Eileen, said in a statement on September 12. He was 88.
Richard Kiel, the actor best known for playing the James Bond villain "Jaws," died September 10 at a California hospital, St. Agnes Medical Center spokeswoman Kelley Sanchez said. He was 74.
Joan Rivers, the sassy comedian whose gossipy "can we talk" persona catapulted her into a career as a headlining talk-show host, best-selling author and red-carpet maven, died September 4. She was 81.
Jimi Jamison, lead singer of the 1980s rock band Survivor, died at the age of 63, it was announced September 2.
Acclaimed actor-director Richard Attenborough died on August 24, the British Broadcasting Corporation reported, citing his son. Attenborough was 90.
Don Pardo, the man whose voice introduced the cast of NBC's "Saturday Night Live" for decades, died at the age of 96, the network announced August 19.
Skateboarding legend Jay Adams died of a heart attack August 14 while vacationing in Mexico with his wife. He was 53.
Ed Nelson, best known for playing a doctor in the 1960s nighttime soap opera "Peyton Place," died on August 13, his family said. He was 85.
Actress Arlene Martel, whom "Star Trek" fans knew as Spock's bride-to-be, died in a Los Angeles hospital August 12 after complications from a heart attack, her son said. Martel was 78.
Actress Lauren Bacall, the husky-voiced Hollywood icon known for her sultry sensuality, died on August 12. She was 89.
Actor and comedian Robin Williams died at his Northern California home on August 11. Williams apparently took his own life, law enforcement officials said. He was 63.
Actor Charles Keating, who had been fighting lung cancer for several years, died on August 8, his son Sean Keating said. Charles Keating was known for his role of villain Carl Hutchins on the daytime drama "Another World." He was 72.
JJ Murphy, an actor who was set to join the "Game of Thrones" cast, died August 8, his agent said. He was 86.
James Brady, the former White House press secretary who was severely wounded in a 1981 assassination attempt on President Ronald Reagan, has died, the White House said on August 4. He was 73. Later in the week, authorities told CNN they are investigating it as a homicide.
Theodore "Dutch" Van Kirk, the last crewman of the U.S. plane that dropped the first atomic bomb over Hiroshima, Japan, in 1945, died of natural causes on July 28, according to his daughter Vicki Triplett. He was 93.
James Shigeta, a prolific and pioneering Asian-American actor whose 50-year career included the movies "Die Hard" and "Flower Drum Song," died in his sleep in Los Angeles on July 28, his agent said. He was 81.
Skye McCole Bartusiak, who played Mel Gibson's youngest daughter in "The Patriot," died July 19, at her home in Houston, her mother said Sunday. She was 21. While investigators didn't immediately determine a cause of death, Bartusiak had been suffering from epileptic seizures, according to her mother.
James Garner, the understated, wisecracking everyman actor who enjoyed multigenerational success on both the small and big screens, died of natural causes on July 19. He was 86.
Broadway legend Elaine Stritch died July 17. According to her longtime friend Julie Keyes, Stritch died at her home in Birmingham, Michigan, surrounded by her family. She was 89 years old.
Blues guitarist and singer Johnny Winter died July 16 in a Swiss hotel room, his representative said. He was 70.
Nadine Gordimer, a South African author who won the Nobel Prize in Literature in 1991, died on July 13, according to her family. She was 90.
Renowned conductor Lorin Maazel died from complications of pneumonia on July 13, according to his family. He was 84.
Grammy-winning jazz bassist Charlie Haden, whose music career spanned seven decades and several genres, died July 11, according to his publicist. He was 76.
Drummer Tommy Ramone, the last living original member of the pioneering punk band The Ramones, died on July 11, according to the band's Facebook page. He was 65.
Eileen Ford, who founded the Ford Model Agency 70 years ago, died July 9 at the age of 92, the company said.
Richard Percy Jones, the actor who gave Pinocchio his voice in the 1940 Disney movie, died at his California home on July 8. He was 87.
David Legeno, known for playing Fenrir Greyback in the "Harry Potter" movies, was found dead July 6, by hikers in a remote desert location in Death Valley, California. He was 50. "It appears that Legeno died of heat-related issues, but the Inyo County Coroner will determine the final cause of death," read a press release from the Inyo County Sheriff's Department. "There are no signs of foul play."
Rosemary Murphy, an Emmy Award-winning actress known for her roles in the movie "To Kill a Mockingbird" as well as TV soap operas "All My Children" and "Another World," died July 5 at the age of 89. The New York Times cited cancer as the cause of death.
Olympian and World War II hero Louis Zamperini, the subject of the book and upcoming film "Unbroken," died July 2 after a recent battle with pneumonia. The 97-year-old peacefully passed away in the presence of his entire family, according to a statement.
Walter Dean Myers, a beloved author of children's books, died on July 1 following a brief illness, according to the Children's Book Council.
Paul Mazursky, a five-time Oscar nominee who directed and wrote such films as "Bob & Carol & Ted & Alice," "An Unmarried Woman" and "Down and Out in Beverly Hills," died at the age of 84, his agent said July 1.
Actor Meshach Taylor died June 28 at his Los Angeles-area home, his agent, Dede Binder, said. He was 67. Taylor had fought a terminal illness and faded markedly in recent days, Binder said. His wife, children, grandchildren and mother surrounded him as he passed away.
Legendary soul singer Bobby Womack died June 27, according to Womack's publicist. He was 70.
Character actor Eli Wallach, seen here in "The Good, the Bad and the Ugly," died on June 24, according to a family member who did not want to be named. Wallach was 98.
Major League Baseball Hall of Famer Tony Gwynn died June 16 at the age of 54, according to a release from the National Baseball Hall of Fame and Museum. Gwynn, who had 3,141 hits in 20 seasons with the San Diego Padres, had cancer.
Radio personality Casey Kasem died June 15. He was 82 and had been hospitalized in Washington state for two weeks.
Former Pittsburgh Steelers head coach Chuck Noll died June 13. He had suffered from Alzheimer's and heart disease. He was 82.
Ruby Dee, an award-winning actress whose seven-decade career included triumphs on stage and screen, died June 12. She was 91.
Former baseball star Bob Welch passed away on June 9 after suffering a heart attack, according to the Los Angeles Dodgers. He was 57.
British actor and comedian Rik Mayall, who appeared in the TV series "Blackadder," died June 9 at the age of 56, his agent said. The cause of death was not immediately reported.
Chester Nez, the last of the original Navajo code talkers credited with creating an unbreakable code used during World War II, died June 5 at his home in Albuquerque, New Mexico, the Navajo Nation President said. Nez was 93.
Ann B. Davis, who played Alice the maid on "The Brady Bunch," died from a subdural hematoma on June 1. She was 88.
Maya Angelou, a renowned poet, novelist and actress, died at the age of 86, her literary agent said on May 28. Angelou was also a professor, singer and dancer whose work spanned several generations.
Australian racing legend Jack Brabham died on May 19, according to Brabham's son David. Brabham, 88, was a three-time Formula One world champion.
Malik Bendjelloul, the Oscar-winning director of "Searching for Sugar Man," died suddenly on May 13, police said. He was 36.
H.R. Giger, the Swiss surrealist artist whose works of sexual-industrial imagery and design of the eponymous creature in the "Alien" movies were known around the world, died on May 12. He was 74.
Former professional tennis player Elena Baltacha died at the age of 30 after losing her battle with liver cancer on May 4. Before retiring in November, she had reached a career high of 49th in the world rankings.
Al Feldstein, who guided Mad magazine for almost three decades as its editor, died on April 29, according to a Montana funeral home. He was 88.
Oscar-nominated British actor Bob Hoskins, known for roles in "Who Framed Roger Rabbit" and "Mona Lisa," died April 29 at age 71, his publicist said.
Hall of Fame basketball coach John "Dr. Jack" Ramsay, who became a television analyst years after winning a league championship with the Portland Trail Blazers, died on April 28, according to his longtime employer ESPN. Ramsay was 89.
Former Barcelona soccer coach Tito Vilanova, who had been battling cancer, died at the age of 45, the club announced April 25.
Country singer Kevin Sharp died from "complications due to cancer" on April 19, his mother told CNN. He was 43.
Rubin "Hurricane" Carter, the middleweight boxing contender who was wrongly convicted of a triple murder in New Jersey in the 1960s, died April 20 at the age of 76, according to Win Wahrer, the director of client services for the Association in Defence of the Wrongly Convicted.
Gabriel Garcia Marquez, the influential, Nobel Prize-winning author of "One Hundred Years of Solitude" and "Love in the Time of Cholera," passed away on April 17, his family and officials said. He was 87.
Jose Luis "Cheo" Feliciano, a giant of salsa music and a Puerto Rican legend, died in a car crash April 18 in San Juan, Puerto Rico, according to police. He was 78.
Days after being inducted into World Wrestling Entertainment's Hall of Fame, WWE superstar Ultimate Warrior died April 8. Born James Hellwig, he legally changed his name to Warrior in 1993. He was 54.
Comedian John Pinette, 50, was found dead in a Pittsburgh hotel room on April 5. Pinette died of natural causes stemming from "a medical history he was being treated for," the medical examiner's spokesman said. An autopsy will not be done because his personal doctor signed the death certificate.
Mickey Rooney, who started as a child star in vaudeville and went on to star in hundreds of movies and TV shows, died April 6 at the age of 93.
DJ Frankie Knuckles, a legendary producer, remixer and house music pioneer, died March 31 at the age of 59.
Kate O'Mara, the British actress best known for playing Joan Collins' sister on the 1980s show "Dynasty," died March 30. She was 74.
Ralph C. Wilson Jr., the founder and longtime owner of the NFL's Buffalo Bills, died at age 95, the team announced March 25.
Gwar lead singer Dave Brockie died March 23 at the age of 50, his manager said. The heavy-metal group formed in 1984, billing itself as "Earth's only openly extraterrestrial rock band." Brockie performed in the persona of Oderus Urungus.
James Rebhorn, whose acting resume includes a long list of character roles in major films and TV shows, died March 21, his representative said. Rebhorn was 65.
L'Wren Scott, a noted fashion designer and girlfriend of musician Mick Jagger, was found dead of an apparent suicide March 17, according to a law enforcement official. She was 49.
Drummer Scott Asheton, who co-founded and played drums for the influential proto-punk band The Stooges, died March 15. He was 64.
Comedian David Brenner, a regular on Johnny Carson's "The Tonight Show," died after a battle with cancer, a family spokesman said March 15. He was 78.
Actress Sheila MacRae, who portrayed Alice Kramden in a 1960s revival of "The Honeymooners" on "The Jackie Gleason Show," died on March 6, according to her family. She was 92.
Spanish guitarist Paco de Lucia, seen here in 2006, died February 25 of an apparent heart attack. He was 66. De Lucia transformed the folk art of flamenco music into a more vibrant modern sound.
Actor, writer and director Harold Ramis, seen here on the far left with fellow "Ghostbusters" Dan Aykroyd and Bill Murray, died at his Chicago-area home on February 24. He was 69. Other popular Ramis films include "Stripes," "Groundhog Day" and "Analyze This."
Maria von Trapp, seen here posing with a photo of her family, was the last of the singing siblings immortalized in the movie "The Sound of Music." She died February 18 of natural causes at her Vermont home, according to her family. She was 99.
Journalist Garrick Utley died at age 74 following a long battle with cancer, his wife of 40 years said in February. Utley worked for CNN after his 30-year career at NBC News.
Devo guitarist Bob Casale, known by fans as "Bob 2," died February 17, his brother and band mate announced. Casale was 61.
John Henson, the son of Jim Henson who is perhaps most notable for his portrayal of Sweetums on "The Muppets," died after a "sudden, massive heart attack," his family's company said on February 15.
Veteran actor Ralph Waite died at 85 on February 13, according to an accountant for the Waite family and a church where the actor was a regular member. Waite was best known for his role as John Walton Sr. on 'The Waltons."
Sid Caesar, whose clever, anarchic comedy on such programs as "Your Show of Shows" and "Caesar's Hour" helped define the 1950s "Golden Age of Television," died on February 12. He was 91.
Hollywood child star Shirley Temple, who became diplomat Shirley Temple Black, died February 10 at her Woodside, California, home. She was 85.
Joan Mondale, the wife of former Vice President Walter Mondale, died on February 3, according to a statement from the family's church.
Oscar-winning actor Philip Seymour Hoffman was found dead in his Manhattan apartment of an apparent drug overdose, law enforcement sources said February 2.
Maximilian Schell died on February 1 in a Austrian hospital with his wife by his side, his agent Patricia Baumbauer said. He was 83. Schell was nominated for an Oscar three times. He won in 1962 for "Judgment at Nuremberg."
Legendary folk singer Pete Seeger, known for classics such as "Where Have All the Flowers Gone" and "If I Had a Hammer (The Hammer Song)," died of natural causes in New York on January 27, his grandson told CNN. He was 94.
Ruth Robinson Duccini, who played one of the Munchkins in the 1939 classic "The Wizard of Oz," died on January 16. She was 95.
Former Playboy centerfold Cassandra Lynn Hensley was found dead at a friend's home in Los Angeles, the coroner there said on January 17. Hensley was 34. Her cause of death was not immediately known.
Hiroo Onoda, center, salutes after handing over his military sword on Lubang Island in the Philippines in March 1974. Onoda, a former intelligence officer in the Japanese army, had remained on the island for nearly 30 years, refusing to believe his country had surrendered in World War II. He died at a Tokyo hospital on January 16. He was 91.
Russell Johnson, center, stands with Alan Hale Jr., left, and Bob Denver in an episode of "Gilligan's Island" in 1966. Johnson, who played "the professor" Roy Hinkley in the hit television show, passed away January 16 at his home in Washington state, according to his agent, Mike Eisenstadt. Johnson was 89.
Ariel Sharon, whose half century as a military and political leader in Israel was marked with victories and controversies, died on January 11 after eight years in a coma, Israeli Army Radio reported. Sharon was 85.
Franklin McCain, seen center wearing glasses, one of the "Greensboro Four," who made history for their 1960 sit-in at a Greensboro Woolworth's lunch counter, died on January 10 after a brief illness, according to his alma mater, North Carolina A&T State University.
Larry Speakes, who served as President Ronald Reagan's press secretary, died January 10 at his home in Cleveland, Mississippi, following a lengthy illness, according to Bolivar County Coroner Nate Brown. He was 74.
Poet Amiri Baraka, who lost his post as New Jersey's poet laureate because of a controversial poem about the 9/11 terror attacks, died on January 9, his agent said. Baraka was 79.
Sir Run Run Shaw, the media tycoon who helped bring Chinese martial arts films to an international audience, died at his home in Hong Kong on January 7 at age 106, the television station he founded said.
Stage, TV and film actress Carmen Zapata, who founded the Bilingual Foundation of the Arts as a means of of introducing "the rich and eloquent history of the diverse Hispanic culture to English-speaking audiences," died on January 5 at her Los Angeles home. She was 86.
Portugal football legend Eusebio, who was top scorer at the 1966 World Cup, died from a heart attack on January 5 at age 71, said his former club, Benfica.
Alicia Rhett, who had been one of the oldest surviving cast members of the classic film "Gone With the Wind," died on January 3 in her longtime hometown of Charleston, South Carolina, a retirement community spokeswoman said. She was 98.
Singer Phil Everly, left -- one half of the groundbreaking, smooth-sounding, record-setting duo the Everly Brothers -- died on January 3, a hospital spokeswoman said. He was 74.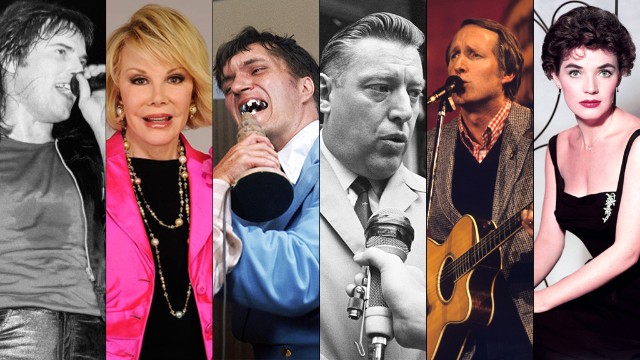 Photos: People we lost in 2014
Beloved resident of New York neighborhood
But despite his love of performance, Hoffman was a private person who rarely spoke about his family, Jacobs said.
In New York's Greenwich Village neighborhood where he lived, it was common to see the actor riding a bicycle and walking his children to the public school they attended.
"He'd go quietly about his business with his children. I still remember the day he won the Oscar, him walking his kids to school, not long after. And people were giving him high fives," said CNN's Rose Arce, whose daughter attended school with Hoffman's children. "It looked like it really meant something to him to have his neighbors saying congratulations. It's shocking, and I know everyone in the neighborhood is going to feel like they're missing a friend, like a friend has died."
After his Oscar win at the Academy Awards in 2006, Hoffman thanked his mother for taking him to his first play.
"She brought up four kids alone and she deserves a congratulations for that. ... And she took me to my first play and she stayed up with me and watched the NCAA Final Four, and my passions, her passions became my passions. And, you know, be proud, Mom, because I'm proud of you and we're here tonight and it's so good," he said in his acceptance speech.
Hoffman's father was a salesman and his mother was a family court judge, a biography on the Turner Classic Movies website says. He landed his first professional stage role before graduating from high school and went on to study acting at New York University.
Hoffman stayed active on stage even as his star rose in Hollywood. He starred in a Broadway production of "Death of a Salesman" in 2012 and was co-artistic director of the Labyrinth Theater Company in New York.
He is survived by three children and his longtime partner, Mimi O'Donnell.
Battling addiction
Last year Hoffman revealed that he had entered rehab to deal with a drug problem, telling TMZ that he'd kicked a substance abuse habit for 23 years but recently relapsed.
In a 2011 interview with "60 Minutes," he discussed his past struggles with drug and alcohol addiction.
"Anything I could get my hands on, I liked it all," he said.
Asked why he decided to sober up, he replied, "You get panicked. ... I was 22 and I got panicked for my life, it really was, it was just that. And I always think, 'God, I have so much empathy for these young actors that are 19 and all of a sudden are beautiful and famous and rich.' I'm like, 'Oh my God. I'd be dead.'"
According to TMZ, Hoffman said last year that he'd fallen off the wagon, started taking prescription pills and slipped into snorting heroin.
The actor's public comments about his battle with substance abuse illustrate the struggles many addicts face, according to HLN's Dr. Drew Pinsky, an addiction specialist.
"Someone with opiate addiction, they are doing pushups their whole lives. And they must work on it all the time. And even working on it, there's a high probability of relapse. And God willing, they get adequate treatment, and they re-engage in treatment, and things go well," Pinsky said. "But often, it's a frequently fatal condition. We just simply have to continually remind ourselves of that. And now it has taken a glorious, glorious talent from us."
After he returned from rehab, Hoffman rented the apartment where his body was found Sunday, two neighbors said. The rest of his family lived elsewhere in the neighborhood.
'He was a giant talent'
Word of Hoffman's death sparked a flood of reactions from actors, directors, studio heads and fans.
"This is a horrible day for those who worked with Philip," actor Tom Hanks said in a statement. "He was a giant talent. Our hearts are open for his family."
Lionsgate, the studio behind "The Hunger Games" movies, described Hoffman as "a singular talent and one of the most gifted actors of our generation."
In a Twitter post, actor Jim Carrey described Hoffman as a "beautiful soul."
"For the most sensitive among us the noise can be too much," he wrote. "Bless your heart."
Robert DeNiro, who starred opposite Hoffman in the 1999 movie "Flawless," said he was "very, very saddened" by Hoffman's death.
"This is one of those time where you say 'this just shouldn't be. He was so young and gifted and had so much going, so much to live for.'"
For Mike Nichols, who directed Hoffman in his Oscar-nominated turn in "Charlie Wilson's War," there were no words, just grief.
"No words for this. He was too great and we're too shattered," he said in an e-mailed statement.
Police investigating
As fans and neighbors gathered outside the apartment building where Hoffman was found, police were combing his apartment for evidence Sunday. As part of the investigation, authorities are looking into whether anyone was with the actor when he died, law enforcement officials said.
An autopsy will be conducted on Hoffman's body Monday, said Julie Bolcer, a spokeswoman for New York City's Office of Chief Medical Examiner.
Law enforcement sources told CNN that detectives will track Hoffman's recent activities to see where he purchased what appears to be heroin.
Moving on the theory that Hoffman's death was a drug overdose, they'll now try to seek exactly where he bought it, the sources said.
This will involve searching his phone and trying to track some of his movements, the sources told CNN.
A federal law enforcement official said the "Ace of Hearts" and "Ace of Spades" stamps on the bags are familiar to law enforcement. They're among hundreds of stamps drug distribution crews use to brand their products.
Heroin use on the rise, authorities warn
Authorities have warned that heroin addiction is soaring and noted an uptick in the availability of the drug.
Last week the Drug Enforcement Administration announced a heroin mill bust in the Bronx, New York, after they seized $8 million worth of the drug.
The DEA has warned that people who are addicted to opioid prescription pills are now finding highly pure heroin easier and cheaper to obtain.
It produces a similar, if more dangerous, high because unlike the pills, there is no way to regulate the dosage of heroin, given the undetermined purity.
That's why investigators likely won't have to look far to find where Hoffman could get the drug, Pinsky said.
"It's right outside his house, I guarantee you," he said, "or somewhere nearby."
CNN's Jennifer Henderson, Chelsea J. Carter, Susan Candiotti, Todd Leopold, Carolyn Sung, Matthew Carey and Evan Perez contributed to this report.