STORY HIGHLIGHTS
Mayor Reed vows to handle any future events differently
The last vehicles were being picked up from interstates
Mayor says lack of experience played a role
Warm weather is doing what government officials could not
Atlanta (CNN) -- A day after Georgia Gov. Nathan Deal apologized for mishandling Tuesday's snowfall, which paralyzed Atlanta and resulted in commutes that exceeded 20 hours for some people, temperatures rose above freezing Friday and the city too busy to hate moved on.
"I've gotten the message loud and clear and I'm going to act like it and do something about it," Mayor Kasim Reed told reporters at the Atlanta Press Club.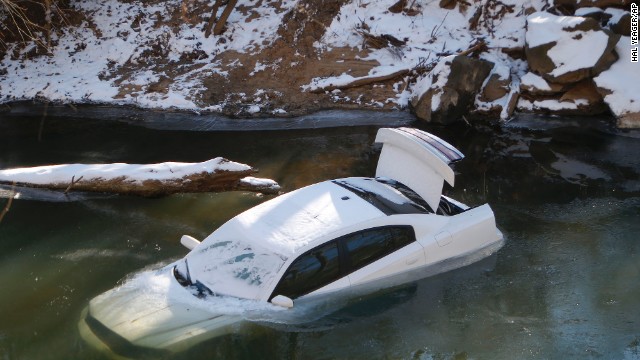 A car lies half submerged in the Cahaba River in Mountain Brook, Alabama, on Thursday, January 30. The driver was able to escape before the car slid into the river during a snow storm on Tuesday and was not injured. A wave of arctic air that started over the Midwest and Plains spread to the Southeast, bringing snow, freezing ice and sleet to a region that doesn't deal with such weather very often.
Ice forms swirls on the banks of the Cahaba River in Vestavia Hills, Alabama, on January 30.
Travelers wait out flight delays at Hartsfield-Jackson Atlanta International Airport on January 30.
Cars are left abandoned at the bottom of a hill in Birmingham, Alabama, on January 30.
Vehicles remain stranded along Interstate 20 in Leeds, Alabama, on Wednesday, January 29.
Abandoned cars are piled up on the median of an ice-covered road in Atlanta on January 29.
Police monitor a fire January 29 in a vehicle left overnight by a motorist who was stranded in Brookhaven, Georgia.
A lone car travels on Interstate 75/85 in downtown Atlanta on January 29, a day after the roadway was packed with vehicles.
Sue Morrison watches as Chris McAdams scrapes ice from her car on January 29 in Panama City Beach, Florida.
Kevin Moore hands out snacks and water to stranded motorists on Interstate 285 in Dunwoody, Georgia, on January 29.
Traffic is snarled along Interstate 285, north of metro Atlanta, on January 29.
A man stands on the frozen roadway January 29 as he waits for traffic to clear along Interstate 75 in Macon, Georgia.
Caution tape is wrapped around a car that crashed into a tree after the driver lost control in Snellville, Georgia, on January 29.
The ice-covered interstate highways running through Atlanta appear empty on January 29.
Icicles hang off a camellia bush in Savannah, Georgia's historic Forsyth Park after freezing rain hit the area on January 29.
Traffic moves past an ice-covered hill on Interstate 75 in Covington, Kentucky, on January 29.
A police officer talks with a crash victim who was involved in a five-car pileup in Sandy Springs, Georgia, early on January 29.
As dawn breaks on January 29, southbound traffic is at a standstill near downtown Atlanta.
Gavin Chambers plays an electronic game January 29 at Oak Mountain Intermediate School in Indian Springs, Alabama. The severe weather forced thousands of students to spend the night in various school buildings across the state.
Abandoned vehicles in Dunwoody, Georgia, line Interstate 285 early on January 29.
A DeKalb County school bus sits abandoned near Interstate 285 in Dunwoody on January 29.
People work to clear stranded vehicles on County Road 25 in Wilsonville, Alabama, on Tuesday, January 28.
Snow falls on cattle at Todd Galliher's farm in Harmony, North Carolina, on January 28.
Two women are stranded at Louis Armstrong New Orleans International Airport on January 28 after flights were canceled due to the weather.
Motorists jam Interstate 75/85 in Atlanta on January 28.
A semi slides off the road as the driver tries to avoid another wrecked truck as snow begins to accumulate on Interstate 65 in Clanton, Alabama, on January 28. Clanton lies between the capital, Montgomery, and the state's biggest city, Birmingham.
A man puts sand on the steps of his business in downtown Northport, Alabama, on January 28. Northport is near Tuscaloosa in the central-west part of the state.
Traffic travels along the highway near downtown Birmingham on January 28.
With temperatures around -10 degrees, commuters wait for a bus in Chicago on January 27.
The Duquesne Incline climbs Mount Washington across the frozen Ohio, Allegheny and Monongahela rivers in downtown Pittsburgh on January 28.
Steam rises from Lake Michigan in Chicago on Monday, January 27.
Workers dump sand across a bridge in Covington, Louisiana, on January 27.
A man jumps off a snow-covered sidewalk to cross a downtown Cleveland street January 27. A minor car accident is in the background.
Ice forms as waves crash along the Lake Michigan shore January 27 in Chicago.
A strong wind kicks up snow Sunday, January 26, in Vadnais Heights, Minnesota, creating drifts over roads and parking lots.
The Cincinnati neighborhood of Mount Adams is shown blanketed in snow on Saturday, January 25.
People walk in a snow squall January 25 in Trenton, New Jersey.
Cars sit in drifts and plowed snow on January 25 in Grand Rapids, Michigan.
A North Hudson County firefighter walks in front of an ice-covered vehicle near a building where a six-alarm fire was put out January 24 in Union City, New Jersey.
Kyle Malott scraps the ice off his girlfriend's car near Covington, Louisiana, on January 24.
Ben Eggart pushes Hannah Graham down a hill at Girard Park in Lafayette, Louisiana, on January 24.
Ice floats by the Chicago skyline on Lake Michigan on Thursday, January 23.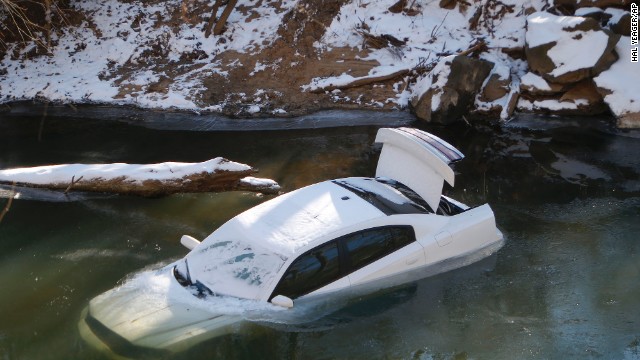 Photos: Freezing temperatures sweep U.S.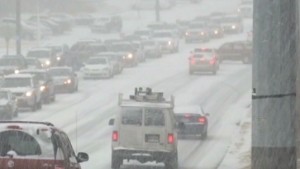 Hero doctor braves storm to perform surgery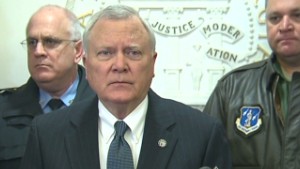 Governor: I apologize to Atlanta drivers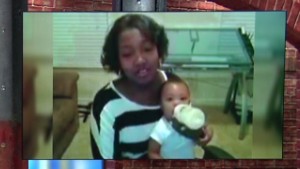 Mom with baby waits 18 hours in traffic
Reed said he would be more aggressive in handling any future events, even if that means using his bully pulpit to persuade others not under his authority to act. "I'm going to publicly say that the city of Atlanta is closing and we believe everybody in the city should close right away, and anybody who doesn't agree, they can take my seat on CNN."
That was an apparent reference to a testy interview Reed had Wednesday with CNN's Carol Costello.
Reed acknowledged that the image of his city has taken a hit in the public eye, but predicted it would rebound. "I think we'll earn it back, day by day, and I'm confident that there will be a severe weather event and we'll be able to show that we have the ability to respond."
On Friday, the last of the more than 2,000 cars that were abandoned when 2.6 inches of snow overwhelmed Atlanta's ability to cope were being picked up by their owners. By Friday morning, only about a dozen were left on interstates and state roads, said Ken Davis, a spokesman for Georgia's Emergency Management Agency.
Government help, which many said was impossible to find in the immediate aftermath of the storm, was available Thursday, when the National Guard and State Patrol offered free rides to abandoned cars, five free gallons of gas and a jump-start.
On Thursday night, the state began towing -- at state expense -- unclaimed cars.
The Atlanta Police Department said it would waive impounding fees for those cars it towed, though it was just one of many agencies dealing with abandoned cars.
By Sunday, the temperature should reach the 60's in parts of the Southeast.
Political aftermath
The governor also vowed to move more aggressively and more quickly before any future storms, even if that means more false alarms.
"I accept responsibility for the fact that we did not make preparation early enough to avoid these consequences," Deal said Thursday. "I'm not looking for a scapegoat. I'm the governor, the buck stops with me."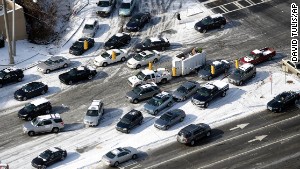 Atlanta storm blame game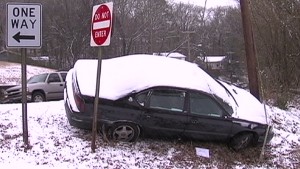 Deep South in a deep freeze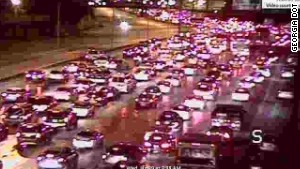 Traffic eases for most of Atlanta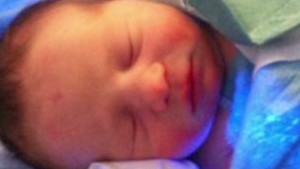 Officer delivers baby on icy road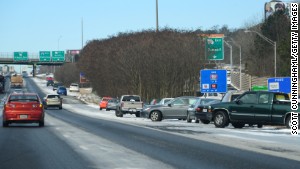 Dude, where's my car?
Many people spent the night in their cars Tuesday, trapped in the gridlock. Some students were stuck on school buses, others had to shelter overnight in their schools.
GEMA's director apologized for not cranking up emergency operations six hours earlier than he did.
"I got this one wrong," Charley English said.
Reed cited the mass exodus from his city as largely responsible for the gridlock and said the schedule for sending people home should have been staggered.
He acknowledged that a "lack of experience" in dealing with severe weather events in Atlanta played a role.
Monster sprawl
Reed has managerial control over most, but not all, of Fulton County. But greater Atlanta comprises 28 counties with 140 cities and towns sprawled over an area the size of Massachusetts, and Reed does not have administrative power over them.
That needs to change, according to retired Lt. Gen. Russel Honore, who coordinated relief efforts along the Gulf Coast after Hurricane Katrina.
"They need to have in Atlanta the same type of government you have in New York, where the mayor controls the city and everything around that city, and the mayor can make decisions on road closures; he has emergency powers as when schools close," he said.
Atlanta's transportation system is fragile
Though warmth may have returned to Atlanta, its residents still can't count on a reasonable commute. The city's subway -- called MARTA -- does not reach many areas of the city, so the vast majority of commuters drive. That often means traffic jams during rush hours, which can extend through much of the day.
According to the Texas Transportation Institute's Urban Mobility 2010 study, cited by the Clean Air Campaign, the region is the 12th most wasteful commute in the country. The average Atlanta driver is stuck in traffic for 43 hours per year; that's in addition to his or her normal commuting time, it said.
That translates into a cost to Atlanta commuters of nearly $3 billion per year in time and fuel -- $924 per person, it said.
The average commuting distance is 35 miles in metro Atlanta, and costs commuters $16.45 per day, said the Clean Air Campaign, a not-for-profit advocacy group.
More than four in five commuters (82%) drive alone, it said, citing a 2010 survey carried out for the Georgia Department of Transportation.
Despite those statistics, voters in 2012 turned down a transportation initiative. "Nobody fought harder for funding for MARTA than me during the regional transportation referendum," Reed said Friday.
But, he added, he has transportation improvement in mind, with plans to extend a street car due to come on line this year and to invest in roads, bridges and sidewalks.
CNN's Ed Payne, Vivian Kuo, Holly Yan and Greg Botelho contributed to this report