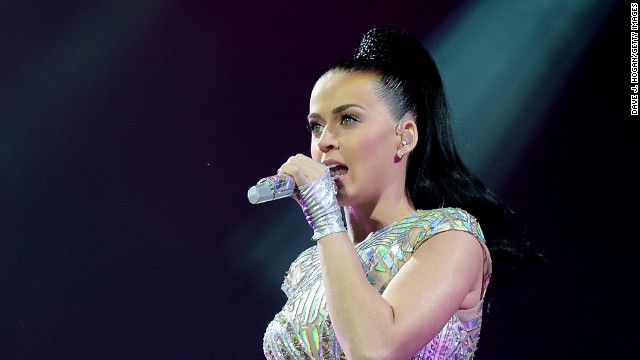 The NFL has confirmed the rumors that Katy Perry is going to lead the 2015 Super Bowl halftime show. Here are some of the memorable Super Bowl acts she would follow, both good and not so great.
Thanks to Michael Jackson's game-changing 1993 performance, during which he sang hits including "Black or White" and "Billie Jean," Super Bowl halftime shows became as significant a draw for viewers as the football game itself.
entertaining show
in 2001, performing hits like "Bye Bye Bye" and "I Don't Want to Miss a Thing," but it was the big finale where the entire group sang "Walk This Way" that puts this performance into the halftime hall of fame.
Britney Spears, Aerosmith, 'N Sync, Mary J. Blige and Nelly put on an
At the first Super Bowl after September 11, U2 performed a tribute to those lost in the attacks. As the band played "MLK," the names of victims appeared on a screen. The show ended with a stirring version of "Where the Streets Have No Name," and Bono revealing the American flag in the lining of his jacket.
After Janet Jackson's "wardrobe malfunction" the year before, Paul McCartney's 2005 performance was a show everyone could get behind. McCartney took the stage to play fan favorites such as "Live and Let Die," "Drive My Car" and "Hey Jude."
In addition to his own hits "Let's Go Crazy," "1999" and "Purple Rain" (in the rain), Prince used the 2007 halftime show to masterfully weave in other artists' classics such as Queen's "We Will Rock You," Creedence Clearwater Revival's "Proud Mary" and Bob Dylan's "All Along the Watchtower."
Bruce Springsteen and the E Street Band took the stage in 2009, the same year he released his 16th studio album, "Working on a Dream." He urged viewers to "put your chicken fingers down and turn the television set all the way up" before launching into hard-rocking hits such as "Born to Run" and "Tenth Avenue Freeze-Out."
Beyonce's performance at the 2013 Super Bowl was of epic proportions. The superstar blew through her greatest hits and landed each dance move, even bringing out her old Destiny's Child groupmates, Kelly Rowland and Michelle Williams, for a quickie reunion. We are not exaggerating -- or speaking on behalf of Kanye West -- when we say this was one of the best Super Bowl halftime performances of all time.
In 1997, Dan Aykroyd, John Goodman and Jim Belushi performed as the Blues Brothers. The men looked like they were having a blast, but it was one of the weakest halftime shows to date.
perform
"the world's largest card trick" among a bevy of Solid Gold dancers.
In 1989, Elvis Presley impersonator Elvis Presto took to the Super Bowl stage in head-to-toe gold lame to
performed
"Step by Step" and "This One's for the Children," can't be held accountable for landing on this list. They did the best they could, considering the large number of actual kids on their block.
Talk about a family-friendly halftime show. Mickey Mouse and a bunch of children opened for New Kids on the Block in 1991. NKOTB, who
Disney-themed halftime show
. The concept was "Tapestry of Nations" and included a song called "Reflections of Earth" and narration by actor Edward James Olmos. Need we say more?
In 2000, Christina Aguilera, Enrique Iglesias, Phil Collins and Toni Braxton performed in another
halftime show
showed promise. The crowd was pumped as the Black Eyed Peas entered from the ceiling, but once they hit the stage, things fell apart. Not even hundreds of dancers clad in glowing green lights could save this performance.
The 2011
In 2004, Janet Jackson, Diddy, Nelly, Kid Rock and Justin Timberlake put on quite a
performance
for viewers -- although it doesn't much matter what they sang, since the show will be forever remembered for Jackson's "wardrobe malfunction."
Best and worst Super Bowl halftime shows
Best: King of halftime
Best: Rock this way
Best: Beautiful day
Best: Beatlemania
Best: Purple reign
Best: Glory days
Best: All hail the Queen (Bey)
Not so great: Feeling blue
Not so great: Gridiron groans
Not so great: The kids are (just) all right
Not so great: Deadly serious
Not so great: Where is the love?
Not so great: Boob tube
STORY HIGHLIGHTS
Hamish Hamilton has directed Super Bowl halftime shows, Oscars, Olympic ceremonies
He says technology is crucial but can distract from performances
Last year's Super Bowl blackout was not caused by halftime show, Hamilton says
He says the extreme weather possibility this year is a concern but also "exciting"
(CNN) -- As he prepares Sunday's Super Bowl XLVIII halftime show, Hamish Hamilton isn't free with details about what its millions of viewers should expect.
Except for one.
"I'm fairly sure that the lights will stay on for the entire Super Bowl," said Hamilton, the Grammy-nominated director of this year's show, which will feature singer R&B singer Bruno Mars and rockers Red Hot Chili Peppers. "I would be surprised if that happened again."
Moments after Beyonce finished her performance last year, the New Orleans Superdome went dark for 35 minutes.
"Not guilty," says Hamilton, a native of Blackpool, England, who began his career with the BBC.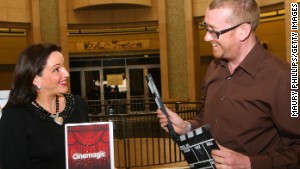 Hamish Hamilton, right, speaks at a 2010 film and TV festival with Cinemagic CEO Joan Burney Keatings.
"The only thing I can say with certainty was that the electricity going out had nothing to do with the halftime show because we were on generator power," said Hamilton, who also directed last year's show. "It was a conscious decision, and it was an excellent decision."
The funniest tweets of the #Blackout ... er ... Super Bowl
More than 110.5 million people worldwide watched the halftime show last year. Only 2012's performance by Madonna drew more viewers, and Beyonce's performance -- and the blackout that followed -- generated 229,000 tweets per minute on Twitter, its second most-tweeted moment ever.
The production is something of a technological marvel in and of itself.
Last year, 700 people transformed the field at the Superdome into a concert stage incorporating lasers, strobes, pyrotechnics and a preprogrammed stage floor that rose to become a 24-foot by 32-foot video wall.
Hamilton is no stranger to such on-the-fly productions.
In addition to several Super Bowl halftimes, he's directed the Academy Awards, the MTV Video Music Awards and live concert films for artists such as the Rolling Stones and U2. In 2012, he worked with movie director Danny Boyle, heading up the televised versions of the Olympic opening and closing ceremonies.
This year's Bruno Mars production will be no less complex than last year's, said Hamilton. But don't be surprised if the high-tech nature of the show isn't in your face the whole time.
"With the kind of stuff that I do, technology is amazing. But at the end of the day, stories are way more powerful," he said. "So, if you've got somebody on a stage crying because an award means so much to them, or an artist on stage singing an incredibly powerful song to an audience that's with them -- sometimes you just need one shot, one light and an amazing performer."
"Technology's massively important," Hamiltion continued. "You rely on it." But even as the technology at his disposal has improved, Hamilton says he's come to look at it differently.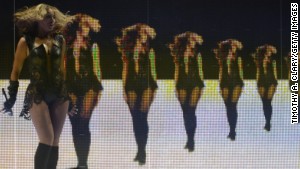 Beyonce performs in front of a massive video wall during the 2013 Super Bowl halftime show at the Superdome in New Orleans.
"Back in the day, I let the technology lead me," he said. "Now, I always prefer the story or the music or the show to lead me. Now, in my own head, it's the story first, the concept first, and the technology is second.
"Technology allows you to do things now you could have never done before. So there's definitely a yin and a yang to it."
In some ways, what Hamilton does is simultaneously the same and the exact opposite of what a movie director does.
For a movie, a shoot can last for weeks, or months, with weeks more of post-production after that. On the flip side, directing a live event means months of preparation, followed by a shoot that lasts for just a brief time. In the case of the Super Bowl show, that's about 12 minutes.
It might seem like that would be a chaotic 12 minutes. But Hamilton said that with enough preparation, the opposite can be the case.
"When I was shooting the (2013) show, I actually said very little," he said. "Because what we were doing was shooting a show that we all knew precisely what we were doing.
"We knew where Beyonce was going to be at all points. We knew when the crowd was going to go crazy. We knew almost exactly the show we were going to get."
But Hamilton, who is also working on a Peter Gabriel concert film he shot at several concerts last year, will have one new X-factor to deal with this Sunday.
This year's game will be at MetLife Stadium at the New Jersey Meadowlands -- an outdoor venue. The Northeast U.S. already has been clobbered this winter by storms that have dumped more than a foot of snow in places and brought temperatures in the single digits -- a full 15 to 25 degrees below normal before what was already predicted to be the coldest Super Bowl in the game's history.
Last week, 10 inches of snow fell on MetLife Stadium. The early forecast for Sunday in Northern New Jersey is for clear skies and milder temperatures, but you never know.
"The weather's an enormous factor," Hamilton said. "But, in every Super Bowl, it has its unique challenges. And from those unique challenges, you create something great. If every situation were the same, the shows may not be as diverse as they are."
Hamilton hinted heavily that the open stadium will be somehow utilized in Sunday's halftime show.
"I guess what I'm trying to say is, in each set of circumstances ... we find creative solutions," he said. "We're tested and pushed in this direction, as opposed to another, and that's kind of exciting."