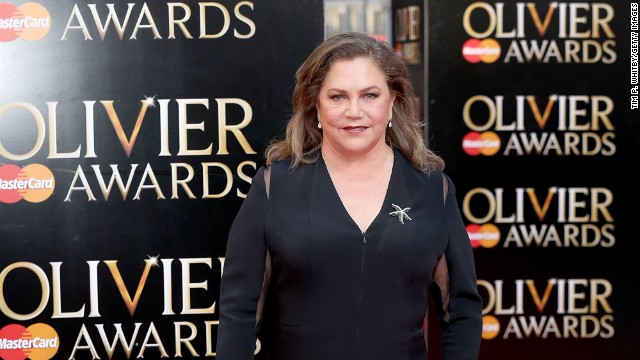 Kathleen Turner still has plenty of "Body Heat" and turns 60 on June 19. Here are a few other celebs who are sexy in their 60s:
Some of Pam Grier's "Foxiest" work is older than some of her fans, but the film star's still got it. The cancer survivor turned 65 on May 26.
Christie Brinkley turned 60 in February and celebrated by showing off her birthday (swim)suit on the cover of People magazine. The model and mom of three said she is feeling better than ever as she heads toward the milestone. "I'm actually excited about turning 60," Brinkley told People. "My 50s weren't easy. ... But I made it through. Now I feel on top of my game."
Oprah Winfrey turned 60 on January 29 and said she is feeling healthy and strong. "I no longer have to be concerned about what anyone thinks of me!" the media star said on her birthday. "I'm turning 60, and I've earned the right to be just as I am. I'm more secure in being myself than I've ever been."
Miley Cyrus said on her October 7 appearance on "Today" that she's heard people over 40 "don't have sex anymore." Leave it to Suzanne Somers, 67, to correct the 20-year-old singer. The former "Three's Company" star told the ladies of "The Talk" that she and her husband of 36 years, Alan Hamel, 77, actually have sex "a couple times a day." Listen to your elders, Miley.
Actor Kurt Russell, 62, and partner Goldie Hawn, 67, are championed as one of the happiest unmarried couples around. Whenever we see them, they're always beaming. Onlookers at a New York movie premiere in September commented that the two could hardly keep their hands off one another.
If anything, Meryl Streep has only gotten sexier with age. The Oscar winner, now 64, has single-handedly pushed past the notion that actresses should leave Hollywood when they hit 30. In the eyes of The Telegraph's film critic David Gritten, it all comes "down to sex. ... Apart from her remarkable skills as a film actress, there's a glow, a sensuality and a radiance about Streep these days. Put simply, she's looking great."
How many 61-year-olds know what it's like to have the Internet practically squeal with glee at the sight of them in boxer-briefs? Liam Neeson does.
At 67, Cher has no need to turn back time. On the cover of her latest album, "Closer to the Truth," the singer proved how young she feels in skimpy lingerie, and she's been known to tweet photos of herself in fishnets and knee-high boots. When one fan responded to one such picture asking if Cher has "discovered how to get hot boys yet," Cher responded, "I'm way too old for hot boys. Hot men, now that's another story."
When 64-year-old Richard Gere opened a boutique hotel in 2012, he told CNN he had a very clear understanding of what he wanted the design to convey. "Sex -- every choice in here was about sex," People's former Sexiest Man Alive told CNN. And yet, the guy doesn't believe that he has "a certain impact" on the opposite sex.
Musician Sting, 62, has never been shy about sharing details of his sex life. He and wife Trudie Styler aren't quite having tantric sex for hours, as rumor has claimed, but they do like to keep things spicy. "I don't think pedestrian sex is very interesting," he told Harper's Bazaar in 2011. "There's a playfulness we have; I like the theater of sex. I like to look good. I like her to dress up. I like to dress her up. ... Romantic? We like tawdry."
Jessica Lange nearly set the big screen on fire with her steamy work alongside Jack Nicholson in 1981's "The Postman Always Rings Twice." But at 64, Lange's bedroom is still the source of speculation -- last year, her rep had to debunk a rumor that she was "making sweet music" with her "American Horror Story" co-star, Sarah Paulson.
If you ever start to doubt that sexiness has no expiration date, just remember Helen Mirren. First came that bikini. Then, in 2010, around age 65, Mirren pulled ahead of Megan Fox in Esquire magazine's Sexiest Woman Alive tournament. But the now 68-year-old's response to all the attention is even better: "We have to let go of this crap," Mirren told The Hollywood Reporter that same year. "It creates even more pressure on women, and I certainly don't want to be a part of that. ... The fact that I look good at the age I am is bloody irrelevant."
Now 60, Pierce Brosnan can still play the older gentleman who falls for a younger lover, as he did in this year's "Love Is All You Need." It has been 12 years since the former 007 was named People magazine's Sexiest Man Alive, but Brosnan is secure in his standing. "There's nothing to prove," he told "Today" in April. "I feel comfortable in my own skin."
Bruce Springsteen, 64, is sexy -- and he knows it, as he proved in his cover of LMFAO's song on "Late Night" in 2012. And have you seen his abs?
The secret to Jeff Bridges' sex appeal? Keeping it real. As the 63-year-old said in 2010, "Being a sex symbol is all about honesty - that's not how I see myself at all, but I think the attractive men are the ones who show you who they are."
"Today" personality Kathie Lee Gifford is an open book at 60. She'll happily talk freely about pubic hair care -- or how sex after 40 is all about quality, not quantity. (Tell that to Suzanne Somers.)
Like many of her 60-something counterparts, Jane Seymour has no problem getting cast in a sensual role. The 62-year-old actress recently appeared on "Franklin & Bash" as a "sex surrogate."
At 68, Tom Selleck is just as sexy as he was back in his "Magnum, P.I." days. (We think it has something to do with the mustache.) Even his 20-acre avocado ranch is "vaguely sexual," as he told Conan O'Brien in 2011.
Is it any wonder Bill Cosby's "Cosby Show" character, Cliff Huxtable, was always trying to get quality time with his wife, Clair? With Phylicia Rashad, who's still just as classy at 65, in the role, it was totally believable.
Susan Lucci embodied sex appeal for decades as Erica Kane on "All My Children." Now 66, the actress has taken her spark from daytime to prime time -- she's starring on "Devious Maids," which she's described as a combination of "intrigue and murder, mayhem, little surprises and sexy. ... All the good stuff."
Susan Sarandon was once told her sexy days would soon come to an end before she even turned 40, and the actress recalled last year that she (rightly) laughed at the notion. Now 67, Sarandon says sensuality is "really more of an attitude than it is being naked," she told People magazine. "I'm happy to be considered desirable. I love it!"
For some reason, former "Charlie's Angel" Jaclyn Smith never considered herself to be a sex symbol, but we politely disagree. At 67, Smith, a cancer survivor, still has the poise and beauty we were first introduced to years ago. Check out how she stunned the co-hosts of "The Talk" last fall.