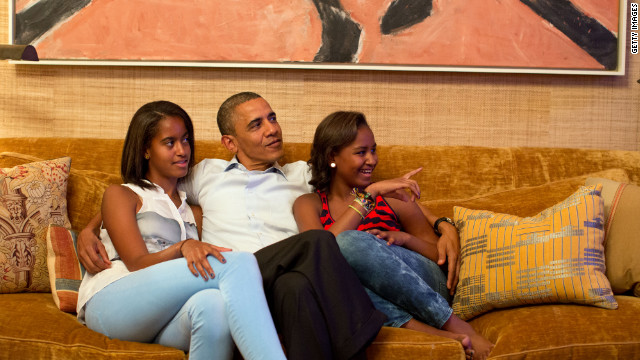 President Barack Obama and his daughters, Malia, left, and Sasha, watch on television as first lady Michelle Obama delivers her speech at the DNC from the Treaty Room in the White House on September 4, 2012.
Just days before he was elected, then-Democratic presidential candidate U.S. Sen. Barack Obama of Illinois, campaigns with his family at JFK Stadium in Springfield, Missouri, November 01, 2008.
President-elect Obama stands on a stage with the future-first family during an election night gathering in Grant Park on November 4, 2008, in Chicago.
Barack Obama takes the oath of office with wife Michelle by his side and daughters Sasha, far right, and Malia standing close by on January 20, 2009.
President Obama with his daughters and new dog Bo, during the dog's introduction to the White House press corps on the South Lawn of the White House on April 14, 2009. The six-month-old puppy was a gift from the late Sen. Edward M. Kennedy, D-Massachusetts.
Sasha and Malia play with Bo as they wait for their Dad's helicopter to land on the South Lawn of the White House on September 15, 2009.
Sasha looks at a turkey named Courage during an event to pardon the 20-week-old and 45-pound turkey at the North Portico of the White House on November 25, 2009.
Sasha watches her Dad from the Truman Balcony after he arrives on the south lawn of the White House via Marine One on May 14, 2009.
President-elect Barack Obama and his family hands out food for thanksgiving during a surprise visit to St. Columbanus Parish and School in Chicago, Illinios, November 26, 2008.
Malia, right, and Sasha read the book "Snowmen at Night" by Caralyn Buehner to children during a visit to the Children's National Medical Center in Washington on December 22, 2009.
First lady Michelle Obama and Sasha honor the Rev. Martin Luther King Jr. legacy by serving meals to the needy at a facility January 18, 2010, in Washington. President Obama and Malia also helped in the dining room.
The first family greet children dressed as elves prior to the taping of "Christmas in Washington," at the National Building Museum in Washington on December 11, 2011.
President Obama and Sasha watch the Tulsa Shock play the Washington Mystics on August 1, 2010 in Washington.
The first family at the National Tree Lighting Ceremony on The Ellipse in early December 2011singing with Kermit the Frog.
First lady Michelle Obama with Sasha and Malia Obama, reading to children from "The Cat in the Hat" by Dr. Seuss as they visit the Emthonjeni Community Centre in Zandspruit Township, Johannesburg, South Africa, on June 21, 2011.
President Barack Obama shares a laugh with his wife Michelle and daughter Malia, as the U.S. Senior Men's National Team plays Brazil in a pre-Olympic exhibition basketball game on July 16, 2012, in Washington.
The first family walks across Lafayette Park to St. John's Episcopal Church to attend Sunday services in Washington on August 19, 2012.
President Obama walks with daughters Malia and Sasha after a visit to Sea Life Park December 27, 2011, at Waimanalo, Hawaii.
Sasha and Malia: Watch mom's speech
Sasha and Malia: Campaigning 2008
Sasha and Malia: Election night
Sasha and Malia: Inaguration, whole family
Sasha and Malia: Malia running with Bo
Sasha and Malia: Playing with Bo
Sasha and Malia: Turkey pardon 2009
Sasha and Malia: Sasah waits for Dad
Sasha and Malia: Thanksgiving
Sasha and Malia: Reading at Children's National
Sasha and Malia: Feeding the homeless
Sasha and Malia: Christmas 2011
Sasha and Malia: Basketball game, Sasha and Dad
Sasha and Malia: Christmas tree lighting 2011
Sasha and Malia: Reading in South Africa
Sasha and Malia: Malia high-five
Sasha and Malia: Church on Sunday
Sasha and Malia: In Hawaii