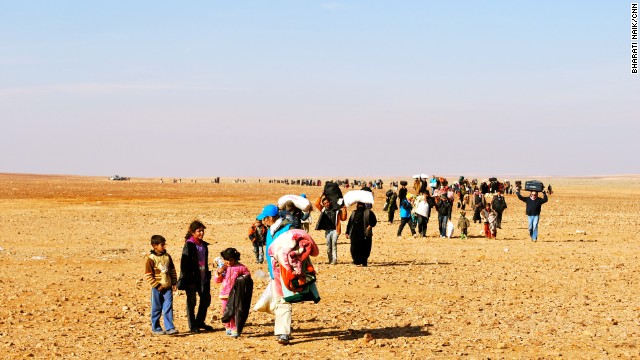 Hundreds of refugees make their way across the Syrian border into Jordan. Many have walked up to 20 kilometers to flee the ongoing civil war in Syria.
Roughly half of the refugees making their way into Jordan are children, many carrying olives and other goods from their farms as a reminder of what they've left behind.
Jordan has deployed extra soldiers to their northern border to deal with the influx of Syrian refugees.
Hundreds of thousands of Syrian refugees -- many of them carrying what little they have after their homes were destroyed -- have streamed into Jordan since the start of the Syrian conflict in 2011.
The oldest are often the last ones to make it across the border, and Jordan has deployed doctors to the border to assist with the most vulnerable.
These refugees came from the outskirts of Damascus, the Syrian capital. Like many children, this little boy walked unaccompanied across the border.
The boy refused to speak to CNN, but opened up to this Jordanian border security force doctor.
This man told us he was 100 years old and displaced twice after his home was destroyed.
A father poses with his twins near the Jordanian border. The man told CNN he came across the border with about 10 other members of his family from the Damascus suburbs.
The majority of the refugees walking across the border are women with children. Many of the men have either stayed behind to fight or have been killed during the three-year civil war in Syria.
After they arrive at the border they're put into Jordanian border police trucks and taken to a remote border camp for registration.
Exhausted refugees pile into a truck for the half hour trip to the border camp, where they will be given food and water and processed.
The road from the border to the camp is unpaved; here a Jordanian truck is stuck in the mud after recent spells of rain. The truck had to be pulled out of the mud by an armored personnel carrier.
It typically takes a day or two for new arrivals to be registered as refugees at the border camp.
Children arriving at the base camp were overjoyed to see a playground, but after registering as refugees they still face a 400 kilometer drive to the Zaatari refugee camp.
More than 100,000 Syrian refugees currently call Zaatari refugee camp in Jordan home. It is the second largest refugee camp in the world and, if it was a city, would rank among Jordan's largest.
Roughly half of Zaatari's residents are children -- and 42% of families in the camp are led by a female head of household.
There are several play areas for children in Zaatari, which is run jointly by the U.N. and the Jordanian government.
Safah (R) has been living for more than a year in Zaatari with her parents and five siblings. She lost her leg in a rocket attack outside Damascus.
Safah's father says she was an active and sociable girl before the attack. Now, he says she's become more withdrawn.
There are three schools in Zaatari. The U.N. estimates that nearly 3 million children in Syria have been forced to quit their education as a result of the civil war.
This is the World Food Program's bread distribution center in Zaatari. There are two lines to get bread -- one for men, one for women.
Every morning, an estimated 30,000 people come to collect bread for their families. On average, 500,000 portions of fresh bread are distributed daily in the camp.
This is a child friendly space, one of several in the camp. There are separate sessions for girls and boys.
Rowaida Abu-Zaid used to own a salon in Syria. She now runs one of three wedding shops in Zaatari. In the summer she says she organizes up to four weddings a day.
There are three schools in Zaatari, but only about 20% of the children attend class.
There are more than 23,000 children in Zaatari. Thousands more are expected to arrive in the coming year.
There are more than 17,000 pre-fabricated homes in Zaatari. Each unit holds a family of five and costs $3,000. But in Zaatari's "gray market" they sell for $1,000 each.
The UNHCR is working to replace all of the tents at Zaatari with prefabricated homes. The goal is to get 80,000 residents into pre-fabricated units by the summer.
In the meantime, the Jordanians are building a new refugee camp. Officials say it can accommodate 30,000 right now, but could end up holding more than 100,000 refugees.
Syrian refugees flee to Jordan
Syrian refugees flee to Jordan
Syrian refugees flee to Jordan
Syrian refugees flee to Jordan
Syrian refugees flee to Jordan
Syrian refugees flee to Jordan
Syrian refugees flee to Jordan
Syrian refugees flee to Jordan
Syrian refugees flee to Jordan
Syrian refugees flee to Jordan
Syrian refugees flee to Jordan
Syrian refugees flee to Jordan
Syrian refugees flee to Jordan
Syrian refugees flee to Jordan
Syrian refugees flee to Jordan
Syrian refugees flee to Jordan
Syrian refugees flee to Jordan
Syrian refugees flee to Jordan
Syrian refugees flee to Jordan
Syrian refugees flee to Jordan
Syrian refugees flee to Jordan
Syrian refugees flee to Jordan
Syrian refugees flee to Jordan
Syrian refugees flee to Jordan
Syrian refugees flee to Jordan
Syrian refugees flee to Jordan
Syrian refugees flee to Jordan
Syrian refugees flee to Jordan
Syrian refugees flee to Jordan
Syrian refugees flee to Jordan