STORY HIGHLIGHTS
NEW: "I don't see how we are going to get rid of the ice," emergency official admitted
Georgia's governor apologizes, says that changes are needed to prevent a repeat
He extends state of emergency through Sunday night to free up needed resources
"It's just a lot of frustration," an Atlanta resident says of the storm response
Atlanta (CNN) -- Two days after snow began to fall -- and a day after many Georgians, including hundreds of schoolchildren, finally made it home -- the state's governor apologized Thursday for what many saw as an insufficient and ineffective response.
Gov. Nathan Deal told reporters he was "not satisfied" with how his state dealt with the 2.6 inches of snow plus the sheets of ice that it turned into, leading to massive gridlock throughout metro Atlanta. In addition to students stranded at school, many drivers camped out in their cars or abandoned them by the hundreds along thoroughfares big and small.
"I accept responsibility for the fact that we did not make preparation early enough to avoid these consequences," Deal said. "... I'm not looking for a scapegoat. I'm the governor, the buck stops with me."
Speaking later Thursday with CNN's Wolf Blitzer, Deal said "we all made errors in judgment" and that "the major lesson is we have to be more proactive." According to the governor, that means taking action like declaring a state of emergency earlier on -- even if it ends up being a false alarm, relatively -- and making sure the resources are available to deal with such a crisis.
"Apologies are something that don't change the circumstances," said the governor, a Republican running for re-election in November. "What we intend to do is change the circumstances."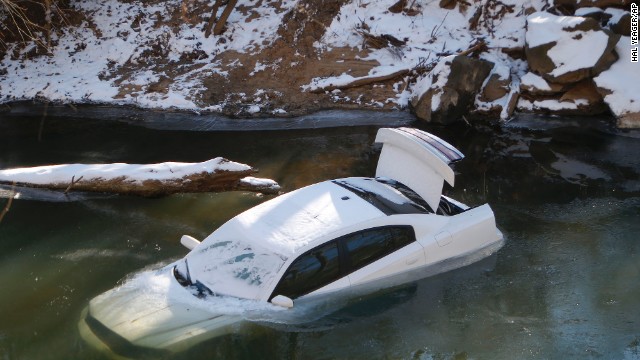 A car lies half submerged in the Cahaba River in Mountain Brook, Alabama, on Thursday, January 30. The driver was able to escape before the car slid into the river during a snow storm on Tuesday and was not injured. A wave of arctic air that started over the Midwest and Plains spread to the Southeast, bringing snow, freezing ice and sleet to a region that doesn't deal with such weather very often.
Ice forms swirls on the banks of the Cahaba River in Vestavia Hills, Alabama, on January 30.
Travelers wait out flight delays at Hartsfield-Jackson Atlanta International Airport on January 30.
Cars are left abandoned at the bottom of a hill in Birmingham, Alabama, on January 30.
Vehicles remain stranded along Interstate 20 in Leeds, Alabama, on Wednesday, January 29.
Abandoned cars are piled up on the median of an ice-covered road in Atlanta on January 29.
Police monitor a fire January 29 in a vehicle left overnight by a motorist who was stranded in Brookhaven, Georgia.
A lone car travels on Interstate 75/85 in downtown Atlanta on January 29, a day after the roadway was packed with vehicles.
Sue Morrison watches as Chris McAdams scrapes ice from her car on January 29 in Panama City Beach, Florida.
Kevin Moore hands out snacks and water to stranded motorists on Interstate 285 in Dunwoody, Georgia, on January 29.
Traffic is snarled along Interstate 285, north of metro Atlanta, on January 29.
A man stands on the frozen roadway January 29 as he waits for traffic to clear along Interstate 75 in Macon, Georgia.
Caution tape is wrapped around a car that crashed into a tree after the driver lost control in Snellville, Georgia, on January 29.
The ice-covered interstate highways running through Atlanta appear empty on January 29.
Icicles hang off a camellia bush in Savannah, Georgia's historic Forsyth Park after freezing rain hit the area on January 29.
Traffic moves past an ice-covered hill on Interstate 75 in Covington, Kentucky, on January 29.
A police officer talks with a crash victim who was involved in a five-car pileup in Sandy Springs, Georgia, early on January 29.
As dawn breaks on January 29, southbound traffic is at a standstill near downtown Atlanta.
Gavin Chambers plays an electronic game January 29 at Oak Mountain Intermediate School in Indian Springs, Alabama. The severe weather forced thousands of students to spend the night in various school buildings across the state.
Abandoned vehicles in Dunwoody, Georgia, line Interstate 285 early on January 29.
A DeKalb County school bus sits abandoned near Interstate 285 in Dunwoody on January 29.
People work to clear stranded vehicles on County Road 25 in Wilsonville, Alabama, on Tuesday, January 28.
Snow falls on cattle at Todd Galliher's farm in Harmony, North Carolina, on January 28.
Two women are stranded at Louis Armstrong New Orleans International Airport on January 28 after flights were canceled due to the weather.
Motorists jam Interstate 75/85 in Atlanta on January 28.
A semi slides off the road as the driver tries to avoid another wrecked truck as snow begins to accumulate on Interstate 65 in Clanton, Alabama, on January 28. Clanton lies between the capital, Montgomery, and the state's biggest city, Birmingham.
A man puts sand on the steps of his business in downtown Northport, Alabama, on January 28. Northport is near Tuscaloosa in the central-west part of the state.
Traffic travels along the highway near downtown Birmingham on January 28.
With temperatures around -10 degrees, commuters wait for a bus in Chicago on January 27.
The Duquesne Incline climbs Mount Washington across the frozen Ohio, Allegheny and Monongahela rivers in downtown Pittsburgh on January 28.
Steam rises from Lake Michigan in Chicago on Monday, January 27.
Workers dump sand across a bridge in Covington, Louisiana, on January 27.
A man jumps off a snow-covered sidewalk to cross a downtown Cleveland street January 27. A minor car accident is in the background.
Ice forms as waves crash along the Lake Michigan shore January 27 in Chicago.
A strong wind kicks up snow Sunday, January 26, in Vadnais Heights, Minnesota, creating drifts over roads and parking lots.
The Cincinnati neighborhood of Mount Adams is shown blanketed in snow on Saturday, January 25.
People walk in a snow squall January 25 in Trenton, New Jersey.
Cars sit in drifts and plowed snow on January 25 in Grand Rapids, Michigan.
A North Hudson County firefighter walks in front of an ice-covered vehicle near a building where a six-alarm fire was put out January 24 in Union City, New Jersey.
Kyle Malott scraps the ice off his girlfriend's car near Covington, Louisiana, on January 24.
Ben Eggart pushes Hannah Graham down a hill at Girard Park in Lafayette, Louisiana, on January 24.
Ice floats by the Chicago skyline on Lake Michigan on Thursday, January 23.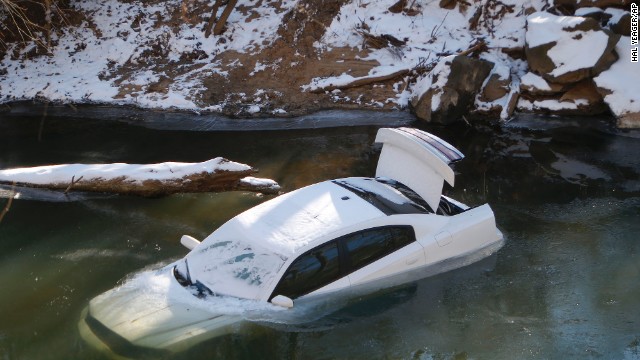 Photos: Freezing temperatures sweep U.S.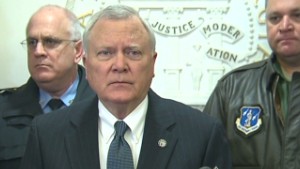 Governor: I apologize to Atlanta drivers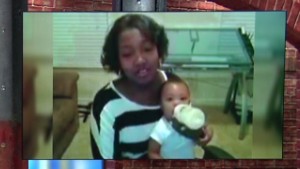 Mom with baby waits 18 hours in traffic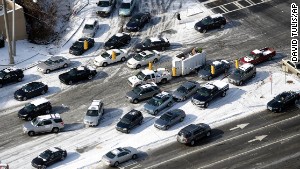 Atlanta storm blame game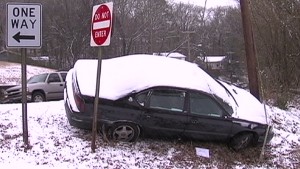 Deep South in a deep freeze
Winter now taking a kinder approach
Mother Nature has helped thaw some of the snow, slush and ice in northern Georgia, thanks to sunny skies and temperatures that crept above freezing.
Yet while the major interstates are largely clear, the danger is hardly over. The National Weather Service's forecast calls for nighttime temperatures in the mid-teens through much of the region.
That means the threat of yet more ice, especially on untreated roads. To that point, while a few area school districts such as Gwinnett and Walton counties are vowing to reopen, most in the area will remain closed because of still-hazardous conditions, especially on secondary roads.
One man who lives on such a road is Ed Diefenbach. The 50-year-old said Thursday afternoon that no one had treated his tree-lined road on the city of Atlanta's northern outskirts, along which there are hundreds of homes. Instead, drivers are crawling past remaining icy patches.
Diefenbach, who posted pictures to CNN iReport, recalled how a friend retrieved his hungry 10-year-old son from school Tuesday night because buses couldn't move while he had to ditch his car up the street. He said he's concerned not only about the road now, but how authorities -- whatever their comments to date -- will respond to the next crisis.
"The mayor (Kasim Reed) was very defensive and so was the governor," Diefenbach said of both public officials' earlier comments. "... It's just a lot of frustration."
Georgia emergency official under fire
At Thursday's news conference, the director of the Georgia Emergency Management Agency acknowledged having made "a terrible error in judgment" in not opening the emergency operations center six hours earlier than he did.
Charley English said he first talked to the governor about how serious the situation was becoming, particularly around metro Atlanta, as the forecast shifted at 9 or 9:30 a.m. Tuesday. This was some six hours after meteorologists upgraded to a winter storm warning.
"I got this one wrong," he said. "I made the decision not to do anything until later that morning."
He said that next time out when forecasts change, GEMA and the state team it coordinates will respond more aggressively.
Asked whether he planned to resign, English said, "That's not my call."
Deal was noncommittal about English's future, saying it was too early to talk about firing anybody. But the governor did say that during Tuesday morning, "we were told that further action was not necessary."
To that point, in an e-mail exchange with Deal's chief of staff, English affirmed Monday afternoon that he would have alerted the governor's staff "if the weather was going to be bad," but he didn't believe that was the case then. The e-mails were first reported by the Atlanta Journal-Constitution and later obtained by CNN.
In another e-mail between the two around 4:15 p.m. Tuesday, the emergency management director acknowledged the huge challenge -- how to treat slick roads when they were covered by so many slow-moving or stalled vehicles.
"I don't see how we are going to get rid of the ice with such low temps predicted," English wrote. "Too many cars out there now to make a lot of progress."
Reed cited the mass exodus from his city as largely responsible for the resulting gridlock. The mayor admitted a "lack of experience" in dealing with "severe weather events" in Atlanta also played a role.
"We made an error in the way that we released our citizens," the mayor told NBC's "Today," claiming that the situation might have gone more smoothly if schools, then private businesses, then government offices released people in that order. "I think it would have made a major difference."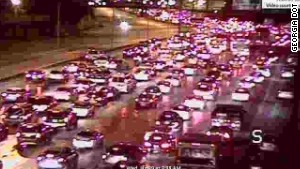 Traffic eases for most of Atlanta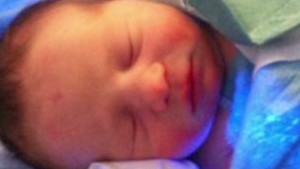 Officer delivers baby on icy road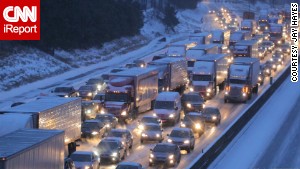 Good Samaritans rescue stranded drivers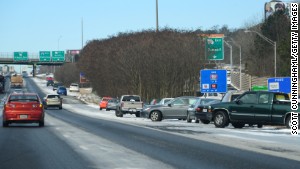 Dude, where's my car?
Katrina vet: 'I think they failed'
Whether such explanations or promises of change will assuage the legions of critics remains to be seen.
The crisis dragged on far longer than many would have liked. It was not until Wednesday evening -- more than a day after the snowfall began -- that Deal announced that all of metropolitan Atlanta's schoolchildren had gotten home.
Some chided officials for learning little from a 2011 ice storm that paralyzed the region for a week, because no one could safely get anywhere.
The Atlanta Journal-Constitution's Pulitzer Prize-winning cartoonist, Mike Luckovich, depicted Deal and Reed responding to the snowfall by making snow angels. In fact, as the snow picked up midday Tuesday, those two officials were together at a ceremony honoring the Atlanta mayor.
"I think they failed," retired Lt. Gen. Russel Honore, who led the recovery efforts after Hurricane Katrina on the Gulf Coast, said of the official response. "... Admit it, fix it and be ready for next week."
The anger was pervasive, among locals such as Diefenbach and travelers such as Greg Shrader, a truck driver from Maine who gave up after sitting in traffic for 27 hours for what should have been a three and a half hour trip.
"I have never been failed by officials like I have here. Still no equipment, no well-being check. No plan," Shrader told CNN on Wednesday. "I guess they're waiting for it to melt."
R. David Paulson, a former director of the Federal Emergency Management Agency, understands the challenges that officials face as they weigh how to react -- and risk overreacting -- when bad weather approaches. Taking steps such as opening up shelters, evacuating people and urging businesses to shutter is costly, but so are the consequences of not acting.
"That costs a lot of money," said Paulson, now a consultant. "But how much is a life worth?"
Deaths and new life
Those who won't be forking over money include motorists who abandoned their cars in Georgia cities such as Atlanta and Roswell, where authorities have vowed that vehicles will be towed free of charge.
The towing of the remaining abandoned cars was expected to begin around 9 p.m. Thursday. Some people in the area have been able to rescue their vehicles sooner.
Many of them showed up still sleep-deprived and seething at two locations Thursday to get chauffeured to their vehicles by members of the National Guard in four-wheel-drive vehicles.
Deal has extended the state of emergency through Sunday night "to assure that all necessary resources are available for state agencies and local governments to clear roads and all other winter storm-related obstacles."
Yet it's not just Georgia that's dealing with the storm's aftermath.
Parts of Alabama were still digging out on Thursday, with the Shelby County Sheriff's Office declaring in the morning that many roads there were "still impassible (and) closed to regular traffic."
"Civilian vehicles cannot safely travel due to icing and impede the travel of emergency vehicles responding to calls," the office said on Facebook, before reporting hints of progress later in the day.
Highway patrolmen in North Carolina and Mississippi both responded to some 600 calls apiece from motorists who'd either crashed or abandoned their cars after the weather hit.
Throughout the Southeast, the icy weather was blamed for 10 deaths -- five of them in Alabama and the others in North Carolina and Mississippi.
But there were also plenty of signs of hope and life amid the madness and mess.
Take the story of Amy Anderson, who was stuck in her car with her husband when she went into labor. As a police officer looked on, Anderson gave birth to a daughter, whom she and her husband, Nick, named Grace.
"When we gave her the name Grace, it just fully explained the whole situation," the new mother told CNN's Piers Morgan on Wednesday. "Just by the grace of God that we all came out healthy."
There were also lifesavers, like the manager of a Kroger supermarket in Roswell who opened the store's doors and fed about 80 people, according to CNN affiliate WSB.
"I don't consider myself a hero," the manager Bren Sexton said, deflecting praise from those who called him just that. "It was just second nature. It's what we would do for anybody who needs help/"
Then there's Dr. Zenko Hrynkiw, a Birmingham, Alabama, neurosurgeon. As falling snow brought things to a standstill on Tuesday, Hrynkiw trekked over 6 miles in scrubs, a jacket and slip-on shoes from one hospital to another for an emergency brain surgery.
The patient had only a 10% of living given the size and nature of his brain hemorrhage, according to Hrynkiw.
But he did make it, said the surgeon: "(We) battled a demon there for a while and it all worked out OK."
Hrynkiw said he's been at work for days, though he hasn't been alone as other medical personnel have also stuck it out.
"Everyone is doing the same thing," he told CNN's Anderson Cooper on Thursday. "Everyone is pitching in, the nurses are staying overnight. You've got to do what you've got to do."
CNN's Brian Todd, Dugald McConnell, Gary Tuchman, Ben Brumfield, Kevin Conlon and Devon Sayers contributed to this report.