Dennis, let's talk some more ...
updated 7:27 AM EST, Fri January 31, 2014
STORY HIGHLIGHTS
Chris Cuomo will talk with Dennis Rodman during CNN's New Day on Friday
Rodman entered rehab after returning from a controversial trip to North Korea
During that trip, Rodman launched into an outburst while being interviewed by Cuomo
Rodman later apologized and said he had been drinking
Watch Chris Cuomo talk to Dennis Rodman live on CNN's New Day at 8 a.m. ET Friday
(CNN) -- It may be more important to tell you what is not motivating my trip to see Dennis Rodman.
I am not looking to spar about his "friend," the much-maligned ruler of North Korea, or to debate the merits of basketball diplomacy in that country when I sit down to talk with him live Friday morning.
Dennis can speak to an issue that is a bigger threat to our country than Kim Jong Un: addiction.
Rodman may be in the fight of and for his life, and it is a battle all too familiar these days.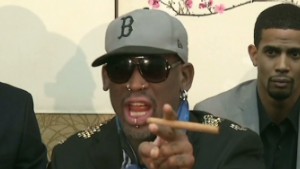 Rodman to CNN: I don't give a s***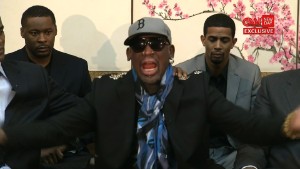 Rodman fiery on Kenneth Bae question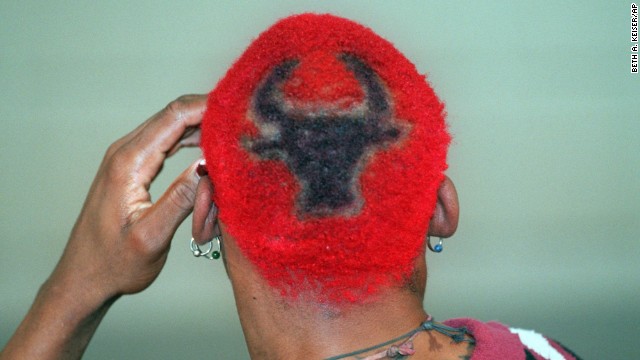 During his Hall of Fame basketball career, Dennis Rodman was known for his flashy looks on and off the court. Here, Rodman sports the logo of the Chicago Bulls, who he won the NBA title with in 1996, 1997 and 1998.
Rodman stretches before a game in Seattle in 1996.
Rodman signs his first autobiography, "Bad As I Wanna Be," in a Chicago bookstore in 1996.
Rodman dives for a loose ball during a game in 1997. Rodman is one of the NBA's all-time greatest rebounders, leading the league in that category from 1992 to 1998.
Rodman arrives at the Academy Awards ceremony in 1997.
Rodman appears on "The Tonight Show with Jay Leno" in 1998.
Rodman is hit with a trash can by Curt Hennig during a pro wrestling match in Sydney in 2000.
Rodman rocks gold pants in 2004.
Rodman took part in the 2006 Lingerie Bowl.
Rodman appears in costume for a book signing of his second autobiography, "I Should be Dead by Now," in 2005.
Rodman wears makeup similar to the rock band Kiss in 2006.
Rodman arrives at the Basketball Hall of Fame for his enshrinement in 2011.
Rodman wears face paint in 2011 while playing a basketball game with other NBA greats in Macau.
Rodman puckers his lips and holds the face of writer/director Alex Forstenhausler at the "So You Think You Can Roast?" event at the New York Friars Club in 2013.
Rodman attends the finale of the television show "All-Star Celebrity Apprentice" in 2013. Rodman has appeared on several reality TV shows, even winning "Celebrity Mole" in 2004.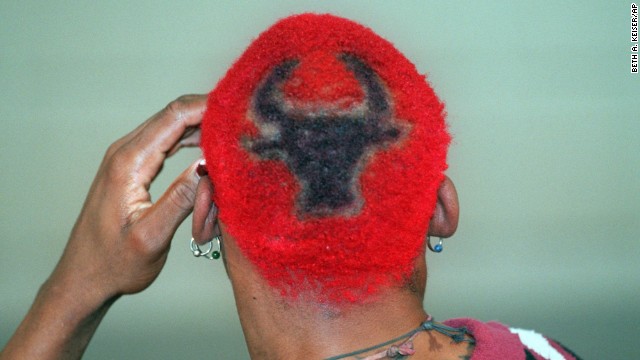 Dennis Rodman: Hoops, hair and tattoos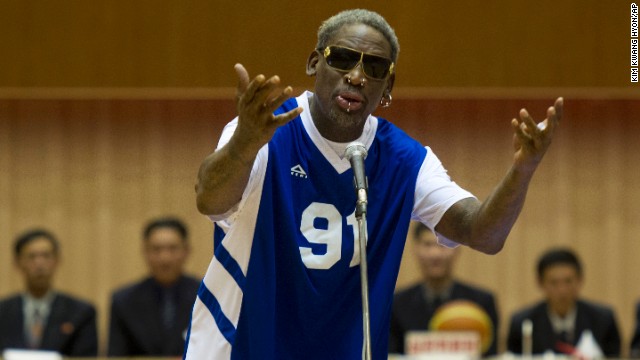 Dennis Rodman sings "Happy Birthday" to North Korean leader Kim Jong Un before an exhibition basketball game in Pyongyang, North Korea, on Wednesday, January 8. In his latest round of "basketball diplomacy," Rodman made his fourth visit to North Korea, one of the world's most totalitarian states, to participate in a basketball game between North Korea and a team of former NBA players.
Rodman bows to Kim, seated above in the stands, before the basketball game on January 8.
Rodman stands up after he and fellow former NBA players completed a television interview at a hotel in Pyongyang on Tuesday, January 7.
Son Kwang Ho, vice minister of North Korea's Sports Ministry, greets former NBA star Dennis Rodman at the airport in Pyongyang on Monday, January 6.
Rodman plays one-on-one with a North Korean player during a basketball practice session in Pyongyang on Friday, December 20, 2013. During the session, Rodman selected the members of the North Korean team who will play in Pyongyang against visiting NBA stars on January 8, the birthday of North Korean leader Kim Jong Un.
Rodman holds a cigar as he speaks to North Korean basketball players during a practice session in Pyongyang on December 20.
Rodman attracts notice as he enters the Koryo Hotel in Pyongyang on Thursday, December 19.
Rodman arrives at Beijing's airport before his flight to North Korea on December 19.
Rodman shows photos of himself with North Korean leader Kim Jong Un while talking to journalists at the Beijing airport on September 7 after his second trip to the reclusive, nuclear-armed nation. Rodman returned from the communist country announcing he will put together a "basketball diplomacy" event with players from North Korea. But he put a damper on any speculation he might have been trying to free imprisoned American Kenneth Bae.
Rodman shows a photo of himself with North Korean leader Kim Jong Un as he arrives at the Beijing airport on September 7. At a news conference Monday, September 9, he called Kim a "very good guy."
Rodman faces questions about detained American Bae at the Beijing airport on September 7. "It is not my job to talk about Kenneth Bae," he told reporters.
Rodman arrives at North Korea's Pyongyang airport on Tuesday, September 3. In a later interview with the British newspaper The Guardian, the ex-basketball star leaked the purported name of Kim's baby daughter.
Son Kwang Ho, vice chairman of North Korea's Olympic Committee, greets Rodman at the Pyongyang airport on September 3.
The retired NBA star faced criticism over his February visit to see the ruler of the repressive state. That trip came during a period of escalating tensions on the Korean Peninsula.
Airport staff take pictures of the former NBA star at a check-in counter at China's Beijing Capital International Airport on September 3 while he was heading to North Korea.
On an earlier visit, Rodman and Kim watch a basketball game together in this image released by HBO for an episode of the documentary series "Vice" which aired in June.
Rodman walks by the base of the Tower of the Juche Idea in Pyongyang in March 2013, in this image released by the Korean Central News Agency.
Rodman and Kim share a toast in North Korea in February.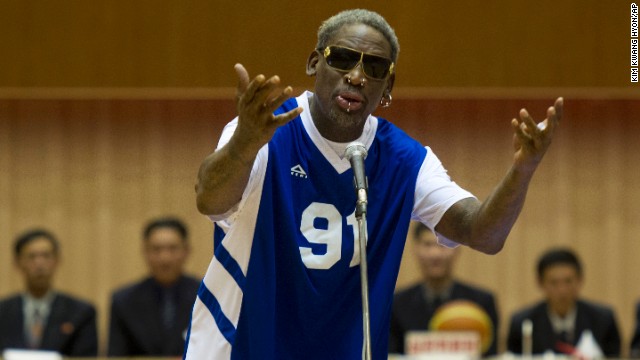 Photos: Dennis Rodman in N. Korea
I want to talk to him about that, his recent bottom, what has kept him from sobriety. And hopefully he is willing to talk about the challenges and the benefits of rehab, as readily as he discusses the virtues of his despot "friend."
Maybe that friendship has metaphoric value for Rodman: keeping cozy with his own demons, abusing drugs to hide from himself -- just as he hid from the reality of that country and its ruler?
Too far? Probably, but he is face-to-face with a battle that too many are fighting and losing. I want to see how much fight the hardwood warrior has in him to get sober and treat his illness.
I hope he is as fired up about his future as he was in our last interview about defending his friend.
Rodman defiant in odd N. Korea defense
Rodman to Cuomo: I don't give a s***
The last time we talked it was earlier this month while he was in Pyongyang for a basketball game on Kim's birthday.
I didn't intend to get into a joust with the former NBA star, but believe it or not, Rodman is the U.S. citizen with the most direct line to a dictator with nuclear weapons, and I needed to ask him some questions about the political nature of his trip.
So I asked him about the plight of prisoner Kenneth Bae, and his antics made headlines.
He said later he was drunk during the interview and when he got back to the United States, he checked into a rehab center.
This time we're going to talk in person. I want to know, I want to see for myself, how he's doing in the biggest battle of his life.
What do you think I should ask him? Reach out to me on Facebook or Twitter.
Watch New Day weekdays at 6am-9am ET. For the latest on New Day click here