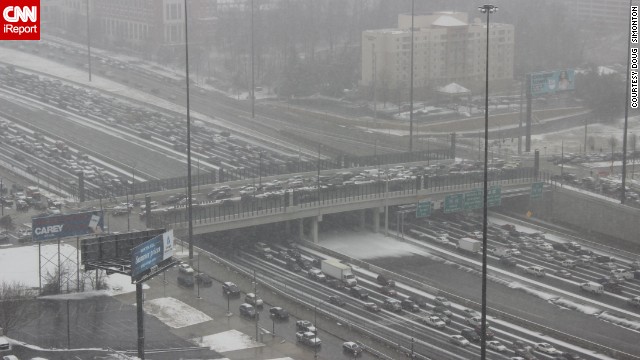 A rare snowstorm left thousands of motorists trapped on Atlanta interstates overnight. "Thank God I walk to work everyday," said
Doug Simonton
, who snapped this photo Tuesday afternoon.
Monica Cantwell
spent Tuesday night in her office at the University of Alabama at Birmingham. Her 13-year-old daughter stayed overnight at her middle school in nearby Hoover, Alabama. " Everyone I spoke with is very angry about the lack of foresight, including myself as a parent," she said.
Christopher Brady
shot this photo Tuesday evening. "At first we were excited, but then we panicked a bit," he said.
The severe weather forced 4,500 students to spend the night in various school buildings in Hoover, Alabama. High school student
Jay Hayes
shot this photo of I-285 around 5 p.m. Tuesday. "I've lived in Atlanta since 2001, and I have never come across a situation where the city was so unprepared," he said.
Officials said that 1,254 accidents were reported in Georgia's snowstorm.
Dylan Wintersteen
. "It's bizarre to see all the cars people abandoned and just left last night," he said.
As of Wednesday afternoon, hundreds of cars were still stranded on Atlanta's interstates, as seen in this photo taken on a GA 400 exit by iReporter
Jo Parker
slept alongside other female staffers in the basement of the Omni Hotel in Atlanta, where all rooms were booked. Male CNN staffers had less luxurious accommodations in the employee gym.
CNN Video Producer
an entire highway of abandoned vehicles
. "Most cars couldn't drive up the exit ramp because of the ice," he said.
While walking to the grocery store in Roswell, Georgia, Smith Culberson came across
Marcy Heinz
left work in Johns Creek, Georgia, at 1:15 p.m. and spent 8 hours on streets and back roads trying to get home. "The gridlock was absolutely unbelievable," she said. "I have 14 and a half years experience driving in Atlanta and this is the worst I've ever seen it." She eventually gave up and wound up spending the night at Milton High School, where students were safely sheltered in one part of the school, separated from stranded motorists also seeking shelter.
Ian Walters
says it took about an hour to make the five-mile drive to his Roswell, Georgia, home on Tuesday afternoon. He says the car he was riding in hit a patch of ice on the way up this hill and got stuck for about 10 minutes. Walters was one of the lucky ones, though -- many Atlanta residents reported commutes that took several hours longer than usual.
Keshia Owen
camped out at HYATT house Atlanta/Cobb Galleria after she could not make it home Tuesday. "I left work at 12:45 yesterday and haven't seen home yet," said Owen.
Stranded in the snow: Scenes from the South
Stranded in the snow: Scenes from Atlanta
Stranded in the snow: Scenes from Atlanta
Stranded in the snow: Scenes from the South
Stranded in the snow: Scenes from the South
Stranded in the snow: Scenes from Atlanta
Stranded in the snow: Scenes from the South
Stranded in the snow: Scenes from the South
Stranded in the snow: Scenes from the South
Stranded in the snow: Scenes from the South
STORY HIGHLIGHTS
More than 25,000 people join a Facebook group to connect the stranded in metro Atlanta
Mom on road for 12 hours before she and son find refuge with family
Some report relatives missing after night on the road
Watch Frozen: State Of The South on CNN at 11 p.m. ET Wednesday.
(CNN) -- No one imagined a thin sheet of ice could wreak this much havoc.
Paralyzed by the glaze and gridlock, countless drivers in the Deep South spent the night shivering in their cars, unable to get home after more than half a day ... and counting.
Here are some of their stories:
Stuck en route to a funeral
Tammy Jocelyn was on a journey she didn't want to have to make -- she was en route to a funeral when her Greyhound bus stopped cold on an Atlanta interstate Tuesday night. As of twelve hours later, Jocelyn and other passengers were still stuck on the bus.
"I really hope I make it up there in time," the Jacksonville, Florida, woman told CNN Wednesday morning. "This isn't something I've ever experienced."
She's not sure where she is, just that she was on I-75 heading north when traffic stopped moving at 10 p.m.
"There are hundreds, maybe thousands of motorists with me," Jocelyn said. "You look out the window and see people in the middle of the interstate sleeping in their cars."
The mood on the bus is calm, despite there being no food or water on board, she said. Jocelyn still has a long way to go; her final destination is Chicago.
"The weather is clear. That's the worst part about it. The sun will melt the snow before anyone comes to save us."
Children stuck in schools, on buses
Desperation and kindness
In the 12 hours that Ashley McCants contended with the ice and traffic, her SUV careened into a ditch twice.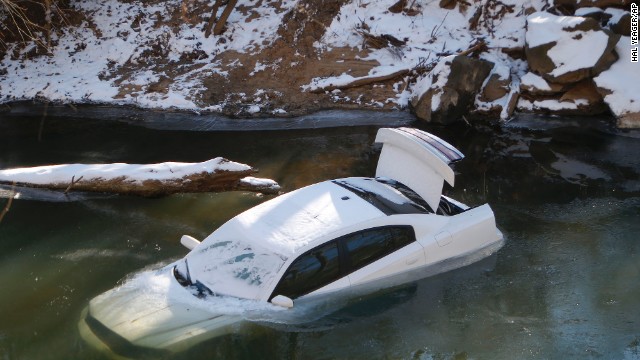 A car lies half submerged in the Cahaba River in Mountain Brook, Alabama, on Thursday, January 30. The driver was able to escape before the car slid into the river during a snow storm on Tuesday and was not injured. A wave of arctic air that started over the Midwest and Plains spread to the Southeast, bringing snow, freezing ice and sleet to a region that doesn't deal with such weather very often.
Ice forms swirls on the banks of the Cahaba River in Vestavia Hills, Alabama, on January 30.
Travelers wait out flight delays at Hartsfield-Jackson Atlanta International Airport on January 30.
Cars are left abandoned at the bottom of a hill in Birmingham, Alabama, on January 30.
Vehicles remain stranded along Interstate 20 in Leeds, Alabama, on Wednesday, January 29.
Abandoned cars are piled up on the median of an ice-covered road in Atlanta on January 29.
Police monitor a fire January 29 in a vehicle left overnight by a motorist who was stranded in Brookhaven, Georgia.
A lone car travels on Interstate 75/85 in downtown Atlanta on January 29, a day after the roadway was packed with vehicles.
Sue Morrison watches as Chris McAdams scrapes ice from her car on January 29 in Panama City Beach, Florida.
Kevin Moore hands out snacks and water to stranded motorists on Interstate 285 in Dunwoody, Georgia, on January 29.
Traffic is snarled along Interstate 285, north of metro Atlanta, on January 29.
A man stands on the frozen roadway January 29 as he waits for traffic to clear along Interstate 75 in Macon, Georgia.
Caution tape is wrapped around a car that crashed into a tree after the driver lost control in Snellville, Georgia, on January 29.
The ice-covered interstate highways running through Atlanta appear empty on January 29.
Icicles hang off a camellia bush in Savannah, Georgia's historic Forsyth Park after freezing rain hit the area on January 29.
Traffic moves past an ice-covered hill on Interstate 75 in Covington, Kentucky, on January 29.
A police officer talks with a crash victim who was involved in a five-car pileup in Sandy Springs, Georgia, early on January 29.
As dawn breaks on January 29, southbound traffic is at a standstill near downtown Atlanta.
Gavin Chambers plays an electronic game January 29 at Oak Mountain Intermediate School in Indian Springs, Alabama. The severe weather forced thousands of students to spend the night in various school buildings across the state.
Abandoned vehicles in Dunwoody, Georgia, line Interstate 285 early on January 29.
A DeKalb County school bus sits abandoned near Interstate 285 in Dunwoody on January 29.
People work to clear stranded vehicles on County Road 25 in Wilsonville, Alabama, on Tuesday, January 28.
Snow falls on cattle at Todd Galliher's farm in Harmony, North Carolina, on January 28.
Two women are stranded at Louis Armstrong New Orleans International Airport on January 28 after flights were canceled due to the weather.
Motorists jam Interstate 75/85 in Atlanta on January 28.
A semi slides off the road as the driver tries to avoid another wrecked truck as snow begins to accumulate on Interstate 65 in Clanton, Alabama, on January 28. Clanton lies between the capital, Montgomery, and the state's biggest city, Birmingham.
A man puts sand on the steps of his business in downtown Northport, Alabama, on January 28. Northport is near Tuscaloosa in the central-west part of the state.
Traffic travels along the highway near downtown Birmingham on January 28.
With temperatures around -10 degrees, commuters wait for a bus in Chicago on January 27.
The Duquesne Incline climbs Mount Washington across the frozen Ohio, Allegheny and Monongahela rivers in downtown Pittsburgh on January 28.
Steam rises from Lake Michigan in Chicago on Monday, January 27.
Workers dump sand across a bridge in Covington, Louisiana, on January 27.
A man jumps off a snow-covered sidewalk to cross a downtown Cleveland street January 27. A minor car accident is in the background.
Ice forms as waves crash along the Lake Michigan shore January 27 in Chicago.
A strong wind kicks up snow Sunday, January 26, in Vadnais Heights, Minnesota, creating drifts over roads and parking lots.
The Cincinnati neighborhood of Mount Adams is shown blanketed in snow on Saturday, January 25.
People walk in a snow squall January 25 in Trenton, New Jersey.
Cars sit in drifts and plowed snow on January 25 in Grand Rapids, Michigan.
A North Hudson County firefighter walks in front of an ice-covered vehicle near a building where a six-alarm fire was put out January 24 in Union City, New Jersey.
Kyle Malott scraps the ice off his girlfriend's car near Covington, Louisiana, on January 24.
Ben Eggart pushes Hannah Graham down a hill at Girard Park in Lafayette, Louisiana, on January 24.
Ice floats by the Chicago skyline on Lake Michigan on Thursday, January 23.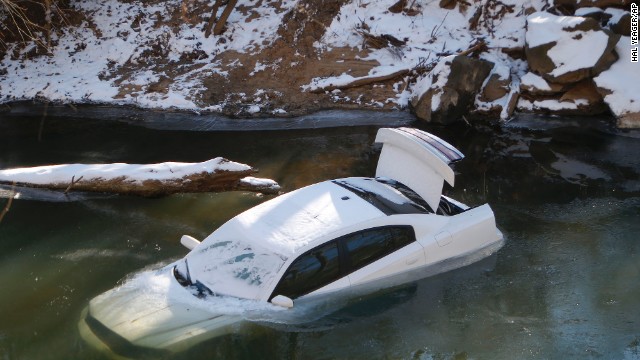 Photos: Freezing temperatures sweep U.S.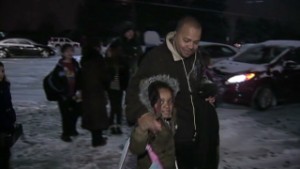 Students struck by weather finally home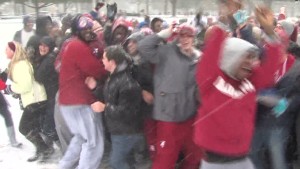 Students get snow day, start snow fight
It took her five hours to pick up her son from school. They spent another seven hours in the car, trying to get to their Atlanta home several miles away.
The day dragged into night. Finally, the sight of a nine-car wreck sent her over the edge.
"At that very moment, I thought, you know what, I need help -- I can't do this anymore. I need to get home."
So she vented her frustration on Facebook, and friends directed her to the page SnowedOutAtlanta. Within hours of the storm, more than 25,000 people joined the Facebook group to connect the stranded with those who might be able to provide shelter or supplies.
"I actually had a very nice, sweet family that took my son and I in," McCants said.
But to get to that home, she had to carry her 5-year-old son about 2 miles across the snow and ice.
"My big takeaway is don't give up. I sat in this traffic for 12 hours. It was all about faith and believing," McCants said. "There are good people all over the city no matter what. There were so many people willing to help me and my son, and I feel so blessed to be taken in by this family, even though it was a brutal day."
Awake for 27 hours
In his almost 20 years of being a truck driver, Greg Shrader has never been in a pickle quite like this. He had been stuck on Interstate 20 west of Atlanta for 23 hours and counting, as of noon Wednesday.
The trucker from Maine said he had given up on getting to Alabama, where he was supposed to pick up a load of cars from a Mercedes plant. All he wanted was somewhere safe to pull over and take a nap -- he had been up for 27 hours straight.
"You don't want to go to sleep in the truck because if traffic moves, you're part of the problem," Shrader said.
When he heard CNN's interview with Atlanta Mayor Kasim Reed on the radio, he said he "almost lost my mind." The mayor blamed the city's gridlock on decisions by schools and businesses to send people home at the same time.
"I've hauled cars for 18 years, 48 states and Canada. I have never been failed by officials like I have here," he said. "Still no equipment, no well-being check. No plan. I guess we're waiting for it to melt."
At least for now Shrader has snacks. He has been snacking on Planter's peanuts he happened to have in his cab, he said.
Was Atlanta asleep at the wheel?
Sleeping outside Taco Bell
Mariano Castillo left work Tuesday afternoon. By midnight, he gave up and called it a night outside a Taco Bell.
"Nine hours in traffic and barely halfway home from the office," said Castillo, an editor at CNN. "Some stretches of highway looked like a vehicle graveyard, abandoned cars and stranded big rigs at irregular intervals."
During those hours, he witnessed acts of selflessness.
"I saw good Samaritans who helped ladies get up after a fall or push cars whose tires squealed with effort to grip the road. Others, I could tell, would not bend a finger to aid anyone if it meant giving up an inch of road.
"At one particularly gridlocked stretch, folks were able to leave their cars and walk to a CVS for supplies. You definitely were in the 'in' crowd tonight if you held your plastic CVS bag and its treasures like a designer handbag. ... Even I found myself looking hungrily at those with the plastic bags."
Then getting home was no longer a priority. Getting food was.
"I have given up my stubborn plan to make it home and have a cup of hot cocoa no matter the time," he said. "I found a 24-hour Taco Bell, spent my last $5 on a quesadilla and am closing my eyes in my trusty RAV4. I wonder what I will awake to."
Missing family members
Ana Maria Martinez said some of her relatives were still missing Wednesday morning.
"We haven't heard from our cousin and her two daughters since yesterday at 7. ... Their cell phones died," Martinez said. "They're in a dark blue Audi A6. ... The girls are 5 and 14. ... We would love to hear from someone who may have seen them to make sure they are OK."
Tonya Derr Buchter can relate to the agony.
"(Thirteen) hours and still no word on my son," she said on Facebook. "Hang in there everyone (it's) been tough."
Pregnant and stranded
"(Nine) months pregnant on Thornton Road and Factory Shoals. Haven't eaten since 10 a.m. yesterday. Can't move my car due to the ice," Regina E. Coley wrote Wednesday morning on SnowedOutAtlanta.
"I tried calling for an ambulance but there's a major accident and they can't get down to me. (M)y car is out of gas and I'm starting to get cold, dehydrated and hungry. Please help!!"
Cathi Milanes was one of the many Atlantans who offered up her home.
"I live right on the corner of two major highways, so I figured I was in a convenient location," Milanes said. "I had an extra room and a bed, so it was a no-brainer to help."
By midnight, no one had taken up her offer -- in part because some couldn't reach her home.
One man got in an accident during the storm and injured his knee, Milanes said.
"His sister posted (about) him -- he was literally walking distance from my place," Milanes said. But because of his injury, "he couldn't walk to me if he tried."
Fortunately, she said, another good Samaritan picked up the injured man and took him home.
CNN's Faith Karimi, Katie Hawkins-Gaar, Daphne Sashin and Henry Hanks contributed to this report.