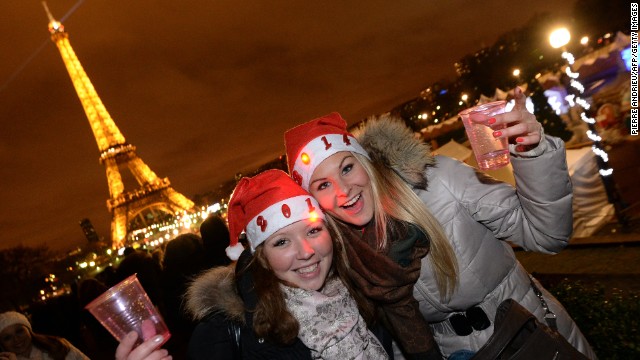 Visitors: 9.8 million
Growth: 3.3%
Along with the Louvre and Arc de Triomphe, the Eiffel Tower tops Paris to-do lists.
Visitors: 10.3 million Growth: -1.6% The town on the Turkish Rivieria is known for warm beaches, sun and historic sites.
Visitors: 11.6 million
Growth: 3.3%
In the city so nice they named it twice, it's easy to
pretend to be a local
.
Visitors: 12.1 million Growth: 9.6% The border town (with Hong Kong) is shedding its reputation for cheap massages and knock-off goods in favor of high design and haute cuisine. Bringing in models helps capture attention.
Visitors: 13.3 million
Growth: 6.7%
Kuala Lumpur is one of the best shopping cities in the world. Fair prices and a wide selection of high- to low-end retailers have enticed shoppers to
KL's Central market, Suria KLCC and Pavilon
.
Visitors: 13.4 million
Growth: 3.4%
Macau
offers a mixed of Portuguese and Chinese culture. Its top commodity? After gambling, probably the
Portuguese egg tart
.
Visitors: 15.5 million Growth: 2.3% London is the only place where public transportation and phone boxes are attractions in themselves. The city's appeal also comes from landmarks such as Big Ben, Westminister Abbey and Buckingham Palace.
Visitors: 15.8 million Growth: 14.6% Wat Phra Kaew (Temple of the Emerald Buddha) is one of many popular attractions in Bangkok.
Visitors: 21.3 million
Growth: 7.7%
Marina Bay Sands and Gardens by the Bay are big local attractions. Travelers flock to Singapore's Chinatown to try
chilli crab and seafood laksa
. Rooftop bars, such as the one at the Fullerton Bay Hotel (pictured), are also popular.
Visitors: 23.8 million Growth: 6.5% The best way to explore Hong Kong is a cycle: eat, shop, drink, repeat. The influx of Chinese tourists sweeping from Mong Kok's bargain shopping to Tsim Sha Tsui's high-end retail makes Hong Kong the world's most popular city.
10. Paris
9. Antalya, Turkey
8. New York
7. Shenzhen, China
6. Kuala Lumpur, Malaysia
5. Macau
4. London
3. Bangkok
2. Singapore
1. Hong Kong
STORY HIGHLIGHTS
Asia Pacific cities hold six of the top 10 spots and 32 of the top 100
Hong Kong's top ranking is largely due to large tourist numbers from mainland China
Euromonitor predicts China will be the largest source of international departures by 2017
(CNN) -- Hong Kong and Singapore attract the most international travelers, according to the latest Euromonitor Top 100 City Destinations Ranking.
The London-based marketing research firm, which released its 2012 report this week, spent more than a year analyzing data from official sources.
Asia Pacific cities dominate the list with six of the top 10 and 32 of the top 100 spots.
Twenty cities are from Western Europe.
Hong Kong's popularity comes largely thanks to its northern neighbors.
Chinese visitors make up 63.5% of the city's inbound visitors, up 11.1% in 2012 compared with 2011.
According to Euromonitor, international arrivals to Hong Kong would be static without this group.
China's October 2013 ban on shopping tours may result in a decrease in Chinese visitors to Hong Kong and Seoul (another prominent retail city), the report stated.
Euromonitor predicts that by 2017, China will be the leader in international departures followed by Germany and Russia.
Currently, Germany, the United States, UK, China and Russia are the top five countries for international departures, according to Euromonitor.
Meanwhile, Chinese cities are struggling to attract visitors.
Shanghai, Beijing and Zhuhai ranked low in 2012 because of a slowing economy, strong yuan and pollution, said Euromonitor's report.
MORE: China smog: How it affects travelers
Disputes over the Senkaku/Diaoyu Islands have further discouraged tourists from Japan, once a top source of tourism to China.
Top city destinations by arrivals and growth
1. Hong Kong -- 23,770,200 (6.5%)
2. Singapore -- 21,345,700 (7.7%)
3. Bangkok -- 15,822,600 (14.6%)
4. London -- 15,461,000 (2.3%)
5. Macau -- 13,360,800 (3.4%)
6. Kuala Lumpur, Malaysia -- 13,339,500 (6.7%)
7. Shenzhen, China -- 12,100,400 (9.6%)
8. New York City -- 11,618,000 (8.9%)
9. Antalya, Turkey -- 10,296, 600 (-1.6%)
10. Paris -- 9,780,800 (3.3%)