Justin Bieber's troubled timeline
Justin Bieber's troubled timeline
Justin Bieber's troubled timeline
Justin Bieber's troubled timeline
Justin Bieber's troubled timeline
Justin Bieber's troubled timeline
Justin Bieber's troubled timeline
Justin Bieber's troubled timeline
Justin Bieber's troubled timeline
Justin Bieber's troubled timeline
Justin Bieber's troubled timeline
Justin Bieber's troubled timeline
Justin Bieber's troubled timeline
Justin Bieber's troubled timeline
Justin Bieber's troubled timeline
Justin Bieber's troubled timeline
Justin Bieber's troubled timeline
Justin Bieber's troubled timeline
Justin Bieber's troubled timeline
Justin Bieber's troubled timeline
Justin Bieber's troubled timeline
Justin Bieber's troubled timeline
Justin Bieber's troubled timeline
Justin Bieber's troubled timeline
Justin Bieber's troubled timeline
Justin Bieber's troubled timeline
STORY HIGHLIGHTS
Justin Bieber was "excited," "insulting," "cocky" and "used profanity," police say
"Yeah, we were smoking all night at the studio," Bieber told police, report says
Bieber charged in Toronto, allegedly struck a limo driver on the back of the head
An L.A. prosecutor is expected to decide soon whether he'll be charged in egging
(CNN) -- Justin Bieber was under the influence of alcohol, pot and Xanax when police stopped him for drag racing in Miami Beach last week, police documents allege.
"Yeah, we were smoking all night at the studio," the singer told a police officer who told him he "reeked of marijuana," according to documents released Thursday.
Bieber was "excited," "talkative," "insulting" and "cocky" and "used profanity," according to a intoxication evaluation conducted by police in the Florida city.
His speech was mumbled, his pupils dilated, his face flushed and his eyes bloodshot, the assessment said.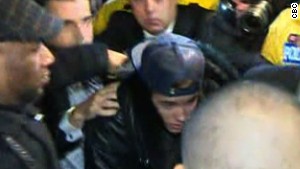 Mayor Ford defends Justin Bieber on air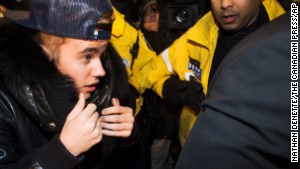 Police: Bieber had Xanax, pot in system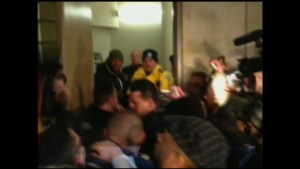 Justin Bieber surrenders to police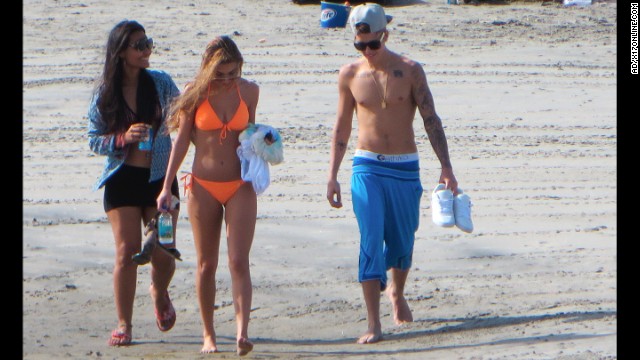 Justin Bieber walks on a beach in Panama on Saturday, January 25, two days after he was charged in Miami with drunken driving, resisting arrest and driving without a valid license. The pop star is accompanied by his new girlfriend, model Chantel Jeffries, who is wearing the orange bikini.
Bieber turned 19 on March 1. He won't be able to claim the "teen" in his pop star title for much longer.
The year 2013 wasn't very kind to Bieber; a paparazzo died in oncoming traffic after attempting to take a photo of the singer's car. A week later, photos hit the Web alleging marijuana use by Bieber. The singer kept his sense of humor through the ordeal, joking about it in his first stint as host of "Saturday Night Live." Here he performs in Washington in December.
Bieber cleans up at the American Music Awards in November, but the young artist is left out completely when the Grammy nominations are announced a few weeks later. Add an alleged murder plot to the mix, and it's fair to say December 2012 wasn't the best month for the Biebs.
Bieber's relationship with Selena Gomez seemed to end at the end of 2012, although their actions sparked rumors of reconciliation just about every other week. Regardless of their on-again, off-again status, Bieber chose to take his mom, Pattie Mallette, as his date to the 2012 American Music Awards.
The Biebs has a knack for concert mishaps. He managed to run into a wall of glass backstage in Paris in June 2012, and in the fall of that year, he got sick onstage before moving on with his performance in Glendale, Arizona. Here he performs at the Staples Center in Los Angeles in October 2012.
In June 2012, the singer was all smiles as he held baby brother Jaxon at the MuchMusic Video Awards in Toronto.
Bieber's immense fan base comes out in full force when the singer releases his album "Believe." The disc not only went to No. 1, but it also had the year's biggest entry on the Billboard 200. How many can do that and graduate from high school (which he did in 2012) at the same time?
Bieber makes his bread and butter as a teen pop phenom, but his social circle is wide. His appearance as part of boxer Floyd Mayweather Jr.'s entourage at a fight in May 2012 had everyone doing a double take. Lil Wayne and 50 Cent were also on hand.
When you're Justin Bieber, you get a $100,000 electric sports car for your 18th birthday -- and on Ellen DeGeneres' talk show, no less.
The Biebs attends the NRJ Music Awards in January 2012, but he stays busy giving back when he's not hitting the red carpet. A month later, he made a special Valentine's Day trip to a girl suffering from cancer. Photos he shared from their time together quickly went viral.
Bieber had some of the "most influential hair" of 2011 and also was ranked as one of the most charitable stars. Here, he showed off his style with Paris Jackson at the Michael Jackson hand and footprint ceremony at Grauman's Chinese Theatre in Los Angeles.
Bieber was embroiled in a baby mama scandal when he attended the 2011 American Music Awards with Selena Gomez, but you wouldn't know it by looking at the happy couple. A year later, Bieber and Gomez would no longer be an item.
Bieber attends the MTV Video Music Awards in August 2011 with a snake on one hand and then-girlfriend Selena Gomez holding on to the other. He won the best male video award for "U Smile" that night.
Madame Tussauds had everyone seeing double when Bieber's wax figure was unveiled in March 2011 in London.
Bieber shows off on the basketball court at the 2011 BBVA NBA All-Star Celebrity Game in Los Angeles. Even former NBA player Scottie Pippen said he was surprised by Bieber's skills.
The pop idol attends the Los Angeles premiere of "Justin Bieber: Never Say Never," a 3-D documentary on his rise to stardom, in February 2011. He's accompanied by Usher and manager Scooter Braun.
At 16, Bieber was already an author. Here he promotes his book, "First Step 2 Forever: My Story," at a New York bookstore in November 2010.
Complete with a letterman jacket and a drum solo, Bieber surprises fans in an outdoor performance at the MTV Video Music Awards in Los Angeles in September 2010.
By early 2010, Bieber had notched a chart-scaling album with "My World" and was ready to release "My World 2.0," which contained the single "Baby." Here, Bieber performs at the Pepsi Super Bowl Fan Jam in Miami Beach in February 2010.
The Stratford, Ontario, native first attracted attention on YouTube. Here Bieber, in his signature purple hoodie, entertains crowds at Arthur Ashe Kids' Day, a U.S. Open event, in New York in August 2009.
At 15, Bieber had yet to become synonymous with the ubiquitous single "Baby." At this point, he was soaking up all he could learn from his mentor, Usher, with whom he attended the Nickelodeon Kids' Choice Awards in March 2009.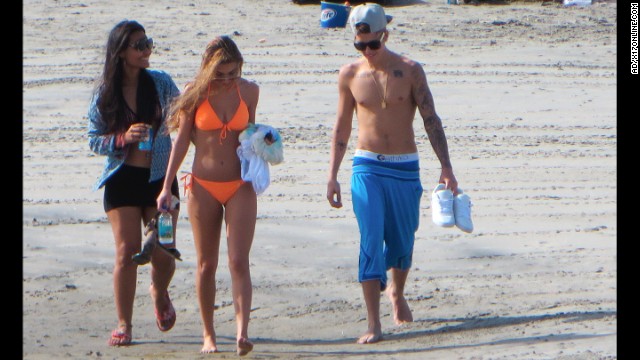 Photos: Teen heartthrob Justin Bieber
The lab test results and details of Bieber's sobriety tests were released just hours after the 19-year-old singer was booked on an assault charge in Canada, accused of hitting his limousine driver in Toronto a month ago.
Bieber, who will turn 20 in four weeks, apparently sought refuge Wednesday night in Stratford, the Canadian town where he grew up before becoming a pop star.
His father tweeted a photo of Bieber asleep in a bed with Justin's younger half brother, Jaxon. The Twitter message posted by @JeremyBieber read: "Safe and sound #homesweethome"
Earlier Wednesday, Bieber's lawyer entered a "not guilty" plea to the Florida charges of DUI, resisting arrest and driving with an expired license, according to court records.
The prospect of a third criminal arrest for Bieber hangs on a decision expected as soon as next week, after detectives investigating an alleged egg attack on his California neighbor meet again with a Los Angeles prosecutor.
Bieber told police in Miami Beach that he had taken "medications for anxiety" that night but that he did not know what it was or whether he had a prescription for it. "Well, my mom takes care of all that stuff for me," the police report quoted him as saying.
The preliminary toxicology report on Bieber's urine sample said it tested positive for "metabolite of THC," which indicates marijuana use, and alprazolam, the generic name for the prescription sedative Xanax.
At the police station, Bieber failed a series of sobriety tests, including "horizontal gaze," "Romberg balance," "walk and turn," "finger to nose" and "one-leg stand" tests, the police report said.
When Bieber was asked to estimate when 30 seconds passed, he failed by thinking a half-minute was over in 17 seconds, the report said.
He had "great difficulty" completing the Breathalyzer test, the officer wrote. He "continuously forgot basic instructions."
Bieber told the officer "that he was blowing as hard as he could, and told me to look at how red his face was," he wrote. "He advised he was blowing into the hose like he blows into his trumpet."
When he was finally successful, he blew .011 and .014 in two Breathalyzer tests, the report said. Florida's legal limit for drivers under the drinking age of 21 is .02.
Bieber was briefly jailed in Miami Beach on January 23 after he was stopped by a police officer who said he was drag racing in a Lambourghini on a residential street.
Opinion: Money and Justin Bieber's teenage brain
Toronto assault charge
Bieber arrived at a Toronto police station for booking Wednesday evening amid a chaotic scene as determined photographers, reporters, screaming fans and the curious converged around his SUV. About a dozen Toronto police officers shoved their way through the crowd to escort Bieber, getting him through the door only after a struggle.
The alleged incident happened after the limo driver picked up a group of six people outside a Toronto nightclub just before 3 a.m. December 30, according to a police statement.
"While driving the group to a hotel, an altercation occurred between one of the passengers and the driver of the limousine," the police statement said. "In the course of the altercation, a man struck the limousine driver on the back of the head several times. The driver stopped the limousine, exited the vehicle and called police."
The singer attended a Toronto Maple Leafs hockey game at the Air Canada Centre earlier in the evening, according to the CBC.
Bieber left the Toronto police station through a rear exit after about two hours inside Wednesday night. He is set to appear in a Toronto court on March 10, police said.
Bieber's Los Angeles lawyer said the charge was "the equivalent of a misdemeanor in the United States."
"Our position is that Mr. Bieber is innocent," attorney Howard Wietzman said. "As the matter is now before the court, it would be inappropriate to address the specifics of either the allegation or of our defense at this time."
Bieber's manager, Scooter Braun, posted messages on Twitter that appear to be related to Wednesday's arrest:
"for all those asking @JeremyBieber and @pattiemallette love their son. Stop passing judgement on a situation u dont understand. i ask people to be kind and hope for the best in people. not assume the worst. thanks"
Bieber's latest criminal arrest came just an hour after the television debut of his newest video, for his song "Confident."
Bieber's bad behavior: We've seen it before
Egging investigation 'tightening up'
Detectives are "tightening up" their case against Bieber in his alleged egg attack on a neighbor's residence, an investigator said Tuesday.
The neighbor accused Bieber of tossing eggs over a fence and onto the mansion next door on January 9, causing an estimated $20,000 in damage.
A dozen Los Angeles County Sheriff's deputies raided Bieber's $6.5 million home in the exclusive Oaks community in Calabasas, California, two weeks ago, taking the security video system as evidence.
A prosecutor reviewed the security video Monday and asked detectives to do more investigation before a decision is made about charging the pop star with felony vandalism, according to Lt. David Thompson.
Detectives will probably meet again with prosecutors in the Los Angeles County District Attorney's office next week, Thompson said. The district attorney will then decide whether a charge will be filed against Bieber.
'Deport Justin Bieber' petition reaches 100,000+ signatures
CNN's Tory Dunnan, Carolyn Sung, Stephanie Gallman and Susan Candiotti contributed to this report.