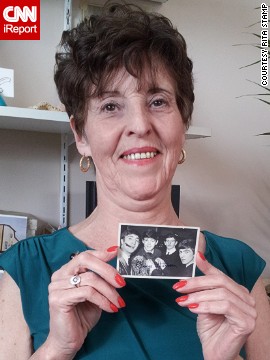 Rita Stamp
was one of many young people around the world who were caught up in "Beatlemania" when the famous band first visited the United States in February 1964. Stamp, now 67, will never forget finding this photo of the Beatles (complete with facsimile autograph by George Harrison) in a pack of bubble gum. "This photo is my earliest memory of the Beatles because, at least, I was able to see what they looked like and that gave me the ability to connect with their music."
Diane Salsbery
of Phoenix has collected Beatles memorabilia for 50 years. "Most of the memorabilia that I have includes articles from magazines, concert programs, the script from 'A Hard Day's Night,' a Beatles poster from '16' magazine, the Christmas record, and almost all of the original albums and singles including the DJ copy of 'Please, Please Me.'"
Rebecca James
finally got to see them perform live at the Indiana State Fair in September 1964. She still has the ticket stub.
After many months of following The Beatles' every move,
"We were in the nosebleed section at the Coliseum and barely heard a note for the screaming," James said. "The amplifiers were very small by today's standards."
James snapped this photo of Paul McCartney driving by in August 1964 while visiting her brother in Detroit. "I heard screaming and learned that The Beatles were staying at a nearby hotel," she said. "I took off and hung around the hotel driveway and was lucky enough to get that photo." James recalls a girl fainting right in front of her -- a common sight during the height of Beatlemania.
Marines Lares
says teenage boys formed bands to emulate the "Fab Four." "Many boys started to play electric guitars and they formed rock groups singing in English and in Spanish, sometimes translating the lyrics from English to Spanish, and other times composing their own lyrics in their native language."
The influence of Beatlemania also reached Venezuela in the 1960s, where
Lifelong Beatles fan
Kurt Bentzen
of Denmark got this photo of Paul McCartney playing a concert in London in December 2009. He gives The Beatles some of the credit for his mastery of English.
50 years on, the effects of 'Beatlemania'
50 years on, the effects of 'Beatlemania'
50 years on, the effects of 'Beatlemania'
50 years on, the effects of 'Beatlemania'
50 years on, the effects of 'Beatlemania'
50 years on, the effects of 'Beatlemania'
50 years on, the effects of 'Beatlemania'
STORY HIGHLIGHTS
'Beatlemania' hit the United States 50 years ago
Its influence touched lives and spread throughout the globe
Diane Salsbery is a lifelong collector of Beatles memorabilia
Kurt Bentzen of Denmark learned English thanks to The Beatles
(CNN) -- For Rebecca James, the onset of "Beatlemania" meant one thing: a lot of waiting.
"I waited eagerly for them to arrive in the U.S." she said. "I waited for them appear on 'Ed Sullivan,' for each album, for my concert tickets, for the concert, for class to end so I could listen to my Beatles records. They were worth the wait."
The Indianapolis resident was a freshman at William Woods University in Fulton, Missouri, on February 9, 1964, the night The Beatles made their first appearance on "The Ed Sullivan Show."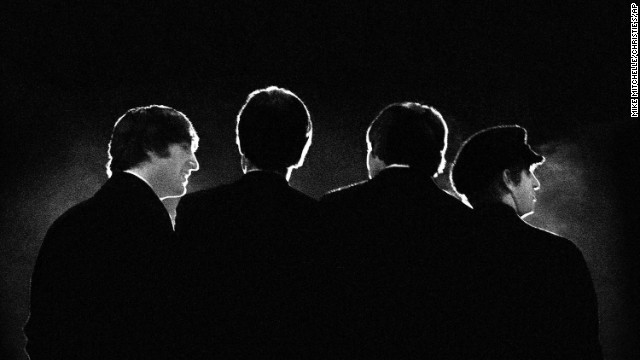 The Beatles arrived in the United States 50 years ago and embarked on a history-making path of pop culture dominance. Check out coverage of "The Sixties: The British Invasion," a look at how the Fab Four's influence persists. Click through the gallery for more images of the Beatles' first American tour.
The Beatles arrive in New York on February 7, 1964. The band from Liverpool, England, already had the No. 1 U.S. single, "I Want to Hold Your Hand," but its U.S. visit confirmed that "Beatlemania" had made its way across the pond.
The band waves to cameras at John F. Kennedy International Airport.
Beatles fans are restrained by police at the airport.
Three of The Beatles -- from left, Ringo Starr, Paul McCartney and John Lennon -- wave from a horse-drawn carriage in New York's Central Park on February 8, 1964. George Harrison was off resting a sore throat.
Television host Ed Sullivan, center, stands with The Beatles on February 9, 1964, during a rehearsal for the band's appearance on "The Ed Sullivan Show." The iconic television appearance remains one of the highest-rated nonsports programs of all time. Nielsen estimated that 45% of the country watched the show -- more than 73 million people then.
A car belonging to The Beatles is besieged by fans in New York on February 10, 1964.
The Beatles have their pictures taken as they sit on a train taking them from New York to Washington on February 11, 1964.
The Beatles perform on stage at the Washington Coliseum on February 11, 1964. It was their first U.S. concert.
Fans run to catch a glimpse of The Beatles while the band was in New York.
Fans cheer for The Beatles and hold signs of encouragement during the band's concert at Carnegie Hall on February 12, 1964, in New York.
From left, McCartney, Lennon and Harrison share a microphone as they sing a song at Carnegie Hall.
Ecstatic fans await The Beatles outside the Plaza Hotel, where the band was staying in New York during its tour.
Lines form down the street from the Deauville Hotel in Miami Beach, Florida, as fans wait to see The Beatles on "The Ed Sullivan Show" on February 16, 1964. It was a week after the band's first appearance on the show.
The Beatles enjoy Miami Beach.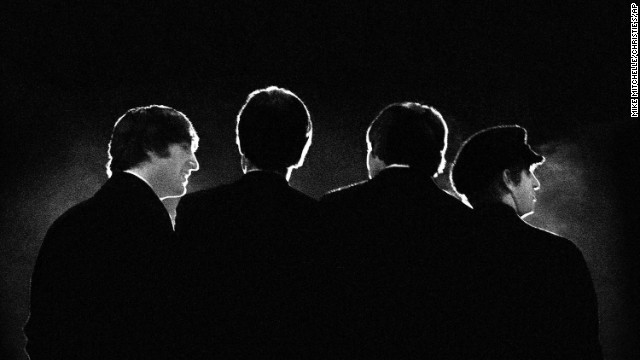 America falls in love with the Beatles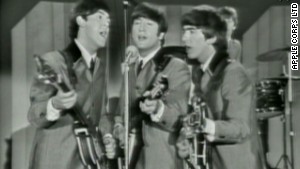 50th anniversary of Beatlemania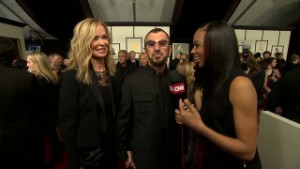 Ringo's shout-out to Wolf Blitzer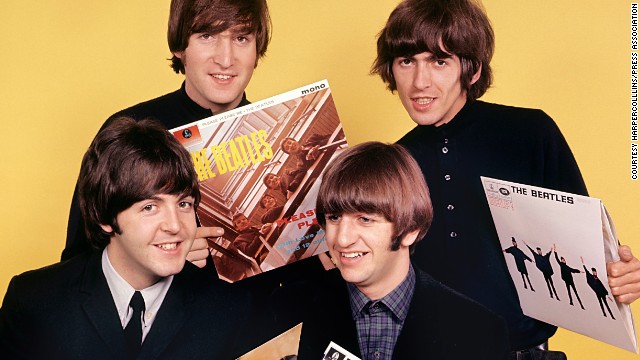 The Beatles arrived in the U.S. 50 years ago and embarked on a history-making path of pop culture dominance. "The Sixties: The British Invasion" looks at John, Paul, George and Ringo and how the Fab Four's influence persists. Over the years, the facts of the Beatles' story have sometimes been shoved out of the way by half-truths, misconceptions and outright fiction. Here are a few details you might have heard, with the true story provided by Mark Lewisohn's "Tune In" and others.
John Lennon once said that Ringo Starr not only wasn't the best drummer in rock, he wasn't the best drummer in the Beatles. Biographer Mark Lewisohn says this is a line from a TV comedy sketch in the 1980s -- after Lennon died. The Beatles actually defended Ringo strongly over the years.
The Beatles were against wearing suits. Again, not true, says Lewisohn. Though Lennon later trashed the neat look as a sellout demanded by manager Brian Epstein, in the early '60s they were eager for a change. "I just saw it as playing a game," said Harrison. "I'll wear a f****** balloon if somebody's going to pay me!" said Lennon.
They grew up poor. Not really. Harrison's and McCartney's families were working class, and Lennon's childhood included trips to an upscale relative's house in Scotland. Only Starr, who was also sickly, grew up in poverty, in the blighted Dingle neighborhood.
They booted drummer Pete Best out of jealousy. Producer George Martin wasn't impressed by Best (second from left), and McCartney has said he "was holding us back." The rest of the Beatles were equally unsentimental. Ringo Starr, who had played with the Beatles occasionally, was a far better drummer -- and when he joined, "from that moment on, it gelled," said Harrison.
Stu Sutcliffe was a terrible bassist. Though Sutcliffe (standing, third from left) was no McCartney, he went from complete neophyte to solid rhythm player during the band's Hamburg days. He left the job because he wanted to pursue his painting, and McCartney remembers being "lumbered with" the position as new bassist.
John Lennon saw his mother, Julia, killed in front of him. Julia Dykins, as she was known after her marriage to Bobby Dykins, died on July 15, 1958. After a chat with her sister, John's Aunt Mimi, she went to catch a bus and was hit by a car crossing Menlove Avenue. John found out about her death later that day.
The Beatles made their U.S. television debut on "The Ed Sullivan Show," February 9, 1964. It was the band's first U.S. television performance, but they'd already been seen on American TV during a CBS News segment in December, 1963. Pieces from the segment also ran on Jack Paar's talk show in January 1964.
The title "Lucy in the Sky with Diamonds" is a reference to LSD. Though its imagery of "plasticine porters" and "kaleidoscope eyes" owes a lot to drugs (as well as John Lennon's fondness for Lewis Carroll-esque absurdity), the song was inspired by a drawing made by Lennon's son, Julian.
"Paul is dead." An elaborate theory -- perhaps best explained by Joel Glazier in a 1979 article for the Beatles fanzine "Strawberry Fields Forever" -- maintains that Paul McCartney (here with Brian Epstein) died in 1966 and was replaced by a talented double. (There are dozens of clues for you all -- especially on the White Album.) Though it's fascinating to ponder all the backwards sounds and colorful images, this theory says more about our abilities to find patterns than it does about McCartney's fate.
The Beatles performed on Johnny Carson's "Tonight Show." Lennon and McCartney did visit "Tonight" on May 14, 1968, but they didn't perform -- and the guest host for the evening was Joe Garagiola. Ed McMahon was around, though.
Yoko Ono broke up the Beatles. Oh, if only Yoko hadn't stolen John away from the group, they would have stayed together! Right. Actually, the Beatles were already fragmenting -- Ringo temporarily left during the making of the White Album, and George walked out during the "Get Back" sessions -- and financial issues were getting in the way of the music. Lennon was ready for something new, but everybody was tired.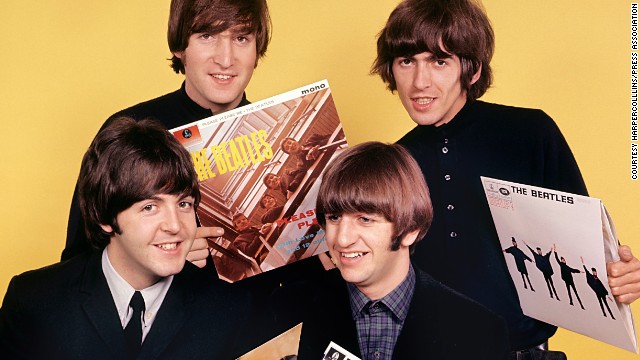 Beatles myths and misconceptions
"A group of us went to a professor's house to watch," she recalled. The band performed on the variety show for three consecutive Sundays, and James dutifully tuned in each time. "They were cute, funny and talented," she gushed.
Of course, James didn't just watch The Beatles on TV and listen to their records at home. On September 3, 1964, she and a friend joined the throngs of other Beatles fans at a concert in Indianapolis. "We were in the nosebleed section at the Coliseum and barely heard a note for the screaming," James remembered. "The amplifiers were very small by today's standards." She still has the ticket and photos from that day.
Those screaming fans were just the beginning. The Beatles' arrival in the United States -- 50 years ago next month -- marked the start of John, Paul, George and Ringo's history-making path of pop culture dominance.
More on "The Sixties: The British Invasion"
'I had it and I lived it'
For Diane Salsbery, The Beatles' "Ed Sullivan" appearance marked the beginning of an obsession that lives on today. Her home in Phoenix houses a massive collection of memorabilia, including all the original albums, the script of their film "A Hard Day's Night," (which she saw eight times upon its initial release), collectible Beatles dolls, and a Beatles poster from "16" magazine.
She remembers the early days of "Beatlemania" as "magical for me and millions of other teenage girls."
"We all watched the 'Ed Sullivan Show' on our black and white TV sets and fell in love with their music, youthful energy and appearance. Looking back they were very clean-cut looking, but our parents didn't think so!"
Salsbery grew up in a small town in West Virginia, where she said it was difficult to listen to the latest music. "My brother rigged up a wire from his bedroom window across the creek behind our house so we could pick up the BBC on an old shortwave radio," she remembered. "He was also in a band and when they would rehearse down in our basement I would sit on the steps and pretend they were The Beatles rehearsing!" And Friday nights meant "Beatles sleepovers" for Salsbery and her friends, when they would listen to Beatles albums and daydream for hours.
"Talk about Beatlemania, I had it and lived it."
The next year, she took the opportunity to see the quartet perform in person. She traveled by bus the long distance from West Virginia to New York to see The Beatles perform what would become a legendary concert in Shea Stadium on August 15, 1965.
"It was a very hot, humid evening with thousands in the audience all chanting 'We Love You Beatles, Oh Yes We Do' while waiting," Salsbery said.
"When The Beatles ran out onto the field, the sound in the stadium was incredible, with over 55,000 screaming teenagers, myself included."
"It was an amazing feeling seeing them. None of us knew it would be an historic concert; we were just caught up in the moment seeing The Beatles." By that point, The Beatles' popularity "across the pond" had made its way to other countries around the world, showing just how much of a cultural touchstone that February concert would become.
Beatlemania spreads worldwide
Living in Ontario, Canada, in 1964, Rita Stamp was just as crazy about The Beatles as her American counterparts. One of her most treasured memories is opening a pack of bubble gum and finding a photo of the "Fab Four" themselves. The surprise caused quite a commotion among her siblings but her mother wasn't quite as pleased.
Stamp remembers her mother telling her to calm down "and stop being so crazy over these young boys." She didn't approve of their long hair.
Despite her mother's feelings, Stamp, then 14, quickly plastic-wrapped her photo of the Fab Four and displayed it on her bedroom wall until she left home two years later. "Since then, it has become a special piece of memorabilia that I hold close to my heart," said Stamp. "It represents a piece of my childhood, and that is priceless."
Beatlemania didn't just affect women. Kurt Bentzen of Copenhagen, Denmark, became a Beatles fan in 1963 and is still one today; he attended a Paul McCartney concert as recently as 2009.
At age 12, and knowing very little English, he stood transfixed one day in the schoolyard while hearing a song.
It turned out to be The Beatles' "She Loves You." Bentzen was hooked. He and a friend found it in a music booth at a record store; he listened to it 25 times and learned the lyrics by heart.
After listening to many of their records, Bentzen said The Beatles taught him how to speak English.
"The lyrics got more sophisticated and so did our vocabulary," he said.
Bentzen said he "almost fainted" when hearing the lyrics, "Penny Lane, there is a barber showing photographs / Of every head he's had the pleasure to know."
"Pure poetry."
Bentzen, a management consultant, credits the Fab Four for his success in life. "Now many years later I have lived in eight different countries and professionally traveled the world. I got the jobs because during interviews my English was superior to other Danes."
Meanwhile in Venezuela, "The Beatles changed everything: Social lives and music," according to Marina Lares of Caracas.
Lares explained that Beatlemania influenced how young people behaved in Venezuela in the early 1960s. "The boys let their hair grow longer" and began to form rock bands, she said. Girls started to wear miniskirts, boots and attended parties without chaperones for the first time.
"Adults and adolescents used to dance 'merengues' and 'boleros' with the Billo's Caracas Boys, a famous Venezuelan Latin music orchestra, but since Beatlemania, adolescents wanted to dance to rock more than anything else," Lares recalled. "Parties started to be different, since the music was different, and in a way part of our identity changed."
Of course, there were also the ever-present Beatles posters in her room. Although they were thousands of miles away, Lares' teenage memories sound identical to the ones that Salsbery and others described. "My bedroom was the meeting location to hang out and listen to their fabulous music that marked our lives forever," she said.