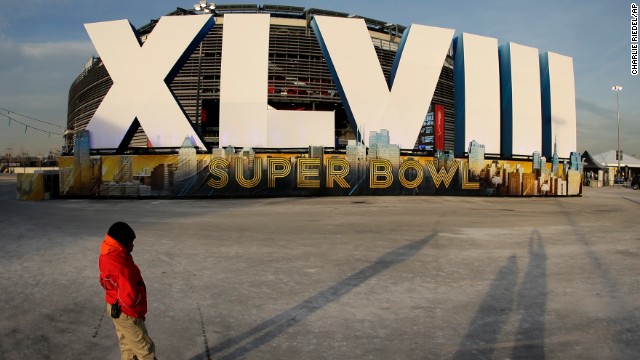 A security guard stands in front of MetLife Stadium Saturday, February 1, in East Rutherford, New Jersey, the site of Sunday's NFL championship game between the Denver Broncos and the Seattle Seahawks.
A New York City police officer use a bull horn to direct pedestrians visiting Super Bowl Boulevard on February 1 in New York.
Denver Broncos players Louis Vasquez, left, Vinston Painter, Winston Justice, and Manny Ramirez look around MetLife Stadium before the team's walk-through on February 1.
Denver Broncos fans photograph themselves during Super Bowl festivities in New York's Times Square on Friday, January 31.
A giant Seahawks "12th Man" flag that flew on the Space Needle in Seattle before being signed by fans and brought to New York, is displayed at the Statue of Liberty on January 31. Sunday's game will be held in East Rutherford, New Jersey, just outside of New York City.
The Vince Lombardi Trophy is flanked by the helmets of the Seattle Seahawks and the Denver Broncos before the head coaches' news conference in New York on January 31.
A man sets up the Lombardi Trophy for display before the head coaches' news conference.
Broncos wide receiver Demaryius Thomas talks with reporters during a Super Bowl XLVIII news conference in Jersey City, New Jersey, on Thursday, January 30.
A "12th Man" flag honoring Seahawks fans billows in the wind atop the Space Needle in Seattle on January 30.
A boy completes a Super Bowl obstacle course in New York City on Wednesday, January 29. Times Square has been transformed into Super Bowl Boulevard ahead of the big game.
Atlanta Falcons defensive end Osi Umenyiora and his fiancee, Leila Lopes, slide down toboggans January 29 at Super Bowl Boulevard.
The Tony Award-winning Jersey Boys perform in New York on January 29.
A man moves equipment outside MetLife Stadium in East Rutherford on January 29. The stadium will host the game Sunday.
People attend Super Bowl XLVIII media day at the Prudential Center in Newark, New Jersey, on Tuesday, January 28.
A Black Hawk helicopter flies near MetLife Stadium on January 28. Customs and Border Protection agents are helping to secure the area for the Super Bowl.
A worker in Times Square moves a barrier January 28 near an ice sculpture that is modeled after the Lombardi Trophy.
Street signs point to Super Bowl attractions in Times Square. Several blocks of Manhattan have been converted into a temporary festival space.
A security guard is bundled up while watching over Super Bowl Boulevard on January 28.
Workers put together a stage structure for Super Bowl activities in Times Square on Monday, January 27.
A man adjusts lights at the Super Bowl media center in New York on January 27.
A tractor plows snow at MetLife Stadium on Wednesday, January 22.
A crew member works to remove snow from the field. Super Bowl XLVIII will be the first Super Bowl held outdoors in a cold-weather city.
Workers remove snow from the stands. Cold-weather welcome kits have been produced for fans. They will include earmuffs, hats, mittens and lip balm, among other items.
The NFL and local authorities are preparing for a possible snowstorm on the day of the game.
Donna Connelly threads the laces of an official Super Bowl game ball at Wilson Sporting Goods in Ada, Ohio, on Monday, January 20.
Official game balls are on display at Wilson Sporting Goods in Ada.
New Jersey Transit Police in Secaucus, New Jersey, stand watch over a news briefing Thursday, December 9, concerning transportation to the Super Bowl.
Organizers are calling this year's title game the first public transportation Super Bowl, and New Jersey Transit is offering a special pass to ease travel woes.
Buildup to Super Bowl XLVIII
Buildup to Super Bowl XLVIII
Buildup to Super Bowl XLVIII
Buildup to Super Bowl XLVIII
Buildup to Super Bowl XLVIII
Buildup to Super Bowl XLVIII
Buildup to Super Bowl XLVIII
Buildup to Super Bowl XLVIII
Buildup to Super Bowl XLVIII
Buildup to Super Bowl XLVIII
Buildup to Super Bowl XLVIII
Buildup to Super Bowl XLVIII
Buildup to Super Bowl XLVIII
Buildup to Super Bowl XLVIII
Buildup to Super Bowl XLVIII
Buildup to Super Bowl XLVIII
Buildup to Super Bowl XLVIII
Buildup to Super Bowl XLVIII
Buildup to Super Bowl XLVIII
Buildup to Super Bowl XLVIII
Buildup to Super Bowl XLVIII
Buildup to Super Bowl XLVIII
Buildup to Super Bowl XLVIII
Buildup to Super Bowl XLVIII
Buildup to Super Bowl XLVIII
Buildup to Super Bowl XLVIII
Buildup to Super Bowl XLVIII
Buildup to Super Bowl XLVIII