STORY HIGHLIGHTS
NEW: "This town is shutting down tomorrow," New Orleans cab driver says
NEW: "Limbs will break. Trees will fall. Power will be out," Mississippi official warns
NEW: Deep freeze follows temperate Monday across much of Southeast
Welcome to our world, frigid Midwest says
Are you affected by the frigid weather? Send CNN iReport your photos and video of ice, snow, and sleet if you can do so safely.
(CNN) -- The Deep South will be plunged into a deep freeze again this week, this time with ice and snow expected to fall all the way to the Gulf of Mexico.
Forecasters issued a winter storm warning for New Orleans and its suburbs Monday afternoon, warning that the city could see half an inch of snow and ice by Tuesday evening. Parishes further north could see three inches, with temperatures plunging into the single digits on Wednesday, the National Weather Service reported.
A wave of arctic air that settled over the Midwest and the Plains is expected to spread into the Southeast late Monday, bringing a chance of snow to several major Southern cities by Tuesday. In New Orleans, where measurable snow has fallen only 17 times in records that date back to the 1880s, French Quarter restaurants made plans to shut down and tourists worried about being stranded at the city's airport.
"This town is shutting down tomorrow," cab driver August Delaney told CNN. "Some bridges are going to shut down. Schools are closed. We are not going to put our kids on school buses."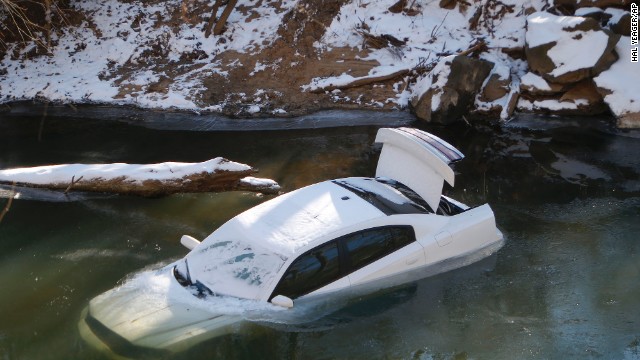 A car lies half submerged in the Cahaba River in Mountain Brook, Alabama, on Thursday, January 30. The driver was able to escape before the car slid into the river during a snow storm on Tuesday and was not injured. A wave of arctic air that started over the Midwest and Plains spread to the Southeast, bringing snow, freezing ice and sleet to a region that doesn't deal with such weather very often.
Ice forms swirls on the banks of the Cahaba River in Vestavia Hills, Alabama, on January 30.
Travelers wait out flight delays at Hartsfield-Jackson Atlanta International Airport on January 30.
Cars are left abandoned at the bottom of a hill in Birmingham, Alabama, on January 30.
Vehicles remain stranded along Interstate 20 in Leeds, Alabama, on Wednesday, January 29.
Abandoned cars are piled up on the median of an ice-covered road in Atlanta on January 29.
Police monitor a fire January 29 in a vehicle left overnight by a motorist who was stranded in Brookhaven, Georgia.
A lone car travels on Interstate 75/85 in downtown Atlanta on January 29, a day after the roadway was packed with vehicles.
Sue Morrison watches as Chris McAdams scrapes ice from her car on January 29 in Panama City Beach, Florida.
Kevin Moore hands out snacks and water to stranded motorists on Interstate 285 in Dunwoody, Georgia, on January 29.
Traffic is snarled along Interstate 285, north of metro Atlanta, on January 29.
A man stands on the frozen roadway January 29 as he waits for traffic to clear along Interstate 75 in Macon, Georgia.
Caution tape is wrapped around a car that crashed into a tree after the driver lost control in Snellville, Georgia, on January 29.
The ice-covered interstate highways running through Atlanta appear empty on January 29.
Icicles hang off a camellia bush in Savannah, Georgia's historic Forsyth Park after freezing rain hit the area on January 29.
Traffic moves past an ice-covered hill on Interstate 75 in Covington, Kentucky, on January 29.
A police officer talks with a crash victim who was involved in a five-car pileup in Sandy Springs, Georgia, early on January 29.
As dawn breaks on January 29, southbound traffic is at a standstill near downtown Atlanta.
Gavin Chambers plays an electronic game January 29 at Oak Mountain Intermediate School in Indian Springs, Alabama. The severe weather forced thousands of students to spend the night in various school buildings across the state.
Abandoned vehicles in Dunwoody, Georgia, line Interstate 285 early on January 29.
A DeKalb County school bus sits abandoned near Interstate 285 in Dunwoody on January 29.
People work to clear stranded vehicles on County Road 25 in Wilsonville, Alabama, on Tuesday, January 28.
Snow falls on cattle at Todd Galliher's farm in Harmony, North Carolina, on January 28.
Two women are stranded at Louis Armstrong New Orleans International Airport on January 28 after flights were canceled due to the weather.
Motorists jam Interstate 75/85 in Atlanta on January 28.
A semi slides off the road as the driver tries to avoid another wrecked truck as snow begins to accumulate on Interstate 65 in Clanton, Alabama, on January 28. Clanton lies between the capital, Montgomery, and the state's biggest city, Birmingham.
A man puts sand on the steps of his business in downtown Northport, Alabama, on January 28. Northport is near Tuscaloosa in the central-west part of the state.
Traffic travels along the highway near downtown Birmingham on January 28.
With temperatures around -10 degrees, commuters wait for a bus in Chicago on January 27.
The Duquesne Incline climbs Mount Washington across the frozen Ohio, Allegheny and Monongahela rivers in downtown Pittsburgh on January 28.
Steam rises from Lake Michigan in Chicago on Monday, January 27.
Workers dump sand across a bridge in Covington, Louisiana, on January 27.
A man jumps off a snow-covered sidewalk to cross a downtown Cleveland street January 27. A minor car accident is in the background.
Ice forms as waves crash along the Lake Michigan shore January 27 in Chicago.
A strong wind kicks up snow Sunday, January 26, in Vadnais Heights, Minnesota, creating drifts over roads and parking lots.
The Cincinnati neighborhood of Mount Adams is shown blanketed in snow on Saturday, January 25.
People walk in a snow squall January 25 in Trenton, New Jersey.
Cars sit in drifts and plowed snow on January 25 in Grand Rapids, Michigan.
A North Hudson County firefighter walks in front of an ice-covered vehicle near a building where a six-alarm fire was put out January 24 in Union City, New Jersey.
Kyle Malott scraps the ice off his girlfriend's car near Covington, Louisiana, on January 24.
Ben Eggart pushes Hannah Graham down a hill at Girard Park in Lafayette, Louisiana, on January 24.
Ice floats by the Chicago skyline on Lake Michigan on Thursday, January 23.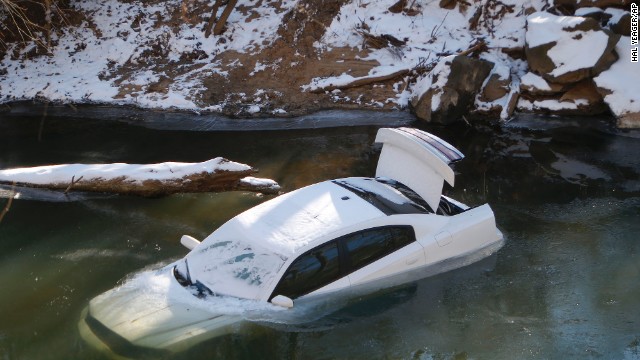 Photos: Freezing temperatures sweep U.S.
Mayor Mitch Landrieu declared a state of emergency and warned residents to remember what happened when temperatures dipped toward the freezing mark less than a week ago.
"We had bridges that were frozen over, as you might remember," Landrieu said. "We had accidents on those bridges, a fairly large pile-up on the Green Bridge. Sometime not long ago, when they had a similar event, there were a thousand crashes, and there were fatalities -- and we want to make sure that we avoid all of that."
While the Big Easy prepared for the Big Icy, authorities in neighboring Mississippi warned that the entire state would see temperatures below freezing between Tuesday morning and around lunchtime Thursday. State officials told reporters that up to four inches of snow could fall in the south-central part of the state, and the Gulf Coast could see three-quarters of an inch.
Robert Latham, the state's emergency management director, warned residents to expect power outages as well.
"We're looking at a part of the state that has a large number of pine trees," Latham said. "I can tell you that as ice accumulates on pine trees, limbs will break. Trees will fall. Power will be out."
The chill will be a marked contrast to the warm temperatures that prevailed across the region on Monday, when temperatures were largely in the 50s and 60s. In Wilmington, North Carolina, on the Atlantic coast, people were still dining outdoors on Monday night even as public schools announced closures on Tuesday and Wednesday.
Atlanta will see the mercury drop into the low 20s overnight, with a 30 to 40% chance of snow Tuesday. In Montgomery, Alabama, there's a 40% chance of snow.
Further north, Washington probably won't see snow, but its residents will feel the cold. Temps will drop to 7 degrees Monday night, with the wind chill telling you it's colder -- as in 8 degrees below zero. Tuesday will warm up only a little.
"Welcome to my world," the Midwest and Great Plains will say.
Much of the northern Plains, Midwest and Northeast will likely shiver through daytime high temperatures 10 to 30 degrees below normal through Wednesday, the National Weather Service said.
Chicago saw a high temperature of 4 below zero Fahrenheit on Monday and is looking at a comparatively balmy 3 above on Tuesday -- though with wind chill values of around minus-30 degrees.
In Wisconsin, the state department of transportation urged people to avoid driving if possible. If they must drive, they should carry a fully charged cell phone, have at least half a tank of gasoline and tell somebody where they're going.
In Milwaukee, two motorists seconded that advice.
"It's going to be pure ice. It's all fluffy and light snow like this and it's going to melt down — going to be a mess," Gary Lukowitz told CNN affiliate WITI.
"Even though you see the streets are plowed and it's still slippery out there — still a lot of wet snow on the ground, still freezing and cars are still slipping around," Adam Bernstein said.
And authorities in Minnesota are advising no travel in the southern and western parts of the state, where several roads are closed.
In South Dakota, officials said white-out conditions with zero to near zero visibility, icy roads and blowing and drifting snow are making safe travel almost impossible along the I-29 corridor and throughout most of the northeast and eastern part of the state.
They have closed Interstate 29 from the I-90 junction at Sioux Falls to Brookings because of blizzard conditions. I-29 was also closed from the South Dakota border to Canada in North Dakota.
Whiteout conditions could also be found in Hazleton, Iowa, said CNN iReporter Danny Murphy. He shot a video of the very white weather.
"Rural areas around here are suffering from near whiteout and blizzard conditions causing for very hazardous travel," he said.
CNN's Chad Myers, Sean Morris, Dave Hennen, Martin Savidge and Jareen Imam contributed to this report.