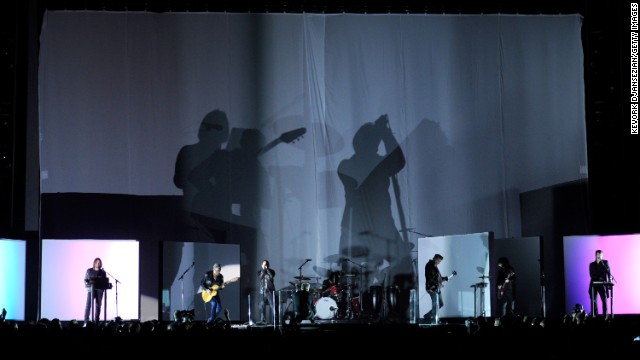 Nine Inch Nails is joined by Dave Grohl, Fleetwood Mac's Lindsey Buckingham and Josh Homme of Queens of the Stone Age to close out the 56th Annual Grammy Awards on Sunday, January 26.
Miranda Lambert and Billie Joe Armstrong perform "When Will I Be Loved," a classic song written by Phil Everly of the Everly Brothers. The show took place at the Staples Center in Los Angeles.
From right, Queen Latifah, Ryan Lewis, Madonna, Mary Lambert and Macklemore share the stage. Madonna sang her classic "Open Your Heart."
Audience members participate in a mass wedding during the Macklemore and Lewis song "Same Love," which advocates legalizing same-sex marriage.
Mary Lambert joins Macklemore for the performance of "Same Love." Earlier in the night, Macklemore and Lewis won the Grammy for best new artist.
Concert pianist Lang Lang joins Metallica for a rendition of the rock band's song "One."
Veteran singer-songwriter Carole King, left, does a duet with Sara Bareilles.
From left, Nile Rodgers, Pharrell Williams, Daft Punk and Stevie Wonder rock the crowd with a set that included the 2013 single "Get Lucky." The song won record of the year. Daft Punk also won album of the year for "Random Access Memories."
Country legend Willie Nelson takes the stage. He was joined by Kris Kristofferson, Blake Shelton and Merle Haggard.
Former Beatle Paul McCartney performs his song "Queenie Eye" with Ringo Starr, not pictured.
Country singer Kacey Musgraves lights up the stage with her hit song "Follow Your Arrow."
Rapper Kendrick Lamar and the band Imagine Dragons perform a medley of their songs "Radioactive" and "M.A.A.D City."
Starr sings "Photograph," a song he co-wrote with George Harrison of the Beatles in the early '70s.
Pink shows off her aerial acrobatics while performing "Just Give Me a Reason." She opened her set with the song "Try."
Taylor Swift delivers an emotional performance of her song "All Too Well."
John Legend takes center stage to perform his ballad "All of Me."
Country star Keith Urban, left, and Gary Clark Jr. perform "Cop Car."
Robin Thicke performs a medley of hits with Chicago, one of the best-selling bands of the '70s.
Katy Perry performs her single "Dark Horse," a collaboration with rapper Juicy J.
Hunter Hayes debuts his new song, "Invisible."
Lorde performs her hit "Royals," which won song of the year.
To start the show, Jay-Z joins his wife, Beyonce, for a rendition of her song "Drunk in Love."
Grammys 2014: Performances
Grammys 2014: Performances
Grammys 2014: Performances
Grammys 2014: Performances
Grammys 2014: Performances
Grammys 2014: Performances
Grammys 2014: Performances
Grammys 2014: Performances
Grammys 2014: Performances
Grammys 2014: Performances
Grammys 2014: Performances
Grammys 2014: Performances
Grammys 2014: Performances
Grammys 2014: Performances
Grammys 2014: Performances
Grammys 2014: Performances
Grammys 2014: Performances
Grammys 2014: Performances
Grammys 2014: Performances
Grammys 2014: Performances
Grammys 2014: Performances
Grammys 2014: Performances