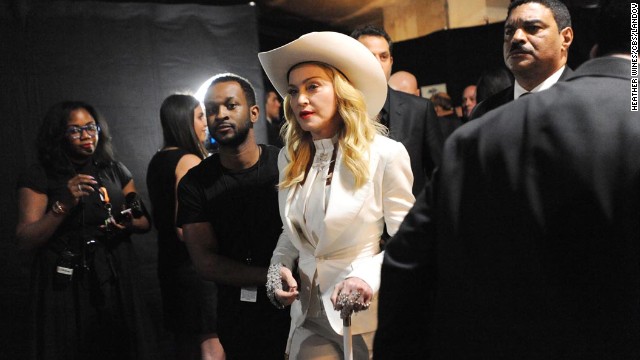 For a moment during Sunday's Grammy Awards, we wondered if we'd missed the memo about wearing all-white. Several stars both on the red carpet and on the stage looked like they were en route to a Diddy party with their glaringly pale ensembles, such as Madonna here, who wore white from hat to cane. Take a look to see what we mean:
The first thought several of you had when you spotted Paris Hilton on the red carpet is "why is she there?" (Answer: She's signed to Cash Money.) But the second thought was, "wow, her dress is stunning."
We're cheating a little bit because Katy Perry's pale gauzy gown also has music notes on it, but come on -- this is Katy Perry. Even if there was a mandate to wear all white, she'd still give it her own spin.
Cee Lo Green and Shauni were a vision as they arrived at the Grammys on January 26. Is it just us, or is Cee Lo actually glowing?
Part of the majesty of Kendrick Lamar's performance with Imagine Dragons during the 56th Grammys was the stark contrast of their all-white outfits against the set. Lamar and the band were ready and willing to stand out -- and they did.
Sara Bareilles was a bird of a feather in her white frock and we loved every minute of it.
What's better than a pair of Francophone robots? A pair of Francophone robots in the sharpest, cleanest white suits we've ever seen. If this is the future, please sign us up.
We have a theory that the reason we didn't see Beyoncé walking the red carpet -- aside from the fact that she had to open the show -- is because she wanted to spare all the other mere mortals from having to walk next to her in this dress.
The only thing upstaging Steven Tyler's rock-star-white suit was his mustache.
Ronald Isley of the Isley Brothers was the very definition of "so fresh, so clean" as he walked the red carpet with Kandy Johnson Isley.
Musician Nile Rodgers topped off his sparkling white suit with a blue beret -- you know, just to keep it funky.
Iggy Azalea was a class act in this all-white gown a the Grammy Awards. Subtle, but also sexy. We give it an "A."
Stars at the Grammys in all white
Stars at the Grammys in all white
Stars at the Grammys in all white
Stars at the Grammys in all white
Stars at the Grammys in all white
Stars at the Grammys in all white
Stars at the Grammys in all white
Stars at the Grammys in all white
Stars at the Grammys in all white
Stars at the Grammys in all white
Stars at the Grammys in all white
Stars at the Grammys in all white