U.S. to let tech companies release more surveillance data
updated 5:51 PM EST, Mon January 27, 2014
STORY HIGHLIGHTS
Issue involves U.S. surveillance requests for customer data; controversy arose from Snowden leaks
Microsoft, Google, Yahoo, Facebook and Linked-In sued the government
They want to show their customers how many requests come in for information
Government and companies reach an agreement to resolve differences
(CNN) -- The Obama administration will allow technology companies to release more information about the number of government surveillance requests for their customer data, according to an agreement announced Monday.
Microsoft, Google, Yahoo, Facebook and Linked-In sued the government last summer in the Foreign Intelligence Surveillance Court seeking to disclose the data as a way to show customers how many snooping requests they receive and are required by court order to comply with. Apple has also made legal filings in support of the companies' lawsuit.
Under the agreement, companies will be allowed to publish broad categories of data on government requests for customer information made via national security letters, and orders made by surveillance court, both for general customer data and for content of customer communications.
The companies will also be allowed to say how many customer accounts are affected. The detail companies can provide will be limited to groups of a thousand, or 250, depending on which option companies choose to use.
The court complaints have been dismissed, a spokeswoman for the companies said in a statement.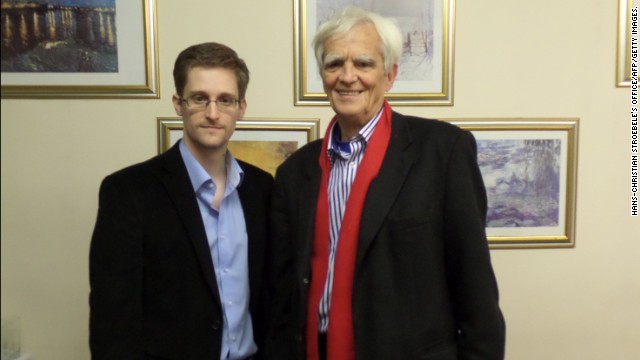 National Security Agency leaker Edward Snowden poses with German Green party parliamentarian Hans-Christian Stroebele in Moscow on October 31. Stroebele returned from the meeting with a letter from Snowden to German authorities, which was distributed to the media. In it, Snowden said he is confident that with international support, the United States would abandon its efforts to "treat dissent as defection" and "criminalize political speech with felony charges."
Snowden's refugee document granted by Russia is seen during a news conference in Moscow on August 1. Snowden slipped quietly out of the airport after securing temporary asylum in Russia, ending more than a month in limbo.
Sen. Charles Schumer, D-New York, leaves a last-minute news conference at the U.S. Capitol after Russia announced that it would grant Snowden temporary asylum on August 1. "Russia has stabbed us in the back, and each day that Mr. Snowden is allowed to roam free is another twist of the knife," he said.
Snowden's father, Lon Snowden, who has adamantly supported his son, talks to reporters in Washington on Tuesday, July 30. He has urged his son to remain in Russia "until we have assurances that he would receive a fair trial."
Demonstrators in Berlin hold a protest march on Saturday, July 27, in support of Snowden and WikiLeaks document provider Bradley Manning. Both men have been portrayed as traitors and whistle-blowers. Manning was acquitted on July 30 on the most serious charge of aiding the enemy, but he was convicted on several other counts and likely faces a lengthy term in a military prison.
Russian lawyer Anatoly Kucherena, center, speaks with journalists at the Sheremetyevo International Airport in Moscow after meeting with Snowden on Wednesday, July 24. Kucherena said he was in daily contact with Russian authorities about securing permission for Snowden to leave the airport.
Snowden meets with human rights activists and lawyers on July 12 in a transit zone of the Russian airport. It was his first public appearance since he left Hong Kong on June 23. He announced that he was seeking refuge Russia while awaiting safe passage to Latin America, where he has been offered asylum.
Russian President Vladimir Putin attends a meeting in Prokhorovka on July 12. Russian officials said Snowden abandoned his effort to seek asylum in the country after Putin warned that he would have to stop leaking information about U.S. surveillance programs if he wanted to stay.
A woman burns American flags during a protest in support of Bolivian President Evo Morales in front of the U.S. embassy in Mexico City on July 4. Leftist Latin American leaders and activists were fuming after some European nations temporarily refused Morales' plane access to their airspace amid suspicions Snowden was aboard.
Bolivian President Evo Morales holds a news conference at the Vienna International Airport on July 3. He angrily denied any wrongdoing after his plane was diverted to Vienna and said that Bolivia is willing to give asylum to Snowden, as "fair protest" after four European countries restricted his plane from flying back from Moscow to La Paz.
Umbrellas with slogans are lined up before a protest march to the U.S. consulate in Hong Kong on June 15. Snowden was hiding in Hong Kong, where he arrived on May 20 before blowing the lid off the NSA surveillance operation.
Protesters in Hong Kong shout slogans in support of Snowden on June 13. The NSA leaker vowed to fight any bid to extradite him from Hong Kong.
Graffiti sympathetic to Snowden is stenciled on the sidewalk in San Francisco on June 11.
An American flag flutters in front of the U.S. consulate in Hong Kong on June 10.
Snowden outs himself on June 9 in the British newspaper The Guardian, which published details of his revelations about the NSA electronic surveillance programs. "I have no intention of hiding who I am because I know I have done nothing wrong," he said in a video interview.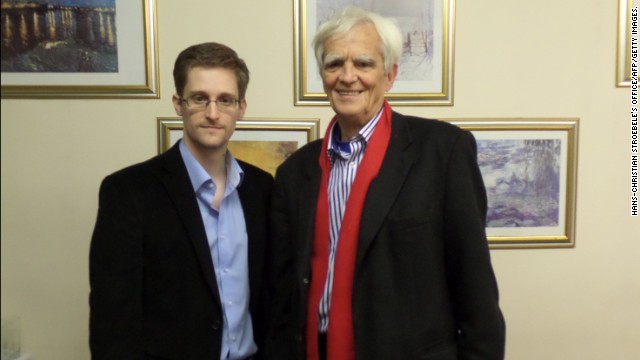 Photos: NSA leaker Edward Snowden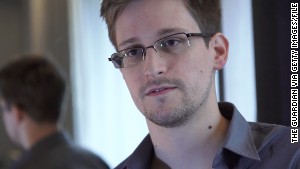 Edward Snowden responds to CNN
"We filed our lawsuits because we believe that the public has a right to know about the volume and types of national security requests we receive," the statement said. "We're pleased the Department of Justice has agreed that we and other providers can disclose this information. While this is a very positive step, we'll continue to encourage Congress to take additional steps to address all of the reforms we believe are needed."
The lawsuit by the companies followed leaks by former National Security Agency contractor Edward Snowden that made public the existence of certain NSA surveillance programs.
The government has fought the corporate request, saying even broad numbers would hurt national security. The companies have argued they should be allowed to publish aggregate data, in part to reassure customers.
The companies contend their businesses are hurt by any perception they are arms of vast government surveillance.
Currently, they can release information on general law-enforcement requests with no specifics.
In a January 17 speech at the Justice Department, President Barack Obama signaled his administration was willing to allow the companies to make data public.
The night before the speech, tech company lawyers met at the White House with lawyers from the Justice Department and intelligence agencies, according to a government official familiar with the meeting.
Deputy Attorney General James Cole, and his chief of staff, David O'Neil, proposed a compromise that prompted the White House to include the issue in the President's speech.
Last Thursday and Friday, the company lawyers and Justice Department officials completed terms of their agreement, the official said.