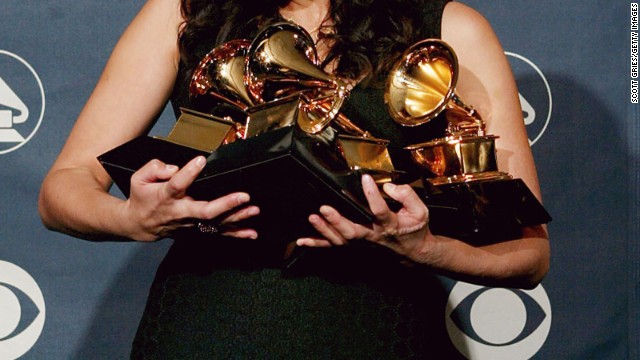 It's Grammys time and a few of the presenters, nominees and performers in attendance are not exactly who claim to be. Take the celebrity name game challenge and see if you can match the birth name with the artist.
Peter Gene Hernandez? That singer is...
This Grammy-winning crooner sends female fans' hearts racing and he has kind of a cool name. But would he have gotten as much love using his real name
Bruno Mars.
He
told GQ magazine
he changed his name because industry execs would try to typecast him by saying things like "Your last name's Hernandez, maybe you should do this Latin music, this Spanish music. ... Enrique's so hot right now."
Ella Maria Lani Yelich-O'Connor has been having quite the ride lately, with a No.1 song and tons of buzz about her ubiquitous single -- though not all of it positive. The world knows her as....
Lorde.
She not only has the hit single "Royals," but her stage name also has a connection to royalty. "When I was trying to come up with a stage name, I thought 'Lord' was super rad, but really masculine—ever since I was a little kid, I have been really into royals and aristocracy,"
she told Interview magazine.
"So to make Lord more feminine, I just put an 'e' on the end! Some people think it's religious, but it's not."
Alecia Moore captivated the Grammy audience a few years back with an amazing live performance that proved that she was in rarefied air when it comes to today's singers. Think you know who it is?
Pink.
Contrary to some reports, she did not take her stage name from her hair color at the time.
She told Faze magazine
that as a child she would blush a rosy pink when embarrassed and the nickname stuck.
It's
Katheryn Elizabeth Hudson released a Christian gospel album as a teen, but she later changed her name to avoid confusion between herself and another big star. So she became ...
Katy Perry.
She
reportedly took her mother's maiden name
, and actress Kate Hudson thanks her.
Stevland Hardaway Judkins was a child prodigy and has had a career in the music industry for decades. Who might that be?
Stevie Wonder
.
According to IMDB
he got his stage name because people thought he was a "little wonder" with his ability to overcome his blindness and play multiple instruments.
It's
Ben Haggerty could change his name if he tried -- and he did. Now he's known as....
Macklemore.
The name came about because of his style of dress as a teen, which earned him the
moniker of "Professor Macklemore."
Shawn Corey Carter, in both his business and his art. Let's say it all together...
This Grammy winner is probably easier to figure out because he's used his legal name,
Jay Z.
His childhood nickname was reportedly "Jazzy"
and he lived near the J/Z subway line in Brooklyn.
Guy-Manuel de Homem-Christo and Thomas Bangalter have worked really, really hard to hide their identities as...
This one is a little tougher as
Marco Antonio Muniz didn't have to take a big leap to become ...
Marc Anthony, an Americanized version of his birth name.
Eric Marlon Bishop is not only a Grammy-winning singer, has also won an Oscar. Need another hint? On any given Sunday he also goes by...
Jamie Foxx.
He
reportedly chose it
when he got into standup and realized that female comics were often selected to go onstage first and chose an androgynous name.
Alicia Augello Cook found a stage name that matched her career choice.
Alicia Keys makes total sense given the singer-songwriter-musician's skill on the ivories.
Martina Mariea Schiff has a stage name with a different ring to it...
Martina McBride is actually her married name.
William Robinson can thank a beloved relative for his moniker. These days everyone calls him....
Smokey Robinson.
The Motown legend explained in an
interview with CBN.com
that "I loved cowboys. My Uncle Claude used to take me to see cowboy movies. He had a cowboy name for me, which was 'Smokey Joe.' So whenever anybody asked me what my name was, I told 'em Smokey Joe!"
John Roger Stephens went with a name almost guaranteed to put him in the musical history books.
John Legend
the singer has set a pretty high expectation. "John Legend is a nickname that some friends started calling me, and it kind of grew into my stage name,"
he said.
As
Robyn Fenty made it easy for herself by going by her middle name. You know her as ...
Rihanna. Though friends and family still call her Robyn.
Aubrey Graham is the name that appeared on the credits of this performer's series when he was acting full time. But now that he is in music, he's known as...
Drake. Taking a page from Rihanna's playbook, the rapper goes by his middle name.
Richard Starkey might still be living in obscurity in the UK had he not become...
Ringo Starr.
The Beatles member
reportedly was called "Ringo" because of the rings he wore
. Starr is a shortened version of his last name and, of course, what he has become.
Celebrity name game: Grammys edition
Celebrity name game: Grammys edition
Celebrity name game: Grammys edition
Celebrity name game: Grammys edition
Celebrity name game: Grammys edition
Celebrity name game: Grammys edition
Celebrity name game: Grammys edition
Celebrity name game: Grammys edition
Celebrity name game: Grammys edition
Celebrity name game: Grammys edition
Celebrity name game: Grammys edition
Celebrity name game: Grammys edition
Celebrity name game: Grammys edition
Celebrity name game: Grammys edition
Celebrity name game: Grammys edition
Celebrity name game: Grammys edition
Celebrity name game: Grammys edition
Celebrity name game: Grammys edition
Celebrity name game: Grammys edition
Celebrity name game: Grammys edition
Celebrity name game: Grammys edition
Celebrity name game: Grammys edition
Celebrity name game: Grammys edition
Celebrity name game: Grammys edition
Celebrity name game: Grammys edition
Celebrity name game: Grammys edition
Celebrity name game: Grammys edition
Celebrity name game: Grammys edition
Celebrity name game: Grammys edition
Celebrity name game: Grammys edition
Celebrity name game: Grammys edition
Celebrity name game: Grammys edition
Celebrity name game: Grammys edition
Celebrity name game: Grammys edition
Celebrity name game: Grammys edition