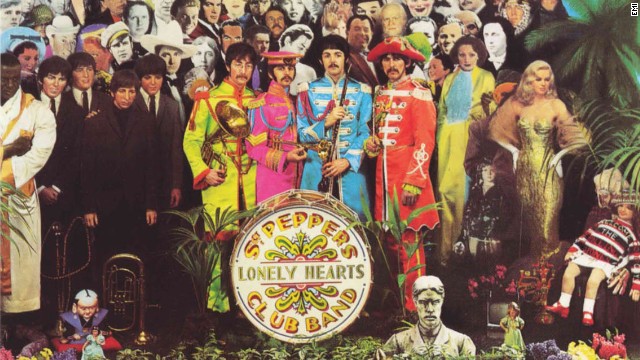 The Recording Academy doesn't always get it right when it hands out Grammy Awards, but these are 20 cases where it did. With the Grammys getting ready for its 56th ceremony on Sunday, there are tons more Grammy winning albums that are just as classic as those we selected here: Make sure to tell us in the comments which 20 Grammy winners you keep in constant rotation. As for us, our list begins with The Beatles' "Sgt. Pepper's Lonely Hearts Club Band." It won four Grammys at the 1968 ceremony, including album of the year.
"Tapestry" by Carole King racked up four Grammys at the 1972 ceremony, including album of the year. Some of the album's songs were covered by other artists, including "You've Got a Friend" by James Taylor. The cover photo of a young, relaxed King lounging in a window seat cemented her reputation as a warm, homey singer-songwriter.
There are any number of Bob Dylan albums that could go on this list, but 1975's "Blood on the Tracks" is often considered his most personal -- a brutal, heartfelt chronicle of relationships lost and broken, probably inspired by his own marriage troubles (though Dylan, typically, has been opaque on its roots). The album won a Grammy for its liner notes, by Pete Hamill.
Stevie Wonder's "Songs in the Key of Life" is considered one of his most epic works. At the 1977 Grammys, Wonder picked up four awards, including best pop vocal performance and album of the year.
Welcome to the "Hotel California." The Eagles album went on to become one of their best-selling and earned Grammys in 1978 for two of their singles. The album ultimately lost the album of the year Grammy to Fleetwood Mac's "Rumours."
Christine McVie rejoining Fleetwood Mac.
Their 1977 album "Rumours" is still in heavy rotation for many and won the group an album of the year at the 1978 Grammys.
Speaking of, fans couldn't be more excited about
John Lennon's final studio album, "Double Fantasy," was released just three weeks before his murder in 1980 and went on to win a Grammy for album of the year at the 1982 ceremony.
It's clear that Michael Jackson's 1982 masterpiece "Thriller" changed the industry. From its big production music videos to the introduction of the Moonwalk to the world, it catapulted Jackson into superstardom. The album won seven Grammys at the 1984 ceremony -- including album of the year -- which was unprecedented at the time.
Rolling Stone
puts it, and picked up two Grammy awards along the way.
Some of you reading this probably have Prince to thank for your arrival. With the accompanying album to his 1984 movie "Purple Rain," Prince crafted "an epic celebration of everything rock & roll," as
U2 isn't hurting for Grammy awards, but their 1987 album, "The Joshua Tree," not only won them spades of accolades -- including an album of the year Grammy -- but also helped launch them into a new level of international fame.
At the 1992 Grammys, Metallica's self-titled 1991 release won for best metal performance (vocal album). The album produced five hit singles including "Enter Sandman" and helped to put the band on the radar of non-metal lovers. They continue to go hard and are scheduled to perform at this year's Grammys.
Just looking at the album cover for "The Chronic" is enough to jog our memories back to late 1992 and into '93, when our worlds -- and hip-hop -- were altered with tracks like "Nuthin' But A 'G' Thang" and "Let Me Ride." The latter cut won best rap solo performance at the 1994 ceremony.
Until 1992's "Ingenue," k.d. lang was one of the new faces of country music, a traditionalist with pipes to rival Patsy Cline's. Then came "Ingenue," a smoky collection of songs mostly about lost love, and she was suddenly discovered by the mainstream. The album went platinum, spawned a pair of hit singles (notably "Constant Craving") and lang was nominated for five Grammy awards, including album of the year, song of the year and record of the year. She won one, for best pop vocal performance (female).
Matthews is just such a regular guy,
the group has its hardcore followers, many of whom really still love the 1996 album "Crash." They ended up winning a Grammy for the album's single "So Much To Say."
The love for the Dave Matthews Band among its fans cannot be overstated. Be it because of their mellow tunes or because
Until the release of 1998's "Car Wheels on a Gravel Road," Lucinda Williams was considered a hidden treasure, with four releases spread over 20 years and her best-known song, "Passionate Kisses," covered by Mary Chapin Carpenter. (Williams won a songwriting Grammy for that.) "Car Wheels" went gold, however, winning Williams a Grammy for best contemporary folk album and topping lists of 1998's best albums. Its songs still ring true, including "Right in Time," "Drunken Angel" and "Metal Firecracker."
Isn't it hard to believe "The Miseducation of Lauryn Hill" was released way back in 1998? Hill was nominated for 10 Grammys, a record for a female artist at the time, and won five.
In honor of their reuniting,
go ahead and dig out the 2000 Outkast album "Stankonia" if you haven't already. It's the project that is most credited with helping the rap duo "cross over" with hits like "Ms. Jackson." That single won them a best rap performance by a duo or group at the 2002 Grammy Awards.
One of the greats of R&B, Solomon Burke notched several soul hits in the 1960s, including "Got to Get You Off My Mind" and "Everybody Needs Somebody to Love." For his 2002 comeback, "Don't Give Up on Me," he interpreted songs by Van Morrison ("Fast Train"), Elvis Costello ("The Judgment") and Barry Mann, Cynthia Weil and Brenda Russell ("None of Us Are Free"). The result: a timeless work and a Grammy for best contemporary blues album. Burke died in 2010.
Amy Winehouse's utterly touching reaction
when she won record of the year at the 2008 Grammy Awards for her song "Rehab"? The album "Back to Black" earned her five Grammys.
Who can forget
You may be listening to "21" by Adele right now. The 2011 album was a beast, surpassing 10 million in sales and earning six Grammy wins, including album of the year.
20 Grammy winning albums we still love
20 Grammy winning albums we still love
20 Grammy winning albums we still love
20 Grammy winning albums we still love
20 Grammy winning albums we still love
20 Grammy winning albums we still love
20 Grammy winning albums we still love
20 Grammy winning albums we still love
20 Grammy winning albums we still love
20 Grammy winning albums we still love
20 Grammy winning albums we still love
20 Grammy winning albums we still love
20 Grammy winning albums we still love
20 Grammy winning albums we still love
20 Grammy winning albums we still love
20 Grammy winning albums we still love
20 Grammy winning albums we still love
20 Grammy winning albums we still love
20 Grammy winning albums we still love
20 Grammy winning albums we still love