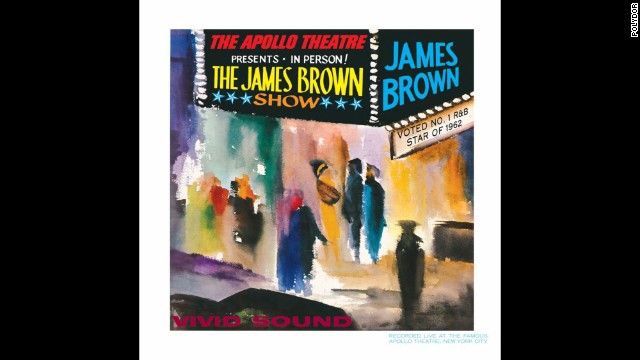 Some albums just never leave you and listening to them today can be like hearing the tracks for the first time. The irony is that sometimes those classics went completely without notice from The Recording Academy, whose honor -- the Grammy -- is largely seen as an indicator of talent and musical contribution. As we wait to see which album the Grammys will name the best from 2013, let's take a look back at 20 of our favorite classic albums that were overlooked, like the Godfather of Soul's "Live at the Apollo 1962." James Brown fans insist it was one of his best performances.
The Band's first album, "Music from Big Pink" (1968), was the talk of the music world. The second, simply titled "The Band," put them on the cover of staid Time magazine with the headline, "The New Sound of Country Rock." That did a disservice to this 1969 album, which, if anything, is the sound of a lost America, including "Up on Cripple Creek," "Whispering Pines," "Look Out Cleveland" and "King Harvest (Has Surely Come)." Grammy shine? Nada.
Love's "Forever Changes" didn't make a great deal of noise when it was released in 1967, but it was still inducted into the Grammy Hall of Fame in 2008.
Sly and the Family Stone was a unique mix of funk and rock, horns and guitars, white and black, male and female. "Stand!" (1969) was the group's breakthrough album, with both a No. 1 single ("Everyday People") and extended jams ("Sex Machine"). Sadly, the band started falling apart not long after, and Sly Stone has been more in the news for his troubles than his talent. His 2006 appearance at a Grammy tribute was marked by him walking off the stage mid-performance.
Creedence Clearwater Revival dominated the charts in the late '60s and early '70s with a string of rootsy, riff-filled singles, including "Proud Mary," "Green River," "Up Around the Bend" and "Run Through the Jungle." "Green River," one of the group's three (!) 1969 albums, is the CCR sound honed to a fine point, including the title song, "Bad Moon Rising" and "Wrote a Song for Everyone." Grammy attention: negative.
John Lennon's 1970 debut solo album "John Lennon/Plastic Ono Band" is as memorable for the music as it is for coming after The Beatles' breakup. Wife Yoko Ono simultaneously recoded "Yoko Ono/Plastic Ono Band."
Black Sabbath is still rocking hard and is up for three Grammy nominations this year. The group's self-titled debut album was released in the United States in 1971 and still reigns supreme.
Joni Mitchell's classic albums include "Court and Spark" (1974) and "The Hissing of Summer Lawns" (1975), but few albums are as wrenching as "Blue," her 1971 release. Even the Christmas-tinged "River," later covered by Herbie Hancock on his Grammy-winning "River: The Joni Letters," is about as haunting as they come. But few albums are as beautiful.
Starting with 1968's "Beggars Banquet," the Rolling Stones had an incredible streak of albums in the late '60s and early '70s, all produced by Jimmy Miller. Though "Exile on Main St." was greeted somewhat tepidly when it came out in 1972, considered inferior to "Sticky Fingers" or "Let It Bleed," it has come to be considered the quintessential Stones album, down to its joyfully muddy sound. The Grammys have never been Stones fans; the group has just a handful of nominations (including one this year for best rock song) and two wins.
Released in 1971, The Who's "Who's Next" has been reissued multiple times since then and in 1999 was the subject of a documentary, "Classic Albums: The Who -- Who's Next."
In addition to having a catchy title, "There Goes Rhymin' Simon" by Paul Simon debuted in 1973 to the delight of music lovers. It remains one of Simon's best received projects.
Ask a Bruce Springsteen fan their favorite album, and you'll get a laundry list of releases: "Born in the U.S.A.," "Tunnel of Love," "The Rising." Even "The Ghost of Tom Joad" has its partisans. But for sheer Bruce-ness, you have to go back to his 1975 breakthrough, "Born to Run." The album is classic from beginning to end, including "Tenth Avenue Freeze-Out," "Jungleland" and, of course, the title cut, best described by rock critic Greil Marcus as "a magnificent album that pays off on every bet ever placed on him -- a '57 Chevy running on melted down Crystals records that shuts down every claim that has been made."
Phyllis Major
proceeded the 1976 release of Jackson Browne's "The Pretender." The album received mixed reviews, but is still beloved by his fans.
Tragedy in the form of the death of his wife
Elvis Costello's "This Year's Model" made 1978 a great year for the British singer.
From its cover photo of kudzu-covered mounds to tracks such as "Moral Kiosk" and "9-9," R.E.M.'s 1983 LP debut, "Murmur," is deliberately murky and obscure. The Athens, Georgia-based band buried instruments in the mix, including lead singer Michael Stipe's vocals. The result, however, is a melodic, often ethereal work that sounds unlike anything else. Neither the album nor the band garnered any Grammy nominations that year, but 1991's "Out of Time" was nominated for seven.
Some fans of hip-hop will argue that Wu-Tang Clan's "Enter the Wu-Tang (36 Chambers)" is one of the best rap albums of all time. Released in 1993, it helped launch the solo careers of members Method Man, Ghostface Killah, Ol' Dirty Bastard, GZA, RZA, Raekwon and U-God.
20 classic albums that didn't win Grammys
20 classic albums that didn't win Grammys
20 classic albums that didn't win Grammys
20 classic albums that didn't win Grammys
20 classic albums that didn't win Grammys
20 classic albums that didn't win Grammys
20 classic albums that didn't win Grammys
20 classic albums that didn't win Grammys
20 classic albums that didn't win Grammys
20 classic albums that didn't win Grammys
20 classic albums that didn't win Grammys
20 classic albums that didn't win Grammys
20 classic albums that didn't win Grammys
20 classic albums that didn't win Grammys
20 classic albums that didn't win Grammys
20 classic albums that didn't win Grammys
20 classic albums that didn't win Grammys
20 classic albums that didn't win Grammys
20 classic albums that didn't win Grammys
20 classic albums that didn't win Grammys