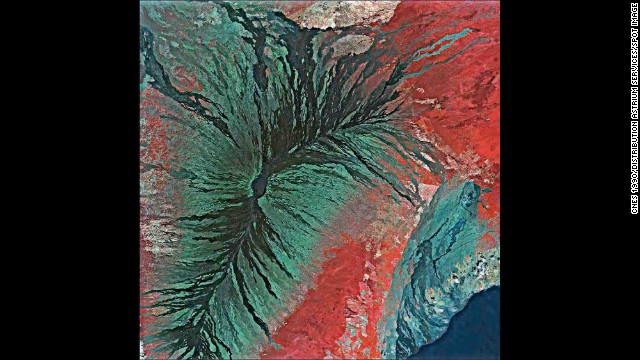 A new book of photographs, "Earth From Space," contains more than 150 high-resolution images shot from orbiting satellites. Seen from the perspective of hundreds of miles, many of Earth's features resemble abstract art. This image is of the Mauna Loa volcano on the big island of Hawaii.
This is the Australian Aurora, a natural light display of the Southern Hemisphere, as seen from the International Space Station.
Mont Saint Michel Bay, France.
Yilong County, Sichuan province, China.
Beni River, Bolivia.
Deepwater Horizon oil spill in the Gulf of Mexico, 2010.
Shanghai, China, and its suburbs.
Bay of Hong Kong, China.
Tucson, Arizona.
Abu Dhabi, United Arab Emirates.
Geba River, Guinea-Bissau.
River deltas in Siberia, Russia.
'Earth From Space'
'Earth From Space'
'Earth From Space'
'Earth From Space'
'Earth From Space'
'Earth From Space'
'Earth From Space'
'Earth From Space'
'Earth From Space'
'Earth From Space'
'Earth From Space'
'Earth From Space'
STORY HIGHLIGHTS
NASA hopes to put five new instruments in orbit in 2014
The launches include three satellites and two devices mounted on the space station
NASA says the missions will "truly reinvigorate" its Earth observation network
(CNN) -- NASA announced an ambitious slate of launches Wednesday aimed at putting new eyes on the Earth and its atmosphere in 2014.
A total of five missions -- three satellites and two instruments that will be mounted on the International Space Station -- are scheduled to go into orbit between February and November, the U.S. space agency said. They'll measure carbon dioxide in the air, water in the soil, rainfall, cloud layers and ocean winds, providing "immediately useful" readings that will help improve both short-term weather forecasts and and long-term climate projections, said Michael Freilich, the director of NASA's Earth Science Division.
"This tremendous suite of five new instruments and missions that will be launching this year will truly reinvigorate our observing system and expand it," Freilich said.
The launches come two years after the National Academy of Sciences warned that budget pressure, program delays and launch failures had left scientists facing a "rapid decline" in Earth observations as the U.S. satellite fleet aged. NASA had called that 2012 report "overly pessimistic."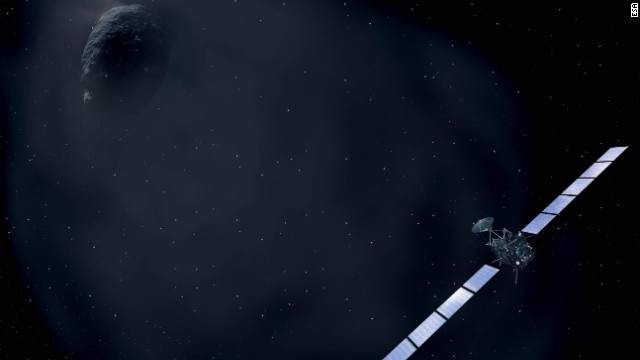 The spacecraft Rosetta was launched by the European Space Agency on March 2, 2004, for a 10-year mission to catch comet 67P/Churyumov-Gerasimenko. After taking pictures of Earth, Mars and asteroids, Rosetta was put into hibernation in May 2011 after it reached the outer part of the solar system. Mission managers will wake it up on January 20.
Rosetta will be the first spacecraft to deploy a robot for a soft landing on a comet. It also will be the first probe to escort a comet into our inner solar system. This drawing shows how Rosetta will drop its robotic lander, Philae, onto the comet.
Rosetta is named after the Rosetta Stone, the black basalt that provided the key to deciphering Egyptian hieroglyphs. Scientists hope the mission will give them new clues about the origins of the solar system and life on Earth. The mission is spearheaded by the European Space Agency with key support from NASA.
Traveling through space can be bumpy. Workers put Rosetta through vibration tests before wrapping it in thermal blankets before its launch.
Rosetta's solar wings are unfurled and checked out at the European Space Agency's test facilities.
A European Ariane 5 rocket, carrying Rosetta, lifts off from Kourou, French Guiana, on March 2, 2004.
Rosetta snapped this image of Earth in November 2009. The spacecraft was 393,328 miles from Earth.
After its closest approach to Earth in November 2007, Rosetta captured this image.
Rosetta took this image of Mars as it looped through the solar system.
This image was taken by an instrument on Rosetta's Philae lander just minutes before the spacecraft made its closest approach to Mars. Part of Rosetta and its solar arrays are visible.
Rosetta passed asteroid Steins in September 2008, giving scientists amazing close-ups of the asteroid's huge crater. The asteroid is about 3 miles in diameter.
On July 10, 2010, Rosetta flew about 1,864 feet from asteroid Lutetia, which is 10 times larger than asteroid Steins.
Look closely at the top of this picture. See that dot? That's Saturn. Rosetta snapped the picture of asteroid Lutetia and captured Saturn in the background.
On January 20, Rosetta will wake up, fire its engine and chase after comet 67P/Churyumov Gerasimenko as it hurtles by. This drawing shows how Rosetta will orbit the comet.
A drawing of the comet's nucleus. The nucleus, or rocky part of the comet, is thought to be about 2.5 miles miles wide.
Rosetta will release its robot lander Philae for a soft landing on the comet in November. It will fire harpoons to anchor itself to the comet. Scientists expect the lander to send back data to Earth for at least a week and possibly for many months as the comet heads toward the sun.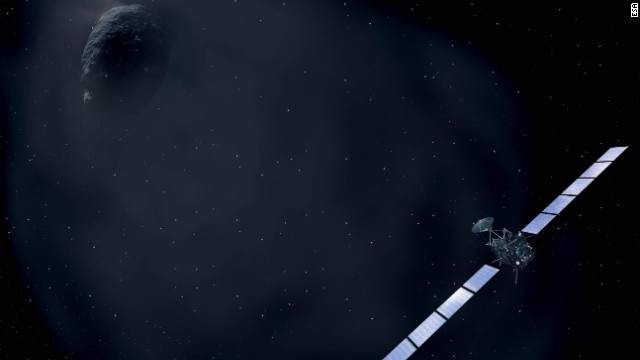 Rosetta: The comet chaser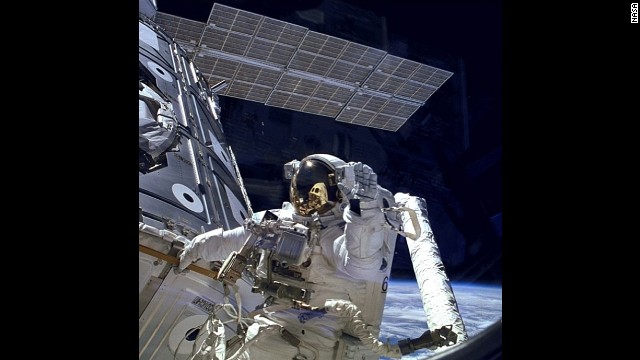 NASA posted this snap of astronaut James H. Newman on November 20, 1998, to celebrate the 15th anniversary of the International Space Station.
A #nofilter image of the surface of Mars, courtesy NASA's Mars Curiosity Rover.
Super Typhoon Haiyan lashing the Philippines, taken from NASA's Aqua satellite on November 7.
There it goes! A still camera on a sound trigger captured this intriguing photo of an airborne frog in the foreground as NASA's Lunar Atmosphere and Dust Environment Explorer spacecraft lifts off toward the moon. This foreground photobomber stole the show, earning this snap almost 25,000 likes.
This one went viral too: a new view of Saturn taken by NASA's Cassini spacecraft. It's a natural color image that shows the view as it would be seen by a human observer.
A throwback to 2010 for the International Space Station's 15th anniversary: NASA astronaut Tracy Caldwell Dyson looks down at Earth through a window on the ISS.
NASA astronaut Karen Nyberg takes a selfie with Russian cosmonaut Fyodor Yurchikhin and European Space Agency astronaut Luca Parmitano behind her.
From the Hubble telescope: the crowded center of the Milky Way, showing the constellation Sagittarius. Right in the center of the image is a supermassive black hole called Sagittarius A*, consuming clouds of dust as it affects its environment with its enormous gravitational pull.
A historic image of Earth from the moon, taken on July 20, 1969, from Apollo 11.
A view of spiral galaxy IC 2560 captured from the Hubble Space Telescope.
To celebrate the launch of Mars probe MAVEN on November 18, NASA showed off this mosaic from the Viking 1 Orbiter, which passed by the planet over 30 years ago, on February 22, 1980.
A Soyuz spacecraft carrying new International Space Station residents Oleg Kotov, Mike Hopkins and Sergey Ryazanskiy arrives at the space station in September.
Earth on September 7, as seen by the Geostationary Operational Environmental Satellites, which looks out for atmospheric "triggers" for severe weather conditions such as flash floods and hurricanes.
Drifting away: three nanosatellites, known as Cubesats, are deployed from the ISS airlock.
Expedition 36 flight engineer Chris Cassidy of NASA is carried to the medical tent shortly after landing in Kazakhstan on September 11, having spent five and a half months on the International Space Station.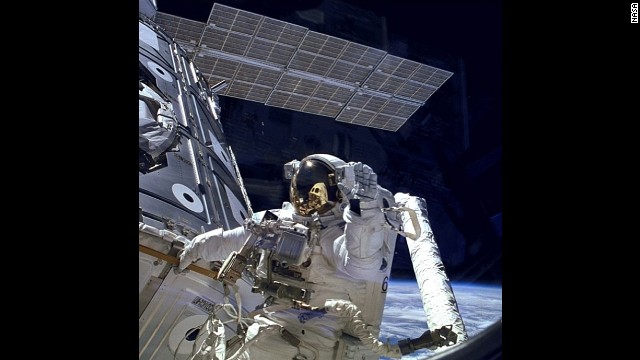 Photos from NASA's Instagram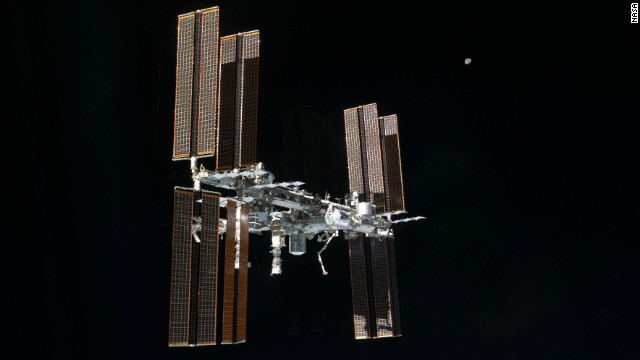 The crew of the space shuttle Atlantis took this picture of the International Space Station after leaving it in July 2011. Atlantis was the last shuttle to visit the station, which was first launched in 1998 and built by a partnership of 16 nations.
The crew of the space shuttle Endeavour initiates the station's first assembly sequence in 1998. The International Space Station includes several large modules, each launched separately and connected in space by astronauts.
The Zarya control module, on the left with the solar panels, floats above Earth with its newly attached Unity module after the first assembly sequence in December 1998.
The first crew of the International Space Station, seen on board in December 2000. From the left are cosmonaut Yuri P. Gidzenko, astronaut William M. Shepherd and cosmonaut Sergei K. Krikalev.
The Endeavour crew installs the first set of U.S. solar arrays on the station in 2000.
In March 2001, a space shuttle delivered the station's second crew and brought the first one home. It also brought Leonardo, the station's first Multi-Purpose Logistics Module, to the station. Leonardo carried supplies and equipment.
In September 2006, the space shuttle Atlantis docked with the space station, delivering solar wings and a new truss.
The space shuttle Discovery leaves the space station in March 2008 after its crew successfully delivered and installed the Japanese-built Kibo lab.
The unmanned SpaceX Dragon spacecraft connects to the space station in May 2012. It was the first private spacecraft to successfully reach an orbiting space station.
An unmanned Russian cargo craft disconnects from the space station in April 2013. The station relies heavily on ships to bring up supplies.
Commander Koichi Wakata of the Japan Aerospace Exploration Agency peers out of the space station's Cupola observatory on April 27. The Cupola is a dome-shaped module that allows station crew members to observe and guide activities outside the station.
A Russian Soyuz spacecraft is docked with the space station on May 5. Since the U.S. shuttle program ended in 2011, all crew members are ferried to and from the space station on Russian rockets.
A Soyuz spacecraft is seen on May 13 as it lands in Kazakhstan with Wakata and other members of the his Expedition 39 crew.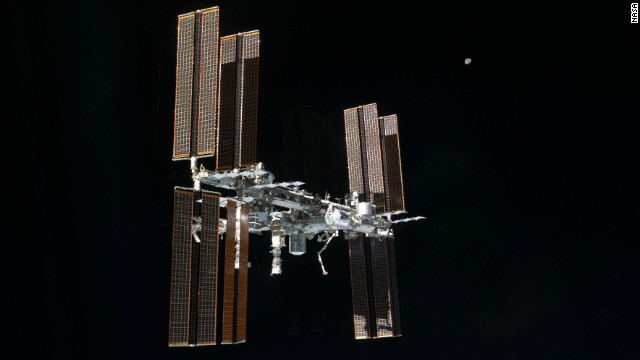 Photos: International Space Station
Freilich said Wednesday that six more missions were ready to launch by the end of the decade, including satellites that help measure the dynamics of the polar ice sheets and measure human use of water in aquifers.
The first of this year's planned launches, the Global Precipitation Measurement Core Observatory, is set for February 27. The satellite will be launched from Japan in a joint venture with that country's space agency, NASA said.
A second satellite, the Orbiting Carbon Observatory-2, is slated to go up in July from Vandenberg Air Force Base, in California. Its mission is to monitor the levels of atmospheric carbon dioxide blamed for rising global temperatures -- a controversial notion politically, but one accepted as fact by most scientists. The first OCO mission crashed into the sea in 2009 after failing to reach orbit.
And in November, NASA hopes to launch its Soil Moisture Active Passive satellite, designed to produce high-resolution maps of water in the soil. That can help track droughts and improve the productivity of farmland, the agency says.
Meanwhile, the two missions headed for the space station will be carried aloft by the private space contractor SpaceX, which began flying commercial cargo missions in 2013.
The ISS-RapidScat, which will record ocean winds -- important data for marine forecasts, hurricane tracking and climate research -- goes up on a SpaceX mission June 6. The Cloud-Aerosol Transport System, which uses laser instruments to track small particles in the atmosphere, is scheduled for launch September 12.
The Obama administration's recent decision to support the space station through 2024 has had "a powerful enabling influence," said Julie Robinson, NASA's chief scientist for the ISS. The decision adds four years to the station's planned lifetime -- an important step when it can take up to three years to develop a new instrument, she said.
Unlike other Earth-science satellites, the station passes over different points on Earth at different times with each orbit. But while it lacks that consistency, it's also up to 400 km (250 miles) closer to the planet, Robinson said.
"When you're a little closer, you can see things in more detail," she said.
U.S. backs space station through 2024