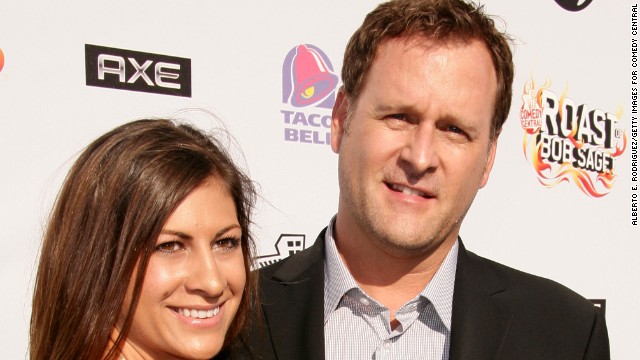 Dave Coulier reportedly married girlfriend Melissa Bring in Montana on June 2 with several cast members in attendance. Let's catch up with the cast.
After playing Michelle, Mary-Kate and Ashley Olsen starred in "It Takes Two" and "Holiday in the Sun," among other flicks and TV series. Their last gig together was 2004's "New York Minute." Mary-Kate went on to play Tara on "Weeds" and appear in "The Wackness" and "Beastly." The twins have launched several fashion labels, including The Row, Elizabeth and James, and Stylemint.
After playing Danny Tanner, Bob Saget channeled another widowed father on "Raising Dad." He hosted "America's Funniest Home Videos" and showed off his R-rated sense of humor in 2005's "The Aristocrats." Saget currently narrates CBS's "How I Met Your Mother."
After playing Jesse Katsopolis, John Stamos went on to play Dr. Tony Gates on "ER." He appeared on "Glee's" second season, among other shows, and a commercial for Oikos Greek yogurt.
After playing Stephanie, Jodie Sweetin appeared on "Party of Five" and "Yes, Dear." She hosted 2007's "Pants-Off Dance-Off," starred in 2008's "Small Bits of Happiness" and detailed her struggle with addiction in her 2010 memoir "unSweetened."
Dave Coulier produced and starred in "Can't Get Arrested" and hosted "Animal Kidding" after playing Joey Gladstone. He appeared on "The Surreal Life" in 2004 and laced up his skates to compete on 2006's "Skating with Celebrities."
Lori Loughlin, or as we call her, Aunt Becky, starred on "Hudson Street" after "Full House" ended. She appeared on series like "Summerland" and "In Case of Emergency" before acting alongside Robin Williams and John Travolta in the 2009 flick "Old Dogs" and taking on the role of Debbie Wilson on "90210."
Alex and Nicky Katsopolis were played by Dylan and Blake Tuomy-Wilhoit, respectively, from 1992 until the series finale. Ready to feel old? The adorable twins are legal. Jesse and Becky's boys were played by Kevin and Daniel Renteria during the show's fifth season.
Since playing DJ's boyfriend Steve, Scott Weinger has continued voicing Aladdin in films like "Aladdin and the King of Thieves." Weinger appeared on "Scrubs" and "What I Like About You"; he was also a writer on the WB series. He has worked as a writer-producer on The CW's "90210," as well.
'Full House': Where are they now?
'Full House': Where are they now?
Candace Cameron Bure
Mary-Kate and Ashley Olsen
Bob Saget
John Stamos
Jodie Sweetin
Dave Coulier
Lori Loughlin
Dylan and Blake Tuomy-Wilhoit,
Andrea Barber
Scott Weinger