Australian Open: Eugenie Bouchard the Belieber reaches Melbourne semifinals
updated 6:42 AM EST, Tue January 21, 2014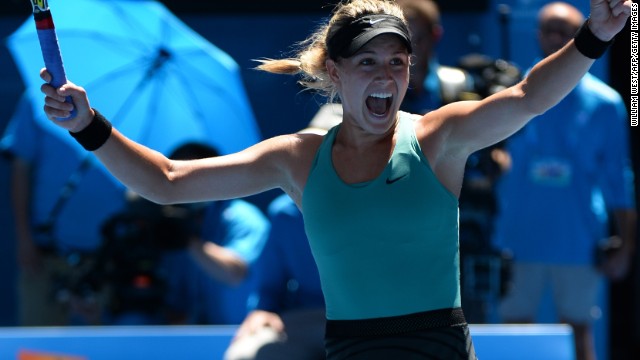 Eugenie Bouchard scored a shock victory over 14th seed Ana Ivanovic to reach the semifinals of her first Australian Open. The Canadian came back from one-set down 5-7 7-5 6-2.
During her on-court interview Bouchard was asked who her ideal date would be. The 19-year-old said teenage pop star and fellow Canadian Justin Bieber.
During the match Ivanovic received treatment on an injury to her left leg, while also revealing she had been struggling with a problem in her right leg throughout the tournament.
Now I'm a Belieber!
Dream date
Last legs
STORY HIGHLIGHTS
Eugenie Bouchard reaches the semifinal of the Australian Open after beating Ana Ivanovic
After the match, Bouchard revealed her dream date would be fellow Canadian Justin Bieber
The 19-year-old will play China's Li Na in the last four at Melbourne Park
(CNN) -- After beating former world No. 1 Ana Ivanovic to reach the semifinals of the Australian Open, rising tennis star Eugenie Bouchard is one step closer to making her dreams come true.
No, not dreams of a first grand slam title, but a date with fellow Canadian and teenage heartthrob Justin Bieber.
With her mind still racing after coming from one-set down to beat 14th seed Ivanovic 5-7 7-5 6-2 and reach the last four of a major for the first time, Bouchard was asked during her on-court interview who her ideal date would be.
The world No. 31 plumped for Bieber, who has a dedicated army of fans -- known as "Beliebers" -- and over 48 million followers on Twitter.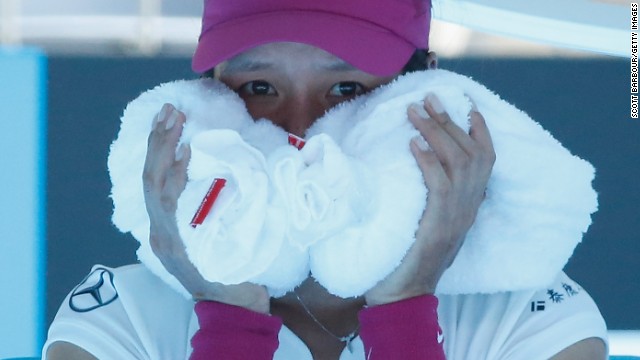 Li Na faced a battle to stay cool and to stay in the Australian Open against Lucie Safarova.
Li's compatriot Zheng Jie needed medical treatment for heat stress during her 6-2 6-4 defeat by Casey Dellacqua. "I felt so hot, my mind wasn't working," said Zheng. "I was looking at the ball, but I couldn't focus on it. Then I couldn't concentrate. This weather is very difficult for me.
Serena Williams looked in complete control during her straight-sets win over Vesna Dolonc on Wednesday, but the top seed admitted to waking up in the middle of the night due to fears over dehydration.
Maria Sharapova wrapped ice around her neck in a bid to keep cool during her first round win over Bethanie Mattek-Sands.
Playing early in the day on Tuesday, Argentina's Juan Martin del Potro felt the heat during his win over American Rhyne Williams.
It all got to much for Canadian Frank Dancevic who fainted during his match with Frenchman Benoit Paire.
Italy's 15th seed Fabio Fognini took an outdoor shower in a bid to stay cool.
Some fans also adopted the Fognini approach...
While supporters in the Rod Laver Arena could at least take cover under its roof, fans on the outside courts were exposed to the elements.
With temperatures exceeding 40 degrees Celsius at the Australian Open, sport scientist Dr. Ross Tucker suggests any player hoping to succeed Down Under should take up Bikram Yoga.
Men's fourth seed Andy Murray is a long-term practitioner of bikram yoga. Clearly comfortable in the heat, he's reached the final in Melbourne in three of the last four years, though the Scot has questioned if the players' health is being put at risk.
While some chose to head to Melbourne Park, other Melbournians chose to hit St. Kilda beach.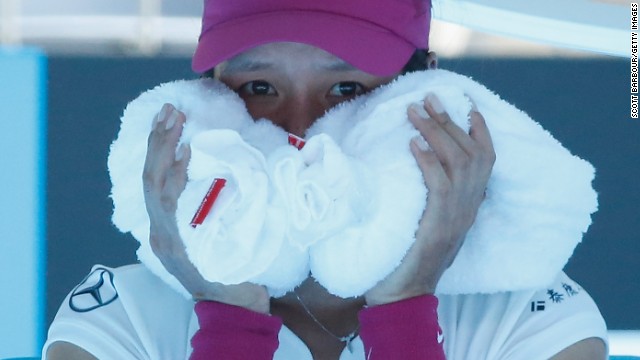 Australian Open hots up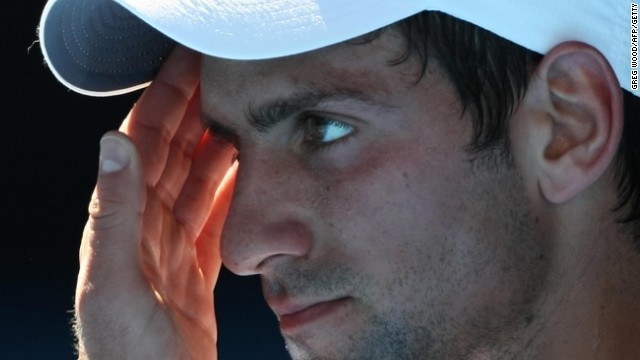 Novak Djokovic contemplates his fate ahead of his retirement with heat exhaustion in a quarterfinal match against Andy Roddick at the Australian Open in 2009.
Djokovic used ice-soaked towels in an attempt to cool down in the searing afternoon temperatures in Melbourne.
Spectators wear towels to beat the heat as Tatsuma Ito of Japan played Nicolas Mahut of France on the fourth day of the 2012 tournament in Melbourne.
Maria Sharapova described conditions as "inhuman" after her infamous 2007 encounter at Melbourne Park with France's Camille Pin.
Spectators during the 2009 tournament use a time-honored fashion to cool themselves down in the blazing heat.
Andy Murray tries to acclimatize himself to the searing conditions during the hottest championship on record in 2009 at Melbourne Park.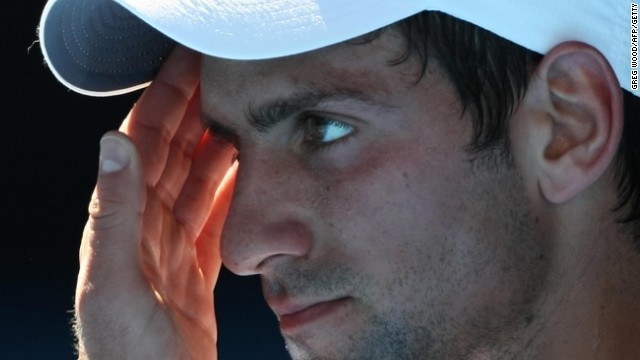 Feeling the heat: Australian Open fears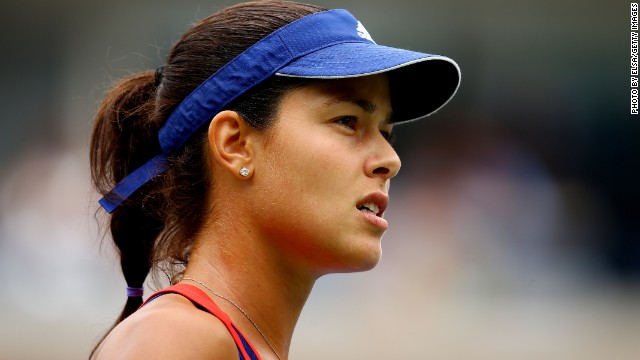 Ana Ivanovic is at a major crossroads in her career, heading into the new season with hopes of breaking back into the world top 10 for the first time since May 2009 after an injury-plagued few years.
At the age of 17 she stormed to the quarterfinals of the 2005 French Open, knocking out third seed Amelie Mauresmo in the process.
Three years later, the Serbian clinched her maiden grand slam with a win at the French Open in 2008 and was the world No. 1 for the first time in her career.
The 26-year-old has hired and fired a number of different coaches over the years, including former head of English women's tennis Nigel Sears, who she split with in July 2013 after crashing out in the second round at Wimbledon.
She slid as low as 65th in the rankings in July 2010 after a series of injuries, and has not reached the final four of a grand slam since her French Open win in 2008.
While her on-court success has plummeted, Ivanovic's financial fortunes appear more resilient. Forbes rated her as the ninth highest-paid female athlete in 2013 with total earnings of $7 million -- largely thanks to lucrative sponsorship deals.
Ivanovic has had a string of high-profile boyfriends to help distract her, including Masters-winning golfer Adam Scott (left) and Spanish tennis player Fernando Verdasco.
Ivanovic became a UNICEF National Ambassador for Serbia in September 2007. She has also appeared on the cover of magazines around the world such as FHM, Grazia, Vanity Fair and Cosmopolitan.
Ivanovic kicked off 2014 in style by winning the WTA even in Auckland, New Zealand, beating fellow former world No. 1 Venus Williams in the final to claim the 12th title of her career.
Ivanovic will take her bid for a second grand slam title to the Australian Open, where she was runner-up in 2008 and lost in the fourth round the last two years.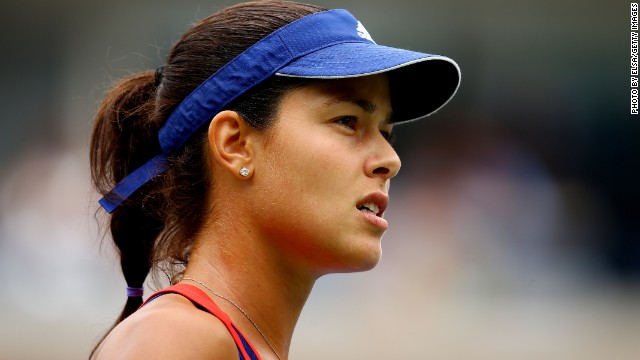 The rise and fall and rise of Ana Ivanovic
"I like him, I like his songs, I think he has a lot of talent," 19-year-old Bouchard told CNN. "For sure he's doing some crazy teenage things, but I think he's really cool."
Bouchard, making her debut in the Australian Open main draw, is the first Canadian since Carling Bassett-Seguso at the 1984 U.S. Open to reach the last four of a grand slam. No Canadian has ever reached a grand slam final.
"I'm proud to make some kind of history," added Bouchard, who is seeded 30th in Melbourne. "That's really cool.
"If it improves the popularity of the sport back home and if little kids, little girls want to play the sport because of me, that's an honor."
Blog: Five future tennis stars to watch
Before Bouchard can turn her attentions to Bieber, she has a semifinal with last year's beaten finalist Li Na to contend with.
The fourth seed was in complete control as she brushed aside Italy's Flavia Pennetta 6-2 6-2.
"I prepared at least one and a half days for this match," the 2011 French Open champion told reporters.
"I knew she was going to be a tough opponent -- I had played her four times before, and every time was tough.
"But I don't really know what happened today. I just played really well. I just prepared really well before I came to the court.
"I'm really happy. Everyone wants to win a grand slam, but you have to be in the semis first, right?"
Read: Cant stand the heat? Try Bikram yoga