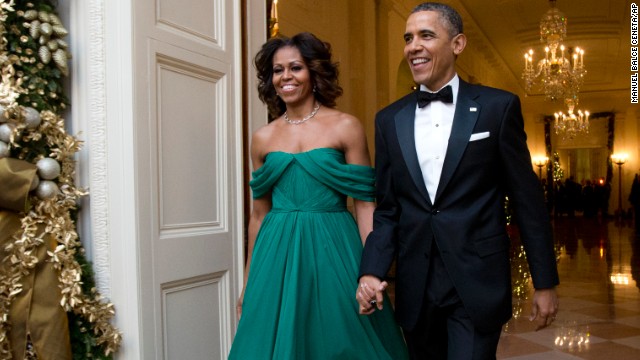 First lady Michelle Obama, who turns 50 on Friday, January 17, catches the American public's attention whenever she sports a new look.
explained the decision
to Parade magazine in August: "You know, it's hard to make speeches with hair in your face!"
People took notice when Obama decided to ditch her bangs last year. She
For the Inauguration Night balls in 2013, Obama wore a ruby-colored chiffon and velvet gown by Jason Wu, the same designer who made her 2009 inaugural dress. Known for her continuous support of emerging designers, the first lady essentially made the Taiwanese-born designer a household name in 2009 by wearing his dress.
For Inauguration Day, the first lady mixed "high" and "low" fashion with a belt from J. Crew, coat and dress by Thom Browne, Reed Krakoff boots and necklace by Cathy Waterman, the White House said. After the festivities, the outfit and accompanying accessories were to go to the National Archives.
tweeted images of the first lady
with new bangs. Here she meets with inaugural "citizen" co-chairman David Hall.
On her 49th birthday in 2013, Obama's office
The public's obsession with Obama's sartorial choices began with the Narciso Rodriguez sheath she wore when her family took the stage at Chicago's Grant Park after her husband's victory in the 2008 presidential election. Some lauded the choice as an eye-catching statement; others called it an eyesore.
Cuban-American designer Isabel Toledo
that the first lady wore to her husband's swearing-in on January 20, 2009.
Public opinion was equally divided on the lemongrass shift by
Greater public consensus surrounded the ball gown Obama wore on inauguration night in 2009. The dress put designer Jason Wu on the map and solidified the first lady's reputation as having a keen eye for emerging talent.
Obama has worn
this Target dress
on multiple occasions since being photographed in it as she stepped off Air Force One with daughter Sasha on August 15, 2009, according to style blog Mrs. O.
wearing the same Jason Wu dress
, according to style blog Mrs. O.
Obama transitioned from a daytime meeting with Mexico's first lady to an awards ceremony on February 25, 2010,
At the annual Clinton Global Initiative in September 2010, the first lady played up her passion for prints with a Moschino Cheap & Chic multipatterned chemise that featured hothouse flowers on top and a digital print on the bottom, fashion consultant Mikki Taylor noted.
Obama highlighted the talents of Indian-born American designer Naeem Khan in this scarlet hued gown with matte crushed sequins and abstract wind-blown roses on scarlet tulle at the 2010 Kennedy Center Honors, according to Taylor.
The first lady made an entrance at the 2011 Medal of Honor ceremony in a brocade dress by Barbara Tfank that she has worn on multiple occasions since, including a recent appearance on the "Today" show, Taylor said.
The first lady worked her signature elegance at the Congressional Black Caucus' Annual Phoenix Awards in 2011, pairing a floor length, double-face paillette fishtail skirt by Michael Kors with a black top and a Peter Soronen corset belt, Taylor said.
The first lady wore a Vera Wang gown to the Kennedy Center Honors at the Kennedy Center in Washington on December 4, 2011.
For lunch with Parklawn Elementary School students in Alexandria, Virginia, Obama wore an argyle sweater from J. Crew, Taylor said. The sweater has made multiple appearances since her January 2012 visit to talk about the USDA's new nutrition standards for school lunches.
Obama showed her right to bare arms in a Zac Posen sheath at a state dinner in honor of British Prime Minister David Cameron on March 14, 2012, at the White House.
Obama wore another gown by Indian-American designer Naeem Khan at the White House Correspondents Dinner in April 2012 in Washington, Taylor noted.
The first lady worked the crowd at the 2012 Democratic National Convention in Charlotte, North Carolina, in a Tracy Reese sheath with pink suede pumps by J.Crew, according to Taylor.
At the final 2012 presidential debate in Boca Raton, Florida, Obama donned the same Thom Browne fog gray dress with black lace overlay that she wore at the DNC, reworked this time with a black belt and a stone brooch, Taylor noted.
Obama greeted the audience at the Kennedy Center Honors in December in a striking gold lame gown by Michael Kors, according to Taylor.
Michelle Obama's evolving style
Michelle Obama's evolving style
Michelle Obama's evolving style
Michelle Obama's evolving style
Michelle Obama's evolving style
Michelle Obama's evolving style
Michelle Obama's evolving style
Michelle Obama's evolving style
Michelle Obama's evolving style
Michelle Obama's evolving style
Michelle Obama's evolving style
Michelle Obama's evolving style
Michelle Obama's evolving style
Michelle Obama's evolving style
Michelle Obama's evolving style
Michelle Obama's evolving style
Michelle Obama's evolving style
Michelle Obama's evolving style
Michelle Obama's evolving style
Michelle Obama's evolving style
Michelle Obama's evolving style
Michelle Obama's evolving style
Michelle Obama's evolving style