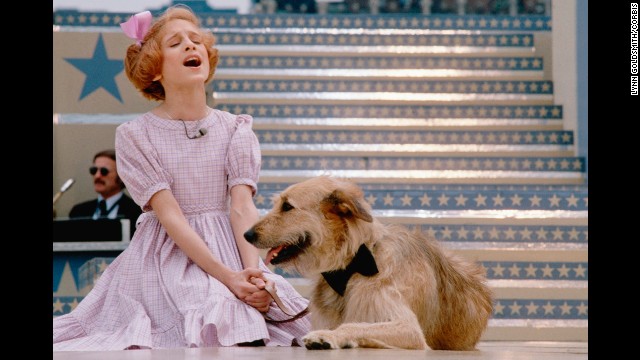 She might be best known as Carrie Bradshaw from the HBO hit "Sex in the City," but Sarah Jessica Parker's acting credits include a stint in the lead role of "Annie" on Broadway in the 1980s. She revisited her days as the red-haired orphan in a guest appearance on Fox's "Glee," where she performed a mash-up of the classic tune "You're Never Fully Dressed Without a Smile" and "The Way You Look Tonight."
Lea Michele debuted on Broadway in 1995, when she played Young Cosette in "Les Miserables." She went on to appear in "Ragtime," "Fiddler on the Roof" and "Spring Awakening" on Broadway before landing the role of Rachel Berry on the Fox show "Glee."
Kristen Bell made her Broadway debut in 2001 as Becky Thatcher in "The Adventures of Tom Sawyer." She went on to land various film and television roles, including the title role of "Veronica Mars" and supporting roles in "Heroes," "Couples Retreat" and "Forgetting Sarah Marshall."
Anna Kendrick was 12 when she won the role of Dinah Lord in the Broadway musical "High Society." Since then, she's appeared in the "Twilight" films, "Pitch Perfect" and "Up in the Air," for which she was nominated for an Academy Award for best supporting actress.
Before assuming the famous role of Ferris Bueller, Matthew Broderick, right, began his acting career onstage. He won a Tony award in 1983 for playing Eugene Jerome in Neil Simon's "Brighton Beach Memoirs." He won his next Tony in 1995 for "How to Succeed in Business Without Really Trying," in which he starred alongside Megan Mullally, left, and Victoria Clark.
Liza Minnelli and Christopher Walken appeared in the off-Broadway musical "Best Foot Forward" in 1963. Minnelli later won a leading actress Tony for her role in "Flora the Red Menace" at age 19, and went on to a career in music and film that also earned her an Emmy, Grammy and Academy Award. Walken found more success in Hollywood, including a 1978 Academy Award for best supporting actor for "The Deer Hunter."
She's the recipient of an Oscar, Tony, Emmy, Grammy, Directors Guild of America award, Golden Globe, Peabody award and a National Medal of Arts. There's pretty much no artist award that Barbra Streisand hasn't won. She also received the New York Drama Critics Award and a Tony nomination for her very first Broadway appearance, in 1968's "I Can Get It For You Wholesale."
From "Follies" and "Annie Get Your Gun" to "Gypsy," Bernadette Peters has starred in some of Broadway's biggest hits in recent decades. She made her debut on the Great White Way in 1967, when she was not yet 20 years old, in "The Girl with the Freudian Slip."
Actors Montgomery Clift and Elisabeth Fraser, both born in 1920, starred in the 1941 Pulitzer Prize-winning drama "There Shall Be No Night." Later, Clift's Hollywood acting career garnered four Academy Award nominations, while Fraser went on to a career in film and TV.
Stars who started out on stage
Stars who started out on stage
Stars who started out on stage
Stars who started out on stage
Stars who started out on stage
Stars who started out on stage
Stars who started out on stage
Stars who started out on stage
Stars who started out on stage
STORY HIGHLIGHTS
Tim Federle's "Five, Six, Seven, Nate!" picks up where "Better Nate Than Ever" left off
Nate Foster's Broadway dreams are starting to come true, but it's no cakewalk
The book's message is to embrace whatever makes you unique, Federle says
(CNN) -- Author Tim Federle believes that everyone has a little bit of Nate Foster in them. Even if you're not a gay theater nerd with dreams of stardom, Federle thinks everyone has felt like an outsider at some point.
He may be onto something with his Nate Foster novels, about the semi-autobiographical teen character who chases Broadway dreams to New York for an open casting call in "E.T: The Musical." Federle's 2013 debut middle-grade novel, "Better Nate Than Ever," struck a chord with critics and readers and was named one of 2013's notable children's books by the New York Times and Publishers Weekly. Its sequel "Five, Six, Seven, Nate!" comes out Tuesday and was listed among the best books of January by Amazon.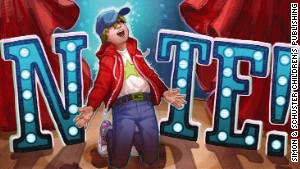 "Fix, Six, Seven, Nate!" was released January 21, 2014.
"Five, Six, Seven, Nate!" picks up where the first book left off. Federle, who was a Broadway dancer and choreographer, takes readers further backstage with Nate as his Broadway dreams begin to come true, but he has to do some growing up along the way. Federle says his aim was to write a novel he would have loved when he was younger and feeling left out.
The real message isn't about Nate's love of Broadway or his sexuality, Federle says, but about embracing whatever makes you unique.
Fast facts
Age: 33
Hometown: Pittsburgh
Other titles: "Better Nate Than Ever" and "Tequila Mockingbird," a literary cocktail guide voted the top food and cookbook of 2013 on Goodreads.
Fun facts: Federle appeared in the original Broadway casts of "The Little Mermaid" and "Gypsy" before coaching the child stars of the show "Billy Elliot."
For fans of: Broadway musicals and TV shows like "Glee," "Smash" and "Dance Moms."
Five questions for Tim Federle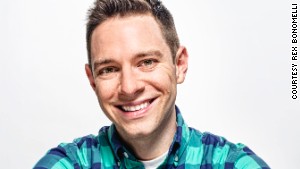 CNN: What's happening with Nate in your new novel?
Federle: "Five, Six, Seven, Nate!" opens on my 13-year-old protagonist packing up a duffel bag and bidding his Midwestern town goodbye, heading off to start rehearsals for his New York City debut in "E.T.: The Musical." The book is an insider look at what happens when a big-budget Broadway show comes together (and occasionally apart), as seen through the eyes of a diehard theater nerd who just happens to also be a chocolate milk aficionado. Think: "Smash" with zits.
CNN: How was writing the sequel different from your first book?
Federle: I wrote "Better Nate Than Ever" in total secret while working on the show "Billy Elliot." Once the book came out and started getting a lot of unexpected attention, I felt like the "Velveteen Writer" -- like a bit of a faker who was suddenly turned real. So the biggest difference in writing a sequel is that now there are expectations. But also, and this is the awesome part, now there are fans, too!
Don't miss out on the conversation we're having at CNN Living.
Follow us on Twitter
and
Facebook
for the latest stories and tell us what's influencing your life.
CNN: Since "Better Nate Than Ever," has the message changed or evolved in your new book?
Federle: The books are highly autobiographical, and I learned as a dancer that even when you get cast in a dream show, there are still setbacks and surprises (and critics). For Nate, he's finally part of a tribe of people who truly "get" him in "Five, Six, Seven, Nate!" but now he's dealing with cutthroat child stars and the nervous clamor of a brand-new town. If the message between books has evolved at all, it's probably: "Hold on to what makes you unique, but get ready to grow up a little, too."
CNN: You've said before kids can be your toughest critics. What have you heard from them?
Federle: I've received quite a few all-capped emails YELLING AT ME FOR ENDING THE FIRST BOOK ON SUCH A CLIFFHANGER!!!!! Also, several kids named Nate have written to say it's "cool or whatever" to have their name in the title of a book.
CNN: Nate's sexuality is important to the story but not the focus of your book. How did you decide to handle that and what kind of reaction have you received?
Federle: You can't tell the story of a 13-year-old boy who knows every lyric to "Phantom of the Opera" without also referencing how much teasing he gets at school. Believe me, I remember. Middle school readers can handle a lot of truth, especially when it's broached delicately, so the response to Nate's subtle maybe-he-is-maybe-he-isn't-gay subplot has been overwhelmingly positive -- with librarians and parents cheering on Nate's goofy perseverance in spite of how hard it can be just being a kid. I think every adult I know felt like an outsider in middle school, and these books are for anyone who might be going through that now and could use a laugh.