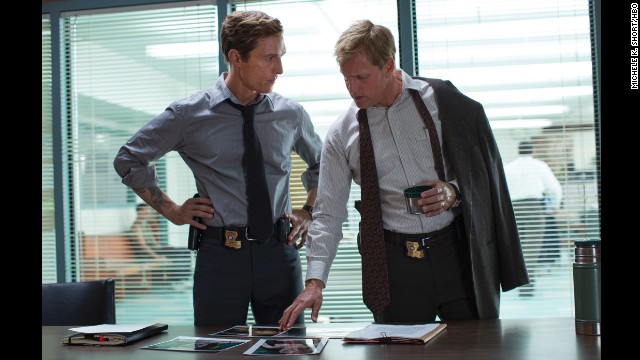 "True Detective":
Scenes of violence are routine in prime-time TV now, especially with the resurgence of crime and horror series such as "True Detective," which had its first season finale on Sunday, March 9. The show stars Matthew McConaughey and Woody Harrelson as a pair of investigators uncovering grisly murders.
"Justified": The critically acclaimed modern-day Western about lawman Raylan Givens features shootings as a regular occurrence -- in true Western style, nevertheless.
"Hannibal": This TV prequel to the films and books about cannibalistic serial killer Dr. Hannibal Lecter has violence and gore as an obvious part of the equation. Critics have said that the gruesome scenes are almost artistic and that witnessing so much brutality takes a toll. (Producers pulled an episode for being too dark after the Sandy Hook Elementary School shooting in Newtown, Connecticut.)
"Chicago PD": This series from "Law & Order" creator Dick Wolf made it clear from the start that it would not hold back, with a beheading early in the very first episode.
"Game of Thrones": The blood flows freely on this popular series, especially during the shocking "Red Wedding" scene.
"The Following": Just before its second season premiered, producers said the show's violence has been toned down.
"Top of the Lake": This show, though quite violent, has been widely praised as a commentary on rape culture.
"The Killing": Netflix picked up a fourth season of this series, which only seemed to get darker and more violent as it went on while it was on AMC.
"American Horror Story": The horror isn't all psychological here (though there is plenty of that). A shocking throat-slitting scene was among the violent moments in the third season, "Coven."
"The Walking Dead": It probably should not come as a surprise that the most popular scripted series on TV is also among the most violent.
"Broadchurch": Critics liked this British series, about a child murder, more than most other recent crime shows.
Violence on television
Violence on television
Violence on television
Violence on television
Violence on television
Violence on television
Violence on television
Violence on television
Violence on television
Violence on television
Violence on television
STORY HIGHLIGHTS
Critics debating violence on new TV shows
Recent study brought issue to fore
Some have been criticized for wallowing in violence too much
(CNN) -- A man is found decapitated, and a boy is found cowering in a nearby closet.
A prostitute's dead body is discovered painted, with branches and antlers on her head.
Another man is beaten to death, just in time for his wife to discover the body and the murderer himself.
These are not true crime stories, but the kind of scenes that appear on a regular basis on television now (more specifically the premiere episodes of "Chicago PD," "True Detective" and the season premiere of "Justified," all within the past two weeks).
The issue of violence on TV has been stirring buzz due in part to the recent release of a study by the Parents Television Council which stated that "some of the most violent TV-14-rated shows on broadcast TV have similar levels and types of violence as TV-MA-rated cable TV shows."
Whether such violence is for shock value or just part of good storytelling depends on who you ask.
"Justified," a critical darling, lost one longtime fan in TV critic Willa Paskin. Last year on Salon.com, she said the show -- a modern-day Western in which characters are shot on a routine basis -- had a "flip" approach to violence.
"I was bothered by how casually 'Justified' wracked up a body count, even though I know 'Justified's' willingness to do violence in funny and casual ways reflects what's great and different about the series," she said.
Fox's "The Following" was criticized by some last season for dwelling on violence (one critic called it "numb to violence"), and just before its second season premiere on Sunday, producers said they were pulling back on the violence.
"This year it's a different show. It's a different story," creator Kevin Williamson told reporters at the Television Critics Association press tour last week.
Williamson said the premiere was bloody, but now that he's shot 11 episodes, he sees it as less violent.
On the other hand, NBC's reboot of "Hannibal" has earned praise for its portrayal of violence -- in which a cannibalistic serial killer turns his victims into "works of art" when they're not on the menu.
The series' main character, criminal profiler Will Graham, starts to lose his grip on reality as the first season progresses, becoming more and more traumatized by the horrors he witnesses. Quite a difference from the TV detective who's seen it all and rarely flinches.
"He's able to lose himself in the story implied by the evidence, and as the show's progressed, he's become more and more worried he can't get back out," said TV critic Alison Willmore on Indiewire.com
One of critics' favorite shows of 2013, "Top of the Lake" also deals in extreme violence.
"From the get-go it dedicates itself to something other than the ordinary Missing White Girl story that these sorts of shows traffic in," said Michelle Dean in The Nation, one of several critics to note that the show is also a commentary on rape culture.
Even so, Andy Greenwald pointed out on Grantland.com how stressful such violence can be for viewers in an essay he wrote last year on TV violence.
"Some of this carnage is artistic and some of it is gratuitous, but eventually all of it takes a toll," he said. "A simple evening unwinding on the couch can now be as relaxing as an autopsy; the spots dancing in front of your eyes after a DVR binge are stained red and they're spreading."