South Africa marks worst year in rhino killings as demand for horn soars in Asia
updated 8:41 AM EST, Sat January 18, 2014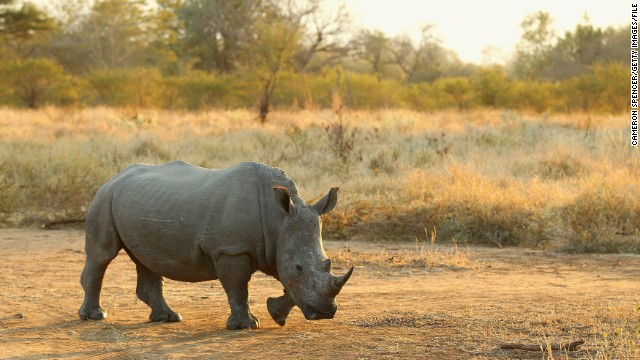 Rhinos have been under attack in recent years by rampant poaching. Highly equipped criminal syndicates target their horns, which are highly coveted in southeast Asia for their supposed healing powers.
Poaching rates have soared recently in South Africa, home to about 75% of the world's rhinos. Rhino horns are being sold for a top dollar in parts of southeast Asia, where they are believed to cure all kinds of conditions.
To deal with the crisis, South Africa requested permission to launch a once-off legal sale of its stockpiled rhino horn in the hope of quelling poaching.
A rhino horn and ivory chopsticks and bracelets are all on display at Hong Kong's Customs and Excise Department offices on November 15, 2011, after authorities seized a container shipped from South Africa.
Rhinos under attack
Rhinos under attack
Rhinos under attack
Rhinos under attack
STORY HIGHLIGHTS
Poachers killed more than 1,000 rhinos for their horns last year in South Africa
Numbers released as U.S. man faces death threats over permit to kill rhino
In Asia, some believe the horn can cure diseases, fueling rhinos' slaughter
A kilogram fetches about $20,000, experts say
(CNN) -- Last week, a hunter stunned the world by paying $350,000 to kill a black rhino. The deal went went viral and brought death threats against the hunter.
And that was just people trying to protect one endangered rhino. Imagine more than 1,000.
That is how many poachers in South Africa killed last year, authorities said, a harrowing record for the nation with the world's largest population of the animals.
As demand for the horn soars in China and Vietnam, so does the number of rhinos slaughtered.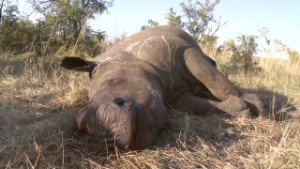 Trying to save South Africa's rhinos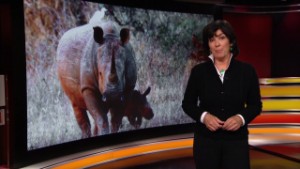 Losing the war on Mother Nature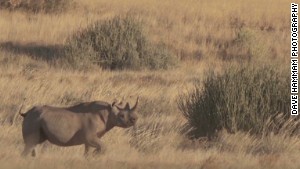 Should rhino hunter be hunted?
In Asia, some believe the horn can cure ills such as cancer, diabetes and hangovers.
The 2013 record in South Africa is almost double the year before.
Last year, 1,004 rhinos were illegally killed in the nation compared with 668 the previous year, the environmental affairs ministry said in a statement. Most of the poaching occurred in Kruger National Park.
South Africa is home to both white and black rhinos. Conservation group Save the Rhino estimates there are 25,000 African rhinos left worldwide, a majority of them in in the nation.
The black rhino is critically endangered, and conservationists are fiercely protective of it.
Hunter Corey Knowlton is the U.S. hunter who's now become the hunted. Last week, he paid $350,000 at the Dallas Safari Club's auction for a permit to hunt a black rhino in the southern African nation of Namibia.
Even though he said the money would go toward conservation, death threats against him escalated, forcing him to get extra security.
Knowlton stepped into a passionate debate.
Organized crime syndicates are using military-grade helicopters, night-vision equipment and guns fitted with silencers, taking rhino poaching to a whole new level and leaving conservationists struggling to keep up.
Kenya and South Africa have invested in unmanned drones, sniffer dogs and increased security. Despite stepped up efforts, they have failed to halt the rising tide of rhino slaughter.
Experts say the rhino horn is becoming more lucrative than drugs.
A kilogram fetches about $20,000 -- with a single horn weighing about 10 kilograms (22 pounds).