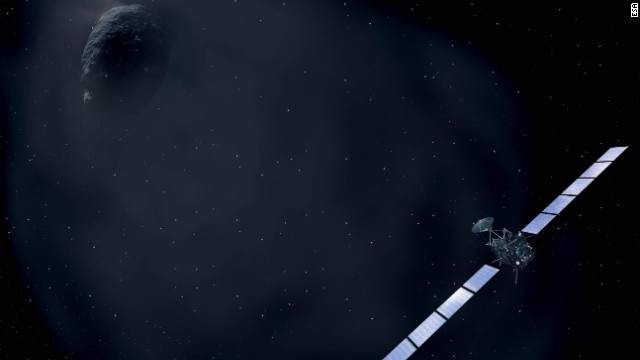 The spacecraft Rosetta was launched by the European Space Agency on March 2, 2004, for a 10-year mission to catch comet 67P/Churyumov-Gerasimenko. After taking pictures of Earth, Mars and asteroids, Rosetta was put into hibernation in May 2011 after it reached the outer part of the solar system. Mission managers will wake it up on January 20.
Rosetta will be the first spacecraft to deploy a robot for a soft landing on a comet. It also will be the first probe to escort a comet into our inner solar system. This drawing shows how Rosetta will drop its robotic lander, Philae, onto the comet.
Rosetta is named after the Rosetta Stone, the black basalt that provided the key to deciphering Egyptian hieroglyphs. Scientists hope the mission will give them new clues about the origins of the solar system and life on Earth. The mission is spearheaded by the European Space Agency with key support from NASA.
Traveling through space can be bumpy. Workers put Rosetta through vibration tests before wrapping it in thermal blankets before its launch.
Rosetta's solar wings are unfurled and checked out at the European Space Agency's test facilities.
A European Ariane 5 rocket, carrying Rosetta, lifts off from Kourou, French Guiana, on March 2, 2004.
Rosetta snapped this image of Earth in November 2009. The spacecraft was 393,328 miles from Earth.
After its closest approach to Earth in November 2007, Rosetta captured this image.
Rosetta took this image of Mars as it looped through the solar system.
This image was taken by an instrument on Rosetta's Philae lander just minutes before the spacecraft made its closest approach to Mars. Part of Rosetta and its solar arrays are visible.
Rosetta passed asteroid Steins in September 2008, giving scientists amazing close-ups of the asteroid's huge crater. The asteroid is about 3 miles in diameter.
On July 10, 2010, Rosetta flew about 1,864 feet from asteroid Lutetia, which is 10 times larger than asteroid Steins.
Look closely at the top of this picture. See that dot? That's Saturn. Rosetta snapped the picture of asteroid Lutetia and captured Saturn in the background.
On January 20, Rosetta will wake up, fire its engine and chase after comet 67P/Churyumov Gerasimenko as it hurtles by. This drawing shows how Rosetta will orbit the comet.
A drawing of the comet's nucleus. The nucleus, or rocky part of the comet, is thought to be about 2.5 miles miles wide.
Rosetta will release its robot lander Philae for a soft landing on the comet in November. It will fire harpoons to anchor itself to the comet. Scientists expect the lander to send back data to Earth for at least a week and possibly for many months as the comet heads toward the sun.
Rosetta: The comet chaser
Rosetta: The comet chaser
Rosetta: The comet chaser
Rosetta: The comet chaser
Rosetta: The comet chaser
Rosetta: The comet chaser
Rosetta: The comet chaser
Rosetta: The comet chaser
Rosetta: The comet chaser
Rosetta: The comet chaser
Rosetta: The comet chaser
Rosetta: The comet chaser
Rosetta: The comet chaser
Rosetta: The comet chaser
Rosetta: The comet chaser
Rosetta: The comet chaser