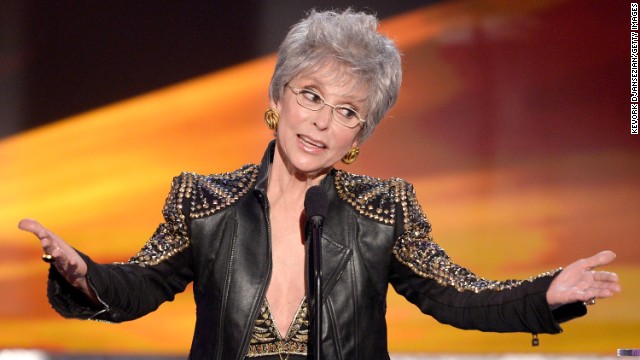 For the past 50 years, the Screen Actors Guild has bestowed an award for "outstanding achievement in fostering the finest ideals of the acting profession." On January 16 at the 2014 SAG Awards, Rita Moreno was presented with the coveted life achievement award. See which other stars have received the honor.
Dick Van Dyke received the 49th annual SAG Life Achievement Award for 2012.
Mary Tyler Moore (2011)
Ernest Borgnine (2010)
Betty White (2009)
James Earl Jones (2008), at right with Forest Whitaker
Charles Durning (2007), at right with Burt Reynolds
Julie Andrews (2006)
Shirley Temple Black (2005)
James Garner (2004)
Karl Malden (2003)
Clint Eastwood (2002)
Ed Asner (2001)
Ossie Davis and Ruby Dee (2000)
Sidney Poitier (1999)
Kirk Douglas (1998)
Elizabeth Taylor received the 1997 award. Onstage, Gregory Peck (with Lauren Bacall) read a letter from Taylor, who was recovering from a fall and unable to attend the event.
Angela Lansbury (1996)
Robert Redford (1995)
George Burns (1994), with Ann-Margret.
Ricardo Montalban (1993)
Audrey Hepburn (1992)
Burt Lancaster (1991)
Brock Peters (pictured in 1986) received the award for 1990.
Jack Lemmon (1989)
Gene Kelly (pictured in 1989) received the award for 1988.
Red Skelton (1987)
Nanette Fabray (1986)
Paul Newman and Joanne Woodward (1985)
Ignatius "Iggie" Wolfington (center, 1984)
Ralph Bellamy (pictured in 1985) received the award for 1983.
Danny Kaye (1982), with Jane Fonda
Leon Ames (pictured in 1970) received the award for 1980.
Katharine Hepburn (pictured in 1978) received the award for 1979.
Edgar Bergen (1978), with daughter Candice Bergen and ventriloquist dummy Charlie McCarthy.
James Cagney (pictured in 1980) received the award for 1977.
Pearl Bailey (1976)
Rosalind Russell (1975)
Walter Pidgeon (1974)
Martha Raye (1973), at right with Betty Grable.
Frank Sinatra (pictured in 1971) received the award for 1972.
Charlton Heston (pictured circa 1972) received the award for 1971.
Gregory Peck (1970)
Edward G. Robinson (pictured in 1968) received the award for 1969.
James Stewart (pictured circa 1990) received the award for 1968.
William Gargan (1967)
Barbara Stanwyck (1966)
Bob Hope (1965)
Stan Laurel (1963)
Eddie Cantor (pictured in 1956) received the first SAG Life Achievement Award, for 1962.
50 years of SAG Life Achievement Awards
50 years of SAG Life Achievement Awards
50 years of SAG Life Achievement Awards
50 years of SAG Life Achievement Awards
50 years of SAG Life Achievement Awards
50 years of SAG Life Achievement Awards
50 years of SAG Life Achievement Awards
50 years of SAG Life Achievement Awards
50 years of SAG Life Achievement Awards
50 years of SAG Life Achievement Awards
50 years of SAG Life Achievement Awards
50 years of SAG Life Achievement Awards
50 years of SAG Life Achievement Awards
50 years of SAG Life Achievement Awards
50 years of SAG Life Achievement Awards
50 years of SAG Life Achievement Awards
50 years of SAG Life Achievement Awards
50 years of SAG Life Achievement Awards
50 years of SAG Life Achievement Awards
50 years of SAG Life Achievement Awards
50 years of SAG Life Achievement Awards
50 years of SAG Life Achievement Awards
50 years of SAG Life Achievement Awards
50 years of SAG Life Achievement Awards
50 years of SAG Life Achievement Awards
50 years of SAG Life Achievement Awards
50 years of SAG Life Achievement Awards
50 years of SAG Life Achievement Awards
50 years of SAG Life Achievement Awards
50 years of SAG life achievement awards
50 years of SAG Life Achievement Awards
50 years of SAG Life Achievement Awards
50 years of SAG Life Achievement Awards
50 years of SAG Life Achievement Awards
50 years of SAG Life Achievement Awards
50 years of SAG Life Achievement Awards
50 years of SAG Life Achievement Awards
50 years of SAG Life Achievement Awards
50 years of SAG Life Achievement Awards
50 years of SAG Life Achievement Awards
50 years of SAG Life Achievement Awards
50 years of SAG Life Achievement Awards
50 years of SAG Life Achievement Awards
50 years of SAG Life Achievement Awards
50 years of SAG Life Achievement Awards
50 years of SAG Life Achievement Awards
50 years of SAG Life Achievement Awards
50 years of SAG Life Achievement Awards
50 years of SAG Life Achievement Awards
50 years of SAG Life Achievement Awards