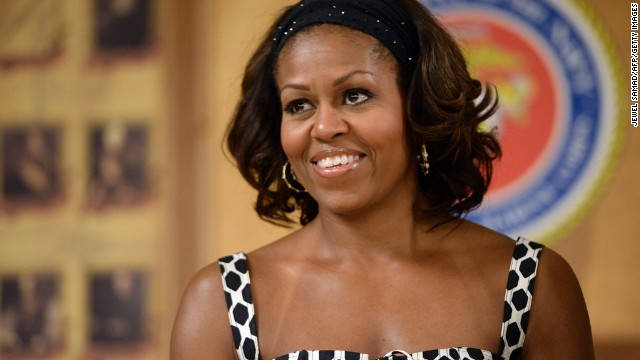 First lady Michelle Obama, who turns 50 this year, has accomplished in a half-century what takes many people a lifetime: She earned degrees from Princeton and Harvard Law and went on to work for a Chicago law firm, where she met her future husband, President Barack Obama. She later entered academia and public service. Obama, who will celebrate her birthday January 17, grew up on the South Side of Chicago the daughter of a homemaker and a utility worker. Click through the gallery for facts on other notable women turning 50 in 2014.
Actor Courteney Cox became a friendly face in Hollywood thanks to her portrayal of Monica Geller on NBC's hit sitcom "Friends." Cox's TBS series "Cougar Town," which she stars in and produces, focuses on ladies over 40 in the dating game. Cox will turn 50 on June 15.
Basketball hall-of-famer Cheryl Miller is a 6-foot-3 former forward who garnered NCAA scoring records at the University of Southern California. Miller led the U.S. women's team to a gold medal at the 1984 Olympics and went on to coach at her alma mater. She offers commentary and sideline reporting for the NBA. Miller was born on January 3, 1964, and her brothers are former NBA star Reggie Miller (pictured) and former major league catcher Darrell Miller.
Media personality and politician Sarah Palin became the first female and youngest governor of Alaska in 2006. Republican presidential candidate Sen. John McCain selected Palin to serve as his vice-presidential running mate in 2008. Born February 11, 1964, in Sandpoint, Idaho, Palin was a standout on her high school's championship women's basketball team in Wasilla, Alaska. She went on to study journalism at the University of Idaho.
Actor Mariska Hargitay plays New York Police Detective Olivia Benson on NBC's "Law & Order: Special Victims Unit." Hargitay was born to actor Jayne Mansfield and onetime Mr. Universe Mickey Hargitay on January 23, 1964, and is the founder of Joyful Heart Foundation, an organization that supports women who have experienced sexual abuse or domestic violence.
Television journalist Hoda Kotb co-anchors the fourth hour of the "Today" show along with Kathy Lee Gifford. Kotb is a breast cancer survivor and author of the book "Hoda: How I Survived War Zones, Bad Hair, Cancer and Kathie Lee." She was born in Norman, Oklahoma, on August 9, 1964, to Egyptian-American parents and has reported on a range of topics, from Hurricane Katrina to the war in Iraq.
U.S. Rep. Renee Ellmers was elected in 2010 to represent North Carolina's 2nd district. She sits on the Energy and Commerce Committee, focusing on health care, oversight, and communications and technology. She is also chairwoman of the Republican Women's Policy Committee, a caucus comprised of all 19 female Republican members of the U.S. House of Representatives. Her birthday is February 9.
Emmy Award-winning television writer, comedian and actor Wanda Sykes is known for her witty and biting stage work. Born in Portsmouth, Virginia, on March 7, 1964, Sykes worked at the National Security Agency after college. She became the first African-American woman and openly gay entertainer to headline the White House Correspondents' Association dinner.
Model Elle Macpherson rose to fame in the 1980s with commercials and magazine spreads, including appearances in the Sports Illustrated Swimsuit Issue and many issues of Elle. Recently, she was the host of NBC's "Fashion Star," and has worked to raise awareness of many causes, including AIDS and the children of alcoholics. Macpherson was born March 29, 1964, in Australia.
Melinda Gates earned a degree in computer science and worked as a project manager at Microsoft before she married the company's founder, Bill Gates, in 1994. She is a mother of three and philanthropist who aims to improve health care, reduce poverty and expand access to information technology through the Bill & Melinda Gates Foundation. She was born in Dallas on August 15, 1964.
Gigi Fernandez was born in San Juan, Puerto Rico, on February 22, 1964, and began playing the tennis at age 3. She went on to win 17 Grand Slam doubles titles and was inducted into the International Tennis Hall of Fame in 2010. She is now director of a Connecticut tennis program, as well as a mother of twins. (Here she is pictured with Chef Marc Anthony Bynum at the pre-U.S. Open BNP Paribas Taste of Tennis in New York in 2011.)
Also known as the Striking Viking, Ewa Mataya Laurance is a professional pool player who has won titles worldwide. She fell in love with pocket billiards in her hometown of Gavle, Sweden, after following her older brother into local billiard room. She moved to the United States to pursue her dream when she was 17, earning consecutive spots on the Women's Professional Tour. Though she continues to play billiards, she has also taken up golf, participating in charity events around the United States. She turns 50 on February 26.
Singer Wynonna Judd rose to country music fame alongside her mother, Naomi, as part of the duo The Judds, and continued as a solo success with songs like "She is His Only Need" and "I Saw the Light." The Kentucky native was born May 30, 1964, and was a contestant on "Dancing with the Stars" in 2013.
Actor Bridget Fonda made her film debut at age 5 in "Easy Rider," and appeared in films such as "Single White Female," "Singles," "A Simple Plan" and "Jackie Brown." Born January 27, 1964, she's the granddaughter of Henry Fonda, daughter of Peter Fonda and niece of Jane Fonda. She is married to composer Danny Elfman.
Eva Moskowitz is the founder and CEO of the Success Academy Charter Schools, which serve primarily high-risk, low-income inner city kids in New York City. She also is a former city councilwoman. Moskowitz was born on March 4, 1964, and grew up in the New York City school system, an experience that planted the seed to reform the city's education.
Singer-songwriter Tracy Chapman is a four-time Grammy winning artist, known for songs such as "Fast Car," "Give Me One Reason" and "Telling Stories." The Cleveland-born Tufts University graduate was born March 30, 1964.
Justice Annette Kingsland Ziegler, who serves on the Wisconsin Supreme Court, turns 50 on March 6, 2014. Prior to being elected a judge the State Supreme Court, Ziegler served on the Washington County Circuit Court and worked as a federal prosecutor.
Actor Juliette Binoche won an Academy Award for best supporting actress for "The English Patient" in 1996 and was nominated for best actress for "Chocolat" in 2000. Binoche has long alternated between roles in English and French languages, and won the best actress award at Cannes for the film "Certified Copy" in 2010. She was born March 9, 1964.
World-record-setting speed skater Bonnie Blair has won five Olympic gold medals and one bronze in four Olympic Games -- the only American speed skater to do so until Apolo Ohno won eight medals in 2010. Born in Cornwall, New York on March 18, 1964, she grew up in Champaign, Illinois. She is married to fellow Olympic speed skater Dave Cruikshank and they have two children.
Courtney Love, the former singer and guitarist for alternative rock band Hole, remains a symbol of the 90s grunge music scene and excess. Married to Nirvana's Kurt Cobain until his suicide in 1994, Love has been locked in legal disputes with other former Nirvana members. Love, who was born on July 9, 1964, continues to create music and court controversy. Her memoir is expected to be published this year.
Astronomer and astrophysicist Kim Weaver is currently an adjunct professor in the Department of Physics and Astronomy at the Johns Hopkins University. She is best known for her continued concentration in X-ray astronomy at NASA's Goddard Space Flight Center. Weaver was born on April 19, 1964, in Morgantown, West Virginia.
TV and film writer-director Lisa Cholodenko's film "The Kids Are All Right" was nominated for an Academy Award for best original screenplay and won a Golden Globe Award for best musical or comedy in 2010. The film drew from her experiences having a child with her partner, Wendy Melvoin, via sperm donor. Cholodenko was born June 5, 1964. Pictured with her is Stuart Blumberg, who co-wrote the screenplay for "The Kids Are All Right."
Writer Hope Edelman is the author of nonfiction works "Motherless Daughters," "Motherless Mothers" and the memoir "The Possibility of Everything," about her family's journey after her daughter began exhibiting strange, disruptive behavior. She also co-wrote the memoir "Along the Way," with Martin Sheen and Emilio Estevez (pictured). Edelman, who was born June 17, 1964, studied journalism at Northwestern University and nonfiction writing at the University of Iowa.
Comedic actor Molly Shannon was a cast member on "Saturday Night Live" from 1995 to 2001, and starred in the film "Superstar." Shannon was born September 16, 1964, in Ohio, and studied drama at New York University.
Jennifer Doudna is a professor of chemistry and molecular cell biology at the University of California. She is also an investigator with the prestigious Howard Hughes Medical Institute, where her research focuses on understanding how RNA molecules in cells and viruses control gene expression by regulating the synthesis and localization of proteins. Her 50th birthday is February 19.
Actor Laura Linney has won four Emmy awards, two Golden Globes and a SAG award in addition to her multiple Academy Award and Tony award nominations. Equally at home on Broadway, television and film, Linney was born in Manhattan on February 5, 1964, and studied acting at Brown University and Juilliard -- where she holds an honorary doctorate of fine arts.
Radio and TV host Laura Ingraham is a conservative political commentator who graduated from Dartmouth College and the University of Virginia Law School and clerked for U.S. Supreme Court Justice Clarence Thomas. "The Laura Ingraham Show" debuted in 2001 and appears on stations around the country. She was born June 19, 1964.
Author Joanne Harris wrote the successful novel "Chocolat" while working as a teacher. It went on to be made into an Oscar-nominated film starring Juliette Binoche and Johnny Depp. Harris was born July 3, 1964, in England to a French mother and English father.
Yeardley Smith is a French-born writer and actor who is most recognizable as the voice of Lisa Simpson on the long-running show "The Simpsons." She won a Primetime Emmy for Outstanding Voice-Over Performance in 1992. Smith, born on July 3, 1964, has since branched out into shoe design with her own label, Marchez Vous.
Teresa Edwards is the only American basketball player -- male or female -- to compete in five Olympics, earning four gold medals and one bronze. As a professional basketball player she played for teams in Europe and Asia before returning to the states to play and coach in the American Basketball League and the WNBA. In 2011 she was inducted into the Naismith Memorial Basketball Hall of Fame. Edwards will turn 50 on July 19.
Actor Sandra Bullock has appeared in Hollywood blockbusters like the "Speed" franchise and romantic comedies such as "While You Were Sleeping." She won a best-actress Oscar award for her role in 2009's "The Blind Side." Bullock was born on July 26, 1964 in Arlington, Virginia, to a voice coach father and opera singer mother. She grew up singing and dancing and later settled on acting as her career of choice.
Actor Vivica A. Fox is best known for her roles in "Independence Day," "Soul Food" and "Kill Bill." She was born on July 30, 1964, in South Bend, Indiana, the youngest of four children. She fills her time with television roles, hosting reality programs and producing plays.
Tony- and Golden Globe-award-winning actor Mary Louise Parker captivated audiences with her portrayal of Nancy Botwin, the suburban mom who sold marijuana, on "Weeds." Parker was born on August 2, 1964, in Fort Jackson, South Carolina, and recently starred in "R.I.P.D." and "Red 2."
Journalist Katherine Boo is a staff writer at the New Yorker who has won a Pulitzer Prize, MacArthur "genius" award and, in 2012, a National Book Award for "Behind the Beautiful Forevers: Life, Death and Hope in a Mumbai Undercity." She was born August 12, 1964.
Actor and dancer Rosie Perez appeared in director Spike Lee's ground-breaking film "Do the Right Thing," was a dancer on "Soul Train" and choreographed music videos as well as the Fly Girls on "In Living Color." She's appeared on Broadway, was nominated for an Oscar and is an activist for Puerto Rican rights. She was born in Brooklyn, New York, on September 6, 1964.
Actor Holly Robinson-Peete has appeared on television's "21 Jump Street," "The Talk," "Mike and Molly" and "Celebrity Apprentice." She founded the HollyRod Foundation with her husband, former NFL player Rodney Peete, to raise awareness about Parkinson's disease and autism -- two causes with which her family has had personal experiences. She was born on September 18, 1964.
Country music singer and cookbook author Trisha Yearwood was born on September 19, 1964, in Monticello, Georgia. The Grammy award winner and Food Network host currently lives in Oklahoma with her husband, Garth Brooks, and family.
Actor and comedian Janeane Garofalo was the quintessential acerbic Gen Xer in 1990s movies like "Reality Bites" and "The Truth About Cats & Dogs." The "Saturday Night Live" alum was born in Newton, New Jersey, on September 28, 1964. When she's not touring the country as a stand-up comic or spoken word performer, she is a sometimes-controversial liberal political activist and a writer.
Umbrian-born Monica Bellucci is a former model and actor who appears in Italian, French and English-language cinema. For those in the States, she is most recognizable for her roles in "The Matrix" sequels and "The Passion of the Christ." Bellucci will celebrate her 50th birthday on September 30.
Gospel singer Priscilla "CeCe" Marie Winans Love has sold 12 million records worldwide. She was born in Detroit on October 8, 1964, the eighth of 10 children. The Grammy-winning mother, author, songwriter and actor has paired up with brother BeBe for a successful gospel duo career as well.
California Attorney General Kamala D. Harris is the first woman, the first African-American, and the first South Asian to hold the office in the state's history. Born in Oakland, California, on Oct. 20, 1964, Harris served two terms as district attorney of San Francisco. She defeated a two-term incumbent when she was elected district attorney in 2003 and was overwhelmingly elected to a second term in November 2007.
American swimmer Mary Meagher Plant earned the nickname "Madame Butterfly" for her record-breaking times in the 100- and 200-meter fly in various competitions. She set her first record, in the 200 meters, at the 1979 Pan American Games, at age 14. She set the 100-meter record in 1981. Both records stood for nearly two decades. She was born in Louisville, Kentucky, on October 27, 1964, the 10th of 11 children.
Journalist and author Jean Chatzky is the financial editor for the "Today" show, and regularly offers up financial advice at the website SavvyMoney.com and at her blog at jeanchatzy.com. She was born November 7, 1964, grew up around the Midwest and graduated from the University of Pennsylvania, where she first decided journalism should be her path.
Actor Calista Flockhart cemented her stardom on the television series "Ally McBeal" with her chatty character, frantic love life and micro-mini-skirt suits. She was born in Freeport, Illinois, on November 11, 1964, but her family moved often. She now has her own family, with movie star husband Harrison Ford and son Liam.
Grammy-winning pianist and vocalist Diana Krall will be singing "happy birthday" to herself on November 16, 2014. Krall, known for her contralto voice, is married to another legendary musician, Elvis Costello.
Susan Rice followed has had a varied career as a U.S. diplomat, Brookings Institute fellow, political adviser and ambassador to the United Nations. She now serves as national security adviser. Born in Washington, D.C., on November 17, 1964, she was inspired to enter government at a young age, found a mentor in family friend Madeleine Albright and has served in two presidents' administrations.
Journalist Rita Cosby is a special correspondent for "Inside Edition," who has also worked for Fox News and NBC. She was born November 18, 1964, and in 2010 published the memoir, "Quiet Hero: Secrets From My Father's Past," about her father's experience as a prisoner of war in Germany who was rescued by U.S. troops.
U.S. Rep. Yvette Clarke, D-New York, was born to Jamaican parents on November 21, 1964, in the Flatbush district of Brooklyn, which she now represents. Prior to being elected to the House, Clarke served on the New York City Council after succeeding her mother, Una Clarke, making them the first mother-daughter succession in the council's history.
Marisa Tomei got her start in television on the soap opera "As the World Turns" and "Cosby Show" spinoff "A Different World." She won an Oscar for best supporting actress for her role in "My Cousin Vinny," and has worked steadily in quirky movies ever since. Tomei was born in Brooklyn on December 4, 1964, to Italian-American parents.
Actor Teri Hatcher played Lois Lane in "Lois & Clark: The New Adventures of Superman," and Susan Mayer in "Desperate Housewives," for which she won a best actress Golden Globe. Hatcher was born December 8, 1964, in California.
50 women turning 50 in 2014
50 women turning 50 in 2014
50 women turning 50 in 2014
50 women turning 50 in 2014
50 women turning 50 in 2014
50 women turning 50 in 2014
50 women turning 50 in 2014
50 women turning 50 in 2014
50 women turning 50 in 2014
50 women turning 50 in 2014
50 women turning 50 in 2014
50 women turning 50 in 2014
50 women turning 50 in 2014
50 women turning 50 in 2014
50 women turning 50 in 2014
50 women turning 50 in 2014
50 women turning 50 in 2014
50 women turning 50 in 2014
50 women turning 50 in 2014
50 women turning 50 in 2014
50 women turning 50 in 2014
50 women turning 50 in 2014
50 women turning 50 in 2014
50 women turning 50 in 2014
50 women turning 50 in 2014
50 women turning 50 in 2014
50 women turning 50 in 2014
50 women turning 50 in 2014
50 women turning 50 in 2014
50 women turning 50 in 2014
50 women turning 50 in 2014
50 women turning 50 in 2014
50 women turning 50 in 2014
50 women turning 50 in 2014
50 women turning 50 in 2014
50 women turning 50 in 2014
50 women turning 50 in 2014
50 women turning 50 in 2014
50 women turning 50 in 2014
50 women turning 50 in 2014
50 women turning 50 in 2014
50 women turning 50 in 2014
50 women turning 50 in 2014
50 women turning 50 in 2014
50 women turning 50 in 2014
50 women turning 50 in 2014
50 women turning 50 in 2014
50 women turning 50 in 2014
50 women turning 50 in 2014
50 women turning 50 in 2014