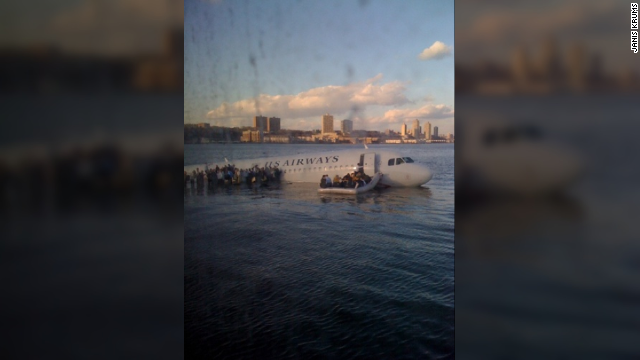 Janis Krums'
Twitter photo
was one of the first images to appear after U.S. Airways flight 1549 landed in the Hudson River on January 15, 2009.
Lou Fromansky
in 2009. "I thought it was another terrorist attack -- thinking it might fly into a building."
CNN also received hundreds of images from the "Miracle on the Hudson" that day. "I was stuck in traffic sitting still, and a plane came out of nowhere -- didn't look like it was in distress or anything," said
Eric Stevenson
was a passenger on flight 1549, seated over the wing in 12F. He took this photo just after boarding the rescue boat.
"The passengers owe our lives to the remarkable work of the pilot and co-pilot," Stevenson said.
saw the downed plane float by
. Seiger was amazed at how quickly rescue crews arrived. "Lots of heroes out there on this very cold day in New York City!" she said.
Karen Seiger raced to the rooftop of her building and
Traffic stands still to make room for emergency responders rushing to the scene. Seiger said traffic was stopped at 14th Street, right outside her home.
he could see
across the river. He said ferry and tourist boats pulled up to the downed plane.
Jim Davidson of Hoboken, New Jersey, said the scene looked "pretty well organized" from what
Davidson was impressed that "it wasn't chaos," he said. "A lot of times when things like this happen, people are running around or yelling.
Stephen DeLuca
saw the downed plane from the rooftop of the Stevens Institute of Technology in Hoboken, New Jersey. The computer science student was doing homework when the plane crashed.
Here the plane started to sink a little in the waters of the Hudson River, says DeLuca.
Julie Pukelis and her co-workers
crowded around a telescope
in a 46th-floor office in Manhattan and watched the plane drift slowly down to the water.
Eyewitness views of the Hudson landing
Eyewitness views of the Hudson landing
Eyewitness views of the Hudson landing
Eyewitness views of the Hudson landing
Eyewitness views of the Hudson landing
Eyewitness views of the Hudson landing
Eyewitness views of the Hudson landing
Eyewitness views of the Hudson landing
Eyewitness views of the Hudson landing
Eyewitness views of the Hudson landing
Eyewitness views of the Hudson landing
STORY HIGHLIGHTS
US Airways Flight 1549 crash landed in the Hudson on January 15, 2009
Janis Krums' photo of Hudson plane landing was one of the first images
Krums' photo became iconic, changing citizen journalism
(CNN) -- You might not know who Janis Krums is, but chances are you saw his iconic photo of the "Miracle on the Hudson."
Krums, then 23, was on a commuter ferry rushing to rescue passengers of US Airways Flight 1549 after Capt. Chesley B. "Sully" Sullenberger III gracefully landed the plane. He snapped a photo with his iPhone and posted it on Twitter.
"There's a plane in the Hudson. I'm on the ferry going to pick up the people. Crazy," he posted on Twitpic, Twitter's photo sharing site, on January 15, 2009.
He only shared it with his 170 followers, but the photo spread quickly. Soon news networks started calling to interview him. His image was one of the earliest to appear after the landing.
2009: Hudson photo crashes Twitpic servers
"This may be among the most striking instances yet of instant citizen reporting," wrote the LA Times the day of the landing.
Krums' photo appeared on the front pages of newspapers. He was interviewed on national TV, and he said the moment changed his life. He became one of the first and best examples of citizen journalism going viral on Twitter. (And his Twitter following went from 170 to more than 10,000.)
Gallery: iReporters capture 2009 crash aftermath
These days, he is the CEO/co-founder of Opprtunity.com, a real-time professional discovery platform. Five years after the iconic photo, Krums shared with CNN how one photo changed his life. The interview has been edited for clarity and brevity.
CNN: What was the reaction like when you posted the photo on Twitter? Did you have any idea it would go viral?
Krums: I had no idea that it would do what it did. I actually gave my phone to one of the passengers that we rescued. Once I got the phone back, I started to get text messages and calls from what seemed like every news outlet. The first call that I took was from MSNBC. I was very surprised that it went viral the way that it did. I posted to my 170 followers and did not send it to any news outlets. It was incredible to see the power of Twitter and how news can spread around the world in a matter of minutes.
CNN: Do you think the iconic Twitpic has specifically led to opportunities for you or contributed to your success? If so, how?
Krums: It's been a great story when I talk to people about technology. I've gotten some incredible opportunities to speak at such places as Columbia Journalism School and the Poynter Institute. I'm involved with technology, so I actually became an adviser to Rawporter.com. Their mission is to protect, promote and sell photos and videos from everyday people.
CNN: Do you still shoot Twitpics, or do you prefer other photo platforms like Instagram? Please explain.
Krums: I actually shoot mostly with Instagram. The reason that in 2009 I used Twitpic was because it was the best and really the only viable site to use for photos on Twitter. I'm always trying new apps, so when I find something that works I stick with it.
CNN: What are the types of things you most like to photograph with your mobile device?
Krums: I tend to shoot sunsets and other beautiful scenes, random cool things, friends, and you can't go wrong with a good selfie.
CNN: What's your favorite photo that you've ever taken? Why?
Krums: I would say that the Miracle on the Hudson wins by a large margin. It's an iconic image of an incredible event. What Sully was able to accomplish is truly a miracle.