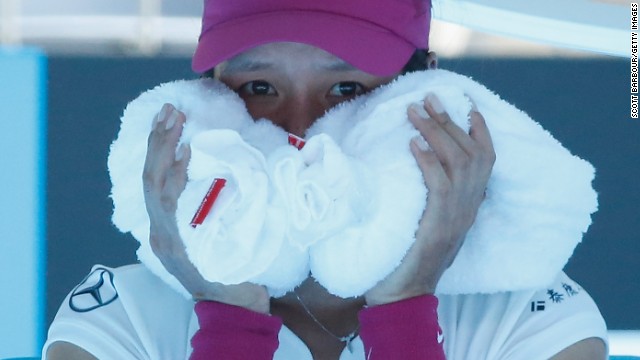 Li Na faced a battle to stay cool and to stay in the Australian Open against Lucie Safarova.
Li's compatriot Zheng Jie needed medical treatment for heat stress during her 6-2 6-4 defeat by Casey Dellacqua. "I felt so hot, my mind wasn't working," said Zheng. "I was looking at the ball, but I couldn't focus on it. Then I couldn't concentrate. This weather is very difficult for me.
Serena Williams looked in complete control during her straight-sets win over Vesna Dolonc on Wednesday, but the top seed admitted to waking up in the middle of the night due to fears over dehydration.
Maria Sharapova wrapped ice around her neck in a bid to keep cool during her first round win over Bethanie Mattek-Sands.
Playing early in the day on Tuesday, Argentina's Juan Martin del Potro felt the heat during his win over American Rhyne Williams.
It all got to much for Canadian Frank Dancevic who fainted during his match with Frenchman Benoit Paire.
Italy's 15th seed Fabio Fognini took an outdoor shower in a bid to stay cool.
Some fans also adopted the Fognini approach...
While supporters in the Rod Laver Arena could at least take cover under its roof, fans on the outside courts were exposed to the elements.
With temperatures exceeding 40 degrees Celsius at the Australian Open, sport scientist Dr. Ross Tucker suggests any player hoping to succeed Down Under should take up Bikram Yoga.
Men's fourth seed Andy Murray is a long-term practitioner of bikram yoga. Clearly comfortable in the heat, he's reached the final in Melbourne in three of the last four years, though the Scot has questioned if the players' health is being put at risk.
While some chose to head to Melbourne Park, other Melbournians chose to hit St. Kilda beach.
Australian Open hots up
Medical treatment
Sleepless nights
Ice cool
It's a hot Juan
Fainting
Keeping cool
Splish splash
Exposed to the elements
Strike a pose
Hot shot
Beach party
STORY HIGHLIGHTS
Temperatures at the Australian Open tennis tournament have exceeded 40 degrees Celcius
Canadian Frank Dancevic fainted during his first round defeat on Tuesday
Sports scientist Dr. Ross Tucker says Bikram Yoga is good preparation for high temperatures
Tournament's "extreme weather" contingency plan has been implemented in women's matches
(CNN) -- Can't stand the heat of the first tennis grand slam of 2014? Then you clearly haven't been doing enough Bikram yoga.
That's the view of leading sports scientist Dr. Ross Tucker, who suggests any tennis star with designs on success at a sweltering Australian Open in Melbourne should have come already acclimatized to the hot and sweaty conditions.
Canadian Frank Dancevic branded conditions at this year's tournament "inhumane" after he fainted during his opening match, while other players have complained of burned feet and melted water bottles in temperatures which have lingered above a sweltering 40 degrees Celsius.
"If you go there and you're not prepared for the heat, it's not going to be your grand slam," Dr. Tucker, who has worked with the U.S. Olympic Committee, UK Sport and the South African Olympic Confederation among others , told CNN.
"We know acclimatization makes a massive difference to performance in the heat. You become more efficient. There's a mental and a physical component to the training. It's those little nuances in preparation that make the difference."
World No. 4 Andy Murray has been a finalist in Melbourne in three of the last four years and for the last five years has been a bikram yoga practitioner - a sequence of 26 yoga moves done in a piping hot studio at temperatures of over 40 degrees Celsisus.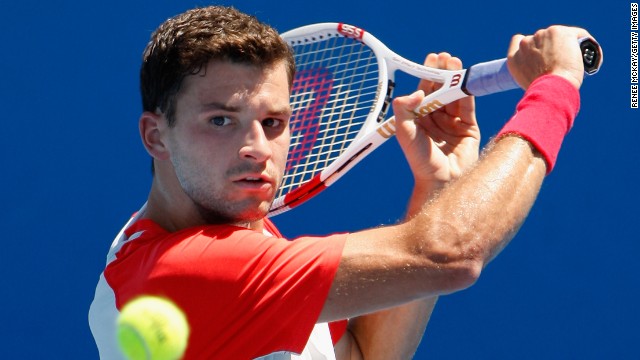 Grigor Dimitrov won his first ATP Tour title in October 2013, and is seeking to make his own name in the game after being compared to a young Roger Federer during his early years on the scene.
Giant Pole Jerzy Janowicz came to grand slam prominence when he reached the semifinals at Wimbledon 2013, losing to eventual champion Andy Murray. The previous year he made it to the final of the Paris Masters.
Spain's Pablo Carreno Busta is hoping to make the step up this year after impressing on the second-tier Challenger circuit, winning a string of titles in 2013.
Big-serving Milos Raonic, hailed by some as the next Pete Sampras, was the ATP's rookie of the year in 2011 and has already won five titles, but the Canadian is still to get past the fourth round of a grand slam.
Former junior world No. 1 Nick Kyrgios is hoping to follow in the footsteps of compatriot Bernard Tomic in establishing himself on the senior circuit. While injury ended Tomic's 2014 Australian Open, Kyrgios won his opening match to the delight of the home crowd.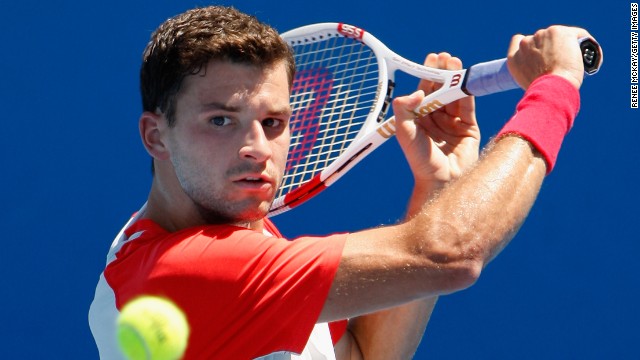 Who will be the next men's tennis star?
While even Murray has questioned the wisdom of staging a tournament in soaring temperatures, world No. 1 Serena Williams revealed Wednesday the fear of dehydration was giving her sleepless nights.
Not that the myriad of player complaints have influenced tournament doctor Tim Wood.
Blog: Five players to watch in 2014
"We look into the health and well being of players, but we know over the years in different parts of the country and world they play under these conditions," Dr. Wood told a press conference.
"(Players) sit down every five to ten minutes for every 90 seconds at change of ends, so there is chance to lose some heat at that time. Tennis by and large is a low risk sport, and that's why by and large, like cricket, we can play in these conditions and not be too concerned.
"A lot of people get hot and look distressed and hot and bothered, as we all do. The actually risk to the health is relatively small compared to other sports."
Dr. Wood was equally bullish on players' fears surrounding dehydration..
Australian Open retirements

Andrey Golubev - calf

Alex Bogomolov Jr - shoulder

Tommy Haas - shoulder

John Isner - foot

Radek Stepanek - neck

Julian Reister - no reason given

Robin Haase - left leg cramps

Bernard Tomic - groin

Polona Hercog - right rib


"Dehydration, look, we have never had anybody die from dehydration on a tennis court," he added. "We have had players almost die from drinking too much. So the danger is overdrinking, not underdrinking and becoming dehydrated.
"Again, given the length of time tennis matches generally go for and the sweat rate of most normal, healthy athletes, they won't get to a state where they get too critically dehydrated.
"So, no, we have never had to put a drip in someone who has been so dehydrated that their vital signs, blood pressure and heart rate, have been compromised."
If the weather, in the eyes of the event officials, becomes too extreme for play to continue, tournament referee Wayne McKewen has the power to call a halt to proceedings.
He makes the judgment, in consultation with other parties, using a scale which not only factors in the ambient temperature, but also wind and humidity.
So far, according to McKewen, the relatively low humidity has meant conditions are fine for play to proceed as planned.
In theory, unless humidity increases, play could continue even if the mercury hits 42, 43 or even 44 degrees.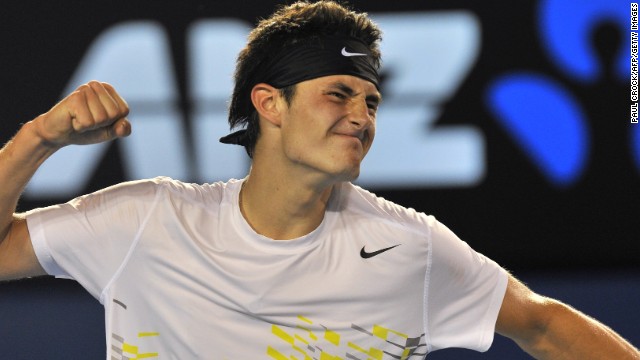 Bernard Tomic is a former junior world No. 1 and he has produced some big wins on the men's tennis tour, most notably at his home major in Australia and at Wimbledon. But his indiscretions and the behavior of his father, John, have made headlines for the wrong reasons.
Tomic was one of the most highly-touted tennis juniors of recent decades, and boasted he would one day win all four major tournaments and become the world No. 1.
In 2009 Tomic became the first Australian to win the U.S. Open boys' title in 25 years when he beat American Chase Buchanan.
On the pro tour, Tomic has had memorable runs at the Australian Open the past three editions. It took Roger Federer to stop him in 2012 and 2013.
Tomic has also fared well at Wimbledon. In 2011 he became the youngest man since Boris Becker to reach the quarterfinals at the All England Club.
Despite his junior success in New York, he has never done well in the Big Apple in the senior ranks. And at the clay-court French Open he owns a poor 1-4 record.
Andy Roddick thumped Tomic at the 2012 U.S. Open. Afterwards, Australian Davis Cup captain Patrick Rafter called Tomic's performance "disgraceful" and John McEnroe added that he "tanked," or threw in the towel.
Legendary Australian coach Tony Roche, right, reportedly berated Tomic during a Davis Cup encounter against Germany in 2012, just weeks after losing to Roddick. A month later, Tomic said he gave only "85%" in a loss at the Shanghai Masters.
Tomic's father and coach John, pictured, received an eight-month suspended sentence in September after he head-butted the player's former hitting partner Thomas Drouet. He has been banned from attending tournaments.
Drouet is pictured here after the assault. In a diary that was later published by an Australian newspaper, Drouet claimed John Tomic punched his son in the face and shot him in the leg with a BB gun.
What next for Tomic? Only time will tell. But he'll be hoping for another good Australian Open when the tournament begins in the middle of January.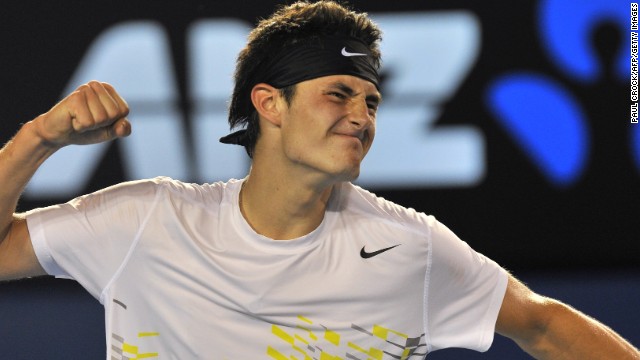 Tomic: Tennis' tainted talent?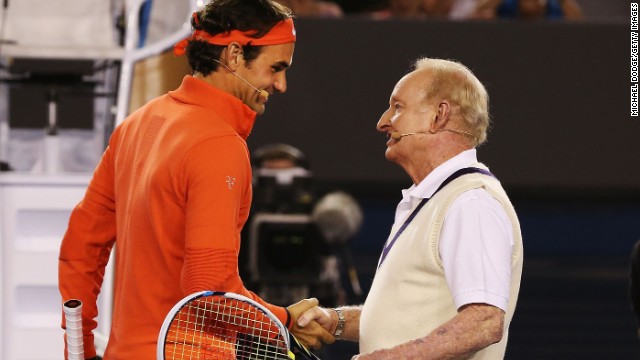 Two legends of tennis came together in Melbourne ahead of the Australian Open getting underway next week. Roger Federer, a 17-time grand slam winner, and the great Rod Laver delighted the crowd at the Rod Laver Arena by exchanging a couple of rallies ahead of a charity match.
Laver may not be as agile as he once was, but world No. 6 Federer was delighted to be able to take to the court with one of his heroes.
During his 13-year playing career, Laver reached the top of the world rankings and won 11 grand slam titles. The lefthander retired in 1976.
Federer and Laver played in the Rod Laver Arena, which annually hosts the Australian Open finals.
A host of stars turned out to raise money for the Roger Federer Foundation. From left to right, Pat Rafter, Tony Roche, Federer, Laver, Jo-Wilfried Tsonga and Lleyton Hewitt pose for the cameras.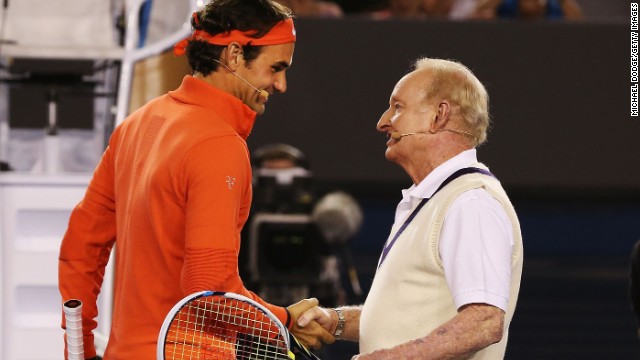 Roger Federer vs. Rod Laver
Murray used his press conference to voice concerns over players suffering from heart attacks or other serious health problems as a result of the oppressive weather.
Despite Dancevic's collapse, and China's Peng Shuai vomiting and complaining of cramps, Dr. Tucker supported Wood's assessment that playing in the tournament would prove fatal for any of the players.
Put simply; it's hot, it's horrible, but it's probably not going to kill you.
"I don't want belittle what the players are experience," explained Dr. Tucker. "I'm of the opinion that the danger is a little bit overhyped.
"Death is a failure of normal physiology, it's not a normal situation. Your body temperature is around 37 degrees Celsius, when you hit 40 degrees that's pretty much lights out but not death.
"Death happens when your body temperature is at 41 or 42 degrees and you have to be there for quite a long time. Your body has a defense mechanism which forces you stop exercising, to fail, to become fatigued, to potentially pass out at around 40 degrees.
"The risk is more about performance. Dancevic is fine, he didn't die and he wouldn't have. As soon as you remove yourself from the heat, the risk has gone."
To try and give the players respite from the blazing sun, organizers implemented an extreme weather contingency plan which allows for extended player breaks between the second and third sets.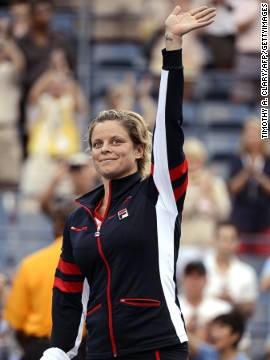 Kim Clijsters retired from professional tennis for a second time at the U.S. Open in September 2012. The Belgian won four grand slam titles in a 15-year career which included a two-year break between 2007 and 2009.
Kim Clijsters with daughter Jada and the 2010 U.S. Open trophy after beating Vera Zvonareva in the final.
Clijsters came out of retirement the previous year, having taken time out to have her first child. She defeated Caroline Wozniacki in the 2009 final after receiving a wild-card entry to the season's closing grand slam.
Clijsters had a love affair with New York. Here she climbs into the family area after the 2005 U.S. Open final after beating France's Mary Pierce 6-3 6-1 to clinch her first grand slam title.
The Belgian suffered a shock 6-7 (3-7) 3-6 loss to Julia Vakulenko in 2007 in what proved to be her final match before retiring for the first time. Clijsters took time away from the sport to raise her family and gave birth to Jada in 2008.
Clijsters defended her Flushing Meadows crown in 2010, avenging her defeat by Russia's Zvonareva in the quarterfinals at Wimbledon -- a loss she told CNN "hurt her the most."
Clijsters enjoys popularity in Australia thanks to ex-boyfriend and male tennis star Lleyton Hewitt. She was overcome with emotion after defeating Li Na of China to clinch the 2011 Australian Open -- the fourth grand slam title of her career.
The daughter of a footballer and a gymnast, Clijsters is renowned for her on-court splits -- an ability which originated from her early years on clay courts but was later transferred to other surfaces.
Clijsters' final singles match was a loss against unseeded British teenager Laura Robson in the second round of the 2012 U.S. Open. She also competed in the mixed doubles competition with Bob Bryan, but they too lost in the second round.
Clijsters put on a series of farewell matches in her homeland to say thank you and goodbye to her hoards of Belgian fans.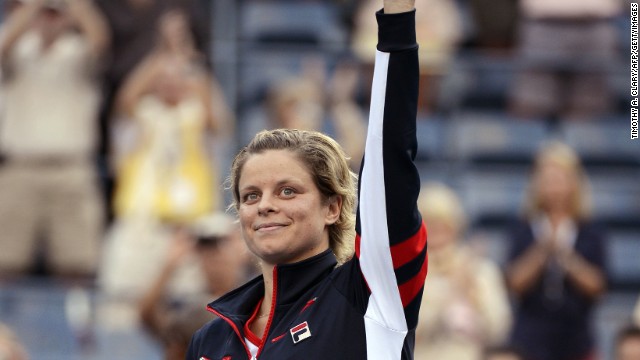 Kim Clijsters' glittering career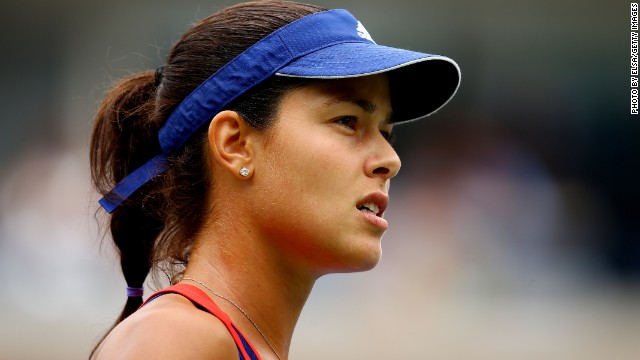 Ana Ivanovic is at a major crossroads in her career, heading into the new season with hopes of breaking back into the world top 10 for the first time since May 2009 after an injury-plagued few years.
At the age of 17 she stormed to the quarterfinals of the 2005 French Open, knocking out third seed Amelie Mauresmo in the process.
Three years later, the Serbian clinched her maiden grand slam with a win at the French Open in 2008 and was the world No. 1 for the first time in her career.
The 26-year-old has hired and fired a number of different coaches over the years, including former head of English women's tennis Nigel Sears, who she split with in July 2013 after crashing out in the second round at Wimbledon.
She slid as low as 65th in the rankings in July 2010 after a series of injuries, and has not reached the final four of a grand slam since her French Open win in 2008.
While her on-court success has plummeted, Ivanovic's financial fortunes appear more resilient. Forbes rated her as the ninth highest-paid female athlete in 2013 with total earnings of $7 million -- largely thanks to lucrative sponsorship deals.
Ivanovic has had a string of high-profile boyfriends to help distract her, including Masters-winning golfer Adam Scott (left) and Spanish tennis player Fernando Verdasco.
Ivanovic became a UNICEF National Ambassador for Serbia in September 2007. She has also appeared on the cover of magazines around the world such as FHM, Grazia, Vanity Fair and Cosmopolitan.
Ivanovic kicked off 2014 in style by winning the WTA even in Auckland, New Zealand, beating fellow former world No. 1 Venus Williams in the final to claim the 12th title of her career.
Ivanovic will take her bid for a second grand slam title to the Australian Open, where she was runner-up in 2008 and lost in the fourth round the last two years.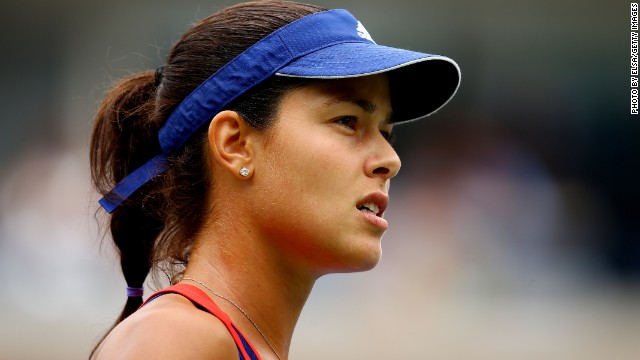 The rise and fall and rise of Ana Ivanovic
But there's a catch...
It only applies to women's matches.
It's a plan which has irked Murray, who called for greater equality between men's and women's games.
"You would need the same for the men," said Tucker. "The men are bigger, being big in the heat is a disadvantage. The smaller you are the better you are in the heat. Big guys generate more heat, that's why long distance runners are always small.
"The rationale behind the break is good, but I don't know why they're only giving it to the women. If it keeps going like this they might need more of those kinds of breaks."
While he is receptive to the concerns voiced by players like Murray and Dancevic, not to mention Croatia's Ivan Dodig who was concerned for his life during his match, Dr. Tucker doesn't think the tournament needs to be relocated or rescheduled.
"It's a bit fatalistic to say the show must go on," he concluded. "How many players have played? Only one has collapsed.
"I would argue that the story might be the 259 guys who haven't collapsed. Yes they're struggling and it's really challenging, but it's going to become one of the distinctive things about the Australian Open."
If you can't stand the heat, stay out of the Rod Laver Arena.
Read: Ivanovic searching winning formula
Read: Clijsters cool on a second comeback