STORY HIGHLIGHTS
Rapper Lil Za identified as man arrested on drug charge during Bieber search
Bieber's home has "extensive" video system to record everything that happens, police say
Detectives estimate egg damage to neighbor's home about $20,000
Deputies have investigated previous Bieber run-ins with neighbors, but no charges filed
Los Angeles (CNN) -- Justin Bieber got some unexpected visitors Tuesday morning: sheriff's deputies with a warrant to search his home.
Investigators with the Los Angeles County Sheriff's Department were looking for video from Bieber's security cameras that might show what happened Thursday night when eggs were thrown at a neighbor's home, according to a sheriff's statement.
A judge gave deputies a felony search warrant, which they carried out Tuesday morning, the sheriff's statement said.
Bieber and several house guests were asleep in the home when deputies arrived at 8 a.m., according to Los Angeles County Sheriff's Lt. David Thompson. He was cooperative with the dozen deputies, but he did not answer questions about the alleged vandalism, Thompson said.
Justin Bieber's bad year: A guide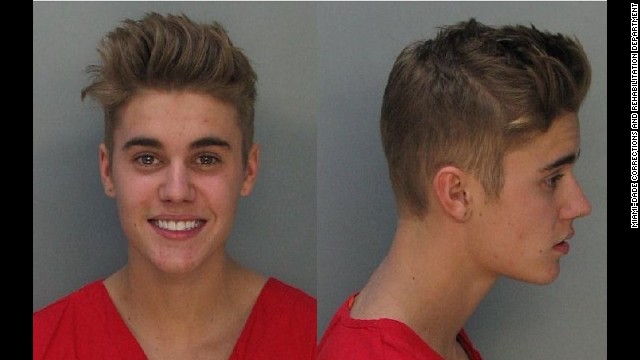 The White House won't comment on a petition signed by more than 270,000 people asking for Justin Bieber to be deported for his alleged crimes. In January, Bieber was charged with driving under the influence in Miami and he also has a pending assault charge and separate vandalism charges for egging his neighbor's house. It's just the latest development in a series of troubles for the pop star.
U.S. Customs and Border Protection officers searched an airplane -- thought to be the one pictured -- carrying Bieber and others on January 31, at Teterboro Airport in New Jersey. Officers said they detected an odor of what seemed like marijuana after the plane landed, law enforcement sources told CNN.
Bieber turned himself in at a Toronto police station on January 29, facing an assault charge stemming from an encounter with a limousine driver in December.
On January 23, Bieber was arrested on suspicion of DUI and drag racing, according to police in Miami Beach, Florida. Bieber is seen here with model Chantel Jeffries the night before his arrest.
On January 14, authorities swarmed Bieber's mansion in Calabasas, California, in connection with an investigation into a report of an egg-throwing incident at a neighbor's house. A friend of the singer's was arrested on a felony drug charge, and Bieber's phone was seized as part of the investigation.
Right before 2014 kicked off, Bieber threatened to retire after a spate of bad publicity, including being accused of everything from speeding to spitting. The news made Beliebers very sad.
While on tour in early November, Bieber yet again made headlines, this time with some sex-related scandal. The New York Post's Page Six alleged that Bieber had been spotted exiting a brothel while in Brazil. Then, a YouTube video sparked gossip that he'd done something less than innocent with the young woman featured in the clip. Bieber's camp has had no response on the chatter.
Was he saving his energy for his fans, or just courting more controversy? In October, the day after a concert in Beijing, Bieber was snapped letting his bodyguards carry him up the stairs at the Great Wall of China.
A leaked video in July seemed to show Bieber relieving himself in a janitor's mop bucket and then spraying a photo of Bill Clinton with what appeared to be a cleaner fluid while saying, "F*** Bill Clinton." Bieber later apologized to the former president, but personalities like Anthony Bourdain and Mario Batali had a field day.
In June, another chapter was added to Bieber's history book of driving drama. The singer was reportedly involved in a Los Angeles accident involving a pedestrian.
As Bieber accepted the Milestone Award at the Billboard Music Awards in May, "very loud boos" competed with "very loud cheers," the magazine reported.
Earlier in May, a fan rushed Bieber on stage and attempted to grab him during a concert in the United Arab Emirates. Also that month, a safe in a stadium in Johannesburg, South Africa, was raided after a Bieber performance.
In April 2013, Bieber visited the Anne Frank House in Amsterdam -- and was promptly criticized for saying that he hoped the teen, who died in a Nazi concentration camp in 1945, would have been a "Belieber." Visitors to the Anne Frank Facebook page had plenty to say. "Glad he went, but, the last sentence is VERY self serving. he missed the lessons of Anne totally," wrote one observer.
Bieber lost his pet monkey, Mally, when the capuchin was taken by custom officials in Germany at the end of March. Mally is shown here in the quarantine station at the Munich-Riem animal shelter in Munich.
Unfortunately for Bieber, his 19th birthday in March was kind of a downer. After being snubbed by the Grammys, Bieber headed for London to celebrate his big day. But it ended up being what he tweeted was his "worst birthday." Not only was he ragged on by actress Olivia Wilde for going shirtless in the city, he also had a bit of beef with a "weak a** club."
Bieber ticked off his fans in March after he showed up a reported two hours late to a concert at London's O2 Arena. He disputed that in a tweet, however, saying he was only 40 minutes behind schedule.
Bieber later wound up sick in a London hospital. Being a lusted-after star, it's not surprising that he tried to show how "well" he felt by posting a shirtless photo of himself online.
Bieber and photographers, we've learned by now, don't mix. As he exited the hospital at the end of his turbulent week, the singer got into a shouting match with a paparazzo in London, telling the photographer that he'd "f*** him up."
After he was ragged on by Wilde for going topless in London, Bieber strolled through a Polish airport terminal sans shirt on March 25.
At the end of January 2013, a Twitpic appearing to show the singer touching a female fan's chest went viral. Both the "Belieber" and Bieber's rep denied he was touching her breast.
In January 2013, Bieber was photographed holding what TMZ identified as marijuana. He poked fun of the incident when he hosted "Saturday Night Live" in February. "I also heard he got busted for smoking weed and he's really sorry about it and that people make mistakes and that he's never going to do it again," Bieber said while playing a character during a skit with Vanessa Bayer.
On New Year's Day in 2013, a photographer was killed crossing the street after taking pictures of Bieber's Ferrari. Bieber, who wasn't present at the scene, said in a statement: "While I was not present nor directly involved with this tragic accident, my thoughts and prayers are with the family of the victim."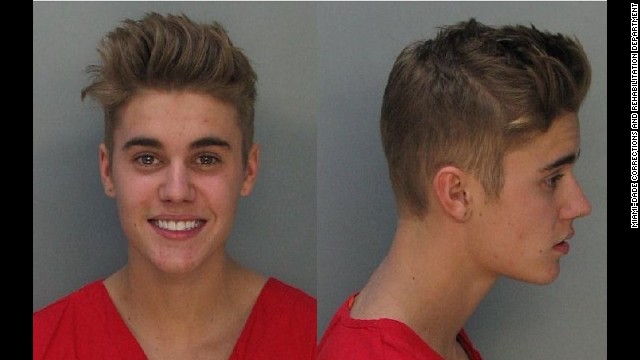 Justin Bieber's troubled timeline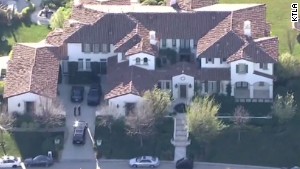 Deputies search Justin Bieber's home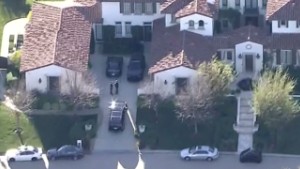 Justin Bieber's house raided by police
Bieber hasn't spoken to investigators about last week's incident, and his representative had declined comment to CNN.
Bieber house guest arrested
One of Bieber's house guests, rapper Lil Za, was arrested when deputies allegedly found illegal drugs during their search, Thompson said. Although the drugs were initially reported to be cocaine, Thompson later said they are believed to be Ecstasy and Xanax, but lab tests will be needed to confirm it.
The suspect was identified as Xavier Smith, 20, who performs under the name Lil Za, Thompson said.
He was set to be released later Tuesday after posting a $20,000 bond, Thompson said. But while in the booking cell, he allegedly broke a telephone while trying to arrange that bond, and then he was charged with felony vandalism for the phone incident, according to Los Angeles County Sheriff Sgt. Chad Waters, the watch commander at the Lost Hills Sheriff's Station
Smith was kept in custody on the newest charge.
Video clues sought
"The purpose of the search warrant is to seek video surveillance or other possible evidence in the vandalism that occurred on January 9, 2014," the sheriff's statement said.
Deputies seized video from computer hard drives on the "extensive" security monitoring system on Bieber's estate, Thompson said.
Cameras capture just about any movement on the property, he said. Detectives will spend the next days scouring through the video for clues about who hurled eggs toward the neighboring mansion last week, Thompson said.
If investigators find enough evidence that Bieber, 19, threw the eggs that splattered against his next-door neighbor's home, they could refer the matter to the district attorney's office for possible prosecution, he said.
The vandalism damage to the house of Bieber's neighbor was about $20,000, Thompson said. The cost of repairing the damage to the house is a key factor in determining the severity of the charge. Any damage of more than $950 would qualify the charge as a felony.
Bieber's Brazil adventures: Truth or idol gossip?
Bieber lives in the Oaks, an exclusive gated community, in Calabasas. He moved into a $6.5 million mansion there two years ago. An impressive list of the rich and famous -- including Michael Jackson's mother and children -- live in the neighborhood, about 30 miles west of downtown Los Angeles.
His neighbors have complained about Bieber several times in the past year, including in May when two neighbors called the sheriff to report he was speeding down residential streets, a sheriff's spokesman said.
Deputies visited Bieber's home in response, but the singer refused to talk to them, Sheriff's Department spokesman Steve Whitmore said.
Retired NFL star Keyshawn Johnson went to Bieber's home then to counsel him about the dangers of going too fast on the residential streets, but Bieber wouldn't speak to him, Johnson's rep told CNN in May.
A neighbor accused Bieber of spitting on him and making threats during a heated confrontation outside his home last March, Whitmore said. It prompted a sheriff's probe, but no charges followed.
Stars who threatened to retire (and didn't)
CNN's Topher Gauk-Roger contributed to this report.