North America's tallest hotel opens in midtown Manhattan
updated 9:26 PM EST, Mon January 13, 2014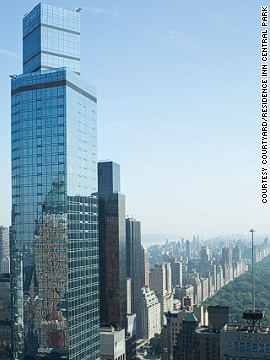 The Courtyard-Residence Inn Central Park opened December 29 in midtown Manhattan to become the tallest hotel property in North America.
The 750-foot property beats the 727-foot Detroit Marriott at the Renaissance Center (pictured) for the title.
Neither comes close to being the tallest hotel building in the world, however. That title is taken by the 1,164-foot JW Marriott Marquis in Dubai (pictured), which stands 86 feet shorter than the Empire State Building.
The new midtown Marriott includes two hotels -- a Courtyard and a Residence Inn.
The tallest hotel in the world is defined as the tallest building solely used for hotel purposes, while the highest hotel in the world is defined as the hotel furthest from ground level. The Ritz-Carlton in Hong Kong currently holds that record, occupying the 102-118 floors of the ICC building, 1,588 feet up.
The Courtyard-Residence Inn Central Park is located five blocks from Central Park.
The Courtyard is located on floors 6-33.
The Residence Inn is located on floors 37-65 and is for stays of five nights or more.
NYC's tourist demand still continues to increase. In 2013, the city received 54.3 million visitors, breaking 2012's record of 52.7 million.
Welcome to the NYC skyline
Runner up
Global superlative
Dual branding
Corner room please
Park views
Bottom floors
Longer stays
More demand