Samsung: Galaxy S5 out by April, may scan your eyes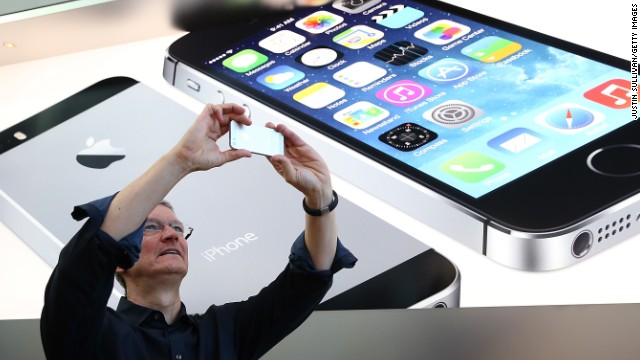 Apple CEO Tim Cook is expected to unveil the iPhone 6 -- and possibly more than one phone model -- early this fall. The phone reportedly will have a bigger screen than current Apple models. Here is a look at some other top smartphones on the market now or coming soon.
Announced in June, Amazon's Fire Phone will have a 5-inch screen that displays 3-D images. A feature called Firefly offers instant image, text and audio recognition and can supposedly recognize more than 100 million songs, videos and consumer products. It will sell for $199 for a 32GB model and $299 for 64GB and begins shipping July 25.
The Galaxy S5 is the latest in Samsung's line of big-screen, feature-laden phones.Considered an improvement, but not radical departure from, the S4, the phone features a 5.1-inch screen, 16-megapixel camera with ultra-fast shutter speed and a fingerprint sensor for added security. It sells for $199 with most mobile contracts.
The iPhone 5S is Apple's fastest handset yet, with an upgraded camera with slow-motion video capabilities and the Touch ID fingerprint scanner for security. It ranges from $199-$399, depending on storage. Apple also sells a new plastic iPhone, the 5C, which is simpler and cheaper: $99-199.
Hailed by some critics as the best Android phone yet, HTC's latest offering has a sleek, brushed-metal design that has charmed reviewers. It boasts a 5-inch screen, a dual-camera setup that lets users refocus even after they take an image and a hefty 2GB of RAM. The HTC One M8 retails for $199.
Google has sold Motorola to Lenovo, but the Moto X still has its admirers. The Moto X claims to be the first phone manufactured in the U.S. Hands-free voice controls allow you to operate the phone without touching it -- a handy trick if you're across the room -- and it's highly customizable. And because it's been out for a while you can pick it up cheaply with most wireless contracts.
The king of the "phablets," the Samsung Galaxy Note 3 has a vivid, 5.7-inch screen and comes equipped with a stylus. It's $299 and has been a popular No. 2 device for Samsung.
Some reviewers have called the Nokia Lumia Icon with a fast processor, 5-inch display screen and 20-megapixel camera, the best Windows phone yet. But the phone, selling for $199, is only available on Verizon. Nokia's other top-end phone, the bigger (6-inch) Lumia 1520, is similarly exclusive to AT&T.
BlackBerry, once the king of business-oriented phones, is now struggling to catch up. Unlike past models, its flagship Z10 phone has no physical keyboard. It also offers a feature that splits the phone into two separate devices -- one for work and one for personal use -- so IT departments can control the flow of sensitive data. The Z10 is now free with a two-year wireless contract.
This is the second generation of the Sony phone with an unusual claim to fame: The company says it's water-resistant, for up to 30 minutes. It also boasts a 20-megapixel camera, which Sony claims has the industry's largest sensor. The Experia Z1s is exclusive to T-Mobile.
The big-name smartphones
Amazon Fire Phone
Samsung Galaxy S5
iPhone 5S
HTC One M8
Moto X
Samsung Galaxy Note 3
Nokia Lumia Icon
BlackBerry Z10
Sony Experia Z1s
STORY HIGHLIGHTS
Samsung says its Galaxy S5 phone will be released by April
Vice president says it may have eye-scanning tech
New Galaxy Gear smartwatch will come at same time, Lee says
The Galaxy S5 will have a different design
(CNN) -- Samsung's Galaxy S5, the next generation of its flagship smartphone, will be released by April and may include innovative eye-scanning technology.
An executive for the Korean tech giant confirmed to Bloomberg that the phone will hit stores this year on roughly the same time table as previous iterations of the device, which has emerged as the chief rival to Apple's iPhone.
The Galaxy S4 was announced last March and released in April.
Lee Young Hee, executive vice president for Samsung's mobile business, also told the news service that a new version of the company's Galaxy Gear smartwatch will be released at the same time as the new phone.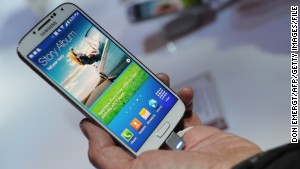 The new phone is expected to look different from Samsung's popular Galaxy S4, shown here.
"We've been announcing our first flagship model in the first half of each year, around March and April, and we are still targeting for release around that time," Lee said. "When we release our S5 device, you can also expect a Gear successor with more advanced functions, and the bulky design will also be improved."
Speaking at the International Consumer Electronics Show in Las Vegas, Lee wouldn't say whether the eye scanner -- presumably an effort to one-up Apple's iPhone 5S with its fingerprint security feature -- is a sure thing.
"Many people are fanatical about iris recognition technology," she said. "We are studying the possibility but can't really say whether we will have it or not on the S5."
She did say the S5 will look and feel significantly different than its predecessor, which some felt wasn't different enough from the Galaxy S3.
"When we moved to S4 from S3, it's partly true that consumers couldn't really feel much difference between the two products from the physical perspective, so the market reaction wasn't as big," she said. "For the S5, we will go back to the basics. Mostly, it's about the display and the feel of the cover."
In November, Samsung released the Galaxy Round, with a curved, 5.7-inch screen. That release was only in South Korea, and analysts have speculated the company isn't done with curved-screen technology on its phones. At CES this week, Samsung rolled out a massive, 105-inch television with a curved screen.
Released in September, Galaxy Gear helped push the growing wearable tech trend forward but, like some other smartwatches, met with mixed reviews. Some felt the watch was too bulky and had limited functionality.