First H5N1 avian flu death in North America
updated 8:53 AM EST, Thu January 9, 2014
STORY HIGHLIGHTS
The Alberta resident who died of H5N1 had recently traveled to Beijing, health minister says
The death was "an isolated case;" Canadians at little risk, Rona Ambrose says
H5N1 is found mostly in parts of Asia and northeastern Africa
Most people who have died of the virus had close contact with poultry
(CNN) -- Canadian health officials confirmed Wednesday that a resident from Alberta has died from H5N1 avian flu, the first case of the virus in North America.
Canada's Health Minister, Rona Ambrose, said the infected individual had recently traveled to Beijing.
The Canadian case also is the first case of H5N1 infection ever imported by a traveler into a country where the virus is not present in poultry. No such H5N1 viruses have been detected in people or in animals in the United States.
Ambrose stressed that Canadians should not be worried about contracting the virus.
Hong Kong on high alert after first human case of H7N9 bird flu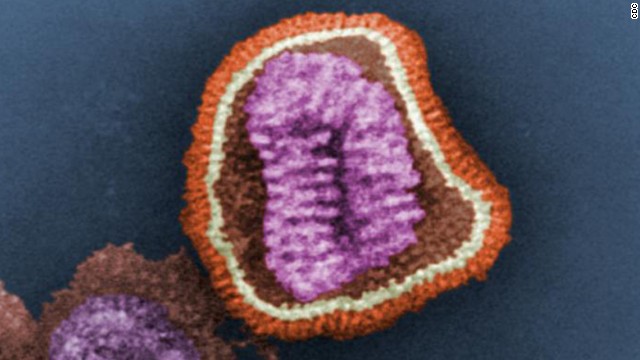 This is an influenza virus particle, also known as a virion, according to the Centers for Disease Control and Prevention. Virions are made up of an outer protein shell and an inner core of nucleic acid: in this case, eight single-stranded RNA segments.
This illustration from the CDC is a 3-D graphical representation of an influenza virion's structure. Influenza viruses are members of the Orthomyxoviridae family, according to Encyclopedia Britannica, meaning their virions measure between 80 and 120 nanometers in diameter. Each virion contains hemagglutinin and neuraminidase antigens, substances that cause our bodies to produce antibodies. The amount of each antigen determines the strain of the virus, which is where the H#N# naming structure comes from.
This image depicts a number of influenza A virions. There are three basic types of influenza viruses -- A, B and C -- but only influenza A can infect animals, such as pigs or birds. When a virus strain enters an animal, it may change, causing a more serious epidemic when it returns to humans.
In 1997, scientists took lung tissue from five 1918 Spanish flu victims and extracted the nucleic acid to sequence the flu strain's genome. This image shows the re-created influenza virions that caused the outbreak, infecting close to a fifth of the world's population and killing an estimated 30 million to 50 million people in less than a year, according to the U.S. Department of Health and Human Services.
These virions belong to the H3N2 flu virus that started in Hong Kong in 1968, according to the CDC. H3N2 infected an estimated 50 million Americans and killed 33,000 people in the United States, "making it the mildest flu pandemic in the 20th century," according to the Department of Health and Human Services.
Mexico and the United States first reported human cases of the H1N1, or swine flu, virus in April 2009, according to the World Health Organization. "Because there are human cases associated with an animal influenza virus, and because of the geographical spread of multiple community outbreaks, plus the somewhat unusual age groups affected, these events are of high concern," WHO said at the time. The disease spread to more than 200 countries and has caused more than 18,000 deaths since 2009.
H1N1 was called "swine flu" because it was similar to the virus seen in pigs, as this photo illustrates. The WHO officially called an end to the H1N1 pandemic in August 2010, but cases with the strain still appear each year. "It is likely that the 2009 H1N1 virus will continue to spread for years to come, like a regular seasonal influenza virus," the CDC says.
The latest flu outbreak started in China in April. H7N9, or Avian Influenza A, was seen in poultry and in people who worked closely with poultry. A few cases of human-to-human transmission were reported, but the virus didn't spread beyond China. The CDC suspects that the virus will return again in the fall as temperatures drop.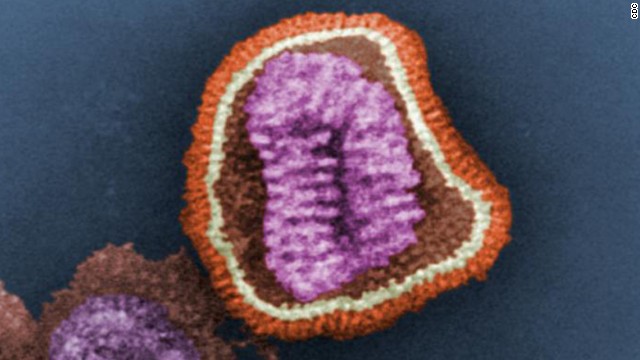 Photos: Flu under the microscope
"As Canada's Health Minister I want to reassure the public this is an isolated case," Ambrose said. "The risk of H5N1 to Canadians is very low. There is no evidence of sustained human-to-human transmission. It is also important for Canadians to know that this case is not part of the seasonal flu which circulates in Canada every year."
According to the World Health Organization, most avian flu viruses do not cause disease in humans. However, some like H5N1 are zoonotic, which means they can infect humans and cause disease, even death. The H5N1 virus has been primarily found in poultry in parts of Asia and northeastern Africa, where some people have contracted the virus and died.
China reports first H10N8 flu death
According to the Centers for Disease Control and Prevention, most of the 648 human cases of H5N1 infections that have been detected since 2003 have occurred in people with direct or close contact with poultry.
The CDC considers that the health risk to people in the Americas posed by the detection of this one case is very low. The U.S. agency is not recommending that the public take any special actions regarding H5N1 virus in response to the Canadian case.