STORY HIGHLIGHTS
NEW: Sister of American held prisoner says the family is outraged by Rodman
"Do you understand what he did in this country?" Rodman asks CNN about Kenneth Bae
Bill Richardson says Rodman "crossed a line" in his comments from North Korea
The NBA commissioner says he disapproves of the way the trip is being carried out
(CNN) -- Eccentric basketball star Dennis Rodman's bizarre outburst about an American citizen jailed in North Korea has drawn widespread criticism, including from the prisoner's family.
Rodman is in North Korea with other former NBA players for a basketball game against a local team that's due to take place Wednesday, the birthday of the country's leader Kim Jong Un.
Rodman, 52, who visited North Korea three times previously in the past year, describes Kim as a beloved friend.
During an exclusive interview from Pyongyang on Tuesday, he reacted angrily to a question from Chris Cuomo of CNN's "New Day" about whether he was planning to ask North Korean leaders about Kenneth Bae, a U.S. citizen who was sentenced to 15 years in a labor camp by North Korea last year on charges he intended to topple the government.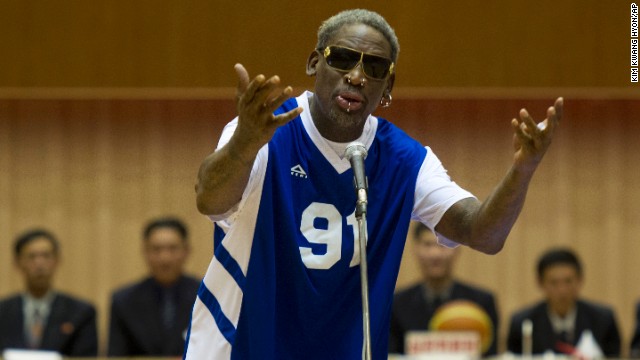 Dennis Rodman sings "Happy Birthday" to North Korean leader Kim Jong Un before an exhibition basketball game in Pyongyang, North Korea, on Wednesday, January 8. In his latest round of "basketball diplomacy," Rodman made his fourth visit to North Korea, one of the world's most totalitarian states, to participate in a basketball game between North Korea and a team of former NBA players.
Rodman bows to Kim, seated above in the stands, before the basketball game on January 8.
Rodman stands up after he and fellow former NBA players completed a television interview at a hotel in Pyongyang on Tuesday, January 7.
Son Kwang Ho, vice minister of North Korea's Sports Ministry, greets former NBA star Dennis Rodman at the airport in Pyongyang on Monday, January 6.
Rodman plays one-on-one with a North Korean player during a basketball practice session in Pyongyang on Friday, December 20, 2013. During the session, Rodman selected the members of the North Korean team who will play in Pyongyang against visiting NBA stars on January 8, the birthday of North Korean leader Kim Jong Un.
Rodman holds a cigar as he speaks to North Korean basketball players during a practice session in Pyongyang on December 20.
Rodman attracts notice as he enters the Koryo Hotel in Pyongyang on Thursday, December 19.
Rodman arrives at Beijing's airport before his flight to North Korea on December 19.
Rodman shows photos of himself with North Korean leader Kim Jong Un while talking to journalists at the Beijing airport on September 7 after his second trip to the reclusive, nuclear-armed nation. Rodman returned from the communist country announcing he will put together a "basketball diplomacy" event with players from North Korea. But he put a damper on any speculation he might have been trying to free imprisoned American Kenneth Bae.
Rodman shows a photo of himself with North Korean leader Kim Jong Un as he arrives at the Beijing airport on September 7. At a news conference Monday, September 9, he called Kim a "very good guy."
Rodman faces questions about detained American Bae at the Beijing airport on September 7. "It is not my job to talk about Kenneth Bae," he told reporters.
Rodman arrives at North Korea's Pyongyang airport on Tuesday, September 3. In a later interview with the British newspaper The Guardian, the ex-basketball star leaked the purported name of Kim's baby daughter.
Son Kwang Ho, vice chairman of North Korea's Olympic Committee, greets Rodman at the Pyongyang airport on September 3.
The retired NBA star faced criticism over his February visit to see the ruler of the repressive state. That trip came during a period of escalating tensions on the Korean Peninsula.
Airport staff take pictures of the former NBA star at a check-in counter at China's Beijing Capital International Airport on September 3 while he was heading to North Korea.
On an earlier visit, Rodman and Kim watch a basketball game together in this image released by HBO for an episode of the documentary series "Vice" which aired in June.
Rodman walks by the base of the Tower of the Juche Idea in Pyongyang in March 2013, in this image released by the Korean Central News Agency.
Rodman and Kim share a toast in North Korea in February.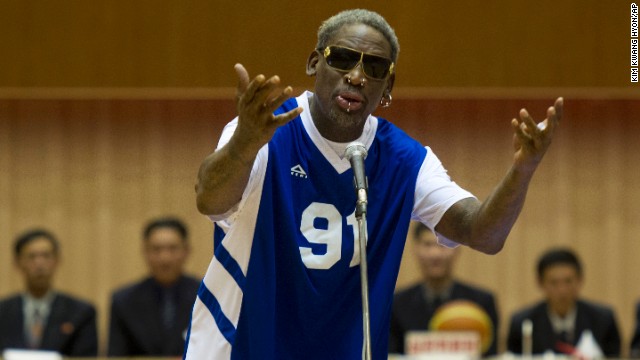 Photos: Dennis Rodman in N. Korea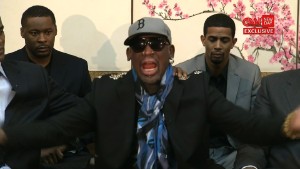 Rodman fiery on Kenneth Bae question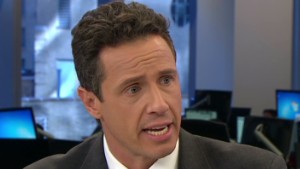 Cuomo: Rodman isn't on cultural exchange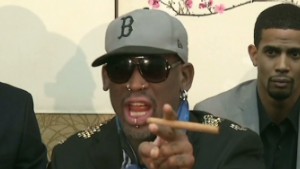 Rodman to CNN: I don't give a s***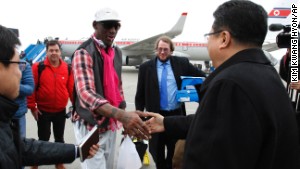 Rodman defiant in odd N. Korea defense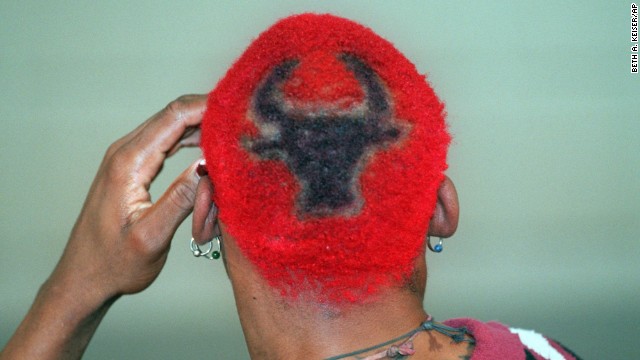 During his Hall of Fame basketball career, Dennis Rodman was known for his flashy looks on and off the court. Here, Rodman sports the logo of the Chicago Bulls, who he won the NBA title with in 1996, 1997 and 1998.
Rodman stretches before a game in Seattle in 1996.
Rodman signs his first autobiography, "Bad As I Wanna Be," in a Chicago bookstore in 1996.
Rodman dives for a loose ball during a game in 1997. Rodman is one of the NBA's all-time greatest rebounders, leading the league in that category from 1992 to 1998.
Rodman arrives at the Academy Awards ceremony in 1997.
Rodman appears on "The Tonight Show with Jay Leno" in 1998.
Rodman is hit with a trash can by Curt Hennig during a pro wrestling match in Sydney in 2000.
Rodman rocks gold pants in 2004.
Rodman took part in the 2006 Lingerie Bowl.
Rodman appears in costume for a book signing of his second autobiography, "I Should be Dead by Now," in 2005.
Rodman wears makeup similar to the rock band Kiss in 2006.
Rodman arrives at the Basketball Hall of Fame for his enshrinement in 2011.
Rodman wears face paint in 2011 while playing a basketball game with other NBA greats in Macau.
Rodman puckers his lips and holds the face of writer/director Alex Forstenhausler at the "So You Think You Can Roast?" event at the New York Friars Club in 2013.
Rodman attends the finale of the television show "All-Star Celebrity Apprentice" in 2013. Rodman has appeared on several reality TV shows, even winning "Celebrity Mole" in 2004.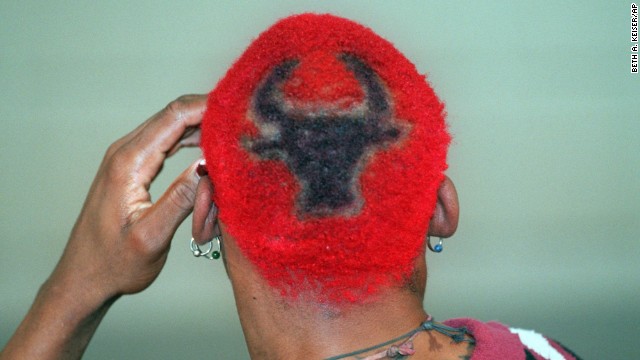 Dennis Rodman: Hoops, hair and tattoos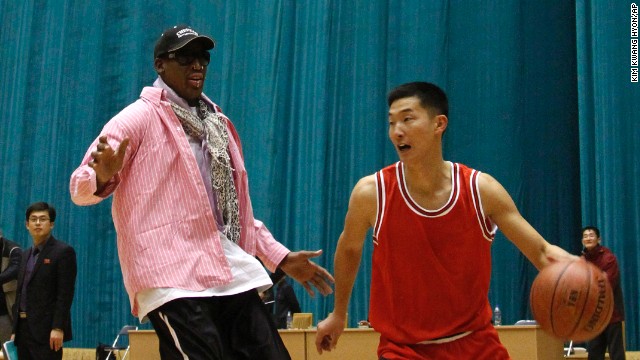 Former basketball star Dennis Rodman plays one-on-one with a North Korean player during a practice session in Pyongyang, North Korea, on December 20, 2013. Rodman and several other former NBA players have arrived in North Korea to take part in a basketball game on Wednesday, January 8, the birthday of North Korean leader Kim Jong Un.
Vin Baker shoots the basketball during a 1998 playoff game in Los Angeles. Baker is one of seven former NBA players taking part in the game in North Korea, according to Rodman's agent, Darren Prince. Baker was a four-time NBA All-Star who averaged 15 points a game during a 13-year career that ended in 2006.
Power forward Charles Smith, dribbling the ball in this photo, played nine NBA seasons after being drafted third overall by the Los Angeles Clippers in 1988. He averaged 14.4 points and 5.8 rebounds during his career.
Craig Hodges played in the NBA for 10 seasons and is most known for winning the league's Three-Point Shootout competition in 1990, 1991 and 1992.
Point guard Kenny Anderson was the second overall pick by the New Jersey Nets in 1991, and he would play on seven more teams before his 15-year career ended in 2005. Anderson, a former All-American at Georgia Tech, averaged 12.6 points and 6.1 assists during his NBA career.
Shooting guard Doug Christie played in the NBA for 15 seasons before retiring in 2007. He averaged 11.2 points per game during his career, and he made the NBA's All-Defensive Team on four occasions.
Clifford Robinson scored nearly 20,000 points during an NBA career that spanned 18 seasons. Robinson was the NBA's Sixth Man of the Year in 1993, when he played with the Portland Trail Blazers.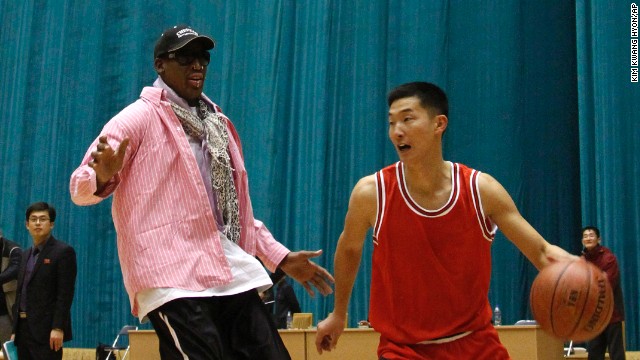 Photos: Former NBA stars in North Korea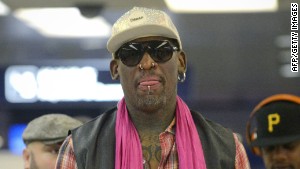 Rodman's North Korea basketball party
Rodman suggested that Bae, a Korean-American whose health has deteriorated during his imprisonment, had done something wrong, but did not specify what.
"Do you understand what he did in this country?" Rodman asked Cuomo. "No, no, no, you tell me, you tell me. Why is he held captive here in this country, why?"
"I would love to speak on this," Rodman said, before abruptly switching topic to talk about how his fellow basketball players had left their families behind to come to North Korea for the exhibition game.
When celebrity meets brutality
Prisoner's family 'appalled'
Bae's sister, Terri Chung, told Anderson Cooper 360 that Rodman's comments were shocking and outrageous.
Bae, a married father of three, has suffered a series of health problems during his detention and has been transferred from the labor camp to a hospital.
His mother, Myunghee Bae, who visited in October, told CNN that her son was a devout Christian who had not understood the system in North Korea. North Korea is officially an atheist state and has said religious activities were among Bae's offenses.
Kenneth Bae's mother tells of heartbreak
Chung said Tuesday she was upset because Rodman didn't use his relationship with Kim to help gain her brother's release from the hospital.
"He was in a position to do some good and to help advocate for Kenneth," she said. "He refused to do so. But then instead he has chosen to hurl these outrageous accusations against Kenneth. He clearly doesn't know anything about Kenneth, about his case. And so we were appalled by that."
She said her brother was in North Korea legally working as a tour operator when he was arrested in November 2012. She said she hoped one of the former basketball players would take a chance to ask for amnesty for him.
"This isn't some game. This is about a person's life," she said.
Rodman 'crossed a line'
Bill Richardson, a former U.S. ambassador to the United Nations, also criticized Rodman's comments, telling CNN he was "disappointed" by the former NBA star's performance.
"I think Dennis Rodman crossed a line this morning by implying that Kenneth Bae might be guilty, by suggesting that there was a crime," said Richardson, who worked to secure the release of an American held in North Korea in 1996. "There is no crime. Kenneth Bae is an American detainee that's been there a year in bad health, who deserves to come home."
Richardson, a former New Mexico governor who has visited North Korea multiple times, said Rodman "drank a little bit too much of the Kool-Aid from the North Koreans."
Rodman's comments Tuesday contrast with a request he made on Twitter in May for Kim to "do me a solid and cut Kenneth Bae loose."
Rodman struck up a friendship with Kim last February, when he first traveled to North Korea with a team of Harlem Globetrotters for an exhibition game that was watched by Kim, who is a basketball fan.
He has described his series of trips to North Korea as a "basketball diplomacy" project.
But U.S. government officials have said that they have nothing to do with the visits and that attention should be focused on the brutality of Kim's regime.
White House spokesman Jay Carney noted that Rodman is on a private trip and that the United States has called for North Korea to release Bae. "Our views about Kenneth Bae have not changed," he said.
"I did not see some of the comments that Mr. Rodman made, but I am not going to dignify that outburst with a response," Carney added. "I am simply going to say that we remain gravely concerned about Kenneth Bae's health and continue to urge the DPRK authorities to grant his amnesty and immediate release on humanitarian grounds."
Bae from North Korean prison: Please help me
'I love my friend'
In the interview with Cuomo, Rodman defended the visit to North Korea, saying it was a "great idea for the world."
He became upset when pressed on whether he and the other players should have traveled there, given recent events in the secretive country.
The trip takes place weeks after North Korea announced the purge and execution of leader Kim's once-powerful uncle, Jang Song Thaek.
"I love my friend," Rodman said in a reference to Kim. "This is my friend."
He praised his companions' willingness to visit North Korea.
"You know, you've got 10 guys here, 10 guys here, that have left their families, they've left their damn families, to help this country in a sports venture. That's 10 guys, all these guys here, do anyone understand that?"
"We do," responded Cuomo. "And we appreciate that and we wish them well with cultural exchange."
"No, no, no, no," Rodman continued. "I don't give a rat's ass what the hell you think. I'm saying to you, look at these guys here, look at them ... they dared to do one thing, they came here."
Ready for 'the abuse'
After Rodman's outburst, fellow player Charles D. Smith tried to calm the discussion, but Rodman carried on.
"You're the guy behind the mic right now," he told Cuomo. "We're the guys here doing one thing. We have to go back to America and take the abuse. Do you have to take the abuse? Well, we're going to take it."
Rodman predicted his efforts and those of his fellow athletes would eventually "open the door" to North Korean.
Smith pointed out that the group comprised not only ex-players, but some 40 other people, including a number of other Americans.
Smith defended Rodman, saying the players' visit was about basketball, not politics. "We just hope the results are positive, and we think that they'll be positive," he said, noting that the Americans had interacted earlier in the day with their North Korean counterparts, talking through an interpreter.
North Korea had invited the American players as a kind of "cultural exchange" and to "put smiles on people's faces," not to influence the country's leaders, Smith said.
"We are here because it's about doing great will around the world," he said.
'We're not ambassadors'
Smith outlined the charity projects he has been involved in worldwide through his sport, including visiting typhoon victims in Asia.
"We're doing what we do, we play basketball and that's what we love to do," Smith said.
"We did not know that it was going to take this type of a negative spin on what we were doing because we're not politicians, we're not ambassadors. We're here to do what we've been doing most of our lives."
Smith apologized for "the storm that has been created by our presence." But, he added, "We're not apologizing for doing what we do ... we're connecting people to basketball and people to people."
He cautioned against "playing semantics" when discussing Rodman's use of the word "friend" in describing his relationship with Kim.
"It's an associate," he said. "You met someone once, and it's your friend ... you can't meet someone once or twice and take that enduring step."
Smith added that the players were interested only in using basketball as a bridge to cultural exchange. "None of these guys are here to talk any sense into any politician," he said.
Darren Prince, Rodman's agent for 16 years, told CNN on Sunday that Kenny Anderson, Cliff Robinson, Vin Baker, Craig Hodges, Doug Christie and Smith would play against the North Korean senior national team.
NBA unimpressed
The NBA distanced itself Tuesday from Rodman.
"Dennis will be Dennis, but I think there is a lot at stake here in terms of a ... a very dangerous country," outgoing NBA Commissioner David Stern said on The Situation Room with Wolf Blitzer.
Stern, commissioner for nearly 30 years, said the league has had preliminary discussions in the past with Pyongyang about a cultural exchange but he wouldn't send any players to North Korea without the OK of the White House.
Stern said he believed that these former players agreed to the game for a big payday and didn't think about the political ramifications.
He said that the league didn't sanction the trip or collaborate with Rodman's group.
"Sports diplomacy is a wonderful thing," he said, mentioning that the NBA has hosted teams from China and Iran. "But they should be done in a far more dignified fashion than this particular trip is being carried out."
Rodman, NBA old-timers arrive in North Korea
North Korea: Reality vs. the world according to Rodman
CNN's Steve Almasy contributed to this report