Director Michael Bay freezes up at CES
updated 2:03 PM EST, Tue January 7, 2014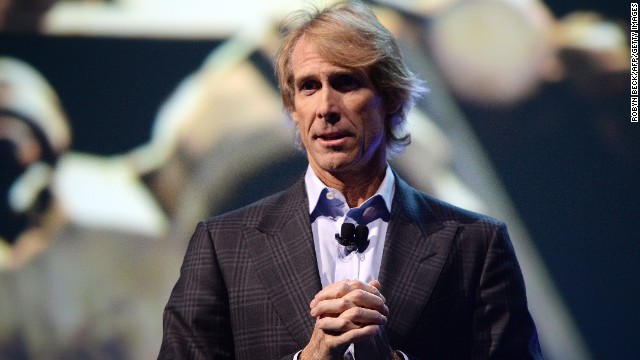 When "Transformers" filmmaker Michael Bay spoke at a Samsung press event at CES 2014, he had the misfortune of not saying much at all. The director was caught off guard by a malfunctioning teleprompter, and although he tried "to wing it" within minutes he abruptly apologized and walked off stage. Here are a few other celebrities who've had an embarrassing moment broadcast to everyone thanks to a microphone:
some serious backlash
after his disappointment over voting on the show resulted in his uttering "I hate this country." He released a statement trying to clarify what he meant and saying that he was frustrated.
Adam Levine learned the hard way that you have to watch it before you speak. "The Voice" judge found himself facing
his Weight Watchers endorsement deal was a "scam."
The company saw the humor in it and
released a statement
saying "We love Charles for the same reason everyone loves Charles, he's unfiltered."
Charles Barkley, seen here at the 2010 NBA All-Star Weekend in Dallas, got caught on a hot mic while covering a basketball game for TNT saying that
Celebrity chef Paula Deen apologized
Friday, June 21, for "the wrong that I've done," a move that follows revelations this week that she admitted to using a racial epithet in the past. Deen's video statement followed reports that she acknowledged in a lawsuit deposition to using the "N word," but denied telling racial jokes.
Politicians have to deal with this type of thing all of the time and President Barack Obama is no exception. After Kanye West interrupted Taylor Swift at the MTV Awards in 2009,
Madonna was on her best behavior at 'W.E.' press conference during the 2011 Toronto International Film Festival. But at the Venice Film Festival that same year she
"Seinfeld" star Michael Richards found himself in a whirl of bad publicity in 2006 after he screamed racial epithets at audience members during his comedy show at The Laugh Factory in Los Angeles. He later apologized.
He later told CNN
he didn't realize his microphone was on.
The Rev. Jesse Jackson was waiting to act as a pundit on a news show in 2008 when he was heard saying he'd like to cut off a particular portion of President Obama's body.
Celebs caught on the mic
Celebs caught on the mic
Celebs caught on the mic
Celebs caught on the mic
Celebs caught on the mic
Celebs caught on the mic
Celebs caught on the mic
Celebs caught on the mic
Celebs caught on the mic
Celebs caught on the mic
STORY HIGHLIGHTS
Film director Michael Bay is behind movies including the "Transformers" series
He was on stage to help promote Samsung's new curved TV at the CES show
The five-day conference in Las Vegas is the world's top tech gadget show
Bay appeared to get stage fright, apologizing and walking off, blaming the teleprompter
(CNN) -- Movie mogul Michael Bay has grappled with giant robots, rogue meteors and attacks on Pearl Harbor but one thing has defeated him: A presentation for a new TV at the world's top gadget trade show.
Bay has described getting stage fright at the Consumer Electronics Show, walking away after a teleprompter failed.
In a blog post on his website, the director -- whose films include the "Transformers" series -- wrote: "Wow! I just embarrassed myself at CES..."
Bay had been lending his name to Samsung's new 105-inch curved UHD television, unveiled at the five-day CES tech conference in Las Vegas.
"My job, as a director, is I get to dream for a living," he began, describing Hollywood as a place that "creates a viewer escape."
Bay continued: "And what I try to do is I ... uhhh, the type is all off -- sorry, but I'll just wing this." With prompting from Samsung Executive Vice President Joe Stinziano, he went on: "We'll wing it right now. I try to take people on an emotional ride and ..."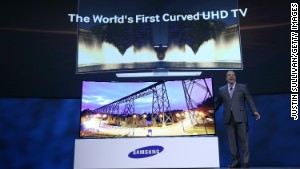 Curved, 4K TVs hot at CES 2014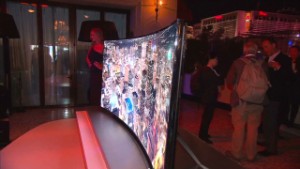 CES Now vs. Then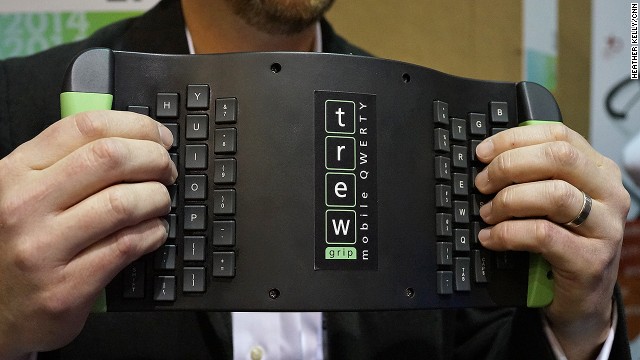 The Mobile QWERTY keyboard from TrewGrip flips and rotates the traditional keyboard. It works with tablets, phones and laptop computers.
With Netatmo's June, a sensor disguised as a bracelet or brooch tracks sun exposure and gives healthy advice to the wearer.
The Jumping Sumo smartphone-controlled robot from Parrot speeds, leaps into the air, has a small camera and can do tricks.
The Phantom 2 Vision drone from DJI Innovations has a built-in camera and a smartphone app, and can fly up to 400 feet into the air.
The Aura is a smart communications lamp from Withings that communicates with a sensor placed in your bed to track sleep patterns and wake you at just the right moment.
The PrioVR suit tracks your body movements using an array of strapped-on sensors. It can be used for games or more serious uses, like military training.
Mother is a hub that communicates with smaller sensors you place on anything you want to monitor, from pets to medications, and sends custom notifications to a smartphone.
The Prong PocketPlug is a smartphone case that can be plugged directly into an electrical outlet to charge your phone.
The Sphero 2B is another smartphone-controlled robotic toy that can speed and jump into the air.
TrackR devices can be attached to keys or electronics or slipped into a wallet and then tracked from up to 100 feet away.
The Parrot MiniDrone is a very small smartphone-controlled drone.
EverSense sensors take the temperature wherever they're left and communicate it back to the central smart thermostat for more accurate indoor climate control.
Waka Waka lights and power cells use the power of the sun to bring light to off-the-grid locations or charge electronics.
The Wellograph is a fitness tracker disguised as a normal men's watch. The back of the watch face has sensors for tracking the wearer's heartbeat.
The Tao Wellshell is a workout gadget that uses pressure sensors to guide you through isometric exercises. It also tracks the usual fitness stats.
The CAT B100 feature phone is built to take a beating, or a dip, and still keep working.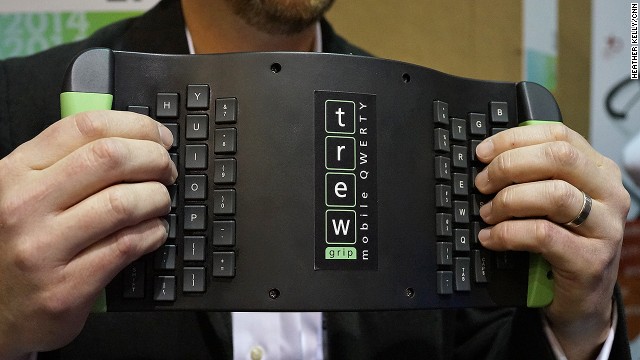 Photos: Fun and silly CES gadgets
When Stinziano asked how the product would impact Bay's work, the director exited the stage, apologizing.
'Zombie' attacks Michael Bay on 'Transformers 4' set
In his blog, Bay said he had been too eager to speak.
"I just got so excited to talk, that I skipped over the Exec VP's intro line and then the teleprompter got lost.
"Then the prompter went up and down -- then I walked off. I guess live shows aren't my thing."
Comments posted below Bay's message ranged from support and praise to criticism of his reliance on a teleprompter.
Users of the social media network Twitter also weighed in.
The Funny or Die account wrote: "Michael Bay stormed off stage at CES after his teleprompter broke. No script, big explosion & a disappointed audience. Dude's still got it!"
But filmmaker Zak Bagans wrote:"Leave Michael Bay alone, some of the most talented and creative ppl in the world suffer from anxiety and stage-fright."
Samsung's media release announcing the new curved television didn't mention Bay.
Read more: Richard Quest 'I hate public speaking'
Read more: Six crazy technologies at CES
Read more: Samsung to report profit decline