NFL: Temperatures plummet in Green Bay as San Francisco 49ers beat Packers
updated 8:24 AM EST, Mon January 6, 2014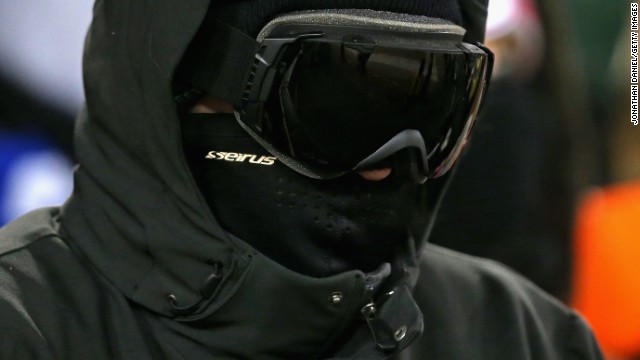 Fans wrap up warm as the cold bites during Sunday's NFL game between the Green Bay Packers and the San Francisco 49ers at Lambeau Field in Wisconsin. The temperature was measured at four degrees Celsius, but with wind chill it felt like minus 14.
The weather in Green Bay was a far cry from conditions in San Franciso, where temperatures were set to hit a comparatively balmy 13 degrees on Monday.
Packers quarterback Aaron Rodgers wore long sleeves and a balaclava in a bid to stave off the cold.
San Francisco quarterback Colin Kaepernick eschewed such measures, playing without gloves and in short sleeves as he led his team to a 23-20 win. Kaepernick grew up in Wisconsin and was a childhood Packers fan.
So concerned was 49ers coach Jim Harbaugh by the conditions that he asked his quarterback to wear gloves and long sleeves three times before Sunday's game.
A fan holds up a sign referencing the "Ice Bowl", a match played between the Green Bay Packers and the Dallas Cowboys at Lambeau Field in 1967. The temperature during the match was minus 13, a bone-chilling minus 48 when factoring in wind chill, making it the coldest game in NFL history.
Fighting the cold
Far from home
Rodgers wraps up
Cool-hand Colin
Coach's plea
The 'Ice Bowl'
STORY HIGHLIGHTS
The San Francisco 49ers beat the Green Bay Packers in freezing conditions
Temperatures at Lambeau Field in Green Bay measured four degrees Fahrenheit
Wind chill made conditions feel like minus 14
The coldest match in NFL history took place at Lambeau Field in 1967
(CNN) -- American football players and fans alike braved bone-chilling conditions in Green Bay Sunday during one of the coldest games in National Football League (NFL) history.
The temperature at the Green Bay Packers' Lambeau Field in Wisconsin was measured at four degrees Fahrenheit, with wind chill causing the mercury to dip as low as minus 14 during the visit of the San Francisco 49ers.
An arctic front pushing through the Midwest, which has become known as a "polar vortex," was the reason for the frigid conditions, with players donning long sleeves and balaclavas beneath their helmets in a bid to keep warm during the seventh coldest game the league has ever seen.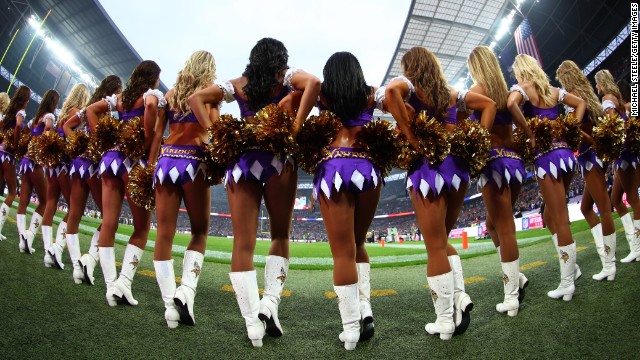 The Minnesota Vikings cheerleading squad, MVC for short, take to the field at London's Wembley Stadium. The Vikings played the Pittsburgh Steelers as part of the NFL's continuing International Series.
While the NFL muscle men go to war on the pitch, women wearing skimpy outfits and shaking brightly colored pom-poms strut their stuff with intricately choreographed dance routines.
Some question whether bumping, grinding, and shaking your backside should have a place in professional sport.
Kaylee Munson is a 25-year-old cheerleader in her fifth year as a member of the MVC. And when she's not working on her cheers, she's a school nurse.
Putting together a series of complicated dance moves is no mean feat given the footwear some cheerleaders wear.
Flexibility, grace, strength, timing and the ability to keep smiling: If you want to be a cheerleader you need to be good at multitasking.
Is it a bird or is a plane? No it is the Baltimore Ravens cheerleaders performing during the second half of the game against the Houston Texans.
As every cheerleader knows, it is important to accessorize. Where would any self-respecting cheerleader be without her pompoms?
Twenty-six of the 32 NFL teams, including the Arizona Cardinals, pictured here, have a cheerleading squad.
Here Chiefs cheerleader Susie rides Warpaint in between quarters as the Kansas City Chiefs take on the Dallas Cowboys at the Arrowhead Stadium.
If you have a bob haircut does that rule you out of being a cheerleader?
Cheerleading goes global. Here cheerleaders entertain the Selhurst Park crowd at the English Premier League match between Crystal Palace and Swansea City.
Over in Italy, Napoli's cheerleaders have had plenty to cheer about this season. Rafa Benitez's team have made a strong start in Serie A and are doing well in the Champions League.
The Dallas Cowboy cheerleaders have come a long way since the 1970s.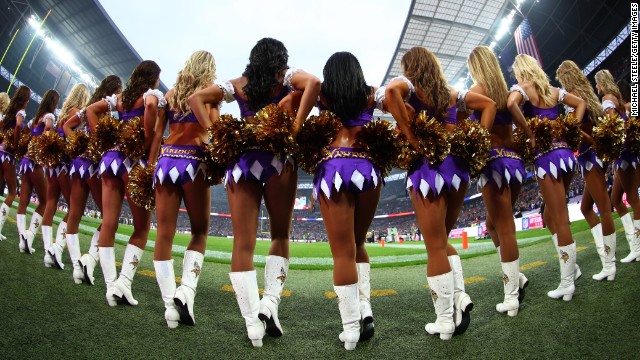 Cheerleaders: Entertainment or titillation?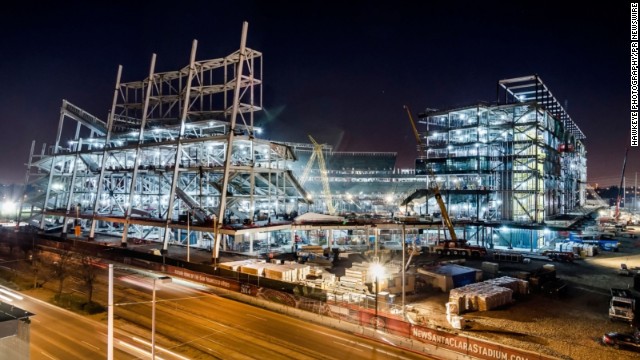 Levi's Stadium, future home of the San Francisco 49ers, will open next year in Santa Clara, California, and is expected to offer speedy Wi-Fi and Web-based TV throughout. The stadium will host Super Bowl L in 2016.
In May 2012, NFL Commissioner Roger Goodell announced a plan to equip all 31 league venues with Wi-Fi, which could help ease network congestion for phone-toting fans. But less than half will be Wi-Fi enabled at the start of the 2013 season.
In 2012, the New England Patriots unveiled a stadium-wide Wi-Fi sytem built by Enterasys Networks at Gillette Stadium in Foxboro, Massachusetts.
Verizon installed a new antenna system and AT&T updated its tower this year to improve wireless services at FirstEnergy Stadium, home of the Cleveland Browns.
This season the Jacksonville Jaguars will unveil a fantasy football lounge at EverBank Field.The lounge will feature high-density Wi-Fi, more than 20 TV screens and Xbox gaming consoles among other amenities.
AT&T Stadium, home of the Dallas Cowboys, is Wi-Fi enabled and is home to high-definition LED video displays so large they have twice been struck by balls in play.
MetLife Stadium in East Rutherford, New Jersey is Wi-Fi enabled and will host Super Bowl XLVIII in February.
Reliant Stadium in Houston, Texas, will host Super Bowl LI in 2017. It does not currently offer Wi-Fi but has been negotiating with Verizon to bring Wi-Fi throughout the stadium.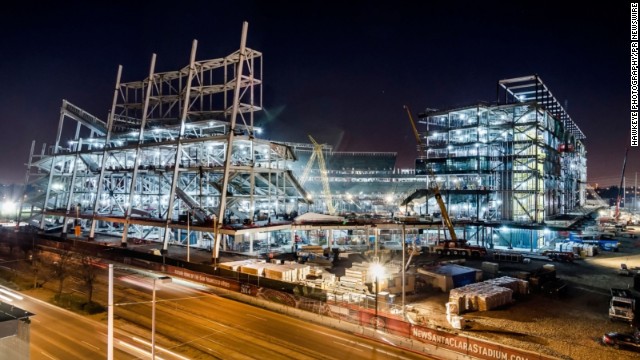 NFL stadiums going high-tech
One player who persisted with short sleeves was 49ers quarterback Colin Kaepernick, who masterminded his team's 23-20 victory.
Jim Harbaugh, coach of the San Francisco 49ers, was so concerned by the cold that he had asked Kaepernick, a Wisconsin native and childhood Packers fan, three times to wear more weather appropriate gear.
"I'm a little hardheaded at times," Kaepernick, who also played without gloves, told reporters. "I played in cold-weather games before. I feel it's more mental than anything."
Lambeau Field is something of an ice fortress when it comes to the NFL's chilliest contests.
The Packers' 1967 meeting with the Dallas Cowboys, dubbed the "Ice Bowl" was played despite the temperature dropping as low as minus 14 -- with the wind making it feel like minus 48 -- securing its title as the coldest game in NFL history.
Read: Cheerleaders -- Gratuitous sexism or all-American fun?
Read: Fans flock to icy outdoor hockey