Pope Francis to visit Holy Land in May
updated 10:54 AM EST, Sun January 5, 2014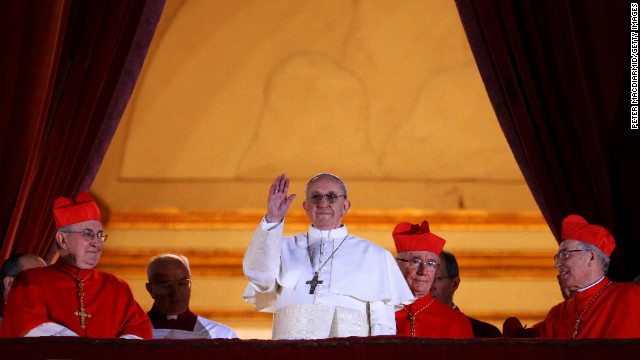 Argentine Cardinal Jorge Mario Bergoglio was elected the Roman Catholic Church's 266th Pope on March 13, 2013. The first pontiff from Latin America was also the first to take the name Francis. It was a sign of maverick moves to come.
Pope Francis at the reception desk of the Domus Internationalis Paulus VI residence, where he paid the bill for his stay during the conclave that would elect him leader of the world's 1.2 billion Catholics.
Pope Francis embraced a young boy with cerebral palsy in March 2013, a gesture that many took as a heartwarming token of his self-stated desire to "be close to the people."
Pope Francis washes the feet of juvenile offenders, including Muslim women, as part of Holy Thursday rituals in March 2013. The act commemorates Jesus' washing of the Apostles' feet during the Last Supper.
Crowds swarmed Pope Francis last July as he made his way through World Youth Day in Rio de Janeiro, Brazil. According to the Vatican, 1 million people turned out to see the Pope.
During an impromptu press conference on the plane from Brazil to Rome, the Pope uttered five now-famous words about gay priests: "Who am I to judge?" Many saw the move as the opening of a more tolerant era in the church.
In August, Pope Francis and Italian teens took what is likely the first papal selfie, another indication of the Pope's down-to-earth charm.
Pope Francis has eschewed fancy cars, instead choosing to drive a white Renault 4L. And he told priests and bishops to do the same.
Pope Francis embraced Vinicio Riva, a man with a rare skin disease, in November. The images went viral, with even atheists expressing admiration for the gesture.
Pope Francis marked his 77th birthday on December 17 by hosting homeless men to a Mass and a meal at the Vatican. One of the men brought his dog.
Pope Francis jokes with members of the Rainbow Association, which uses clown therapy in hospitals, nursing homes and orphanages. Many Catholics saw this image as the joyful flip side of Francis' embrace of the disfigured man.
In December, Time magazine named Pope Francis its Person of the Year, lauding him as "the people's Pope."
In another papal first, Pope Francis made the cover of Rolling Stone in January. The magazine praised his "obvious humility" and "empathy."
Pope Francis' first year
Pope Francis' first year
Pope Francis' first year
Pope Francis' first year
Pope Francis' first year
Pope Francis' first year
Pope Francis' first year
Pope Francis' first year
Pope Francis' first year
Pope Francis' first year
Pope Francis' first year
Pope Francis' first year
Pope Francis' first year
STORY HIGHLIGHTS
Pope Francis to travel to Middle East May 24-26
Pope to visit Jerusalem, Bethlehem and Amman
Sunday's announcement marks 50 years since significant meeting in Jerusalem
(CNN) -- Pope Francis announced Sunday his first trip as pontiff to the Holy Land in May.
Speaking during his weekly Sunday blessing in Vatican City, he said he will visit Jerusalem, Bethlehem in the West Bank and the Jordanian capital, Amman.
The visit will take place May 24-26.
"In the climate of joy, typical of this Christmas season, I wish to announce that from 24 to 26 May next, God willing, I will make a pilgrimage to the Holy Land," the pope told crowds gathered in St. Peter's Square.
"At the Holy Sepulchre we will celebrate an Ecumenical Meeting with all the representatives of the Christian Churches of Jerusalem, together with Patriarch Bartholomew of Constantinople."
His announcement was posted on the Vatican Radio website.
"As of now I ask you to pray for this pilgrimage," the Pope said.
January 5 marks the 50th anniversary of a historic meeting in Jerusalem between Pope Paul VI and the then-spiritual leader of the world's Orthodox Christians Patriarch Athenagoras.
Kerry said earlier he was making progress in Middle East peace talks, stressing the Obama administration "is committed to putting forward ideas that are fair, that are balanced, and that improve the security of all of the people of this region."
Pope Francis leaves New Year's voice mail for nuns in Spain
Editors' Note: This article has been edited to remove plagiarized content after CNN discovered multiple instances of plagiarism by Marie-Louise Gumuchian, a former CNN news editor.