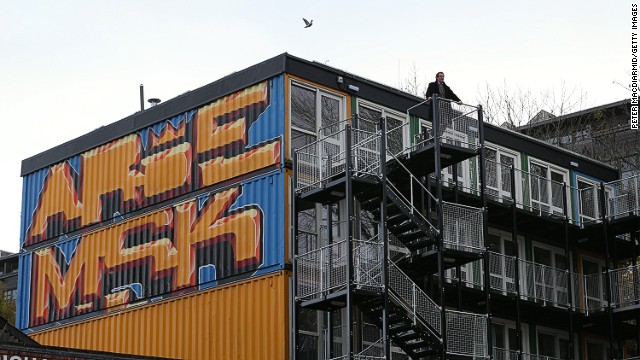 A group of 36 shipping containers has been transformed into urban living space in Brighton, England.
The containers have been retrofitted with kitchens, bathrooms and insulated plasterboard walls. They will be used to house some of Brighton's homeless population.
Ian Kent is the Canadian designer of the Nomad micro-home. The 10-by-10-foot structures can cost as little as $25,000 and be shipped anywhere in the world.
Inside, the Nomad facility contains room for two levels connected by a small stairway. The upper level houses bedroom space while the lower level has kitchen, bathroom and lounge areas.
A number of fresh micro-home concepts have also been designed in other regions of the world in recent years. Tengbom Architects created this 10-square-meter (107-square-foot) housing unit with students at the University of Lund, Sweden, in mind. The compact space offers a sleeping loft, kitchen, bathroom and a small garden with a patio.
These 'pop-up' structures have been designed by architects Levitt Bernstein to occupy redundant garage structures on housing estates in London. The design won the HOME competition run by the Building Trust International.
This micro-home concept was designed by by Dutch firm, Tjep, and features three separate floors, with a solar tree on the roof that helps meet the facility's energy requirements as well as a set of giant opening shutters.
The transportable APH80 home from Spanish firm Abaton takes between six and eight weeks to build and can be transported or moved between destinations by road. Designed as a home for two people, the 27-square-meter (290-square-foot) dwelling has a bedroom, living room and bathroom.
Italian architect Renzo Piano is famed for designing Europe's tallest building (the Shard in London). In 2013 he also put his name on one of its smallest, the 7.5-square-meter (81-square-foot) Diogene, which comes equipped with a foldaway desk, chair, sofa bed, composting toilet, shower plate and a small kitchen unit with built-in sink and refrigerator.
An example of a 325-square-foot apartment at the Museum of the City of New York. The exhibit, called "Making Room," was inspired by a contest to design micro-apartments to help ease the affordable housing shortage.
Thinking outside the box
Shipping container homes
Nomad micro-home
Compact living space
Tengbom Architects
Levitt Bernstein converted garages
Tjep Isolee
Abaton APH80
Diogene
Museum of the city
STORY HIGHLIGHTS
A city in southern England has transformed shipping containers into compact urban living space
The cost of homes and rented accommodation has risen sharply in recent years
Some experts believe 'micro homes' may provide a cost effective and sustainable housing solution
Editor's note: One Square Meter explores the leading architectural designs, city plans and demand for property investment in emerging markets. Join CNN's John Defterios as he visits some of the world's most dynamic cities for an insight into the fast-paced world of real estate development.
(CNN) -- Shipping containers have long been a sturdy mainstay of global maritime trade.
In the city of Brighton, on the southern English coast, the durable metal boxes now also provide a low-cost housing option.
In early December Brighton Housing Trust (BHT) and property developer, QED, opened 36 shipping containers retrofitted with kitchens, bathrooms and insulated plaster-board walls.
The units have been erected on spare land in the city and will be used to house local homeless people, the number of which has been increasing steadily in recent years, according to BHT chief executive, Andy Winter.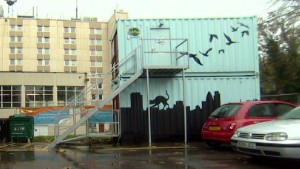 Living in a shipping container
See also: Where is the world's most valuable property?
"There's a chronic shortage of affordable housing in Brighton," Winter told CNN. "I was initially very skeptical about housing people in metal boxes ... but the containers have been converted to an extremely high standard."
Temporary accommodation like this "could really make a difference in the short term," he added.
While the concept of transforming shipping containers into housing units has been experimented with before -- including in Amsterdam, where containers are used to house students, and London, where they offer a quirky waterside abode beside the Thames -- Winter believes the idea, or similar iterations of the concept, could offer a timely solution to urban housing challenges the world over.
Low supply, lack of available land as well as stringent planning laws have seen rents and property prices soar in many major cities in recent years. Houses prices in London increased by 10% in a single month in October, according to property experts, Rightmove.
See also: Mumbai's rising property starlet
Small, unobtrusive and easy to assemble housing could, as such, provide a quick and cost effective solution to these growing concerns, Winter believes.
Various prototype designs and inventive micro-homes concepts have popped up in the likes of Germany, Sweden and the United States in recent years. Some come in the shape of standalone miniature structures while others consist of entire apartment blocks.
According to Ian Kent, the president of Nomad, a Canadian company that has designed a 10 foot by 10 foot "micro-house" that can be purchased for as little as $25,000 and shipped to virtually any location in the world, the concept could solve all manner of growing housing problems.
See also: China's crazy property bubble
"Cities all over the world are letting us know they are in dire need of this. The size by default makes everything easier to build (and) maintenance while running it. It becomes a great solution for housing," Kent said.
He also highlights the possibility of their use in developing nations with fast growing cities, as a emergency accommodation in the aftermath of natural disasters as well as being collected on a piece of property as a community, like a university campus.
Check out the gallery above to see some of the most creative and challenging micro-housing designs of recent years.
Stephanie Ott contributed to this story