Investigators study Schumacher's ski helmet cam as he remains in coma
updated 1:16 PM EST, Sat January 4, 2014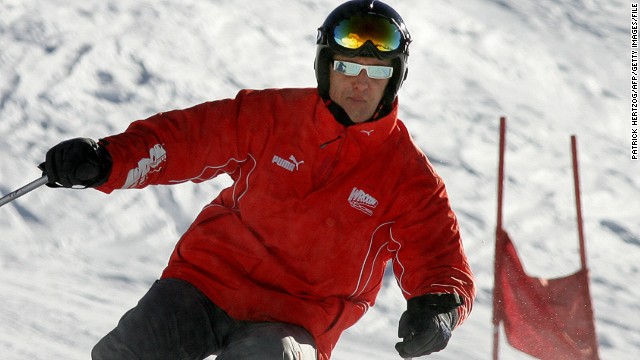 Michael Schumacher navigates a slalom course at the Italian ski resort of Madonna di Campiglio in 2005. The seven-time Formula One world champion remains in a critical condition following a skiing accident in the French Alps on Sunday. The 44-year-old was reportedly wearing a helmet. Ski safety specialist Dr. Mike Langran says a helmet can never provide complete protection in all accident situations, but its use "will have substantially attenuated the injuries sustained."
Schumacher skiing in Madonna di Campiglio in January 2008. "Accidents of this nature are, thankfully, rare events amongst skiers and snowboarders," Langran says. "The absolute risk of an injury whilst skiing or snowboarding recreationally remains very low, in the order of 2-4 injuries per 1,000 days spent on the slopes. The vast majority of people will ski or board all their lives without ever sustaining a significant injury."
Schumacher skiing in Madonna di Campiglio in January 2008. "My colleagues and I in the snow sports medicine fraternity continue to recommend that all skiers and snowboarders wear an appropriately sized and designed helmet on the slopes," Langran said in a statement on website
www.ski-injury.com
on Monday.
The "Dent de Burgin" peak in the French ski resort of Meribel under which the retired German driver reportedly had his skiing accident.
Schumacher was airlifted to hospital in Grenoble. "Medical care both on the slopes and in hospital in France is amongst the finest in the world and Michael will no doubt be receiving the very best care in Grenoble," Langran said.
Langran said
fatalities in the sport are relatively low: "The rate of fatality converts to 0.78 per million skier/snowboarder visits. Although it's not directly comparable, in the United States in 2009, 2,400 people drowned while swimming in public areas and 800 died while bicycle riding."
Schumacher skiing at the Madonna di Campiglio resort in 2005.
Schumacher (center) on a ski lift at the Madonna di Campiglio resort in January 2006. Langran says that over the past decade about 41.5 people have died skiing/snowboarding per year in the U.S. on average. "During the 2010/11 season, 47 fatalities occurred out of the 60.5 million skier/snowboarder days reported for the season," he added.
Schumacher: Perils of the piste
Schumacher: Perils of the piste
Schumacher: Perils of the piste
Schumacher: Perils of the piste
Schumacher: Perils of the piste
Schumacher: Perils of the piste
Schumacher: Perils of the piste
STORY HIGHLIGHTS
Investigators examine a camera that was attached to Michael Schumacher's ski helmet
The former racing driver remains in critical but stable condition, his manager says
Schumacher suffered severe head injuries in an accident in the French Alps last weekend
He remains in an induced coma in a hospital in the French city of Grenoble
(CNN) -- Investigators are studying the camera that was on former world champion driver Michael Schumacher's ski helmet for clues to the cause of a skiing accident that left him critically injured in a French hospital.
French media reports late Friday suggested police had seized the camera from Schumacher's family. It's not yet clear whether it was filming at the time of the accident.
But his manager, Sabine Kehm, said in a statement Saturday that the family had handed the helmet camera over to the authorities voluntarily.
"That this should have been done against the wishes of the family is untrue," she said.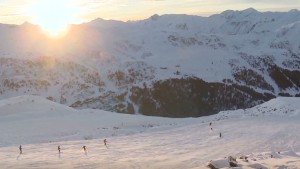 Schumacher accident video under review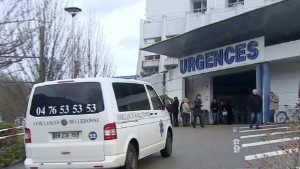 Schumacher a global athlete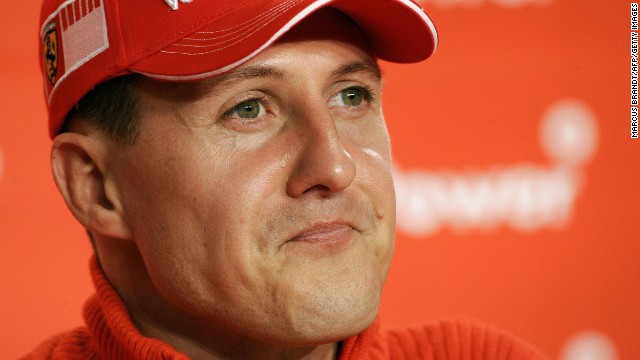 Seven-time Formula 1 champion Michael Schumacher was hospitalized December 29 after suffering "severe head trauma" from a ski accident in the French Alps. He is no longer in a coma and has since been transferred to a hospital in Lausanne, Switzerland for rehabilitation. Here's a look back at his personal and career highlights:
Schumacher is hoisted by his pit crew at the Australian Grand Prix track in Adelaide, Australia, after winning the Formula 1 World Drivers Championship in 1994.
Schumacher holds up the victory trophy, left, and the French Republic President's trophy after winning the French Formula 1 Grand Prix in Magny Cours, France, in 1995.
Schumacher meets Pope John Paul II in 1999.
King Juan Carlos of Spain congratulates Schumacher after he won the Spanish Formula 1 Grand Prix in 2001.
Schumacher checks out an Enzo Ferrari at Frankfurt's International Motor Show in 2003.
Schumacher steers his Ferrari in front of a Eurofighter on the track of a military airport in Grosseto, Italy, in 2003.
Schumacher sits in his car before the start at the inaugural Chinese Grand Prix in 2004 in Shanghai.
A man rides past a poster with Schumacher's likeness in Bahreman, Iran, in 2005.
Felipe Massa hugs Schumacher after Massa won first place in the Formula 1 Grand Prix of Turkey in Istanbul in 2006.
Schumacher drives during a practice session at the Australian Formula 1 Grand Prix in Melbourne in 2006.
Schumacher celebrates his win at the Formula 1 Grand Prix of Germany in 2006 in Hockenheim, Germany.
Schumacher's pit team works on his car during the Formula 1 Grand Prix of China in Shanghai in 2006.
Schumacher arrives for an awards ceremony in Oviedo, Spain, in 2007.
Schumacher autographs the T-shirt of an earthquake victim in Costa Rica in 2009.
Shumacher presents the new Mercedes SLS AMG, also the 2010 Formula 1 safety car, in Geneva in 2010.
Schumacher visits the European Parliament in Strasbourg, France, to test eSafety technologies in 2011.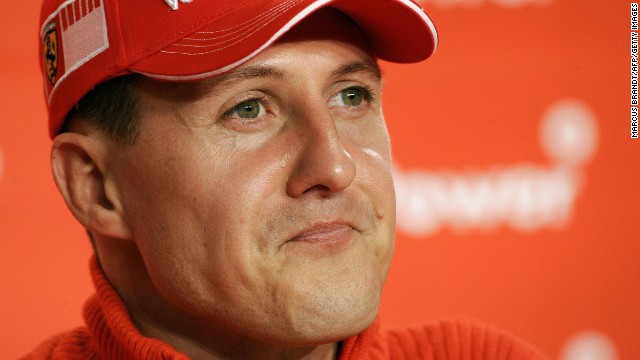 Formula 1 champion Michael Schumacher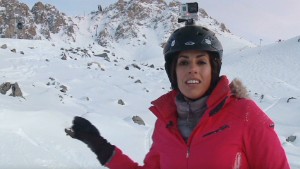 Retracing Schumacher's off-piste route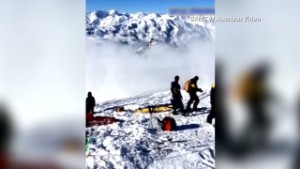 New video of Schumacher being airlifted
Kehm said Schumacher's condition remains critical but stable.
His doctors say no further update on his condition is expected before Monday, Kehm said.
Schumacher suffered severe head trauma in the accident last Sunday in Meribel, in the French Alps. He is in a medically induced coma and has undergone two operations.
Kehm said Tuesday that friends and family who were skiing with him say he hit a rock hidden under deep snow and was catapulted head first onto another rock. He was not moving fast at the time, she said.
Friday was the former Formula 1 champion's 45th birthday, marked with a silent vigil by fans who gathered outside the hospital in the city of Grenoble where he is being treated.
Schumacher, the most successful driver in Formula 1 history, won 72 Grand Prix races between 1996 and 2006 for Ferrari. The automaker posted a message on its website Friday.
"This is a special day for Ferrari and all its fans, as it is Michael Schumacher's birthday," it said. "At the moment, he is tackling the most important fight of his life and therefore we want to send him very special wishes."
CNN's Phillip Taylor and Saskya Vandoorne contributed to this report.