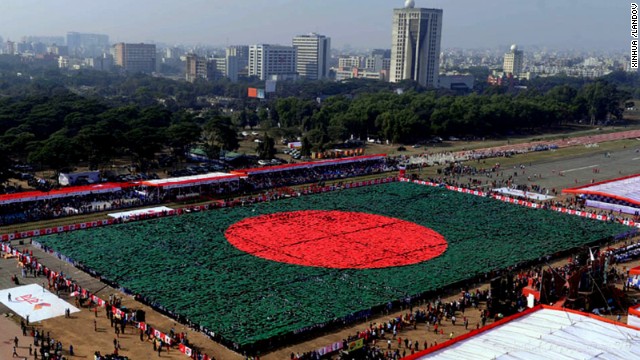 More than 27,000 people gathered in the Bangladeshi capital, Dhaka, on December 16, in an attempt to break the record for the world's largest "human flag."
Students and army officials hold green and red placards to create the Bangladeshi flag, which was adopted in 1972 after Bangladesh gained independence.
17-year-old student, Akhika Akhtar, participates in the record-breaking attempt with her classmates.
Spectators watch from the sidelines as students and army officials form a giant flag with placards at the National Parade Ground in Dhaka, Bangladesh.
December 16 is Victory Day, which commemorates the day Bangladesh officially gained independence from Pakistan in 1971.
At least one million people died during the nine-month war that led to Bangladesh's independence from Pakistan in 1971.
On December 16, the Bangladesh flag broke the previous record set by Pakistan last year, when 24,000 people with white and green boxes gathered in a hockey stadium in the city of Lahore.
The red of the Bangladesh flag symbolizes "the rising sun of a new country".
To set a new record, the crowd had to maintain the flag by standing for at least five minutes.
An accounting firm monitored the attempt, scanning bar codes to record the number of volunteers. There were 27,117 in all.
World's biggest human flag
World's biggest human flag
World's biggest human flag
World's biggest human flag
World's biggest human flag
World's biggest human flag
World's biggest human flag
World's biggest human flag
World's biggest human flag
World's biggest human flag