4 essential things to know about Joburg history
updated 2:30 AM EST, Thu January 2, 2014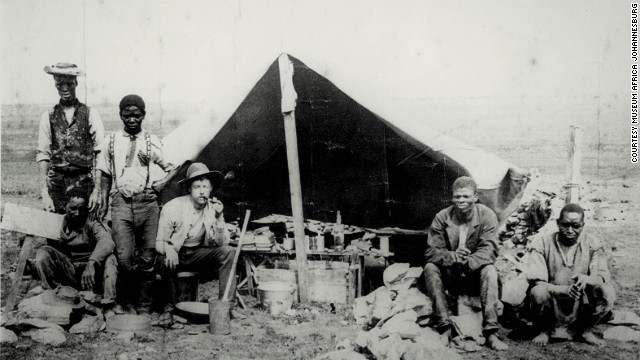 Within a few years of the discovery of gold, Joburg had become like an African Las Vegas -- its tents transformed into brick buildings and dusty gathering places into market squares.
Wealth came at a cost: poverty forced many Africans to work in the mines and they lived in terrible conditions.
Many black African migrants, especially, ended up being forced to live in rundown townships outside Johannesburg.
Everyone in Joburg seems to come from somewhere else, making for a generally open, friendly feel these days.
"Joburg's like the whole world in one city -- you could be eating braaied fish in Yeoville one minute and Pakistani street food in Fordsburg the next," says a tour guide.
Music and the arts played a significant role in the anti-apartheid struggle. The neighborhood of Sophiatown was at the heart of this cultural movement in the 1950s.
Liliesleaf Farm, in the affluent northern suburb of Rivonia, is where 19 ANC activists including Nelson Mandela were arrested and, in his case, later imprisoned for 27 years.
Melville Koppies is a nature reserve in the heart of Joburg with evidence of Stone Age settlements.
The unusual Maropeng building, housed in a giant grassy mound, has displays showing humankind's journey through time.
Africa's Las Vegas
Mine workers' compound
Alexandra township
Everyone's from out of town
Indian sweets in Fordsburg
Old Sophiatown
Liliesleaf Farm
Melville Koppies
Cradle of humanity
STORY HIGHLIGHTS
Modern Johannesburg was born 130 years ago, after gold was discovered
It's a city of immigrants -- with an open, friendly atmosphere
Earliest inhabitants can be traced back 3 million years
(CNN) -- It's hard to believe Johannesburg didn't exist 130 years ago.
It used to be a dusty, one-horse kind of place where a few farmers eked out a living from the land, although traces of early human habitation go back millions of years.
Modern Johannesburg was born with the discovery of gold.
Almost overnight, it became one of the fastest-growing cities in the world as fortune-seekers rushed in.
The stories that make up the Joburg's past shape its character today, rewarding visitors who venture beyond the sanitized streets of wealthy Sandton to discover the real heartbeat of Egoli, the "City of Gold," as it is also known.