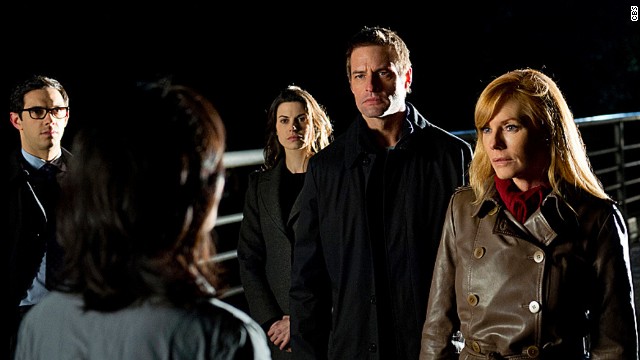 What will the new year bring in television? More "Mad Men," another "House of Cards" and new late-night hosts, for starters. Here's a sampling: In
"Intelligence,"
Josh Holloway stars in a CBS drama about an intelligence agent with a chip implanted in his brain. With an ability to log into the world's data networks, he's the Internet come to life, and he uses that ability to go after the usual bad guys. He'd better hope the system doesn't go down. Marg Helgenberger co-stars. (
January 7
)
"Rake": Based on a hit Australian series, the U.S. version stars Greg Kinnear as Keegan Deane, a defense lawyer who will stand up for anybody. His own life, however, is a mess of problems. This Fox show has a good pedigree -- besides Kinnear, it stars Miranda Otto and Tara Summers and is executive-produced by Peter Tolan of "Rescue Me" fame -- but may face time slot challenges from CBS and ABC. (January 23)
Jay Leno departs "The Tonight Show"
: This time, he insists, it's for real. The "Tonight Show" host left for a few months in 2009 only to return in 2010 -- angering his replacement, Conan O'Brien, who caustically observed, "I just want to say to the kids out there watching,
you can do anything you want in life. Unless Jay Leno wants to do it, too."
Now, he is finally retiring after 22 years -- give or take -- in the job. Next for the car buff? You'll find him in the garage, he says. (
February 6
)
The Winter Olympics
: The 2014 games will open on February 7 in Sochi, Russia. NBC, the Olympics' American carrier, plans to go all-out, with hundreds of hours of live, taped and online coverage, and no wonder -- the Olympics have almost always been ratings gold. Though fans may be looking forward to figure skating, hockey and skiing, other matters -- including predictions of warm weather,
protests against Russia's treatment of LGBT people
and
concerns about terrorism
-- have been overshadowing the run-up. (
February 7
)
"House of Cards," Season 2: What can we expect from Kevin Spacey's conniving congressman, Francis Underwood? Well, for one thing, he's vice president now. And though FDR's first VP, John Nance Garner, once assessed that job as worth less than a warm bucket of bodily fluids, we can probably expect that Underwood has different ideas in mind. And a happy Valentine's Day to you, too. (February 14)
Jimmy Fallon and Seth Meyers take over NBC's late-night franchises
: When the Olympics are over and Jay Leno has returned to his garage, NBC's late-night shows will get a makeover. Jimmy Fallon, who has become
a shrewd purveyor of viral video
, will assume the "Tonight" reins, and former "Saturday Night Live" writer and performer Seth Meyers takes over at "Late Night." Fallon is a known quantity, but what Meyers will bring to David Letterman and Conan O'Brien's former haunt should make for interesting television. (
February 24
)
"Cosmos: A Space-Time Odyssey": "Family Guy" creator and "Dads" producer Seth MacFarlane may be better known for off-color jokes, but he was deeply influenced by Carl Sagan's original "Cosmos," the groundbreaking science series that aired on PBS in 1980 and spawned a best-selling book. The new series, which will air on Fox and the National Geographic Channel, will be hosted by astrophysicist Neil deGrasse Tyson (pictured here) and, says producer (and Sagan's widow) Ann Druyan, is about "a hopeful vision of the future." One thing's for sure: The special effects, courtesy of the universe, will be spectacular. (March 9)
"Resurrection": The town of Arcadia, Missouri, thought he was dead, but then 8-year-old Jacob Langston returns 30 years later as if he never shuffled off this mortal coil. Omar Epps, Kurtwood Smith and Frances Fisher lead the cast of this ABC series, which appears to be leaning towards "uplifting" instead of "zombies." We'll see when the characters get more immersed in the mystery of life and death. (May 14)
"Mad Men," Season 7, part 1
: As usual, there's been little word about the next season of the award-winning AMC series about a New York ad agency and its creative director, the mercurial Don Draper. Indeed, it was considered news when
one of the footnotes of the November 1 LAX shooting
was that "Mad Men" had been filming in the neighborhood. However, we do know that the series' final season is being split in two, and that the first chunk of seven episodes is expected to start airing in the spring. Beyond that, only creator Matt Weiner knows. (
TBD
)
"Halt & Catch Fire": AMC is trying to move into a post-"Breaking Bad" world with a number of series. Perhaps the most intriguing is "Halt & Catch Fire," about the computer business and tech boom in 1980s Texas. (The title is techspeak for a crashing CPU.) The show stars Lee Pace ("Pushing Daisies"), right, and Scoot McNairy ("Argo," "12 Years a Slave") as a salesman and engineer leading a startup. (TBD)
10 things to watch in 2014
10 things to watch in 2014
10 things to watch in 2014
10 things to watch in 2014
10 things to watch in 2014
10 things to watch in 2014
10 things to watch in 2014
10 things to watch in 2014
10 things to watch in 2014
10 things to watch in 2014