'Big Bang Theory' star Kaley Cuoco weds
updated 10:41 AM EST, Wed January 1, 2014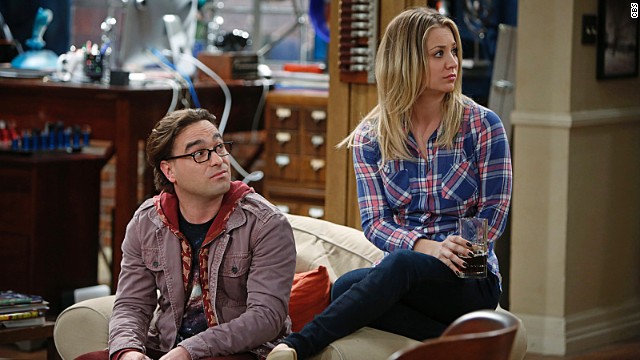 Season 7 of the very popular comedy "The Big Bang Theory" had its finale on May 15. Johnny Galecki and Kaley Cuoco play Leonard and Penny, who just got engaged on the series. Here is a primer on the show's characters:
Simon Helberg plays Howard Wolowitz, an aerospace engineer who started out as a bit of a creeper of women, but these days is happily married.
Jim Parsons has won three Emmys for his portrayal of physicist Sheldon Cooper, who is as clueless about social interaction as he is knowledgeable about science. He is "dating" Amy Farrah Fowler.
Three-time Emmy nominee Mayim Bialik plays Amy Farrah Fowler, a scientist who is involved with Sheldon. She also believes she is best friends with Penny.
Cuoco plays Penny, a waitress who can't quite match wits with her group of friends, but nevertheless hangs out with them. She lives across the hall from Sheldon and her now fiance Leonard.
Melissa Rauch plays Bernadette Rostenkowski-Wolowitz. She is a highly paid scientist who is married to Howard. A frequent joke in the show is how she can be as overbearing as his mother.
"Roseanne" alum Galecki stars as Leonard Hofstadter, Sheldon's long-suffering roommate and Penny's future husband. He is a physicist.
Kunal Nayyar plays Rajesh Ramayan "Raj" Koothrappali, a shy astrophysicist who up until recently could only talk to women after he drank alcohol. He is desperate to find true love and recently, finally found a girlfriend.
'Big Bang Theory' cast
'Big Bang Theory' cast
'Big Bang Theory' cast
Big Bang Theory cast
'Big Bang Theory' cast
'Big Bang Theory' cast
'Big Bang Theory' cast
'Big Bang Theory' cast
STORY HIGHLIGHTS
The actress is one of the stars of "The Big Bang Theory"
She got engaged after three months of dating
Cuoco said their whirlwind romance was "magic"
(CNN) -- Her character on "The Big Bang Theory" could never discuss the rings of Saturn, but there's one ring actress Kaley Cuoco knows all about.
According to People, Cuoco has wed boyfriend and tennis pro Ryan Sweeting. On Wednesday, she posted a picture of herself on Instagram, decked in a pink Vera Wang gown, and kissing Sweeting with the caption: "Yep :) #thesweetings."
The pair had a whirlwind romance, getting engaged after just three months of dating. The actress said at the time that while she knew it was unconventional, the couple have a lot in common.
"It's been magic," Cuoco said. "We grew up with the same people, we just never met, so I kind of feel like I've known him my whole life. I know it seems a little crazy on paper, but it's what works for us."
Cuoco plays Penny, a waitress who is part of a group of friends including extremely educated scientists on the hit CBS show. She was previously linked romantically with "Man of Steel" actor Henry Cavill and her "BBT" costar Johnny Galecki.