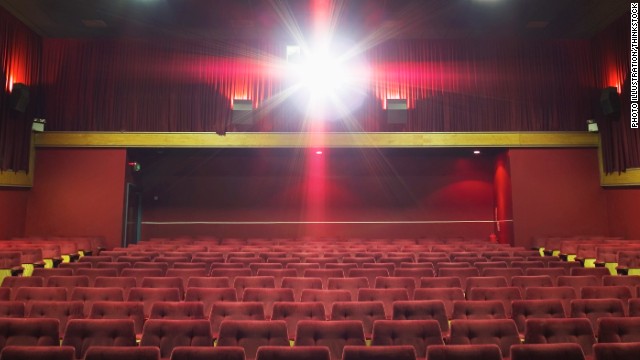 In December, we asked CNN readers to pick their top 10 favorite films of the year. After counting up thousands of votes, these titles came out on top:
No. 10: It's difficult to think of "12 Years a Slave" as a "favorite" because of the painful history it unflinchingly presents, but we understand why CNN readers voted for it. If nothing else, this masterful film will be a favorite of cinephiles for years to come thanks to its tireless director, top-notch script and incredible performances from stars such as Chiwetel Ejiofor, left, and Michael Fassbender.
No. 9: CNN readers love a good animated sequel. The first on the 2013 favorites list, "Monsters University," was a long overdue follow-up to 2001's "Monsters, Inc."
No. 8: You cast your votes for favorite films of the year after the death of "Fast & Furious 6" star Paul Walker, but this film was a surefire favorite even before then. After its May release, the sixth installment in the "Fast" franchise went on to earn an astounding $788 million worldwide.
No. 7: Zack Snyder's "Man of Steel," which starred Brit Henry Cavill as the iconic superhero, swerved from the Superman canon but still found some fans. Here's hoping Snyder's "Man of Steel" sequel, which will include Ben Affleck as Batman, will be strong enough to make it onto our list of favorite movies for 2015.
No. 6:
Steve Carell's Gru and his sunny yellow minions are anything but "Despicable." Some critics dismissed this sequel to 2010's "Despicable Me," but the audience was more enthusiastic, according to
Rotten Tomatoes
-- and it shows in your votes.
No. 5: In a year absent an "Avengers" ensemble, Marvel repaid rabid fans with two separate films. Following "Iron Man 3" in the summer came "Thor: The Dark World," which thundered into the box office with Chris Hemsworth as buff and regal as ever.
No. 4: "Iron Man 3" was the top-grossing film of 2013 -- it made $409 million domestically -- but it fell two places short of being an all-around favorite for our readers.
No. 3: The only lingering question we have for Sandra Bullock and "Gravity's" director Alfonso Cuarón is where this honor -- being the third-favorite movie of 2013 for CNN's readers -- will rank when those inevitable awards start pouring in.
No. 2: Don't get us wrong -- "Star Trek Into Darkness" wasn't a bomb. It's just that, considering how it sputtered at the box office this summer, we weren't expecting to see CNN readers vote the follow-up to 2009's "Star Trek" into second place. But on the other hand, there's Benedict Cumberbatch in the sequel.
No. 1: With "The Hunger Games: Catching Fire," Jennifer Lawrence is two-for-two. Not only is she the favorite female celebrity of 2013 for CNN's readers, but she also starred in their favorite film of the year. Coincidence? We think not.
CNN readers' favorite movies of 2013
No. 10: '12 Years a Slave'
No. 9: 'Monsters University'
No. 8: 'Fast & Furious 6'
No. 7: 'Man of Steel'
No. 6: 'Despicable Me 2'
No. 5: 'Thor: The Dark World'
No. 4: 'Iron Man 3'
No. 3: 'Gravity'
No. 2: 'Star Trek Into Darkness'
No. 1: 'The Hunger Games: Catching Fire'